Best Resorts And Hotels For Honeymoon In Bali (2023 Guide)
Are you looking for a guide to help you can find the best resorts and hotels in Bali? This is a comprehensive article that will cover all the things you need to know to plan your honeymoon in Bali.
Why is Bali good for a honeymoon?
There is something for every couple in every way here in beautiful Bali Indonesia. If you are searching for a white sandy beach with endless clear waters or a jungle hut out in the mountains, you can find it with little difficulty.
Bali is just the beginning when it comes to a honeymoon destination with so many surrounding islands and special sunset locations to discover; you won't be disappointed.
Bali is considered by many to be an affordable honeymoon option for many couples who are looking to indulge and be pampered.
Indonesia is a good value for money when it comes to luxury travel. As a couple, you can make this an unforgettable holiday in tropical Bali that will be nothing short of amazing.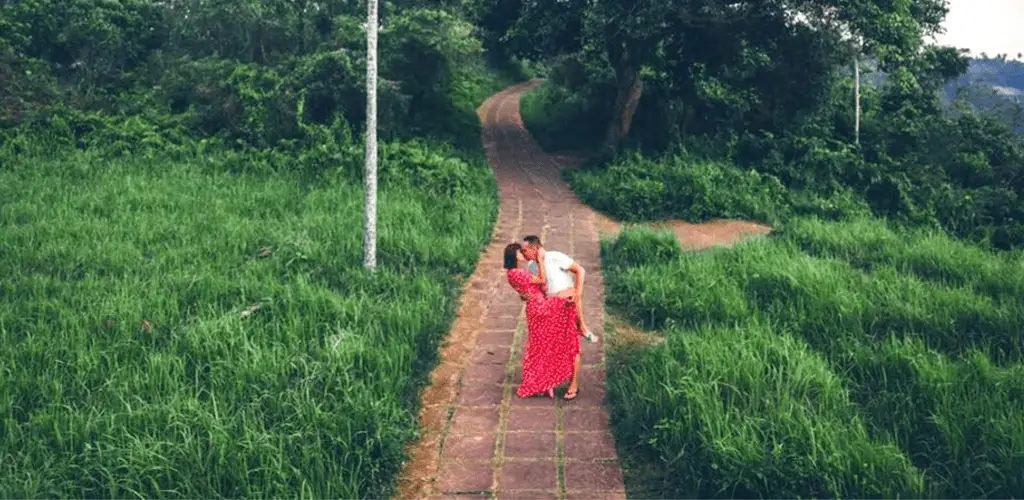 Which part of Bali is best for a honeymoon?
Ubud
The ultimate Zen location set in the rice fields and surrounded by lush jungle, you can be sure to feel miles away from the city when you retreat to your honeymoon accommodation in Ubud.
Ubud is located approximately 40 kilometres out of central Bali by car or about 1.5 hours drive from the International Airport. Ubud offers a wide range of accommodations from a simple guesthouse in the rice fields to a luxury villa in the trees, this area is beautiful no matter where you are.
This is a popular tourist area so be sure to choose the accommodation that provides some solitude, further outside the centre of town, if you really want to feel you have ventured out into nature.
You can take in the beauty of Bali driving through scenic roads and there's no better way of getting to Ubud than by hiring your own private driver with a car. Click here to find our listing of the cars and drivers you can hire for your trip.
Check out this article for Best Things to do in Ubud, Bali.

Uluwatu
With the stunning coastline with its sandy beaches with perfect sunset lookouts, the surf area of Uluwatu is a fun yet relaxing place for you to have a honeymoon. Uluwatu is located approximately 30 kilometres out of central Bali by car just south of Jimbaran.
Uluwatu has luxury resorts and spas and is in fact known for having some of Bali's most luxurious accommodation options making it perfect for a honeymoon. Many of the luxury villas are located on the edge of the clifftop which overlooks the ocean.
Uluwatu is a prime surfing spot if you are not interested in surfing then Uluwatu might be a good place to relax for a few days before moving on to another area of Bali.
Take a romantic Uluwatu sunset tour or hire your own private driver with a car for a romantic coastal trip along some of the most beautiful beaches on the island.
Seminyak & Canggu
Only a short drive out of central Bali you will find Seminyak and Canggu. These areas have become the tourist hub of Bali with a large expatriate community and a growing number of tourists visiting every year.
If you enjoy the buzz of nightlife, bars restaurants and want endless options for coffee then this might be the place for you. Seminyak is approximately 12 kilometres from the Ngurah Rai International Airport and only 5 kilometres from Kuta Beach in Bali.
Canggu is approximately 20 kilometres from the airport and about 15 kilometres from Kuta Beach. Many tourists want to escape the crowds of Kuta and Legian and enjoy the variety of options in both Seminyak and Canggu when it comes to food and shopping.
Accommodation in this area is available for budget travellers though it is best known for mid-range to luxury-style hotels. This area is best for couples looking for sunsets and beach bars by night and boutique shopping by day.
Check out this article for Best things to do in Seminyak
Nusa Dua
A location of luxury not far from the centre of Bali, check out the wonderful atmosphere of Nusa Dua if you are looking for a relaxing place to retreat. Located approximately 15 kilometres from the airport by car, Nusa Dua is a great place to start your honeymoon after arriving in Bali.
If you want to travel further, you can take a boat from Nusa Dua over to Serangan Island or simply choose to explore the Bukit Peninsula beaches. Nusa Dua is popular for romantic getaways and honeymoon couples so expect mid-range to luxury-style villas.
Check out this article for Things to do in Nusa Dua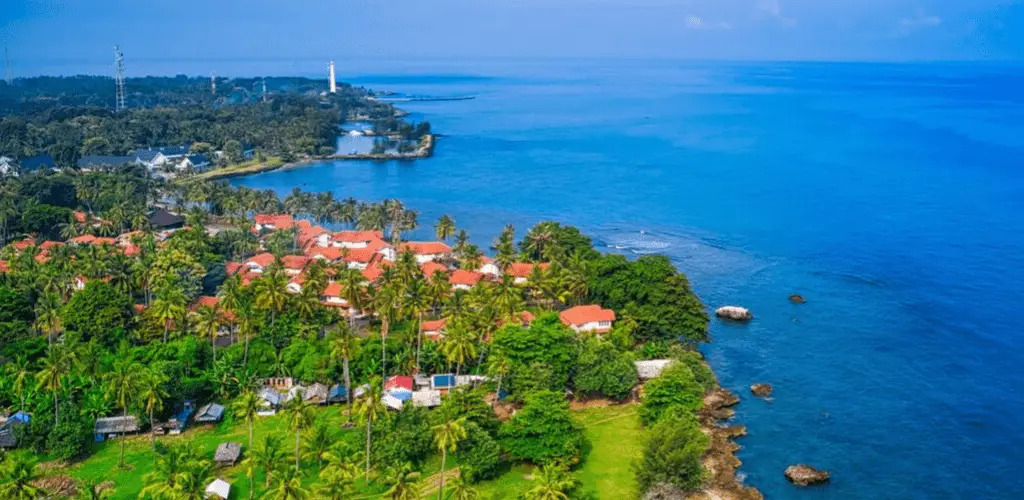 Nusa Lembongan, Nusa Penida & Nusa Cenigan
These three islands are accessed by boat southwest of Bali with Nusa Lembongan the most popular thanks to its gorgeous clear waters which are perfect for swimming and snorkelling the days away.
The Nusa islands can be accessed from Sanur Bali with travel options available depending on how you prefer to travel and which island you visit.
For example, if you choose to go over to Nusa Lembongan you can go by either a local slow boat roughly 1.5 hours, the Perama local boat also about 1.5 hours or by a fast boat which takes about 30 minutes.
If you are in Lembongan you can visit Dream Beach, Devil's Tear, Rock Pools, Sandy Bay Beach, Mushroom Beach, Panorama Point and Jungut Batu Beach.
From Lembongan, you can take day trips across to the other islands and go snorkelling. The area is popular for those wanting to swim with the manta rays in crystal-clear blue water.
You can find honeymoon accommodation across all of the islands including luxury villas with ocean views.
The Gili Islands
A set of three islands located just off the coast of Lombok, the Gili should have something to offer everyone. You can choose from Gili Trawangan, Gili Air or Gili Meno each offering its own idyllic sunset paradise vibes.
Gili Air and Gili Meno are less known for nightlife so if you are looking to relax then Gili Trawangan might not be your ideal choice. Each island, located off the coast of Bali, has crystal clear waters making it worth the trip by boat to reach yet another tropical paradise.
Gili Trawangan or Gili T is a hub for parties and backpackers and whilst it has developed into much more than this you might find that the other islands offer more of a romantic feel.
Walk around the island, enjoy a cocktail at sunset, stand up paddleboard, take a yoga class on the beach, free dive or just read a good book; Gili has it covered.
The Gili's are about 2 hours from Bali by fast ferry or speedboat with the majority departing from Padang Bali or Serangan Harbour in the southwest of Bali.
Where should you stay on your honeymoon in Bali?
Possibly the most important decision once you have decided on a location is the type of accommodation you desire for your honeymoon. When it comes to luxury villas, resorts or hotels you will not be short of options thanks to the incredible choices Bali offers.
No matter where you are on your vacation there is accommodation to suit your budget and style. Most luxury accommodations will include a package that provides breakfast, airport transfers, a spa treatment and much more.
Check out this list of beautiful places to stay on your honeymoon including some of the best resorts and hotels in Bali for honeymoon.
Hanging Gardens of Bali, Ubud
Overlooking the Ayung River in the jungles of Ubud this resort is in the heart of the secluded tropics of Bali. If you want to immerse yourself in nature then this award-winning resort and spa is the perfect place.
Choose from one of 44 villas, swim in the infinity pool and relax at the day spa. For a Romantic Gateway room, it will cost around USD 770+ per night, minimum of 2 nights stay is required.
Website: https://hanginggardensofbali.com/
Four Seasons Resort Jimbaran
Four Seasons Resort in Jimbaran Bay offers guests premier ocean villas, a beachfront infinity pool, a beach club, an oceanfront spa, a cooking academy and a private beach retreat.
There are numerous garden and beach villas to choose from and even a premier suite for the ultimate in Bali luxury.
A villa will start at around USD $600 per night.
To get there in style and to experience pure luxury then why not hire the day one of the ultimate luxurious cars here? Please click here for more listings of cars for hire.
Website: https://www.fourseasons.com/jimbaranbay/
Viceroy Bali
Viceroy Bali Luxury Resorts offer a Romance Package which includes accommodation, airport transfers, candlelight dinner, spa treatment and cocktails for guests looking for something special on their honeymoon.
Enjoy the lush green surroundings in Ubud in a pool villa, terrace villa, and regal villa all with incredible and unique views of the jungle.
Depending on the room and season, you can expect to pay around USD $1000.
Website: https://www.viceroybali.com/en/bali-luxury-resorts.php
Alila Villas Uluwatu
This incredible 5-star luxury resort is in the unforgettable Uluwatu in Bali. Situated on top of the limestone cliffs 100 meters above ground you can honeymoon in their pool villa, cliff-edge villa or hillside villa and gaze out at the sunset over the ocean.
Indulge at the Alila Spa, dine at The Warung restaurant or hang out at their sunset cabana bar with a drink.
One bedroom pool villa will cost you around $800 per night. If you purchase in advance, you can get a better rate.
Website: https://www.alilahotels.com/uluwatu
The Ungasan Clifftop Resort Uluwatu
The Ungasan offers couples a Honeymoon Package which includes a one-bedroom villa with private plunge pool, VIP access to their Sundays Beach Club, a romantic dinner for two at the beach and canapes and wine on arrival.
The resort offers premium luxury accommodation with your own private butler service.
The One Bedroom pool suite will cost around USD $1000.
Website: https://www.theungasan.com/
Soori Bali
Soori Bali's 42 villas feature private pools and stunning views of either the ocean or the mountains.
Located on the edge of Mount Batukaru nearby Tabanan, the resort accommodation is focused on nature and sustainability. Choose from the Mountain Pool Villa, Beach Pool Villa, Ocean Pool Villa, Deluxe Villas or Residences and Estate.
Luxury villa at Soori Bali will cost around USD $1000 per night
Website: https://www.sooribali.com/
Hotel Tugu Canggu
Hotel Tugu is a very beautiful and unique collection of luxury art hotels designed to share the collections with every guest.
You can choose from 5 different suites, dine in at one of their three restaurants, enjoy being pampered with a herbal treatment at the day spa or relax in your stunning suite.
The price of a suite will cost around USD $350 which includes breakfast.
Website: https://www.tuguhotels.com/hotels/bali/
Aradhana Villas Canggu
Located at Berawa Beach, Aradhana Villas all have their own private pool with the In Love Package including a spa, wine, gourmet breakfast, high tea and airport transfer. Designed with beautiful Balinese architecture the villas are the perfect romantic retreat.
There is a minimum of 4 nights for most rooms. You can get a room for USD $200 so it is worth checking out their website for deals.
Website: http://www.aradhanavillas.com/
Blue Lagoon Avia Villas Nusa Cenigan
A truly luxury cliff resort and hotel in the romantic destination of Nusa Cenigan Blue Lagoon Avia Villas is a tropical honeymoon getaway. The luxury complex has beachfront access with 31 rooms to choose from.
If you are looking for a villa which is not overpriced than you can look at Blue Lagoon. You can get a villa for around USD $150.
Website: https://bluelagoonavia.villas/
Como Shambhala Ubud
A truly unique experience, Como Shambhala is an incredible place to stay in Ubud Bali. The estate features a yoga teacher, an ayurvedic doctor, and dietician.
This accommodation is focussed on a holistic approach to wellness and relaxation with beautiful natural spa treatments and facilities. Choose from a Garden Suite, Terrace Suite, Pool Villas and much more with each room having its own private space and access.
You can expect to pay USD $600+ for a villa at Como Shambhala Ubud.
Website: https://www.comohotels.com/en/comoshambhalaestate
The Legian Seminyak
The Legian is the only beachfront boutique resort in Seminyak with a private estate of pool villas for couples looking for the ultimate honeymoon privacy.
The one-bedroom Pool Villa features its very own 10-meter swimming pool with dedicated butler service. The Sunset Suite is located on the highest floor with amazing sunset views from the balcony and its own private butler service.
A suite will cost around USD $500
Website: https://lhm-hotels.com/legian-bali/en/
Ayana Resort and Spa Bali
Located above Jimbaran Bay, Ayana is an award-winning resort and spa perfect for anyone seeking luxury accommodation. Only a short ten-minute drive from Bali's airport this complex has everything you could ever need on vacation.
Featuring a unique connection with Rimba Resort complex in Jimbaran Bay, guests can enjoy 19 restaurants and bars, private beach access, 12 pools, a world-class spa, gym, golf course and free transfers.
The guest suites are fitted with stunning features, canopy beds, amazing ocean views and master bathrooms. The Villas are appointed with a private pool and secluded gardens.
You can expect to pay around USD $350+ for a room at Ayana.
When in Jimbaran, you must visit one of the best bars in the world, Ayana Rock Bar. One of the most stunning bars you will ever come across with spectacular views of the Indian Ocean. The setting here is absolutely romantic, especially during sunset/evenings.
If you need a ride getting to Jimbaran or looking to get around Bali please click here to find the best deals for hiring a private driver with a car.
Website: https://www.ayana.com/
The Tamarind Resort Nusa Lembongan
The beautiful Tamarid Resort has packages on offer for couples including romantic dinners, champagne floating breakfast in the pool, day trips and a special Honeymoon Package.
The Honeymoon Package includes luxury accommodation, spa treatments, massage and in-room breakfast. The villas include a kitchen, spacious living, private rooftop and ocean views.
A villa will cost around USD $500 per night.
Website: The Tamarind Resort
Samabe Bali
Samabe is a luxury resort of 42 suites and villas located in Nusa Dua Bali. The resort features pool, spa, gym, beach access, butler service, lounge, high tea, cooking classes, water sports and much more.
The Just The Two Of Us Package includes luxury accommodation, daily breakfast in your own suite, complimentary yoga, airport hotel transfer and additional complimentary luxuries to ensure your honeymoon is taken care of.
A suite will cost you around USD $400 per night for an ocean view suite.
Website: https://www.samabe.com/
Hotel Indigo Seminyak
Located in the heart of Seminyak one of Bali's most sought after areas, Hotel Indigo is a mix of Balinese contemporary style and service.
Couples can choose from a wide variety of rooms including the Maha two-bedroom villa, the Sagar suite and the Wangsa one-bedroom villa. The complex includes bars, restaurants, a day spa and pools.
Villas start around USD $250 per night.
Website: https://www.hotelindigo.com
Hoshinoya Ubud
Overlooking the Pakerisan River Valley these beautifully crafted villas are a world away from the hustle and bustle of the city. Each Garden Pool Villa is appointed with a lush garden terrace, poolside living and amazing balcony views.
You can relax here in the tropical jungle in one of the three swimming pools, take a Balinese massage or spa treatment or dine in the restaurant.
One of the gorgeous villas will cost around USD $650 a night.
Website: https://www.hoshinoresorts.com/en/resortsandhotels/hoshinoya/bali.html
Udaya Bali
The Udaya Resort and Spa offer a Honeymoon Package which includes accommodation in luxury suites, daily breakfast, traditional Balinese massage treatments, transfers to Ubud centre, complimentary wine, fruit, airport transfers, yoga lessons and afternoon tea. The rooms are a contemporary mix with both garden and pool villas available.
You can get a suite in Udaya Bali for around USD $200.
Website: http://theudayaresort.com/
Pondok Santi Estate Gili Trawangan
Pondok Santi Estate is a secluded haven located on the island of Gili Trawangan. Featuring incredible private bungalows guests can enjoy private plunge pools, private tropical gardens, outdoor daybeds, open-air bathrooms and in-room breakfast.
The staff at the estate can assist you to arrange day activities on request so you can swim, dive, snorkel and explore all that Gili T has to offer.
A beachfront room will cost you around USD $150 per night.
Website: https://www.pondoksanti.com/
Villa Mojo Kura Kura Resort Gili Meno
This is an affordable 4-star resort. The Delux Rooms at Villa Mojo feature pool views and all the comforts you will need for your stay on the island of Gili Meno.
The complex features a day spa, hair salon and rooms are only a short walk to the beach. The resort can organise activities such as diving, snorkelling, horseback riding and kayaking.
You can expect to pay around USD $80 per night.
Website: https://kurakuragilimeno.com/
Grand Sunset Gili Air
If you are looking for a hotel at an affordable price then you should consider Grand Sunset Gili. Room prices start at just USD $30, there is no reason to stay at backpacker's hostels.
The luxurious Gili Air complex of the Grand Sunset is located on what is known to be the more peaceful side of the island so you can be sure to relax here and enjoy the stunning beachfront. The resort features an on-site dive centre, swimming pool and restaurant.
Website: https://grandsunsetgiliair.com
Recommended Articles:
Things to do in Bali with Family
Guide to hire a private driver in Bali
What to do in Bali on your honeymoon?
Beach, Bars & Night Life in Bali
If you are looking to celebrate your honeymoon and spend time socialising you can be sure that Bali has the nightlife scene ready and waiting for you!
Cocktails, infinity pools, sunsets over the coastline, live music, dancing, guest artists or a hammock on the sand; Bali's beach clubs are some of the best in the world. Popular choices include Cocoon Beach Club, Azul Beach Club, Vue Beach Club, Single Fin Beach Club, Potato Head Beach Club, Sundays Beach Club, La Brisa, Mrs Sippy Seminyak and OMNIA Day Club.
If the nightlife is not your scene, relax, Bali has plenty of activities outside of the bars. Here are some ideas for you to do as newlyweds on your vacation.
Okay so if you plan on visiting, bar hopping, beach clubs, or drinking, there's no better way than having your own private driver with a car. They will be able to pick you up and drop off, taking you around to some of the most trendy bars in Bali. Please click here to find some of the best deals for hiring a private driver with a car.
Bali Swing & Nest
If you are on your honeymoon in Ubud you might like to check out the popular tourist spot at the Bali Swing. It is mostly for anyone wanting a photo on the swing that goes out over the lush green rice fields or those looking to pose in the nests which have been crafted for tourists to sit inside of.
The prices and types of swings vary so look on arrival and choose according to the type of photo you wish to take.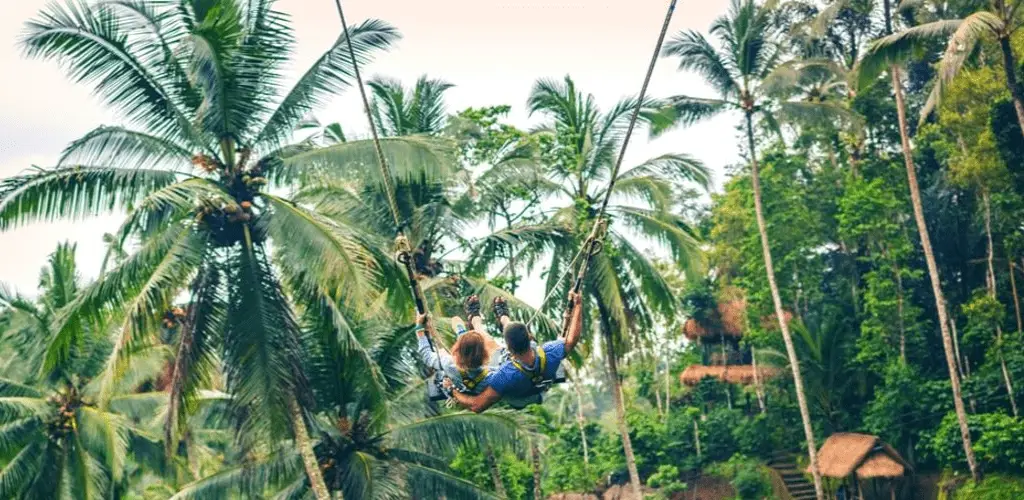 Marigold Field Bali
The marigold (flower) field is located between Kintamani and Bedugul Bali and the flowers are a beautiful orange and gold colour when in full bloom.
The marigold flowers play an important role in the spiritual offerings used in Bali and you can often see the flowers everywhere in this region. The marigold flowers are called 'kenikir' in Indonesia and the fields are a beautiful place for taking photographs.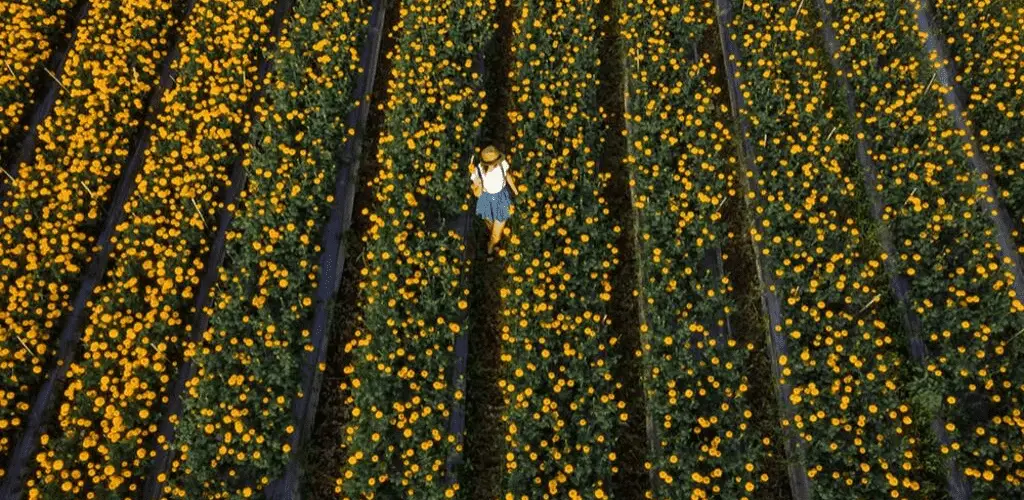 Candlelight Dinner
There are many places in Bali to go for a candlelit dinner with sunset views. You can choose from clifftop bars, caves on the sand, treehouses in the jungle or a rooftop restaurant to enjoy the serenity and romance over dinner.
A well-known place for dinner is at the Hanging Gardens Ubud where you can also enjoy the infinity pool, a personal chef with personalised wine and the peacefulness of the secluded location.
If you prefer to dine by the beach you can do so at Karma Kandara where you can relax whilst take in the stunning ocean views. Karma Kandara is popular for its cliffside weddings, well-hidden location and spa services such as its sauna and massage treatments.
No matter where you wine and dine in Bali it will be a night to remember on your honeymoon.
Dinner Cruise
What better way to spend an evening in Bali than out on the water cruising through a sunset over a delicious dinner? If you want a unique experience away from the crowds maybe you will want to look at joining a dinner cruise for a night.
Cruises typically offer a buffet dinner, drinks and live entertainment on board with hotel transfers around Bali.
Horseback Riding
There are several companies which offer horseback riding across Bali. Horseback riding on the sand at sunset is a popular tourist attraction though you can opt for a different view or even take horse riding lessons if you are a beginner.
Snorkelling or Scuba Diving
Famous around the world for incredible dive sites and crystal-clear waters, the islands surrounding the coastline of Bali offer some of the best places for swimming, snorkelling and diving.
If you are not certified and wish to take a course, then you can sign up at one of the many dive centres located in Bali and learn whilst on your honeymoon.
Diving enthusiasts can check out famous dive sites in the area such as the protected island of Menjangan at the west end of Bali, Seraya Secrets in Amed, USAT Liberty Wreck in Tulamben north of Amed, Manta Point in Nusa Penida, Crystal Bay in Nusa Penida and the Bat Cave in Nusa Penida.
If you do not want to scuba dive be sure to join a guided snorkelling tour for a day trip to explore the stunning tropical marine life.
Also read:
Conclusion
So, you can see, if you are searching for a destination filled with a combination of both adventure and serenity – Bali is the ideal location for a honeymoon.
Bali and its surrounding tropical islands offer travellers an affordable yet memorable holiday with incredible cultural experiences, sunsets, food and friendly people.
Have we missed anything? Anything more you would like to know? Please comment below.