Things to do in Kathmandu, Nepal
Pranita D | Seek To Travel | July 23, 2019
Kathmandu is the capital of Nepal also known as the city of temples and the centre of Nepal's history and culture with a population of around 1 million. It is the largest city in the country and has become a destination blooming in tourism making it the first and final stop to many adventurous destinations within the country.
The Nepal tourism industry is increasing each year and has been a very important part of the economy, heavily relying on its large source of foreign exchange and revenue. People have become very interested not only visiting beautiful touristy places in Kathmandu but for the city's history and culture.
Due to this reason, we have listed some of the things to do in Kathmandu that will help you to learn more about the city, and have gathered some useful information about some of the famous places in Kathmandu that every visitor should know.
Best Things to do in Kathmandu in 2019
1. Temples
2. Kathmandu Durbar Square
3. Kathmandu Zoo
4. Thamel
5. Patan
6. Bhaktapur
7. Shopping
8. Kathmandu Palace
9. Garden of Dreams
10. What to Eat in Kathmandu
1. Temples in Kathmandu
Before we get started let's go through some of the common courtesies when visiting.
Kathmandu is also known as the city of temples. When visiting the temples, one should be respectful, when entering, shoes must be taken off before entering. Leather is strictly not allowed in the temple. Some temple won't allow photos to be taken unless permission is taken.
Here are few temples we recommend for you to visit.
Pashupatinath Temple

Whenever I visit Kathmandu, Pashupatinath Temple is the one temple I visit and I recommend you to do so as well. This is one of the most sacred and famous temple in Kathmandu located on the banks of the Bagmati River. The temple is dedicated to Lord Pashupatinath with thousands of Shiva devotees visiting the temple each day.
It is believed that this temple is the oldest temple in Kathmandu and has been in existence since 400 B.C. It is said the site of the temple existed since the shiva lingam was discovered here.
The main temple is designed as a Pagoda located centrally and visible throughout the temple and surrounding areas. The temple is guarded by Nepalese military and is listed as a UNESCO World Heritage Site.
Only Hindus can enter the main temple, the rest of the surrounding area and buildings are open to tourists at a small cost of entry fee. Non Hindus are not allowed to go inside the temple but welcomed to see the temple from outside.
There are two main festivals where hundreds of thousands of pilgrims visit the temple and attend the festivals; Maha Shiva Ratri festival and Teej festival. Maha Shiva Ratri is a festival celebrating Lord Shiva, held once a year on the new moon day of the month Maagha.
Teej festival is a festival celebrated by Hindu women fasting for their husband's long life and good health therefore women visit the temple and performs a ritual prayer to Lord Shiva.
Pashupatinath temple conducts cremation ceremony of Hindus and is the sacred part of the river. The rituals of cremation is performed by priests. The deceased body is placed on a platform known as ghat where the body on a wooden pyre gets cremated. This is a private time for grieving families therefore it is asked that visitors remain respectful.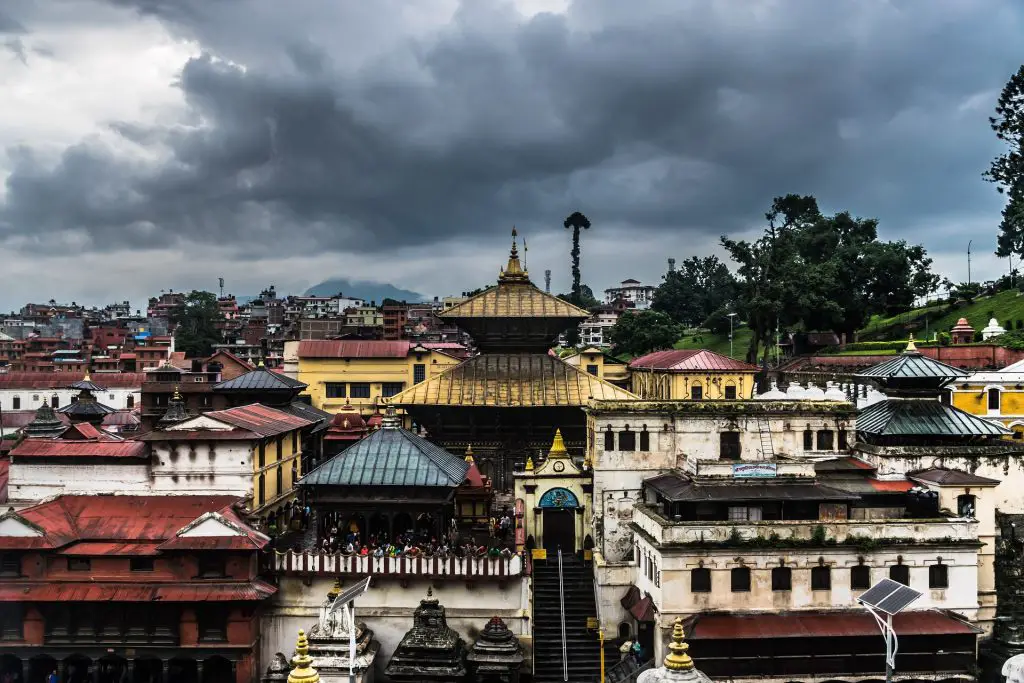 Travel Tip: Is Nepal safe for tourists?
Generally speaking, Nepal is a safe country to travel for solo and group travellers, crime rate is low, however one should take care and be cautious and smart about your surroundings when travelling and keeping your own belongings to yourself or in a safe place.
Guhyeshwari Temple
Guhyeshwari temple is a holy temple dedicated to the goddess Guhyeshwari also known as one of the Shakti Peetha, symbolising power. The temple is located close to Pashupatinath temple near the banks of the Bagmati River and was built by King Pratap Malla in the 17th century.
In the Hinduism mythology it said that body parts of Shiva's wife Sati Devi fell at the place of where the temple is now located. The story goes Sati Devi's father had insulted Shiva, his wife Sati Devi was so angry that she jumped into the fire.
Shiva was in great grief, so he picked up her corpse and carried her with her body parts falling at one of many locations known as Shakti Peetha. Therefore, Guhyeshwari Temple represents Shiva and Shakti.
The temple is visited by Hindus from all over Kathmandu especially during the first 10 days of Dashain festival. As tradition goes, the temple is visited and worshipped first before visiting other temples including the main temple of Pashupatinath.
This tradition has been followed for many years. It is said that devotees visit the temple to pray for strength and therefore is considered as an important pilgrimage for Hindus.
Taleju Temple
Taleju Temple is dedicated to the goddess Taleju Bhawani, the goddess of the Malla Kings who ruled Nepal from the 12th to the 18th century. Inside the three story temple is a golden statue of the ten-armed goddess herself guarded at the gates by stone lions.
There are three Taleju Temple located inside Kathmandu valley; the first is located in Bhaktapur, second in Patan Durbar Square and third one in Kathmandu Durbar Square.
The main and most important Taleju Temple is the one located in Kathmandu Durbar Square next to the Hanuman Dhoka Palace which was built by King Mahendra Malla in 1564. The temple is open one day every year on the ninth day of the dashain festival.
On other days, the temple is not opened to the public. If you are planning to visit the temple on that day, do be cautious, there are many animal sacrifices which takes place around the area.
There is no entry fee to the Taleju Temple, however if you are a foreigner there is a fee you have to pay when you enter Kathmandu Durbar Square.
Boudhanath Stupa
This is one of my favourite Stupa. Boudhanath is one of the world's largest stupas located in Kathmandu in Boudha, the most holy Buddhist shrine outside of Tibet. It is a UNESCO World Heritage Site. Boudhanath is known to be one of the most famous tourist attractions in Kathmandu.
The stupa is shaped as a mandala with the tower structure of the stupa painted with each pair of eyes on all sides representing Buddha's eyes. Each part of the stupa represents something.
The plinth represents earth, the white dorm is water, the square tower is fire, the spire part represents air and the umbrella is the void (space). The spire contains 13 levels representing the stages one must pass through to achieve nirvana.
As you enter the main gate of the stupa you immediately feel a sense of peace and calmness admiring the beauty of the stupa watching the colourful prayer flags fluttering in the wind.
The stupa is located in the centre surrounded by small shops where you can find traditional Buddhist arts and crafts, so do make sure to leave some time to explore the stupa and its surrounding areas.
You should have a coffee on one of the roof top cafes, enjoy the view, soak in the beauty of the culture and traditions of Boudha with the peaceful Tibetan mantra chanting in the background.
Budhanilkantha Temple
Budhanilkantha Temple also known as the Narayanthan Temple is located in the northern region of Kathmandu valley in Budhanilkantha. The temple is dedicated to Lord Vishnu, who is one of the Trimutis along with Brahma and Shiva.
The temple is home to a 5 metres tall reclining statue of Lord Vishnu made from a single black stone carved from a single block of black basalt. The statue is of Lord Vishnu reclining on the coils of the serpent Shesha (king of the serpent deities known as Nagas) with the heads of the Shesha supporting his head. Vishu has four hands holding a chakra, conch shell, a gem and a club, each of them symbolising his own qualities.
It is said that the statue had been found by a farmer and his wife while ploughing the fields strucking a figure in the ground causing it to bleed. They noticed blood and started digging until they found the reclining statue of Vishnu.
The word Budhanilkantha means "Old Blue Throat", a title given to Lord Shiva. The myth says that Lord Shiva drank the poison that threatened to destroy the world.
To quench his thirst after drinking the poison he struck the mountainside with his Trishul and created the lake Gosaikunda. The water surrounding the reclining statue of Lord Vishnu in Budhanilkantha is believed it had originated from Gosaikunda. Therefore it is said that the reclining statue of Shiva can be seen under the water of the lake in Budhanilkantha.
A festival known as the Haribhondini Ekadashi Mela is held at Budhanilkantha temple where thousands of pilgrims attend which takes place on the 11th day of the Hindu month of Kartika (October-November). The festival is a celebration of the awakening of Lord Vishnu from his sleep.
Swayambhunath
Swayambhunath known as the Monkey Temple is a Buddhist temple located atop the hill overlooking panoramic views of Kathmandu valley. It is one of the most sacred sites for Buddists and one of the oldest religious sites in Nepal.
The main structure of the temple consists of a white stupa surrounded by temples and shrines. The white dome represents the earth and the thirteen tier tower structure on top of the dome symbolises the thirteen stages to nirvana. The stupa is painted with eyes of Buddha representing wisdom and compassion looking in all four directions of the valley.
It was said that the entire valley where Swayambhunath is now located was once filled with a lake which grew a lotus therefore the name Swayambhu means self created.
There are two ways of getting to the temple. One way is by vehicle which will take you almost to the top and from there a short walk or the other way is to walk up a very long steep steps, this can be quite challenging but so worthwhile once reached the top.
You get a sense of peace once you reach to the top with the chanting of om mani padme hum in the background, the prayer flags fluttering in the wind and the prayer wheels spinning.
There are other monuments to see surrounding the stupa; the sleeping Buddha, The Dhewa Dharma Monastery, the gold plated Vajra and the temple dedicated to Harati.
Entrance to the Stupa is free for locals however for tourists a small fee of 200 rupees applies for entry. The best time to visit Swayambhunath is early morning or in the afternoon to get a clear panoramic view of Kathmandu Valley.
Changu Narayan
Changu Narayan is an ancient pagoda style temple located on the hilltop known as Changu or Dhaulagiri. The temple is surrounded by forest in a small town of Changu close to Bhaktapur.
The temple is dedicated to Lord Vishnu and is considered to be the oldest temple in Nepal. Although the temple is dedicated to Lord Vishnu, there are shrines to Lord Shiva, Ashta Matrika, Krishna, Kileshwor and Chhinnamasta are also found inside the courtyard of the temple.
The temple gates are guarded by animals such as lions, sarabhas, griffins and elephants on each side of the entrance. There are statues throughout the temple, one of the main one showing Lord Vishnu in his 10 incarnations.
The best way to get to Changu Narayan is by motor vehicle. There are buses available from Kathmandu to Bhaktapur. You will need to catch another bus from Bhaktapur to Changu Narayan. There are museums along the way so make sure you stop and take a look at the history of the temple.
2. Kathmandu Durbar Square
Kathmandu Durbar Square is known to be one of the three Durbar Squares (Royal palace) in Kathmandu. The area where the Durbar Square is located in front of the old Royal Palace.
These Durbar Square in the Kathmandu valley is surrounded by stunning architecture rich in history and culture of courtyards and temples. Kathmandu Durbar Square is also known as Hanuman Dhoka (a statue of Hanuman, a monkey devotee of Lord Ram) and this statue is located at the entrance of the Royal Palace.
Kathmandu Durbar Square is one of the most iconic attractions of Kathmandu. It is a busy area filled with people passing by, selling items and many worshippers. It is home to the Kumari (living Goddess) and temples.
Do spend some time walking around Kathmandu Durbar Square and its surrounding. I suggest you visit during the day and evenings, both times are good but evenings are magical with the buildings and its surroundings area are lit up by candles and lights.
3. Central Zoo
Kathmandu Zoo is known as Central Zoo located on a 6 hectare area in Jawalakhel. It is the only zoo in Kathmandu which was opened to the public in 1956.
The zoo is home to more than 800 animals ranging from all types of species. It is not a big zoo however you can spend the day there.
Do prepare food beforehand as there are many picnic spots available throughout the zoo. There are play areas for the children and paddle boats at the pond centrally located in the zoo, you won't be able to miss it!
4. Thamel
Thamel is one of the well known areas of Kathmandu attracting thousands of people everyday, mainly tourists but has also been a favourite hang out spot for locals.
Thamel is known for their streets and alleys filled with small shops all lined up together selling goods, souvenirs and trekking gears. Travel agencies, restaurants, cafes, hotels, pubs and clubs also line the streets.
There are many well known restaurants and cafes with excellent choice of cuisines, prices are relatively higher compared to other places. The place is always bustling with crowd.
We do recommend visiting during late afternoons and at night, the streets and alleys light up with vibrant colours creating a magical experience of Thamel.
The best way to see Thamel is by foot or by rickshaw. Most areas of Thamel do not allow vehicles making it a lot easier to walk around. Do take extra care while walking from motorbikes and bikes, the alleys are really narrow and crossing from one side to the other can be quite challenging.
5. Patan
Patan is located in the district are of Lalitpur making it the third largest city of Nepal. The city is surrounded by rich Newar tradition, culture and history.
The main area of Lalitpur is Patan Durbar Square, which is one of the three Durbar Squares in Kathmandu Valley. There are many temples and historic architectural landmarks surrounding Durbar Square but mainly it was the residence of the Malla Kings of Lalitpur.
Krishna Mandir built in 1637 from a stone is located in the courtyard of Patan Durbar Square. The temple has 3 floors, each of the levels having its own meaning.
The first floor narrates the event of Mahabharata, second floor dedicated to Lord Shiva and third floor to Lokeshwor. Morning and evening prayers take place at the temple and can only be entered by Hindus.
Other temples located inside Patan Durbar Square are Bhimsen Temple, Vishwanath Temple and Taleju Bhawani Temple; each of them dedicated to a Hindu God.
Inside Patan Museum

Inside Patan Museum

Patan Museum Outdoor
Patan Museum is a museum dedicated to Nepal's cultural history. The museum is located inside the courtyard of the royal palace. The museum is famous for its collection mostly on Hinduism and Buddhism architecture.
Most of the art is made from bronze and gilt copper repousse work. The collections are displayed in red brick and traditional timber window rooms and all have information labelled below each artwork. The display rooms are all linked by narrow hallways and narrow timber stairways.
For a coffee break, you can stop at Museum Cafe located in the beautiful garden grounds of the museum. Patan Museum is open from 8:00am to 6:30pm (until 5:30pm in winter) everyday except for some days during the festival season.
Like Kathmandu Durbar Square, Patan Durbar Square is also an iconic attraction when visiting Kathmandu. It is a beautiful city and I highly recommend visiting during the evenings as it is more lively with streets and alleys filled with shops and roadside markets.
Patan Durbar Square is absolutely stunning during the evenings as the whole area lights up, bells ringing, beautiful views at every angle making it a worthwhile place to visit.
Patan is known to be the place to buy some of the best souvenirs so if you have any shopping to do then I suggest checking out some of the shops which have paintings, traditional copper and bronze ornaments and showpieces.
6. Bhaktapur
Bhaktapur is a city located 13km from Kathmandu. The city was once the capital of Nepal and the residence of the royal family during the Malla Kingdom.
A very popular tourist destination but not as crowded as Kathmandu and Patan. It is a clean charming city filled with so much history and Newar culture.
Bhaktapur is well known for its rich culture with many festivals celebrated throughout the year, Hindu and Buddhist sites, temples, wood and metal artwork and brick and timber architectural buildings. It is listed as a World Heritage Site by UNESCO.
Bhaktapur is famous for its special yoghurt made in clay pots as well as Newari street food located in the streets and alleys of Bhaktapur. People travel to Bhaktapur specifically for the yoghurt called juju dhau.
Bhaktapur is known for its many temples (dedicated to Hindu Gods and Goddesses), fish pond (one of the main attractions of Bhaktapur) and traditional art made from clay, it is one of the best places to buy souvenirs.
The most well known artwork is the wood carved windows. The great thing about these souvenir shops is that you can watch them being made. The skill level on the craftsman is amazing!
Bhaktapur most iconic building is the Nyatapola Temple located inside Taumadhi square, a 5 storey pagoda style temple dedicated to Goddess Laxmi, the Goddess of prosperity.
The city of Bhaktapur is surrounded by mountains, you can take in the stunning view of the city and Himalaya from the top of the Nyatapola Temple.
The best way of getting to Bhaktapur is by car. Taxis are available outside the main gate/entrance. Vehicles are not allowed inside the square and tourists are expected to pay for entry.
Tour guides are available who will give you insight of the city. I always say the best way to see a city is by foot, so make sure to wear your comfy shoes and enjoy the beautiful city of Bhaktapur.
7. Shopping in Kathmandu
Shopping in Kathmandu has been on everyones to do list whether its for souvenirs, arts and crafts, paintings, traditional wear or textile.
Nepal is known for its pashmina which is a fine type of cashmere wool. Scarves and shawls are made from pashmina and one should definitely consider taking one home.
You will not find any pashminas as the one you find in Nepal. There are different colours and styles to choose from. You can find pashmina sold at many tourist spots such as Thamel, New Road, Patan and Bhaktapur.
Bargaining is a big thing when shopping unless items are at a fixed price. So make sure you practice your bargaining skills and be prepared for a little competition.
New Road is a famous area known for shopping, mainly for traditional wear such as sarees and lengha as well as many souvenir vendors and department stores. This is the perfect location for everybody. Just be aware of the crowd as the streets can get very busy.
For souvenirs such as traditional art and crafts, the best place to buy is in Patan and Bhaktapur. You can find all sorts of traditional showpieces made from metal or clay, a unique collection to take home.
Depends on what your interests are there, are many selections to choose from and endless shopping when visiting Kathmandu, just remember to leave some space in your suitcase!
Travel Tip: Cost of eating out in Kathmandu
Kathmandu has become the third most expensive city in South Asia. Although Nepal is a third world country, the standard of living has increased year by year.
Eating out in Kathmandu is the food culture and the trend which means people are able to afford going out. Depending on where you go will determine the price you pay.
Most trendy cafes and restaurants are on the higher end of Kathmandu so you'd be expected to pay roughly around USD $10-20. Those for more of a simpler option, you could expect on average to pay around USD $5-10 .
8. Kathmandu Palace
Narayanhiti Palace is a palace located in Kathmandu right in the central area of Durbar Marg Kingsway. The palace served as the main residence to the royal family (Shah Dynasty). The current palace was built by King Mahendra in 1963.
The palace stands alone on a large land with beautifully landscaped gardens and is divided into three parts, the guest wing, the state wing and the private wing.
There are 52 rooms inside the palace and are named after 75 districts of Nepal. The palace is decorated by large portraits of Shah Monarchs and wall mounted hunted animals such as the Bengal tiger.
The palace is no longer a residence to the royal family as the government declared Nepal as a republic country forcing the King out of power. The royal place is now turned into a museum with thousands of people visiting everyday, showcasing the public the lifestyle of the royal family.
The crown jewels on display is considered the most valuable objects of Nepal. Strict rules apply when visiting the palace. Cameras and bags are not allowed inside including mobile phones.
Lockers are available at the entrance gate of the palace. The museum is open 5 days a week from 11 am to 3pm and closed Tuesdays and Wednesdays.
9. Garden of Dreams
A private garden situated at the entrance to the tourist area of Thamel. The garden is also known as the Garden of Six Seasons built in the 1920s in Kaiser Mahal Kathmandu located across the road from the Royal Palace.
Inside the garden grounds features fountains, pergola, pavilion, ponds, decorative garden furniture and many more. This garden is a true paradise from the hustle and bustle of Kathmandu.
There is an entry fee of Rs 100-200. A restaurant and café is located inside the garden operated by the famous Dwarika's Hotel known as Kaiser Cafe.
Make sure to stop here for a break over a nice cup of coffee!
10. What to Eat in Kathmandu
Eating out in Kathmandu has become a trend for many people, with a great number of trendy restaurants and cafes throughout Kathmandu particularly in the touristy hotspot areas in the city.
Nepali food is somewhat a mixture of Indian and Tibetan cuisines, a taste of fusion. Nepal's signature dish is Dal Bhat Tarkari often eaten with hands, eaten twice a day throughout Nepal. Dal is a lentil soup, bhat is rice and tarkari is curry served with a variety of condiments.
Another popular dish and a favourite to all Nepali's is Momo which is a Tibetan style dumplings with Nepali spices. Momo's are filled with your choice of meat usually chicken or buff and vegetarian options are also available.
Momo's are served with different kinds of sauces usually made from cooked tomatoes complimenting momo's. You will find momo served everywhere!
Nepali cuisines are influenced by the caste and what region of Nepal you are from. There is a great variety of food with unique flavours, each of them having their own signature dishes.
So make sure to explore the food culture of Kathmandu and follow the aroma of the food!
Travel Tip: What not to eat in Nepal
One must be very careful where you eat and what you eat in Kathmandu. Some food may be tempting but it is always best to know the quality and hygiene of the places you eat, well at least try to. The main concern here is to select food with a fast turn around time and obviously not go for something that has been sitting around.
You need to be careful when you drink water. You must not by all means drink tap water! Strictly no! That is including some bottled water, they are not as clean as you may think it is so be extra careful when you do buy bottled water. Make sure to always carry your own water purification tablets and handle it on your own. The process is very simple, buy bottled water, boil it and add purification tablet. Instructions are written on the back of the packaging.
Also try and avoid fresh fruits and vegetables, raw produce and dairy products as you don't know how that has been handled and washed. This includes fresh juices and dairy drinks etc. It is best to buy drinks that comes in a bottle rather than glass (as you don't know how its been rinsed and the quality of water used) and strictly avoid ice as it may be contaminated by dirty water. When you drink soft drinks, juices, again make sure that they are unopened before you drink them. Try not to use ice with your drinks. Look for branded alcoholic and non-alcoholic drinks.
When it comes to food, there are so many restaurants and bars to choose from. Do read below for our recommendations for places to eat. Although food in small shops and street food looks appealing, do avoid them as it may not be worth it especially if you are visiting Kathmandu for a short period of time.
In saying that, one time we were in Kathmandu, we did try a very popular street food in Patan serving authentic Newari food. It was smoked chicken with spices called Choila, spiced potato and lentil pancakes accompany with their local alcohol chyang made from fermented rice water and to our surprise we didn't get sick, but having said that you just don't know, getting sick by food can happen anywhere. So when eating out, try to stick to the local food as it is eaten daily rather than selecting western food. Always select foods that are cooked in high heat and meals that are freshly prepared.
Related Article: Luxury Hotels in Kathmandu
Conclusion
Kathmandu is a city that offers spectacular activities throughout the day and night, both times of the day giving a different experience. The city is filled with charming neighbourhood rich in culture and history that makes it an interesting city to explore.
We hope our article has helped you to find some of the top things to do in Kathmandu. Do have fun exploring Kathmandu and hope you enjoy the city.
Have you visited Kathmandu? What were your favourite places? Can you share your experience with us? Also, if you have any questions or would like to share your feedback, please, leave a comment below. Thank you and have a great trip!