Things To Do In Nusa Dua In 2023
Looking for things to do in Nusa Dua? Then this is the article for you!
Are you seeking your own 'Eat Pray Love' experience or a solo trip backpacking? The ultimate luxurious holiday? Or that family-friendly holiday?
What comes to your mind when you hear or think about Bali, Indonesia? What are you seeking for that ultimate holiday in one of the most picturesque locations in the world?
Bali is the most popular tourist destination in Indonesia with millions of tourists visiting each year.
Denpasar is the capital of Bali and is the major gateway to the island, this is where it all starts for that memorable journey to a fabulous holiday!
There are so many things to do and see if you are looking at visiting Bali as a whole, but that is why we wanted to break things down a little more by city location instead of just looking at Bali altogether.
So, let's go through one of the well-known areas of Bali, Nusa Dua and some of the best things to do in Nusa Dua.
Nusa Dua is one of the best places to stay in Bali so let's go through some of the reasons why you should consider staying here on your next visit to Bali.
Need a driver in Bali? Contact us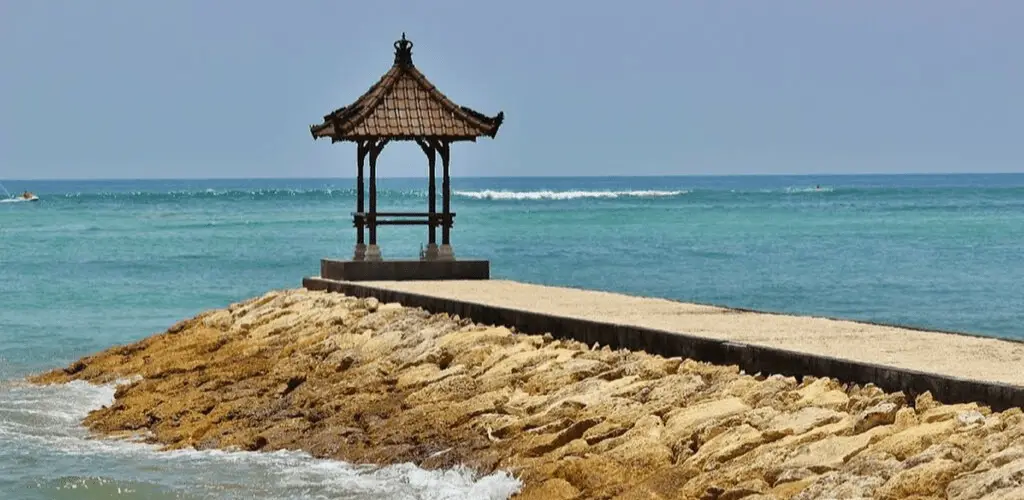 Let's get straight into it and look at the best things to do in Nusa Dua Bali.
1. Nusa Dua Restaurants
Although Nusa Dua is known for its resorts, there are also plenty of restaurants for that fine dining experience providing the highest quality of food.
You can also find some of Bali's top dining spots where international chefs cook up world-class cuisine.
Most of these restaurants are located inside the resort providing an elegant five-star dining atmosphere.
Some of these restaurants require reservations and the dress code does apply so make sure to visit their website for further details.

Bali Collection
For a more family-friendly casual dining setting then head to Bali Collection for some of the best food in Nusa Dua.
Here you will find a great selection of restaurants with some of the best seafood and international cuisines, mainly catering for tourists.
Bali Collection is very lively and enjoyable, especially during the evenings.
This was one of our favourite places to eat out. We would come here almost every evening as we really enjoyed the food and ambience. 
Depending on where you are staying in Nusa Dua, most resorts will have transport to Bali Collection. Most of the resorts are within walking distance and conveniently located.
There are shuttle buses that take you to Bali Collection and back. Depending on where you are staying and the shuttle bus service, transfers are available every hour to and from Bali Collection.
The last shuttle bus from Bali Collection is at 10:05 pm.
This location is amazing if you are wanting to relax at the vast amount of luxury day spas and restaurants, drink and enjoy the nightlife.
Owing to its high-end shopping, combined with many eating establishments, it has rapidly become one of the most well-known tourist areas on the island.

Jalan Pantai Mengiat
Another great area for restaurants and shopping is Jl. Pantai Mengiat Road.
This is a convenient location close to many hotels, a short walking distance. This was a fantastic place to go especially for lunch and shopping.
This was a perfect location for us as it was only a 5-minute walk away from our hotel. We would often go to the convenience store to buy all the essentials, have lunch, shop and go for a massage. 
Jl. Pantai Mengiat Road has always been a popular location among tourists and is becoming more and more popular.
The streets are lined with souvenir shops, restaurants, cafes, day spas, and convenience stores. The street is filled with amazing restaurants with a variety of delicious Indonesian and International cuisines.
During the night the restaurant becomes livelier with the entertainment of music and traditional Balinese dance.
You can enjoy all the delicious food, drinks and live music for a nice family-friendly casual dining experience.
Shopping here is relatively cheaper than in Bali Collection so prepare yourself for a good bargain, the shops have beautiful Balinese souvenirs to take back home.
After shopping and eating, treat yourself to a day spa located on this street. There are many to choose from, info and price listing of their service will be found outside the spa so take a look and see which one suits you.
As I mentioned there are so many to choose from if you don't want to spend too much money then there are places available with great service at a reasonable price.
You will find the prices here relatively cheaper than Bali Collection. We would often go to this day spa as their service was really good for a foot massage/body massage.
The price was cheap, for 30 minutes we paid 60,000 rupiahs or for an hour 100,000 rupiah.  It's the perfect place to relax and rejuvenate yourself after a tiring day walking and exploring Nusa Dua.

Bumbu Bali
For a more authentic Balinese cuisine dining experience than you should check out Bumbu Bali. Bumbu Bali is set in a traditional Balinese setting serving up tasty Balinese dishes.
The atmosphere is vibrant with live entertainment of traditional Balinese dance and music held during the evenings. They have a great selection on the menu serving up the finest Balinese cuisine. 
If you would like a hands-on experience of Balinese food, then why not join their cooking classes?
The cooking classes are a great way of understanding the flavours and techniques of Balinese cuisines so prepare to master your cooking skills leaving you with an ultimate culinary experience in Bali.
We highly recommend coming and experiencing the authentic taste of Balinese cuisine.  
Note: Bumbu Bali cooking classes are only available on Mondays and Wednesdays from 7:30 am to 2 pm.
If you want a driver to take you to Bumbu Bali, you can contact one of our drivers here.

Tamarind
Another hot spot dining experience on a beachfront location with stunning views of the Indian Ocean is at one of the popular restaurants in Nusa Dua and that is Tamarind Mediterranean Brasserie, located inside the Nusa Dua Beach Hotel and Spa.
This unique two-level restaurant is built entirely from bamboo giving it a beautiful unique architectural look. The restaurant offers Mediterranean, modern Asian and international cuisines all presented and using top produce.
The restaurant is open daily for lunch and dinner from 12:00 pm to 12:00 am.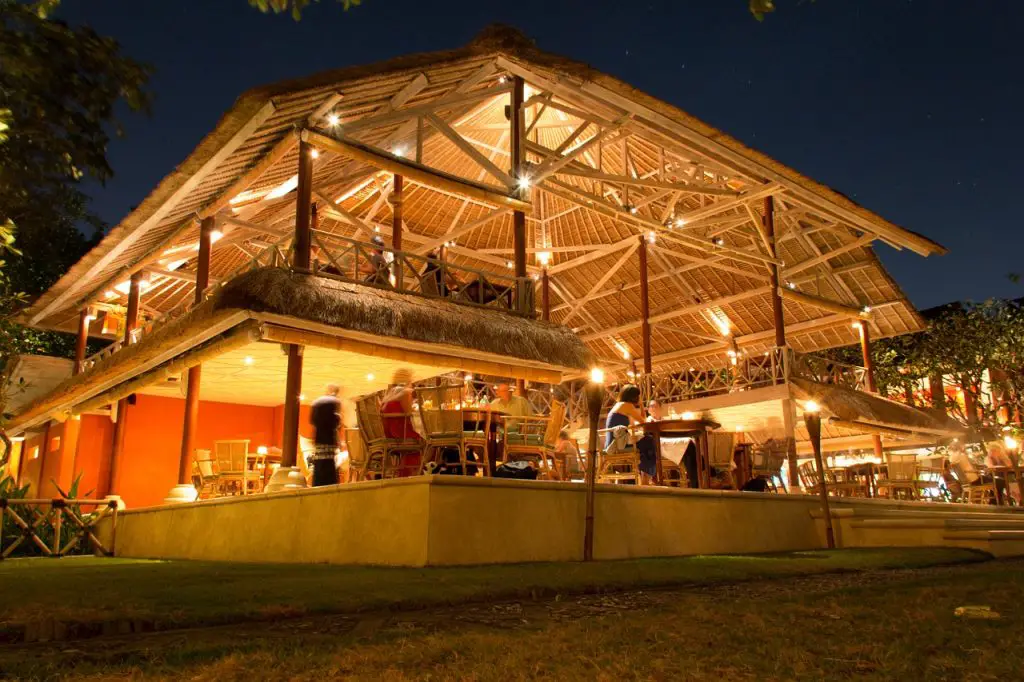 2. Water Blow Nusa Dua
Water Blow is one of the most famous attractions in Nusa Dua. It is located in the Southern Peninsula of Bali close to Grand Hyatt Nusa Dua Resort with spectacular views of the Indian Ocean.
Depending on where you are staying, you can walk to the Water Blow site.
We stayed at the Novotel which was a 25-minute walk to the Water Blow. You can also hire a bike from your hotel if they provide bike rentals and cycle to the Water Blow.
It is a stunning coastal walk/cycle passing through other resorts along the way.
You can stop at various points along the way to get a bite to eat or drink and enjoy the view! I do recommend choosing the time wisely and to avoid walking during midday as it does get very hot and there aren't many shades.
So, don't forget to apply sunscreen and a hat and make sure to carry water with you. The best time to visit is in the morning or late afternoon.
Once you reach the observation deck, please take good care as the waves can be very strong with strong currents and high tides.
The Water Blow is located on a cliff so take extra care as it can be very slippery.
Visiting the Water Blow in Nusa Dua is free and there is no entrance fee.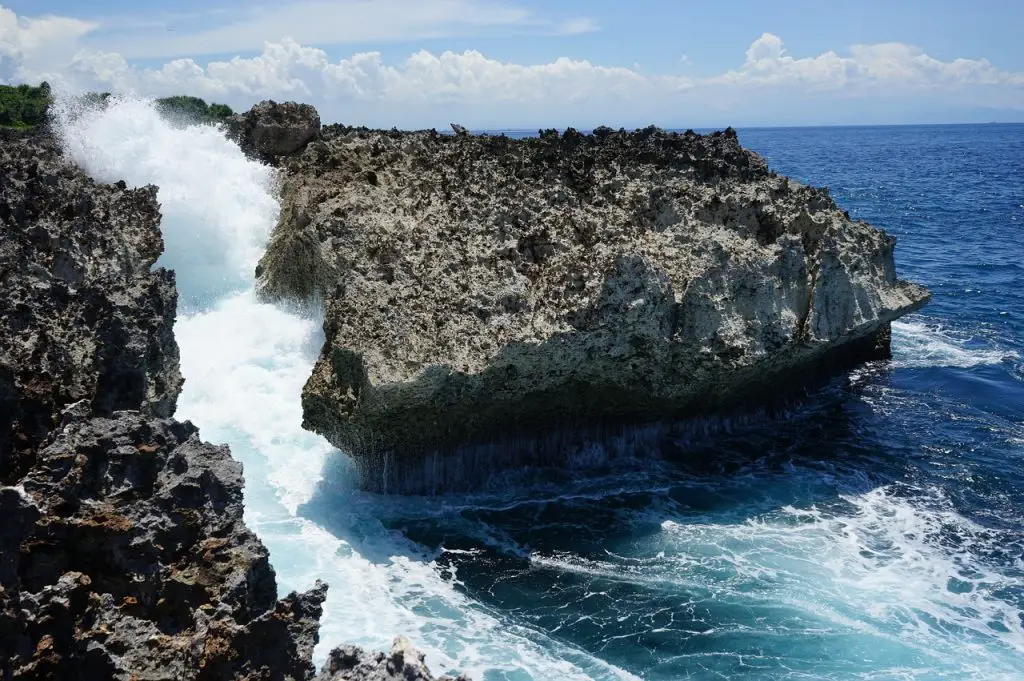 3. Nusa Dua Beach
Nusa Dua beach is known for its beautiful beaches offering white sand and clear blue water. It is a beautiful spot for water sports activities and swimming.
Most of the resorts are situated on the beachfront with spectacular views of the beach.
Each resort has its own area for guests to sit down and relax on sun lounges and day beds so make sure to get there early and grab a spot.
For the adventure seekers who feel like an adrenaline rush then Nusa Dua is the perfect place for water sports activities.
All the water sports activities are located at Tanjung Benoa beach in Nusa Dua. The water here is clean and calm making it the ideal location for water sports.
The activities you can find here are parasailing, jet skiing, a Banana boat, snorkeling, scuba diving, a trip to Turtle Island by glass-bottom boat, sea walker and water skiing.
This is a great experience and a fun day out on the water!

Mengiat Beach
Mengiat Beach is one of the most stunning areas in Nusa Dua with white sand and clear blue water making it one of the most beautiful beaches in Bali. 
This beautiful beach is a popular spot for tourists, especially for those staying at the hotel close by.
It is located inside Nusa Dua's BTDC complex (Bali Tourism and Development Corporation). Each hotel has its own seating area with sun lounges and day beds, I suggest you come early to grab a spot as the place gets very crowded.
The beach is protected by an offshore reef, which prevents the waves from breaking on the beach making the water calm, and a perfect spot for swimming, especially for families with children.
You can also find massage and women's hair braiding services by the beachfront from the locals at a reasonable price all while relaxing on a sun lounge enjoying, and taking in the stunning views of the beach.

4. Shopping
Shopping! One of the most favorite things girls love to do! Bali is no doubt one of my favorite places for shopping.
Here you will find some of the most unique items whether it's souvenirs, clothing or accessories.
Have a fun day out shopping in many markets and shopping complexes.
Have your driver take you to some of the well-known shopping locations for the best bargains!
To hire your own private driver with a car then please click here.

Bali Collection
Finding a place to shop in Nusa Dua is no problem, here you will find something for everyone. One of the most well-known areas for shopping is Bali Collection.
This is a fantastic complex filled with all kinds of shops and stores suitable for everyone.
Bali Collection is known to be on the higher end of prices catering for tourists with international fashion brands.
You can find the Sogo department store here. The store has a great selection of branded clothing, accessories, cosmetics, homeware, food and toys.
If you don't have much time to explore other shops, then this is the perfect place as everything is under one roof.
Bali Collection also has some of the best stores to buy authentic Balinese souvenirs, there is quite a selection so do have a look around and find what you like.

Jalan Pantai Mengiat
Another hotspot for shopping is Jalan Pantai Mengiat.
You will find small shops all lined up filled with traditional arts and crafts, clothing, accessories, and Balinese decorative pieces.
This was one of my favourite places to go shopping as it was conveniently located from where we stayed as well as the prices were a lot cheaper compared to the Bali Collection.
If you do plan on shopping here, be prepared to bargain, you won't be able to do that Bali Collection as it is all at a fixed price.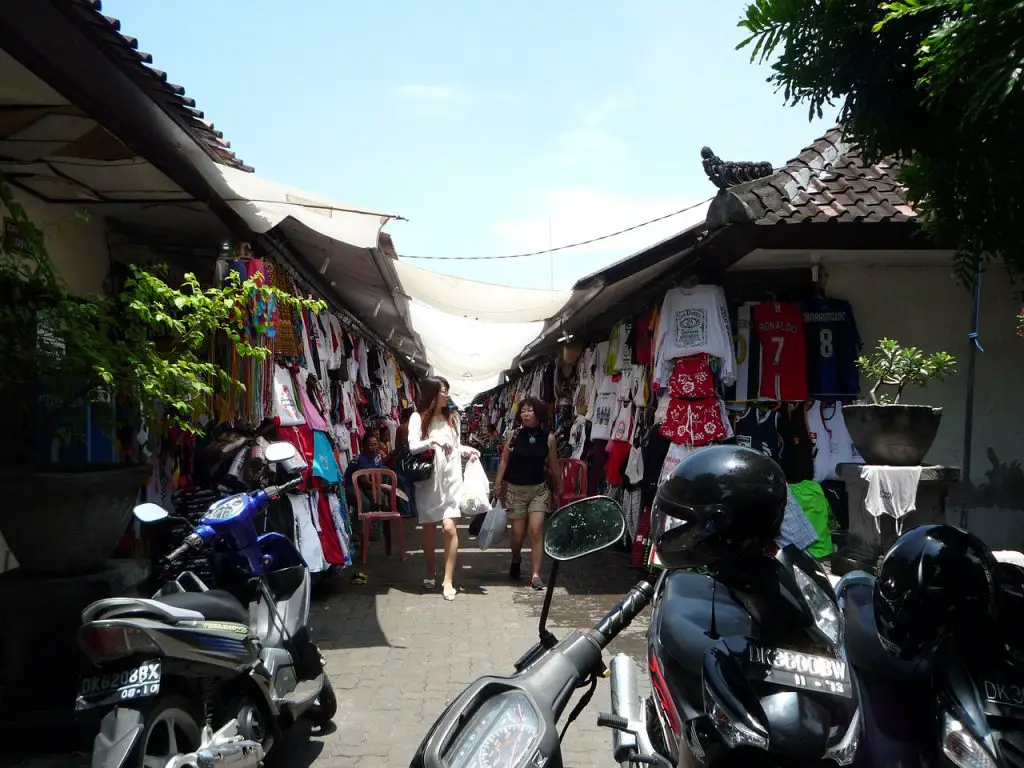 Hardy's Nusa Dua Plaza
Another place to check out is Hardy's Nusa Dua Plaza, a two-story store. This place is more like a supermarket selling groceries, authentic Indonesian food, clothing, toys, stationery and household items.
This place is mostly catered to the locals making the prices very reasonable. It is located near the main entrance of the Nusa Dua BTDC complex.
Frequently asked questions
Should you stay in Nusa Dua?
Nusa Dua is situated in the Southern part of Bali and is known for its beautiful beaches and many beachfront luxurious hotels and resorts.
The word Nusa Dua means two islands because there are two islands in the area, Peninsula Island on the southern side and Nusa Dharma Island on the northern side.
Nusa Dua is known to be a sophisticated area of Bali with immaculate landscapes, a true feeling of tropical paradise as soon as you enter Nusa Dua.
The area feels secure, all vehicles entering Nusa Dua must stop at security checkpoints including security checks at the entrance gate at all hotels/resorts.
Choosing the perfect accommodation and the right hotel/resort is an essential part of a holiday!
Everyone wants their holiday to feel special and different, and even more luxurious than the everyday environment.
Due to these reasons, holidaymakers select resorts to relax, sit, enjoy and soak up the Bali sunshine.
When it comes to comfort, all of these luxurious resort offers it as well as all the amenities that come with it.
From room service to luxurious additions such as a spa, gym, and swimming pools, just to name a few and many more, the perfect place to start and end the day!
The destination is known to have some of the world's biggest luxurious resorts, white sandy beaches, clear waters and many restaurants for fine dining.
It is the perfect location if you wish to stay in a resort-style paradise and enjoy a relaxing environment.
Another option to look into for accommodation in Nusa Dua is Airbnb.
This is perfect for those who want to stay away from the crowd and seeking a quiet stay. Most of the accommodations you will find on Airbnb are mostly villas.
In saying that, you can find rooms located in the hotels and resorts to book that are advertised on Airbnb.
This is also a great option to look into as the bonus part of booking these rooms is the amenities that are available to use while staying there.
One of the reasons why people prefer to book on Airbnb compared to hotels is the pricing. Airbnb is relatively cheaper than booking through a hotel/resort.
Airbnb allows you to book a whole apartment/room, unlike hotels as they charge per person.
Prices for Airbnb are consistent whereas hotel prices change according to seasons and time of year.

How to get from the Airport to Nusa Dua
Bali's international airport is located in Denpasar and is also known as Ngurah Rai International Airport.
The time it takes to get to Nusa Dua from the airport takes around 25-30 minutes depending on the traffic, a bit shorter if travelling via a Toll road.
The best way of getting to Nusa Dua is by hiring a private car with a driver or by catching a bluebird taxi from the airport.
Bluebird taxi pricing and hiring a car with a driver will cost you around 150, 000 to 200,000 rupiah ( USD $15 )
Returning to the airport from Nusa Dua is a similar scenario as going to Nusa Dua. Airport transfers are available, you can make arrangements with a private driver beforehand to organise your transfer.
This works out to be much cheaper than organising with the hotel.  
For hotel transfers, airport transfers and day trips, you can find the best private drivers in Bali here.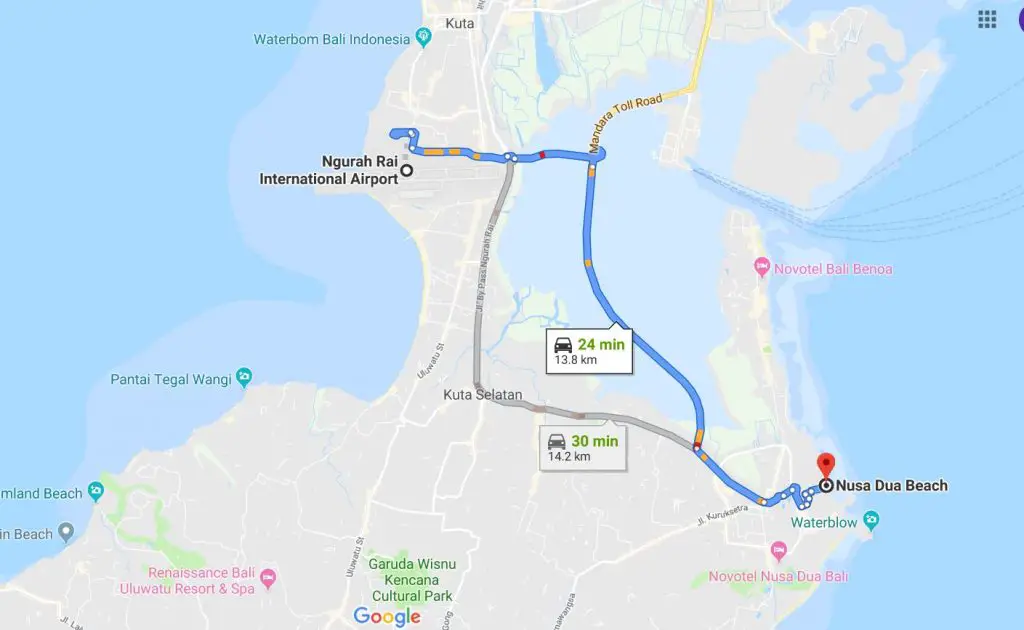 How to get from Nusa Dua to Seminyak
The drive from Nusa Dua to Seminyak and vice versa will take around 45 minutes depending on traffic.
The best way to travel is by the usual way of travelling in Bali and that is by hiring a private car with a driver or a Blue Bird taxi.
Seminyak is another popular destination for travellers to stay, located between Kuta and Canggu.
Seminyak is known to be a hip and sophisticated area of Bali. The area is filled with trendy cafes and restaurants, a great location to walk around and soak up the atmosphere.
There is a great selection of luxury spas and hotels as well as high-end shopping and many fine-dining restaurants all catered for tourists, making it one of the most well-known tourist areas on the island.
The best way to travel around Bali is by hiring a private driver with a car. It gives you the flexibility to travel to places you want to see rather than worrying about finding a taxi for every destination.
If you are planning to explore Nusa Dua and surroundings, you can hire a private driver in Bali.
You can check the price here.

Nusa Dua Bali Helpful Map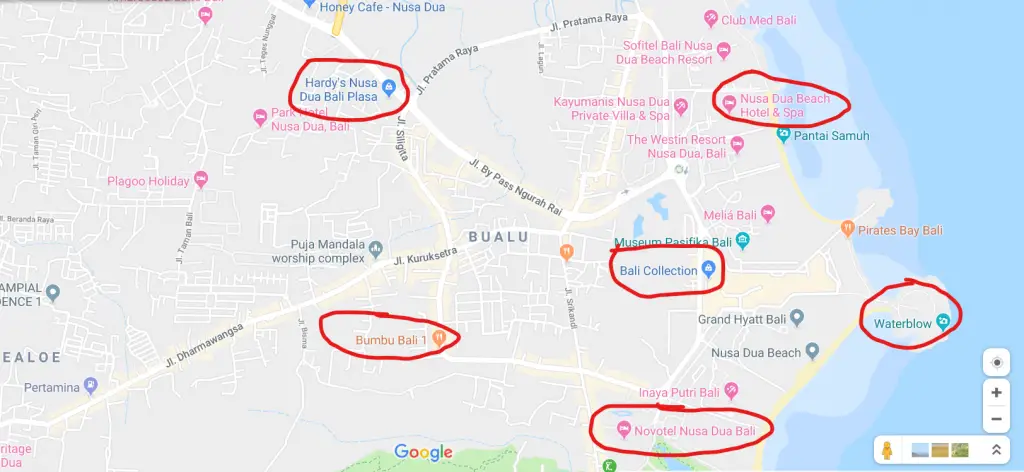 If you need cars with private drivers for an airport transfer, full-day, half-day and tours, we have verified drivers and we do not charge any booking fees. Please contact us
Recommended Articles:
Conclusion 
Nusa Dua is a wonderful place to visit with lots of things to do and I highly recommend staying here on your next visit to Bali. A great place for families, romantic spots for couples and plenty of activities for adventure seekers.
This place is amazing if you are wanting to just relax on the beach, eat, drink and shop. The people here are generous and happy and love to share their culture and traditions with visitors, you will see the amazing culture of the Balinese people. 
Have you stayed in Nusa Dua before? Can you share your experience with us?
Also, if you have any questions or would like to share your feedback, please leave a comment below. We hope this has provided some information and will guide you on some of the things to do in Nusa Dua. 
Have a safe trip and happy travels!