Things To Do in Bali ( 2020 Guide )
by Seek To Travel | Updated January 19, 2020
Bali, Indonesia has been counted as one of the most picturesque locations in the world for a good vacation for those who are designing to get off the beaten path, find their inner selves and take a trip outside of what normal tourists would expect.
In this article, we are going to talk about some of the wonderful and beautiful Things to do in Bali, to get off the beaten path and to really enjoy yourself in a physical and spiritual way.
Hey, for a bit of an extra adventure, you can even hire a private driver with a car and take to the challenge of the frenzied streets of Bali! There's no better way than having your own driver to explore Bali.
To find the best private drivers to explore Bali, you can check our website.
20 Best Things to do in Bali in 2020
1. Take a Visit to the Ulun Danu Temple
Sitting on the edge of the Baratan Lake this angelic temple was dedicated to the goddess of the lake is one of the most peaceful locations you will find on the island.
There are numerous shrines surrounding the lake all dedicated to different gods. You could spend a peaceful morning or a relaxing afternoon enjoying the serenity of this mystical lake.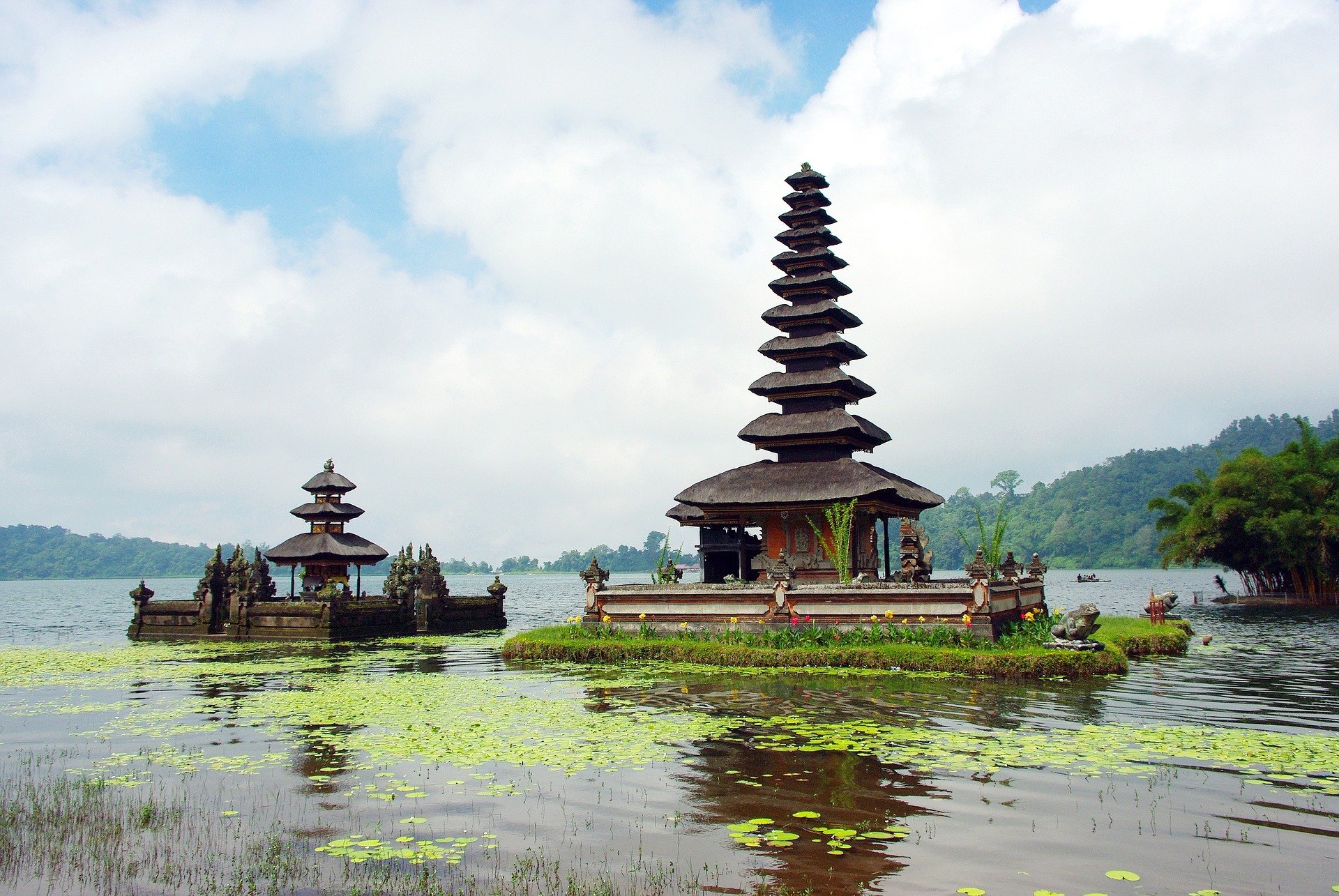 2. Dive the Padang
Padang Bai is located just to the East of Bali and it is one of the earth's famous dive spots. There are seven different dive sites where you will see sharks, turtles and a vast array of coral gardens to view.
If you aren't already certified in PADI diving, have no fear! You can get fully certified during your visit with one of the many PADI dive shops around Bali.
3. World Famous Tegalalang Rice Terraces
The Tegalalang rice paddies are located just North of Ubud and is one of the more iconic sights to see while visiting Bali. You can always wander through the fields throughout the day but if you are wanting to get an early start these fields are busting with life!
You should sacrifice one early morning on your vacation to visit the rice paddies in the morning – just a suggestion.
You should hire a driver in Bali to explore the best rice terraces in Bali.

4. Are You A Yogi?
Bali is known for the abundance of methods for relaxation, temples with heavy influences of Buddhism, Balinese Hinduism, and Hinduism, there is an absolute sense of the search for inner self.
Along those same lines, travelers come from all corners of the world to visit several yoga school and studios. One o the most popular in Bali is the Yoga Barn, a yoga retreat center where you can stay to focus on cleansing your mind and your body through the several detox programs the Yoga barn offers.

5. Visions of Paradise – Nusa Penida
When you think about visiting Bali what is the first thing that pops into your head? Turquoise waters, perfectly green rainforests, and white sand beaches? Well, the answer to all of these is YES!
We wanted to share with you one of the best and most beautiful beaches in Bali, Diamond Beach. Diamond Beach in Nusa Penida is one of the most perfect and truly iconic beaches for white sand glorious and teal blue waters.
You can check out the price for Nusa Penida tours here.
6. Water Jetpack at Tenjung Benoa
Well, it is more like 30 feet off the ground. In Tanjung Benoa lies a specialty shop where you can strap on a water jetpack and literally take off into the air!
Talk about a once in a lifetime experience, have no fear – instructors and trained specialists will be around you the entire time and teach you how to fly this adrenaline-pumping water sport before you actually strap on your jetpack and fly away!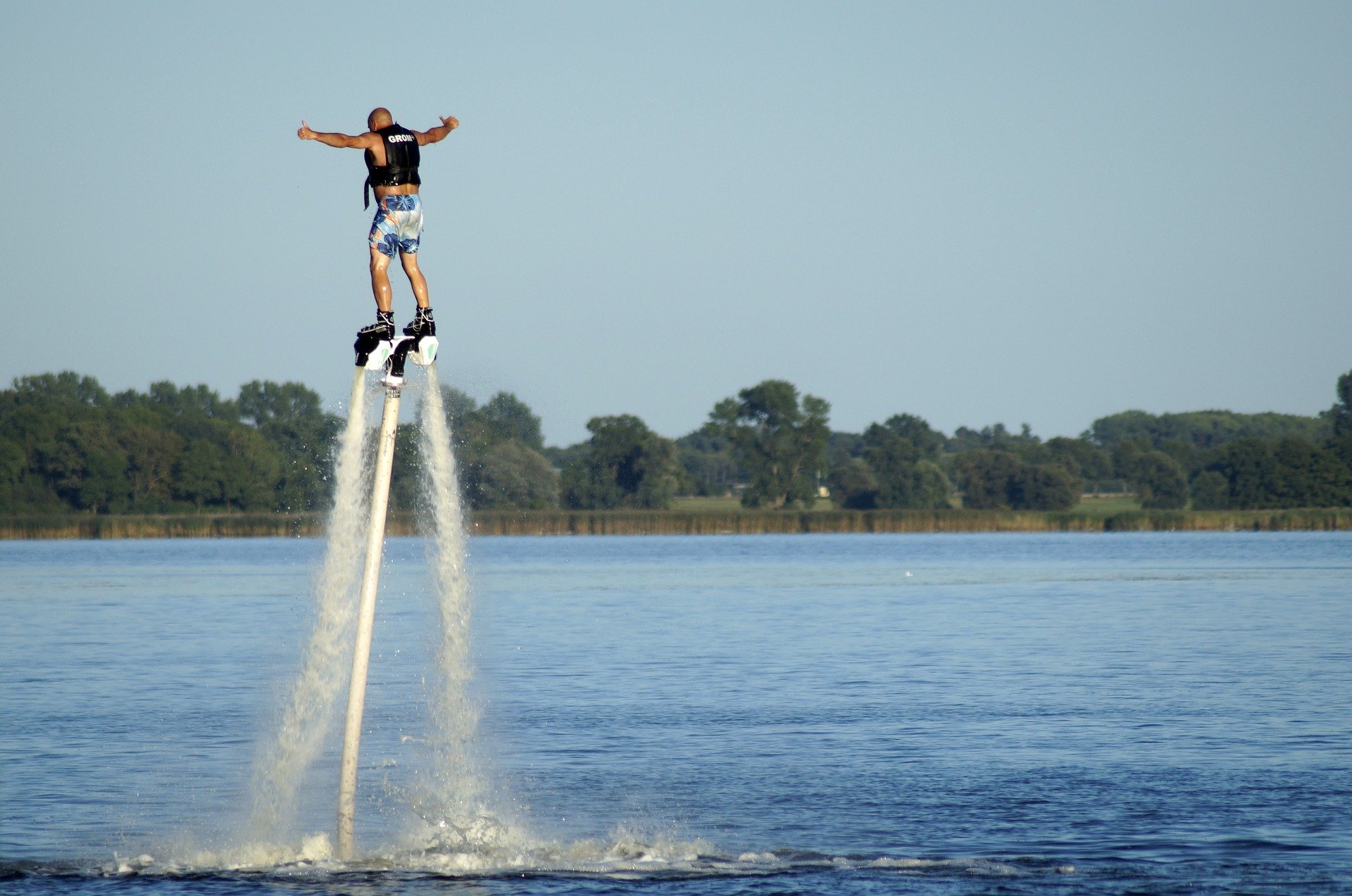 7. Tanah Lot Temple
What happens so commonly with island nature is the ocean beats away at the coasts of any island and slowly but surely the edges of the island begin to disappear.
This is what happened on the coast where the Tanah Lot Temple is located. Bali's most famous attraction, a Hindu temple, that now sits alone as a majestic structure that has a perfect few of both the sunset and sunrise.
If you want to visit during sunset, get there several hours before the sun sets, hoards of people are now drawn to this magical location and don't be surprised if you see a proposal or two.
You can check the price for Tanah Lot Temple here.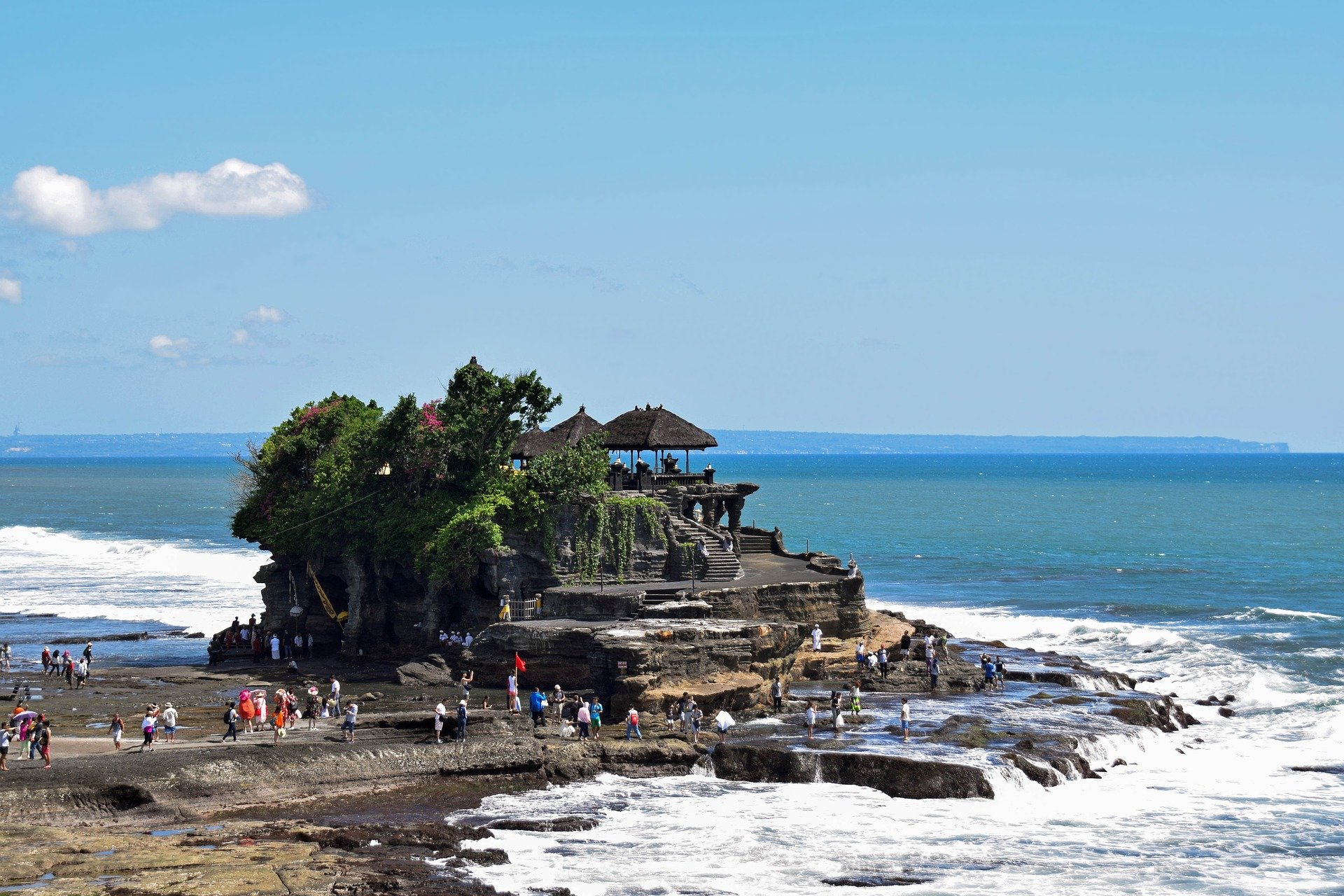 8. Taste local Bali cuisine
Anytime that I visit a country outside of my own I always try to find a local cooking class. This way that not only are you able to taste the local cuisine, but you are also able to learn how these plates are cooked in the traditional manner!
It always is an eye-opening experience and one that will stay with you and your belly for years to come, many times the cooking classes will email you the recipes you've cooked during the class so you are able to go home and make these cultural meals on your own when you get back home too.
In Bali, you can take a cooking class at Bumbu Bali, a local restaurant that also offers cooking classes in the morning.
The class starts by taking a trip to the market to pick out the local Balinese ingredients you will need for your meal, then once you return to the restaurant class is in session.
9. Kecak dance show
Bali is famous for its Kecak dance, which was developed by the villages in the 1930s. The entire dance and show are set to the sounds of the men chanting acapella, which is the rhythm used to dance too.
These shows are set under the stars, I can't think of a more magical way to spend an evening than soaking up a cultural dance under the stars, can you?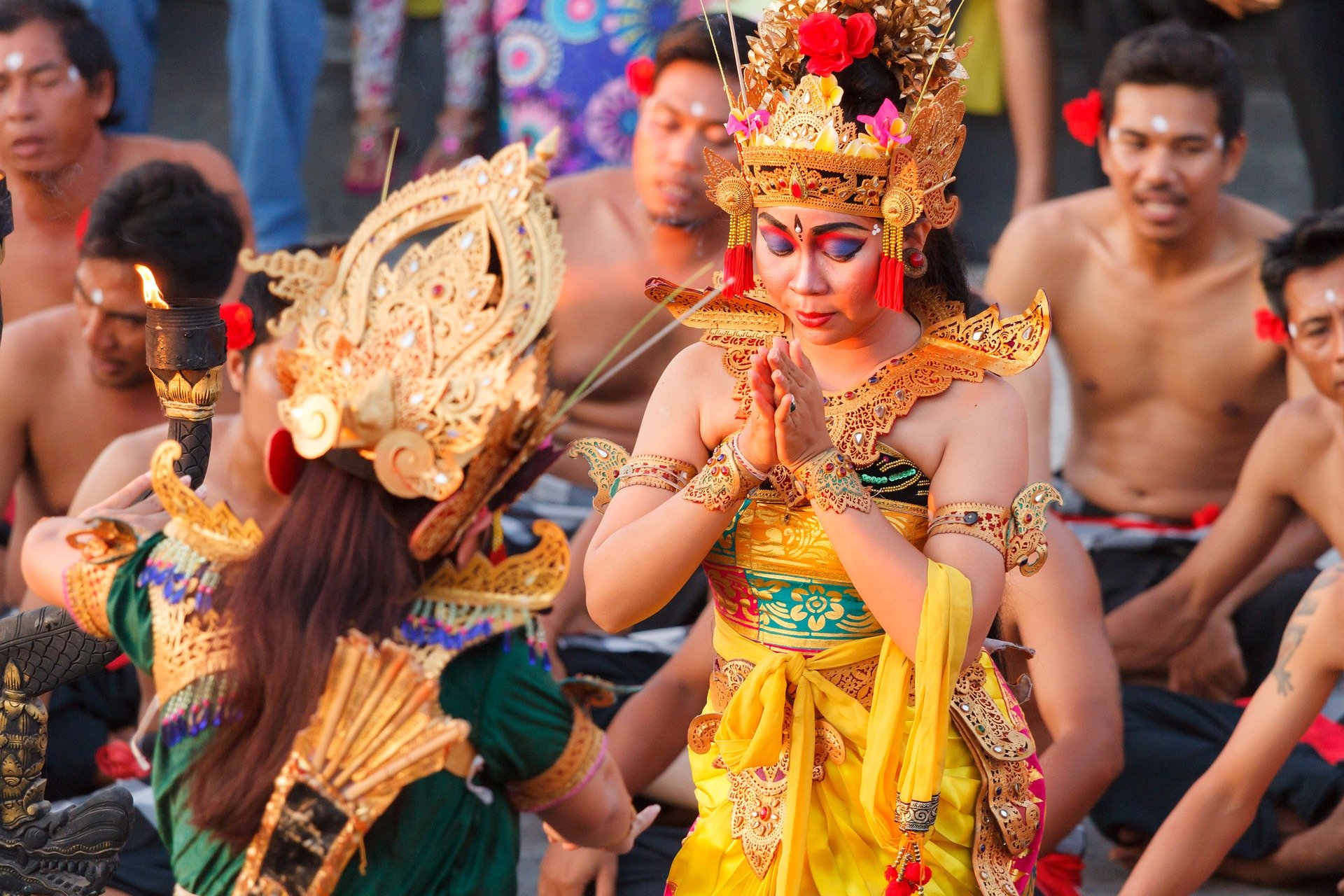 10. Monkeying Around at Monkey forest
All you animal lovers listen up! In Bali, there is a forest dedicated to the local inhabitants, of monkeys!
Monkey forest is sited in Ubud and has three Hindu temples that were constructed in the early 14th century located within the complex that you can visit along with the over 500 monkeys that roam around the forest.
This is a natural reserve that you can walk through and even take a few selfies with the monkeys.
Be aware, however, these grabby primates are also known to pickpocket and grab cameras, bottles of water and sunglasses without you noticing what happened before it is too late, so keep an eye on your items when walking through.
You can hire a private driver for a full day in Bali to visit the Monkey Forest and also explore surrounding areas.
11. Sacred Baths in the Tirta Empul
If you ever watched the movie "Eat, Pray, Love" with Julia Roberts you will know about the location I am going to talk about next.
The sacred baths of Tirta Empul is a pool filled by fountains from nearly all sides, the architecture of this bathing house is absolutely astounding and is definitely worth walking around after you take a dip into the sacred waters.
Tirta Empul is said to be sacred by the countless numbers of Hindus that travel from all corners of Bali to bathe in its healing waters.
There are many attractions in Ubud including this one, Tirta Empul. The best way of getting to most of these places is by hiring a private driver with a car, they take you around giving you that flexibility with time and hassle-free (on finding your own transport for every stop).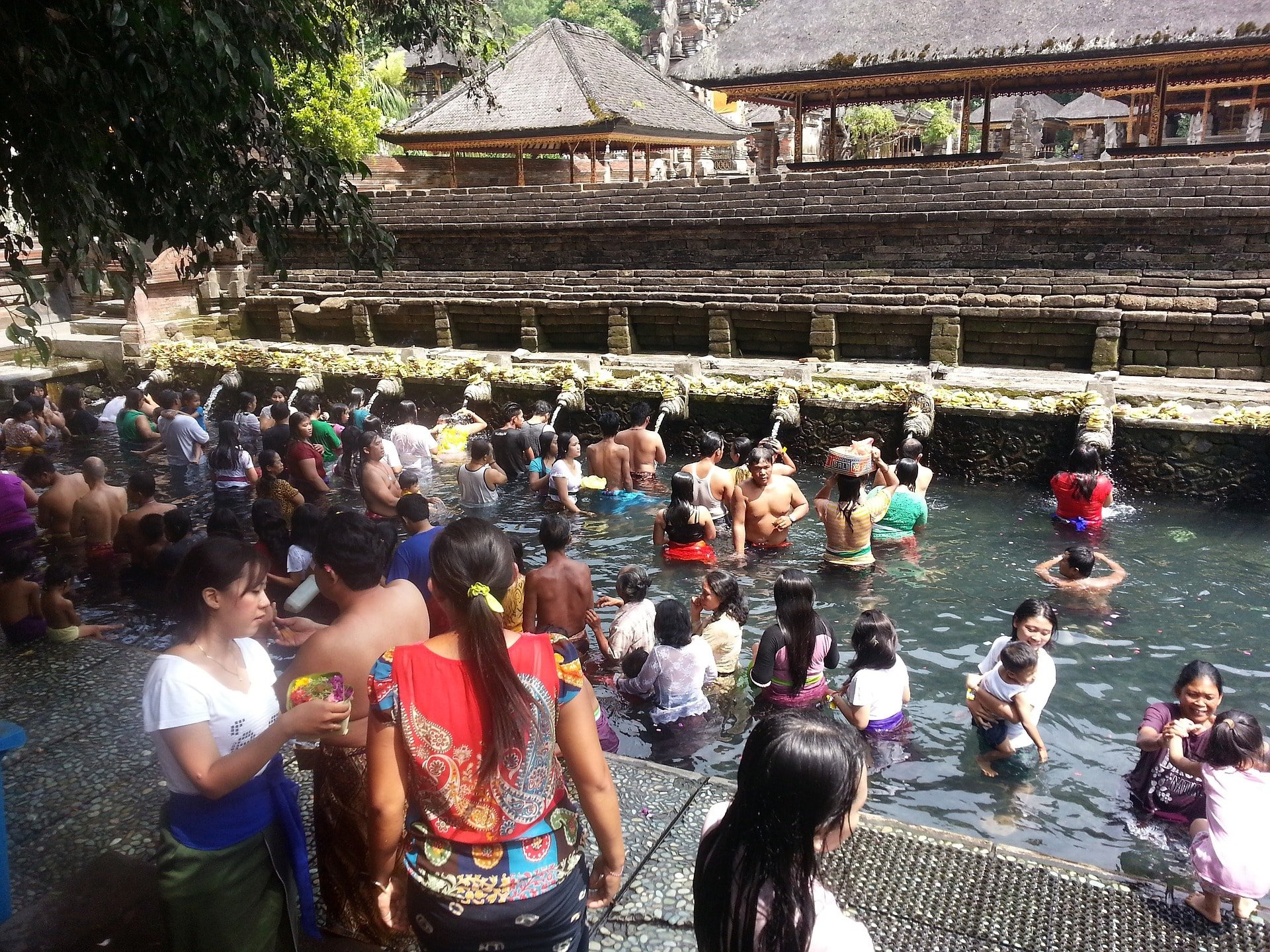 12. Eat on the beach of Sanur
Like any island, Bali isn't just comprised of the jungle, rice paddies, temples and tiny villages. There are busy and bustling towns like Kuta that you can visit (which we will touch on in a moment) but then there are seaside villages like Sanur.
Sanur is known for its world-renowned beaches, but this town has more to offer than just pretty beaches.
Take a chomp into some of the best seafood you might ever taste, caught fresh every morning and grilled over coconut husks you won't regret taking a side trip to this town even if you just came for dinner.

13. Charlie Chocolate Factory
We all know Valentine's day is like "world chocolate day" though not officially titled that, but how would you like to pair your visit to Bali with a trip to the chocolate factory?
No, not "Charlie's Chocolate Factory" but Pod Chocolate Factory. Did you know that Indonesia is one of the top producers for cocoa in the world?
Not many people do. But you can take a tour through the Pod Chocolate factory and see how they still have a very "hands-on" approach to how they process their cocoa to chocolate and don't forget to take yourself home a tasty souvenir for later.
14. Menjangan diving site
We know you are already going to Bali for a vacation but maybe you want to take a vacation from your vacation. Get out!
See a few things that might reach just outside of Bali, like Menjangan Island. This island is just North West of Bali and trust me it might take you bit to get there (by a but I mean longer than an hour) it is worth the time.
Spend the day on Menjangan island walking from one side of the island to another, enjoying the temples, architect, shops, history and then when you are done doing all that – take a DIVE!
Visiting Indonesia is one of the great places to go scuba diving in the world and Menjangan is no exception. Here you will see a vast plethora of coral reefs, hundreds of species of fish, turtles, octopus and even rays! Like I said, worth the vacation from your vacation time.
15. Stay with the Locals
This might not be on everyone's list of things to do but, personally, I'd recommend it to anyone wanting a truly local experience. The Indonesians are one of the friendliest people on earth, though they live in a third world country, it never seems to dampen their spirits or their smiles.
This especially goes for the Balinese people, which is why I suggest that if you are willing to explore new experiences while traveling – staying with a host family is the way to go.
They will take you along with them while they work, cook, shop for food, spend time with their families and all the while teaching you about their history, traditions and culture.
This will be an adventure you will never forget and when you leave you won't be leaving as a guest but family. Now you'll always have a reason to come back to Bali.

16. Visit waterfalls
Bali is known far and wide for its natural beauty, so of course, we had the mention it, there is a network of waterfalls all around Bali. Far too many to mention in a single article, but these are a must!
Lose yourself in spectacular locations like Sekumpul Waterfalls, where the water is said to be scared but when you've been hiking up to get there the cool and refreshing water will feel great to take a dip into.
Or visit the waterfalls near Munduk, where you will walk through orchid fields, local markets and then up and through farmlands to get to these beautiful waterfalls.
The best way of getting to the waterfalls is by hiring a private driver. Not only will they take you here but will also take you to surrounding attractions and other waterfalls.
This is definitely worthwhile and we highly recommend it as there is no better way to see Bali.
For more information, you can check out our comprehensive article on Waterfalls in Bali.
17. Drink From the Fountain of Youth
If you believe in myths and legends, then you might be interested in visiting the "fountain of youth".
You'll find this in Goa Gajah, translating to "elephant cave". The locals believe that if you drink from the water fountains being held by the six female statues that the water has healing properties and it will help keep you looking young for many years.
The local's jest that these waters are their natural skin toner, but as I said before, the Balinese people enjoy a laugh.
The cave itself dates back to the 9th century when you are done drinking to your youth, I highly recommend getting a local guide to tour you around to explain to you about the historical and cultural significance of this cave to the Balinese people.
18. Travel to Karangasem
We know that if you did all of the things on this list that you might be tired of traveling around Bali by the end of your trip but we have one last excursion to recommend.
On the Eastern side of Bali lies Karangasem – though that not sound like much, trust us, it is worth it.
The drive takes about 90 minutes to drive from Bali's main airport, but the Eastern side of the island isn't often explored by tourists.
Truly a shame, every side of the island had a different level of experiences and cultural difference for you to experience and you wouldn't have had a well-rounded trip if you didn't at least venture for the day over to Karangasem.
Do check out Pura Lemputang Temple when you are in Karangasem which will take you back in time. Also, since it isn't often visited that also means that it isn't overrun by tourists either, food for thought.
You can hire a private driver for a day to visit Karangasem. You will want to start your day early in the morning to avoid traffic. You can expect some wait time to take photos at the gates.
19. End the Trip at the Spa
A trip to Bali wouldn't be complete without a trip to at least ONE spa, we recommend more than that but if you only can fit one in, we understand too.
Visiting the spa in Bali isn't just about getting a massage or a seaweed wrap, it is about using centuries-old techniques to heal, relax and rejuvenate you from all of the bad emotional clutter that builds up from your daily life.
It is believed in Bali, visiting a spa is taking care of yourself not so that you will be beautiful on the outside, but your spirit will be beautiful on the inside.
With such a strong cultural presence of the Hindu and Buddhist religions, the local Balinese believe that your soul and spirit should be healed daily through meditation and visitations to places like the spa.
This will both heal your inner spirit while relaxing and rejuvenating your exterior self.

20. Ubud Palace
A trip to Bali isn't complete without a trip to the Ubud Palace. The palace is the most important structure in Ubud and dates back to the early 1800s.
You could spend the whole day wandering around the palace and then wait until nightfall when the palace seems to come alive! Live music, dance shows, cultural storytelling throughout the evening after the sunsets.
If you need cars with private drivers for airport transfer, half day and full day tours, we have verified drivers and we do not charge any booking fees. Please visit here to check prices for your trips.
Conclusion
Bali has turned up to be on many a wanderer's travel lists of places they want to visit, all we can say to that is – DO IT!
Bali is too beautiful not to visit, there is something for everyone and you can even travel on a budget. The prices in Bali are extremely reasonable for the quality of food, experience and adventures to be had, also don't forget that almost every price is negotiable.
Whether you are comfortable with that or not that is up to you but in the high tourist areas be sure to haggle as much as possible, the locals there know that tourists are there to spend money so the will jack up the prices six or seven times the amount.
Don't just take a vacation, take a trip that you will remember for a lifetime.
The best way to travel in Bali is to use a private driver. For the best deals, please check out our website.
What will you do in Bali this year? We would love to hear from you, please leave a comment below.
Recommended Articles: