Things To Do In Ubud in 2023
Before we dive into the best things to do in Ubud, let's go through what you should expect in Ubud, Bali.
Where is Ubud Located?
To give you an idea of where Ubud is located, if you are travelling from Kuta Bali, Ubud is approximately a 1.5 to 2-hour drive depending on the day and time you travel.
If you are going by Taxi from the central tourist area of Kuta to the central tourist area of Ubud the distance is about 40 kilometres.
Depending on your plans for the day, you can hire a Private driver for half or a full day. You can check the price here for a private driver in Bali.
Hire a driver in Bali
How is the weather in Ubud?
The tropical climate in Ubud Bali is mainly dependent on two seasons. The rainy season and the dry season. You may also find that the weather in Ubud is slightly cooler as it is slightly at a higher altitude than the coast of Bali.
January to March are the months with the highest rainfall and frequent afternoon storms. The weather is balmy and often humid, with July being the coolest month of the year.
You can expect temperatures to sit at around 25-30 degrees.
What should you expect in Ubud?
This is a destination where many tourists plan to visit for three days and easily stay for a few months.
The atmosphere is much calmer here and many enjoy the wide variety of wellness and health-focused options; yoga studios and vegan cafes.
You can be sure to find some peace and quiet near the rice paddies or at one of the many day spas.
If you are after a local cultural experience you can take a day trip outside of the tourist area and see what life is like in the nearby villages, visit a waterfall or take a cooking class.
The culture in Ubud is welcoming and friendly with a growing expatriate community. You will see many places of worship, temples where daily offerings are made, and the smell of incense and flowers fills the air.
Excited to wander around Ubud Bali? Check out our list of the best things to do in Ubud below.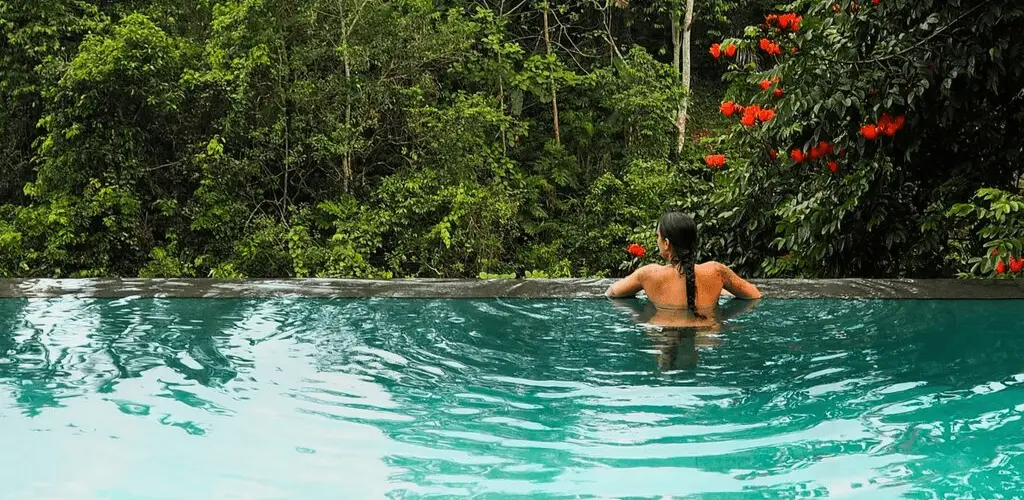 1. Ubud Markets
Ubud is very well known for local handicrafts, made by artisans who are highly skilled in their chosen art.
The markets will sell everything from paintings of rice paddies to hand-woven bags to beautiful items of clothing.
If you can visit the night market it will mostly be ideal for street food. You can 'haggle' the prices here when shopping if there is no fixed price, be friendly and smile, the sellers are often happy to talk with you and sell their artwork.
The two popular markets in Ubud are Ubud Art Market and Ubud Shopping Street.
Ubud Art Market
Pasar Seni Ubud this market is located opposite the Royal Palace and is open daily from 8:00 am – 5:00 pm.
Ubud Shopping Street
Jalan Raya Ubud is a street which runs through the middle of the main tourist town in Ubud. Here you can a wide variety of shops, stalls, street vendors and boutique designers.
Always open through store times vary.
You can hire a private driver in Bali to explore Ubud and surrounding areas.
You can check the price here for a private driver in Bali.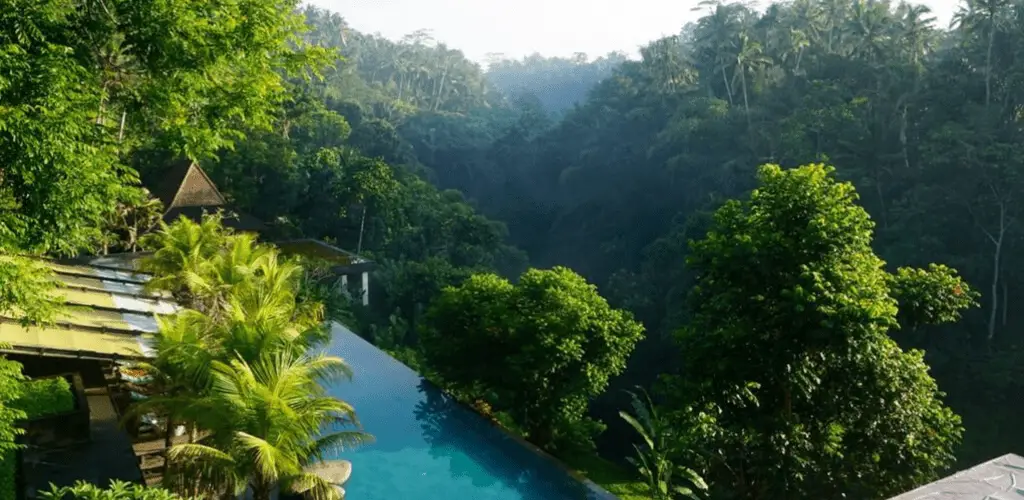 2. Bali Swing & Nest Ubud
Considered an 'Instagram worthy' attraction this is an activity mostly for the photos. You can visit the Bali Swing in Ubud by travelling about 20 minutes out of town by motorbike to the park.
If you want to skip the cue (the line can be over 1 hour) it is better to go first thing in the morning and arrive around 8:00 am.
The park houses numerous swings and photo opportunities such as the adorable Nests and the gardens, so be sure to pack your camera.
Detail article on Bali Swing and Nest is available here.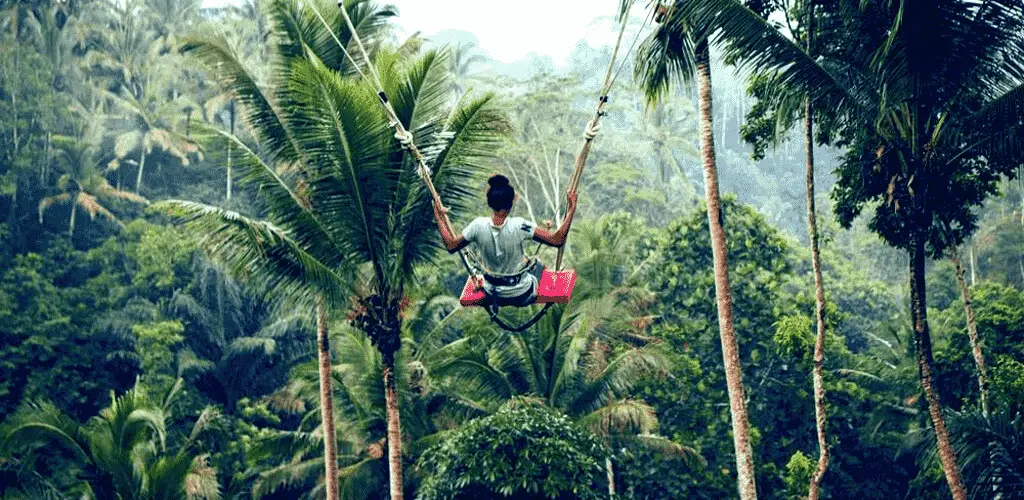 3. Dragonfly Village Spa
Dragonfly Village hosts a variety of different pieces of training, retreats and classes and is home to a hotel café and spa.
You can study and become certified in yoga instruction by attending their Bali Bliss 200hr Yoga Teacher Training courses.
The village also has a day spa and sauna where you can completely detox and relax with their beautiful treatments including the herbal steam treatment and saltwater pool.
This place is truly located in paradise and if you are in Ubud and want to treat yourself; this is the place. Open 7:30am – 9:00pm.
Need a driver in Bali? Check out Seek To Travel marketplace to book a driver.
4. Lembah Spa
Overlooking the Ubud jungle, the Lembah Spa is truly stunning. You can visit here for a spa treatment which comes from traditional Balinese healing wisdom.
If you wish to have the full spa package treatment you can make a reservation for either the Feminine or Masculine Spa Package for 180 minutes and including a body scrub, massage with essential oils, bath, and facial.
The spa also features a plunge pool which overlooks the Petanu River gorge.
5. Sacred Monkey Forest
The Sacred Monkey Forest is one of the main tourist attractions here in Ubud. The forest is a natural lush area of amazing greenery where you can see the monkeys (macaques) in their habitat playing with one another.
If you want to visit the Sacred Monkey Forest, it is important to understand that the monkeys are not shy when it comes to interacting with visitors.
Watch out for the safety of your personal items such as your wallet, phone and camera.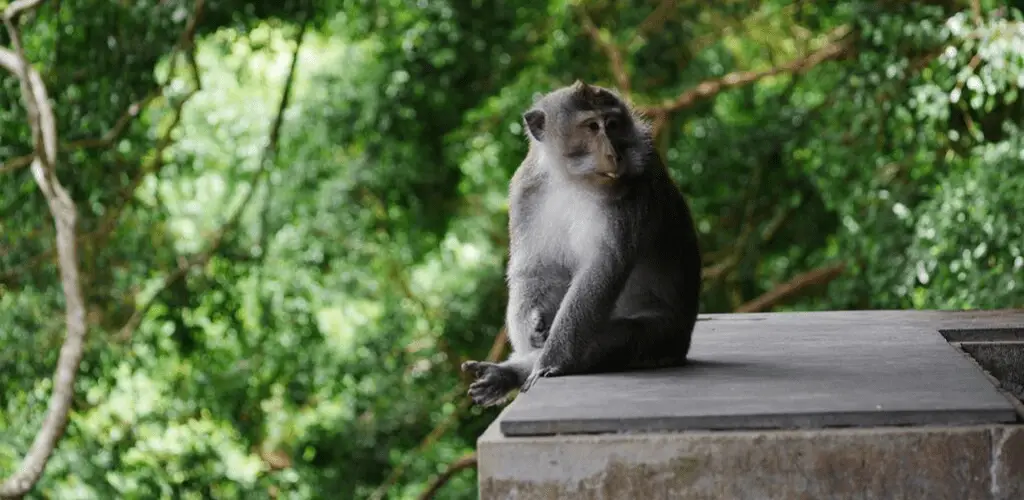 6. Yoga Classes
If there is one thing that Ubud is known for in the ex-pat and tourist community; it's yoga.
Any style of yoga you are searching for can be found here including Yoga Teacher Training and a variety of workshops year-round.
A popular space for taking classes is at The Yoga Barn (open 7:00 am – 9:00 pm) Ubud Yoga House (open 7:00 am – 7:00 am) and Blooming Lotus Yoga (times vary).
If you would like to study teaching training, you have so many places to choose from with new studios opening all the time to meet the demand.
Class sizes and prices vary so check online if a reservation for the class is required before you attend.  
7. Ubud Royal Palace
The Ubud Royal Palace, also known as Puri Saren Agung, is a very special place where you can see the beautiful Palace and surrounding gardens.
This landmark is worth a visit if you are in Ubud so you can learn about the history of the culture through dance, music, design and ceremonial events.
The Palace is open daily from 9:00 am – 7:00 pm. If you would like to see one of the traditional dance performances, you can attend the show in the evenings here at the Royal Palace.
Purchase your ticket in the afternoon for the show which commences at 7:30 pm each night. The style of the dance performance alternates so you can check which show you would like to see.
The Palace hosts both the traditional dances of Legong, Barong and Rangda.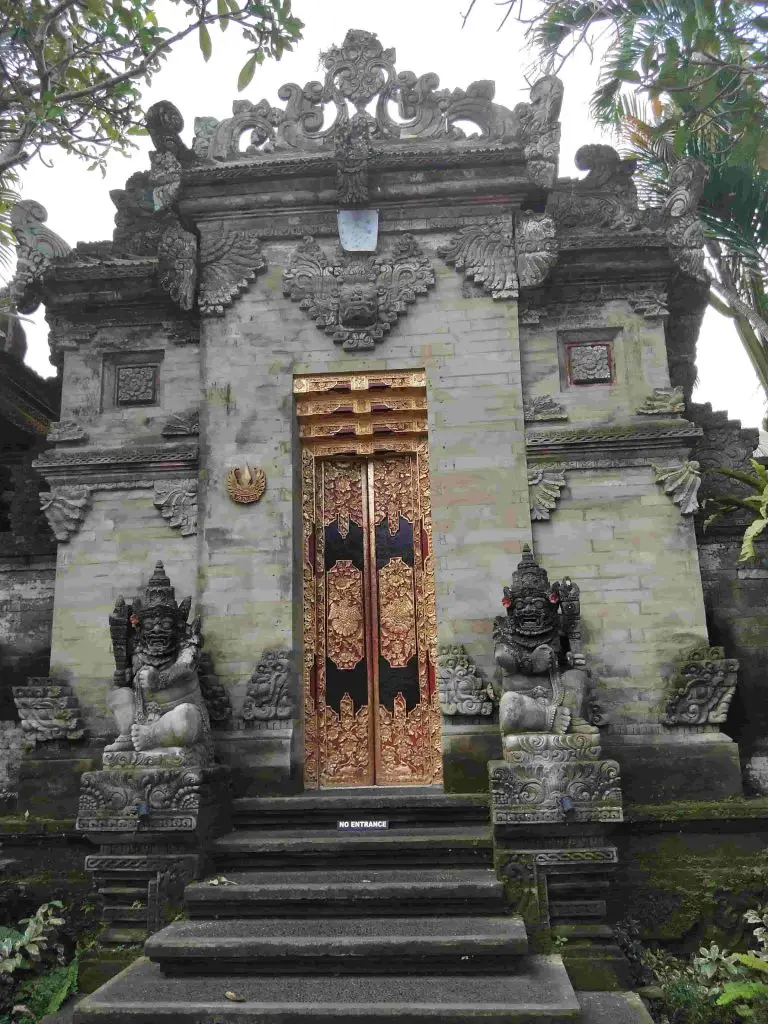 8. Petulu Heron Colony
This is something rather different that you can see here in Ubud; over 20,000 herons flying over the rice fields. This occurs each evening in Petulu usually around 5:00 pm.
The watchpoint is between 5: 00 and 6:00 pm daily 2.5 kilometres out of Ubud centre. The herons are said to bring prosperity and good luck.
9. Campuhan Ridge Walk
Interested in getting outdoors for a nature trek? Campuhan Ridge Walk is in the highlands of Ubud and is free to visit and explore.
I recommend going either early in the morning or later in the afternoon as it is often too hot to enjoy the trek during the day.
This is not a difficult trek and is considered by many to be enjoyable though it is recommended you pack sun protection, and wear comfortable shoes and light clothing.
A rain jacket may be needed depending on the season.
10. Tegallalang Rice Terrace
One of the best places to visit in Ubud, Bali is the rice terrace. A very popular and scenic landmark in Ubud is the incredible Tegallalang Rice Terraces.
The rice paddies offer a scenic view of the fields with a wide-spanning irrigation system that cultivates the rice here in this region.
There are three main areas to visit: Tegallalang Terrace, Pejeng Village and Campuhan Village. If you are travelling from Ubud centre by taxi it will take you around 25 minutes to arrive at Tegallalang.
You can hire a private driver for a full day and explore Bali. You can check the price for a private driver in Bali here.

11. Botanical Garden Ubud
A great place to escape the town and visit the beautiful gardens and have lunch; is the botanical garden.
If you are looking for something more adventurous you can go to the Bali Treetop Adventure Park.
Locally this park is known as Kebun Raya Bedugul or as Kebun Raya Eka Karya Bedugul and it also serves as a place for education and conservation.
The gardens are open for tourists from 8:00 am to 6:00 pm daily. 
12. Elephant Cave
The Elephant Cave or Goa Gajah is very popular with tourists and can at times be overcrowded. I don't expect you would need to spend more than 1 hour wandering around.
Women will need to dress conservatory or use a sarong when visiting this site (available for rent at the entrance).
13. Cooking Schools
Ubud is a great location if you wish to take a cooking class. I recommend visiting some of the local cafes and checking out if they offer classes or workshops.
You can often find vegan, vegetarian, raw food and healing food classes as this area focuses on health and wellbeing.
If you are after a unique experience outside of the tourist area visit Pemulan Bali Farm Cooking School.
They grow their produce locally on the organic farm and teach you how to prepare and cook traditional Balinese meals in their lovely kitchen.
You will take a tour of the local market to purchase additional ingredients and enjoy lunch together.
Pemulan Bali Farm offers a pickup service for anyone staying in Ubud Centre and cooking class packages are available both in the morning and the afternoon.
14. Luwak Coffee
If you are interested in trying Luwak Coffee whilst in Ubud take a visit to Bali Pulina. It is regarded to be the most expensive coffee in the world though it is not for everyone.
There are many amazing places to get quality local coffee throughout Ubud including organic and fair-trade coffee beans. Bali Pulina is in Sebatu Ubud and is open daily from 8:00 am to 7:00 pm.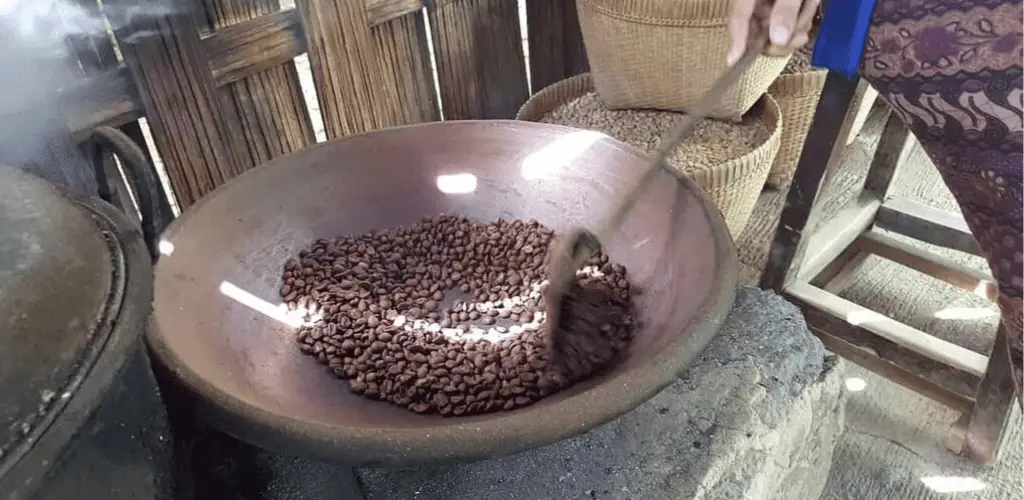 15. Ubud Waterfalls
The Village Falls (Tegenungan Waterfall) Bali is home to some truly stunning waterfalls and one of them is in Ubud, the Tegenungan Waterfall. The waterfall is very popular so try and get there as early as possible.
The best way of getting to the waterfalls around Ubud is by hiring a private driver. Not only will they take you here but will also take you to surrounding attractions and other waterfalls from Ubud.
This is definitely worthwhile and we highly recommend it as there is no way better to see Bali. Please click here to find our listing for hiring a private driver with a car.
The waterfall is open from 6:30 am – 6:00 pm daily and it will take around 30 minutes by car from the Ubud centre.
Please check out this article for details about Waterfall in Bali

16. Visit the Museums
If you are looking at visiting the galleries and museums in Ubud you will find this area has numerous options for you to choose from.
Neka Art Museum
The collection of over 300 pieces of artwork is kept here to showcase Bali's art scene.
Puri Lukisan
This museum actually started out as a local painter's organisation which now shows more than 150 paintings in the collection.
Agung Rai Museum of Art
This museum was built by a Balinese art collector and aims to teach people about the future of Balinese art.
Threads of Life
Established to show tourists the traditional art form of weaving, you can visit and take a tour to learn more about the history of this skill and the role it plays in the local community.
Blanco Renaissance Museum
This museum is the art studio and home of the late Don Antonio Blanco. It is located near the Bridge of Campuhan and has beautiful surrounding gardens.
Museum Rudana
This fine art museum displays collections of Ubud and Batuan style paintings. You can find a variety of artwork here and see pieces of the late Don Antonio Blanco.
17. Where To Eat In Ubud
You won't have any difficulty finding a beautiful café to enjoy breakfast, brunch, lunch or dinner in Ubud; the hardest part is choosing where to eat!
You can be sure to discover some of the best coffee in the region here healthy, vibrant, fresh and organic food makes Ubud one of the best places to have lunch in Bali.
Okay, so when in Bali and especially in Ubud, you have to go on a food adventure especially if you are a foodie!
Hire a private driver and have them take you around to some of the best places to eat in Ubud. Please click and book here.
You can hire a private driver for a full day and explore Bali. You can check the price for a private driver in Bali here.
Namaskara Café
If you are thinking about what to do in Ubud centre, then you can just relax at a cafe with a view. One of good example is the Namaskara Ubud Cafe.
Namaskara Cafe is also known for great coffee which is locally sourced from Ubud and healthy food options such as their vegan tempeh burger.
Fussy Bird Café
This cafe is also known for healthy fresh traditional Balinese food which can be made gluten-free, vegetarian and vegan this is my favourite café in Ubud.
You can purchase Jamu here (a traditional healing tonic from Indonesia) as well as incredible nasi lemak.
Acai Queen
Acai bowls are not new to Bali, however, Acai Queen in Ubud does them justice! Try all kinds of acai smoothie bowls with a variety of toppings such as fresh tropical fruits, coconut and granola.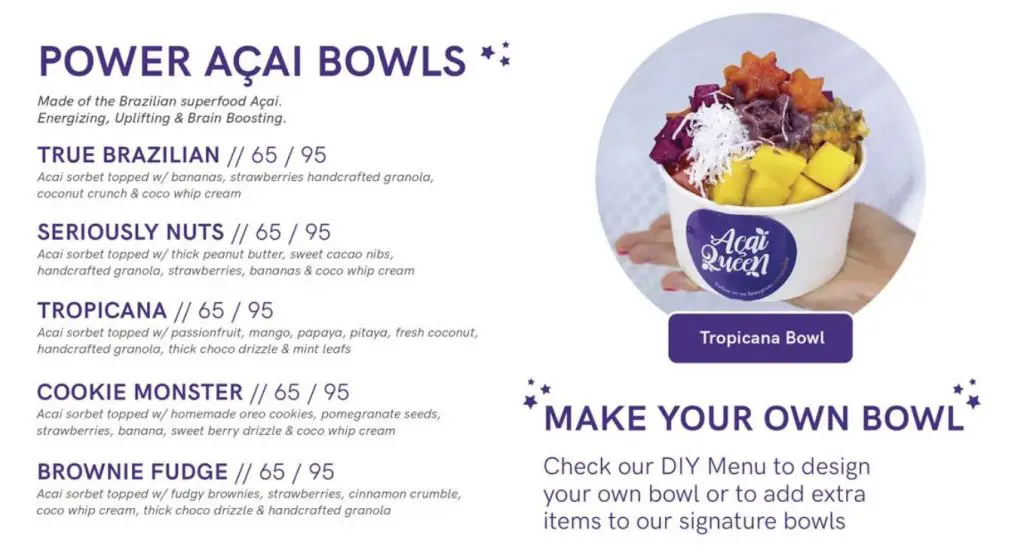 Sage Bali
Sage Bali is a vegan restaurant known for salads, smoothies and desserts; Sage is a popular choice any time of the day.
Alchemy
Alchemy is known for being a 100% organic vegan restaurant you can create your own smoothie or salad bowls, enjoy coffee with raw cakes and try out their cold-pressed juice.


Mudra Cafe
Mudra cafe provides a special dining experience with only 15 people at a time dining together sharing an ayurvedic meal. Make a reservation via the Mudra website.
Need a private driver with a car for an airport transfer, half-day or full-day tours? Check out verified drivers here.
Recommended Articles:
Conclusion
Despite being popular with tourists and ex-pats you can still visit Ubud and escape the crowds and experience all this beautiful region has on offer.
I truly believe there is something for everyone here in Ubud from waterfalls to health retreats.
What are you planning to do in Ubud? Have you ever been to Ubud? Or maybe you could share your experience with us? We highly appreciate any feedback, so please leave a comment below. 
Thank you for reading and enjoy Ubud!