Bali Swings and Nests (2023 Guide)
No doubt that you've seen the Instagram photos by now. Swing and nests in Bali are the go-to photo opportunity and are also so much fun.
Believe it or not, when you arrive in Bali, not everybody will know what you're talking about – especially if you briefly state that you want to go on a swing….for adults.
So, where are these magical swings and nests and how can you achieve your favourite Instagram photo yet?
I've compiled together a short guide on swing and nests in Bali, everything you need to know from opening hours to safety and location.
To get to these swings and nests why don't you hire your own private driver with car, there's no better way! Not only will they take you there but will also take you to surrounding attractions. This will be worthwhile and definitely the best way to see the beauty of Bali and what it has to offer. 
You can check a list of deals for hiring a private driver with car here.
Why do you need to take a trip to one?
Okay, so why do you need to take a trip to a swing or nest in a beautiful country, which is basically the best way to view the wildlife, whilst on a playground built for adults? Well, in case you need any more convincing:
It's a thrill – Don't worry, you're totally safe, but it's still super exciting and thrilling to be sat on a swing overlooking canopies of trees, and the beautiful Bali scenery.
You support local business – The majority (if not all) of these swings and nests are built and managed by Bali locals. They'll treat you like royalty, and help you with anything and everything.
You get the picture of a lifetime – Even if you're not on Instagram, you can still get a treasured and out-of-this-world photo to keep forever.
What you should expect?
Well, firstly this is Bali – it will be humid and hot, and swinging on a swing will surprisingly be a lot of work. You'll probably get a bit of a sweat on (hence why the majority of photos are taken from behind).
Secondly, they've become a tiny bit of tourist activity at the moment- probably with the rise of Instagram photos. For this reason, you might want to prepare yourself for some kind of queue – you'll have to decide whether or not you feel like it's worth it.
It's believed that the first Bali swing was built at Zen Hideaway Villa, which is a little north of Ubud. However, they have now stopped allowing non-guests to use the swing.
Now, you can find swings and nests all over the city – most of them much larger, and more equipped to deal with tourists.
How much do they cost? If you're a budget backpacker, don't worry these attractions can still very much be in your price range. Some swing providers even include meals with their prices – always appreciated whilst travelling.
Are Bali swings safe?
Yes, the Bali swings are very safe. However, as with everything that may be a little risky, it's best if you still asked about insurance and safety before sitting on a swing.
It goes without saying that if you have health problems, such as a history of heart disease, it might be best to avoid any event that boosts adrenaline.
With all the nitty-gritty details out the way, let's take a look at the best swing and nests in Bali.
Do you need a driver in Bali? Contact us
Best Swings and Nests in Bali
1. Bali Swing Park
Arguably the most popular swing park is Bali Swing, it's located around 15km from Ubud. They have a variety of different swings to try out, including three tandem swings – who doesn't love being terrified on a wooden contraption with their loved ones?
They also have stones (yes they're an actual thing) that you can pose on. They're perfectly located and very large, and really do make an amazing photo.
As for nests, they have 6 to pose in and they look really artistic. More importantly, they're super comfy to relax in – it makes a nice change from any hostels you might be enduring.
Bali Swing offers a free shuttle from Ubud, but you must make sure that you've agreed on an entry fee beforehand so that you can get the best deal.
Bali Swing also offers cool activities like rafting, chasing waterfalls and other awesome once-in-a-lifetime things. However, these tend to be on the expensive side.
Opening Hours:  8:00 – 17:00
Price: USD $35 / IDR 500K 
Address: Jl. Dewi Saraswati No.7, Bongkasa Pertiwi, Abiansemal

2. Zen Hideaway Ubud Swing
As we mentioned, this is thought to be one of the first swings in the whole of Bali. It was once open to the general public, but unfortunately, now it is only an option for guests or for limited times throughout the day.
This means that you have a big reason to stay at Bali Zen Hideaway, just for one of the most amazing swings that you could ever come across.
From the swing, you can see the waterfalls, Ayung River, Mount Agung, and rice fields.
It's unclear whether or not the general public can use the swing completely. If it is available, you will have to order in advance and keep to the 5-minute time-slot.
Of course, the view and the iconic location is reason enough to make the trip here. However, if you want a little more freedom, there are a tonne of other options to choose from.
The majority of tourists love to take a trip to Zen Hideaway, purely for how famous and iconic the swing is – which is totally fine.
The good news is; Zen Hideaway isn't located too far from the central area of Ubud. This means that you can take a quick trip there, and carry on the rest of your day shortly after. Instagram photos can be quick and painless.
I highly suggest making a trip to Ubud Monkey Forest afterwards.
Opening Hours: 12-14:00
Price: 350k IDR
3. Campuhan Ridge Walk Swing
If you're a fan of hiking and want a great photo to prove it – this is the swing for you. You might not realise this, but you can actually make your way into beautiful nature spots and rice fields, even from the heart of Bali. The Campuhan Ridge Walk is the perfect example of this.
It's an easy hiking trail, that leads you towards a paved trail right above Ubud ricefields.
The ridge itself is surrounding by a river rushing through, Be very aware that this ridge is extremely popular for those that love working out and jogging.
If you're like me, you'll be on the ridge purely for the amazing views – and it doesn't disappoint.
Let's get to the part that you're all reading for – the swing.
The swing is a little bit more of a rustic one – It's a tiny bit more simple, and mirrors your classic childhood swing. It makes for a really sweet photo, and a great chance to relax after a very humid hike.
It's a relatively quiet area, especially compared to other spots in Bali. It's free to walk around, although you may want to hire a taxi to and from as it's relatively long. There's also a cafe that you might want to sit down and have a coffee at.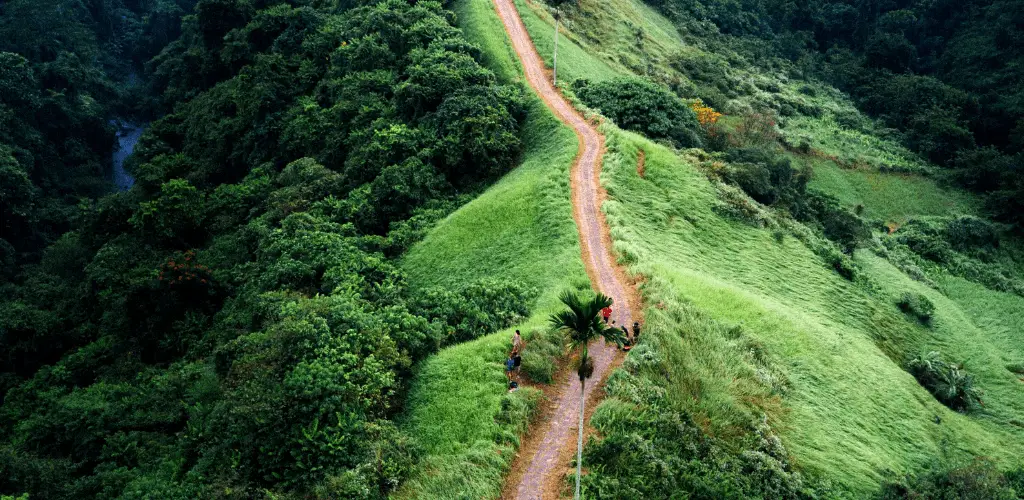 4. Aloha Ubud Swing
The Aloha Ubud Swing confidently claims to be the best swing in Tegallalang- it's quite a fair claim too. Not only do you get some of the best views of the beautiful rice paddies, but you can indulge in coffee, have a go at some activities, and buy some souvenirs from our shop.
The park is also in one of the best locations – only 5km from Arjuna State in Ubud, perfect for a day of tourist attractions and exploring, think of the Aloha Ubud Swing as a tourist pitstop.
The park has 5 single saddle swings, that range from 10m to 60m above the ground – which one you decide to hop on is down to how scared you want to be. This is a prime spot for tourists to put on their favourite clothes, and swing as high as you can – the verdant forest behind makes for one of the best pictures.
They also have human-sized birds nests, which are a great alternative for those that don't feel like free-swinging 60m above a rice paddy. These also make for some of the best photos around. 
Aloha Ubud Swing has different packages, which changes the price a little bit. We recommend the unlimited swing package, which gives you access to all the swings and nests and also a big stone with an amazing view. This really is an amazing park, that will satisfy all your swing and nest needs.
Opening Hours: 8:00 – 17:00
Price: IDR 300,000
Address:Jl. Raya Tegallalang, Tegallalang, Kec. Tegallalang, Kabupaten Gianyar, Bali 80561, Indonesia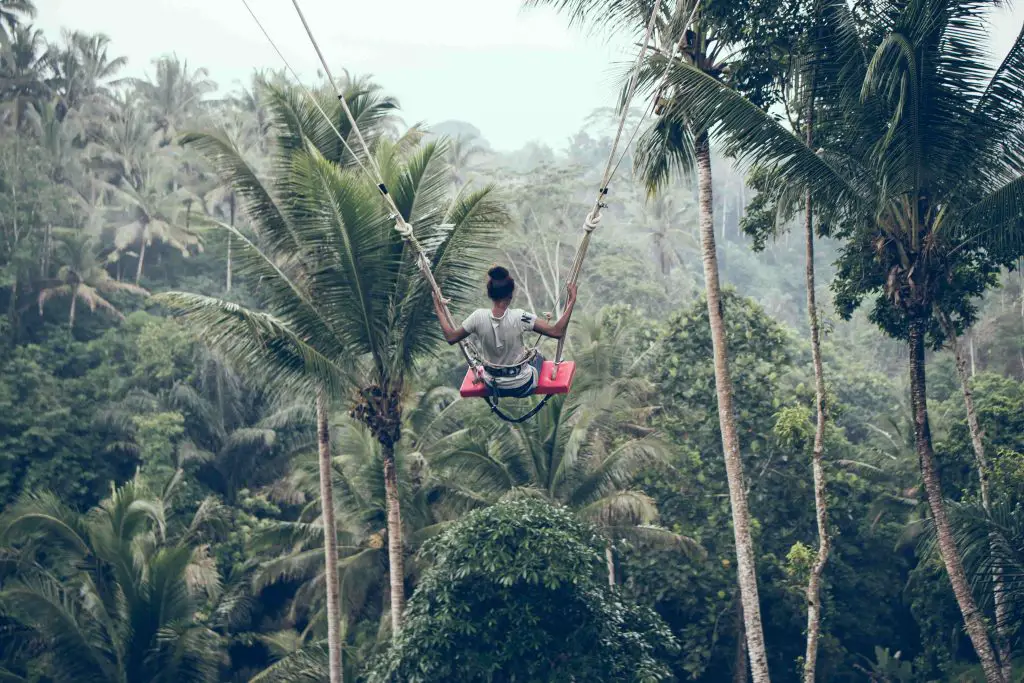 5. Tegalalang Rice Terrace Swing
If you're looking for something with a little bit more security, the Tegalalang Rice Terrace Swing could be the choice for you. It's the one of very few I've seen that put harnesses on you. That being said, the other more rustic looking swings are still perfectly safe.
They also have a beautiful round nest that you can sit in, and just relax. Take a moment to appreciate where you are, and how amazing it is.
This is one of the most popular tourist attractions in Ubud because it's arguably the most adrenaline pumping. Hence the harnasses.
You can choose to go on the extreme swing or the super extreme swing. Alternatively, there's a couple swing so that you can be scared witless with the love of your life. Who wouldn't want to do that?
The Tegalalang Rice Terrace Swing is a great option for you. It adds the beauty and the thrill, for an out of this world experience. The prices vary from whichever swing you want to go on, the couples swing is technically the most expensive but is usually split down the middle for the two people.
You get to swing at a height of around 45 meters above the ground, for 15 swings – trust me, that will be more than enough.
The price below is for the super extreme swing, the extreme swing and couple swing differ.
Opening Hours: 9:00 – 18:00
Price: IDR 200,000
Address: Jl. Raya Tegallalang, Tegallalang, Kec. Tegallalang, Kabupaten Gianyar, Bali 80561, Indonesia

6. Alas Harum Swing
There's a multitude of reasons to visit the Alas Harum Argo, from the amazing walks, great selfie spots, and amazing coffee. However, the jungle swing is possibly the best reason.
You can enjoy the terrace view as you swing into the air, providing you with an adrenaline rush that you cannot compare.
There are different swings available at this spot, some with lower locations, and others with higher. Again, it all depends on what you're comfortable with, and how much thrill you're seeking that day.
Don't worry about safety, you're all strapped up. The picture for this one is enough to make anybody say "wow" – it really looks like you're flying off into the Bali jungles.
On the topic of flying, the Alas Harum Argo also has an activity called the "Flying Fox", which is essentially a zip wire. It feels a lot safer and allows you to view beautiful rice paddies. It's a little bit lower down, and you only head in one direction – making it perfect for all those scared of heights or, you know, swinging off a high point.
Opening Hours: 8:00 – 19:00
Price: 50,000 IDR
Address: Tegallalang,gianyar,ubud,bali, Tegalalang 80561, Indonesia


7. Wanagiri Hidden Hills Swing
You might recognize this swing from Instagram – it's becoming a hot spot at the moment. It's the one on the hilltop of Wanagiri and really looks incredible.
The view is incredible, and it really is a great photo opportunity for you. If you're looking to go here from Ubud, it will take 1 hour and 40 minutes – it's great to use it for a day out.
It is a bit of a drive to get here so do make transport arrangements before you plan your trip. We recommend to hire a private driver for the day, not only will they take you here but will also take you a long a scenic drive passing through some of the most beautiful picturesque landscape of Bali. Please click here to hire a driver with a car for your trip.
Opening Hours: 8:00 – 18:00
Price: 150,000 IDR    
Address: Jalan Munduk – Wanagiri, Wanagiri, Sukasada, Pancasari, Kec. Sukasada, Kabupaten Buleleng, Bali
8. Uma Pakel Swing
Uma Pakel is a really convenient choice, especially if you're in Ubud. It's also free entrance, but to go on the swing there will be a charge. This is great for those that don't necessarily want to try out the swing but would love to tag along with their friends or family.
There's also a giant birds nest, coffee plantation, and a lovely wooden bridge which makes for another great photo.
Opening Hours:8:00 – 19:00
Price: 200,000 IDR
Address: Jalan Raya Tegallalang, Tegallalang, Kec. Tegallalang, Kabupaten Gianyar, Bali 80561
9. Bas De Atayana
If you're looking for a more unique place to enjoy a typical swing, the Bas De Atayana is the place for you.
The Swing of Love is a giant swing inside a large heart shape symbol – perfect for couples, or just your average hopeless romantic. It really does make for a wonderful photograph. This makes for a really great day out too, as the location is really memorable.
Actually, Bas DE Atayana is an agrotourism spot, which means that it informs the tourists about agricultural and plantation products in Bali.
It's also the perfect spot for couples, as it all revolves around love; swing in love, tower of love, the bird's nest, and waterfall in love.
Opening Hours: 8:00 – 19:00
Price: 150,000 IDR
Address: Jalan Raya Jurusan Tampaksiring – Kintamani Br. Sribatu, Penglumbaran, Susut, Kabupaten Bangli, Bali 80661

10. Blangsinga Waterfall Swing
Now, we move onto the Blangsinga Waterfall Swing, it's not only the home of one of the world's most picturesque waterfall, but it's also got a really incredible swing.
I'd say this is basically every avid photographer's dream.
The waterfall is around 25 metres into Petanu River, and the water flows really soothingly – making it the perfect spot to meditate, relax and soak in just how amazing the city is. Because of how peaceful the atmosphere is, you'll always be surrounded by the melodies of incredibly exotic birds.
The swing is the only one that has other attractions like a restaurant, swimming pool and a bar – great for spending a long day there.
Opening Hours: 7:00 – 18:00
Price: 10,000 IDR
11. Sidemen Bali Swing
I know I've said this about most of the swings on this list, but this is really one of the most popular – especially in the East Bali region.
The swing is located in between coconut trees, on a high hill – offering you a true Bali experience.
The Sideman swing is located in the village of Sideman – the top producer of traditional palm known as "Tuak". It would be a great idea to take a visit to the village, after getting your Instagram snaps.
Price: IDR 350,000
Address: Sideman, Sangkan Gunung, Karangasem Regency, Bali, Indonesia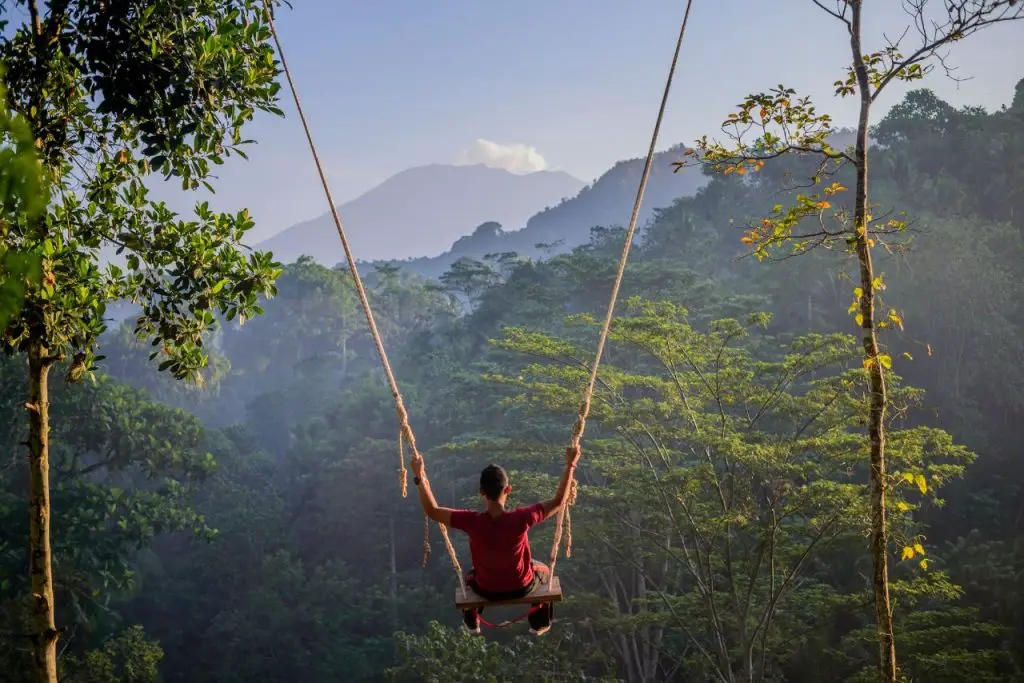 If you need cars with private drivers for airport transfer, half day and full day tours, we have verified drivers and we do not charge any booking fees. Search now
Conclusion
It doesn' matter if you're a photographer, Instagram addict, avidly anti-Instagram or taking a social media hiatus – Bali swings are perfect for everybody, regardless of whether the pictures will be posted or not.
They offer a really unique experience, that you won't find anywhere else in the world. Take a trip to one of these amazing locations, You won't regret it.
Recommended Articles: