Things To Do In Bali With Family ( 2020 Guide )
by Seek To Travel author | Sept 14 2019

Bali is one of the most popular tourist destinations in Indonesia with millions of tourists visiting each year. Bali is no doubt one of the most popular destinations to visit for a family holiday and would be the place to think about for a family holiday. There are a few things you should know if you are travelling to Bali with family which we have listed below.
Bali is known not only for attracting large numbers of Australian tourists but also tourists from all over the world. Denpasar is the capital of Bali and is the major gateway to the island, this is where it all begins, a memorable journey to a fabulous holiday!
There are so many things to do in Bali with kids. If you are looking at visiting Bali with your family, you should go through some of the attractions suitable for yourself and the family. Therefore, we mainly wanted to focus on family things in this article, instead of just looking at Bali altogether.
So, let's go through some of the well-known areas of Bali and some of the best things to do and the places to stay in your family vacation.
The best area to stay in Bali with family
When travelling with family one of the most important things to look for is accommodation. Finding the right accommodation plays a huge role on a holiday, especially one that ticks most of your boxes, more importantly, finding the right one that is comfortable for you and your family. Here we will talk about why some of these areas are best to stay with the family.
When you think about where to stay in Bali, the first thing that comes to mind for most people is Kuta. Kuta has been an iconic location for tourists, especially for the younger crowd.
So is Kuta good for families? Kuta has some really nice accommodation for families but it's not the location I would stay. Kuta is more popular for the younger crowd who are looking to party. It's the nightlife and the party scene that draws the party-goers.
Therefore, I would recommend staying elsewhere in Bali. Below are some of the family-friendly locations we have stayed and it is convenient to travel and there are plenty of food options for kids.
So, let's start with Nusa Dua. Nusa Dua is one of the most popular locations to stay in Bali. Nusa Dua is situated in the Southern part of Bali and is known for its beautiful beaches and many beachfront luxury international hotels and resorts. It is an ideal location for the family, especially for those who enjoy spending the day on the beach.
Most families who stay in Nusa Dua will make full use of their hotel and the amenities (do check with your hotel for all the amenities they offer) as everything is right there.
This is also the reason why Nusa Dua is considered a convenient location for the family as shops, restaurants, convenience stores, and cafes are a short walking distance away (there are also shuttle buses available if you don't prefer to walk and pick up and drop off are from your hotel to the main shopping/restaurant areas and back).
The area also feels secure, all vehicles entering Nusa Dua must stop at security checkpoints including security checks at the entrance gate at all hotels/resorts.
Another location to consider staying in Bali is Seminyak. Seminyak is known to be a more sophisticated area of Bali. It is home to many trendy cafes and restaurants which are mostly walking distance to many hotels and villas. Seminyak also has a great selection of beachfront hotels and family-style villas.
Sanur is more of a quiet area in Bali compared to Seminyak and other places in Bali. It is one of the ideal locations for families as it is more chill and laid back. Sanur offers family-friendly restaurants and hotels.
The beach in Sanur is quite similar to Nusa Dua and the water is calmer for the kids. One of the most popular family activities to do in Sanur is to hire a bike for the day and explore Sanur. For families with young children, bikes are available with kid's seats.
For a more luxurious accommodation then why not stay at one of the best luxury family resorts in Bali. Here is the list for some of the best luxury family resorts in Bali.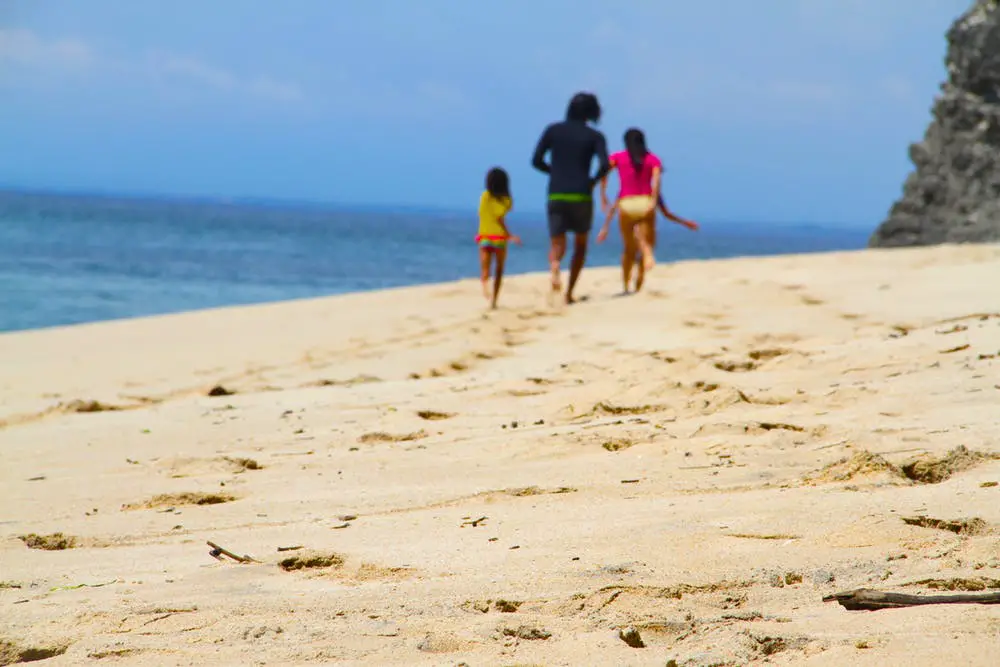 Best hotels for a family in Bali
If you are travelling to Bali with kids, you need to stay in a hotel that is family friendly. Here are some of the best places to stay in Bali for families.
Novotel Nusa Dua
Novotel is known to be a family-friendly hotel located in Nusa Dua. The hotel offers suites ranging from one-bedroom, two-bedroom and three-bedroom making it the perfect size for the whole family.
All rooms are well furnished which includes a choice of a twin bed, king bed, contains a fully equipped kitchen, dining, and large living space.
For families visiting with young children, free children's club is available with activities planned throughout the day every day. The playground area is also available next to the kids club. Do take a look at the notice board outside the kids club or contact staff for programs that are scheduled for the week.
Check out our detail review of Novotel Nusa Dua here.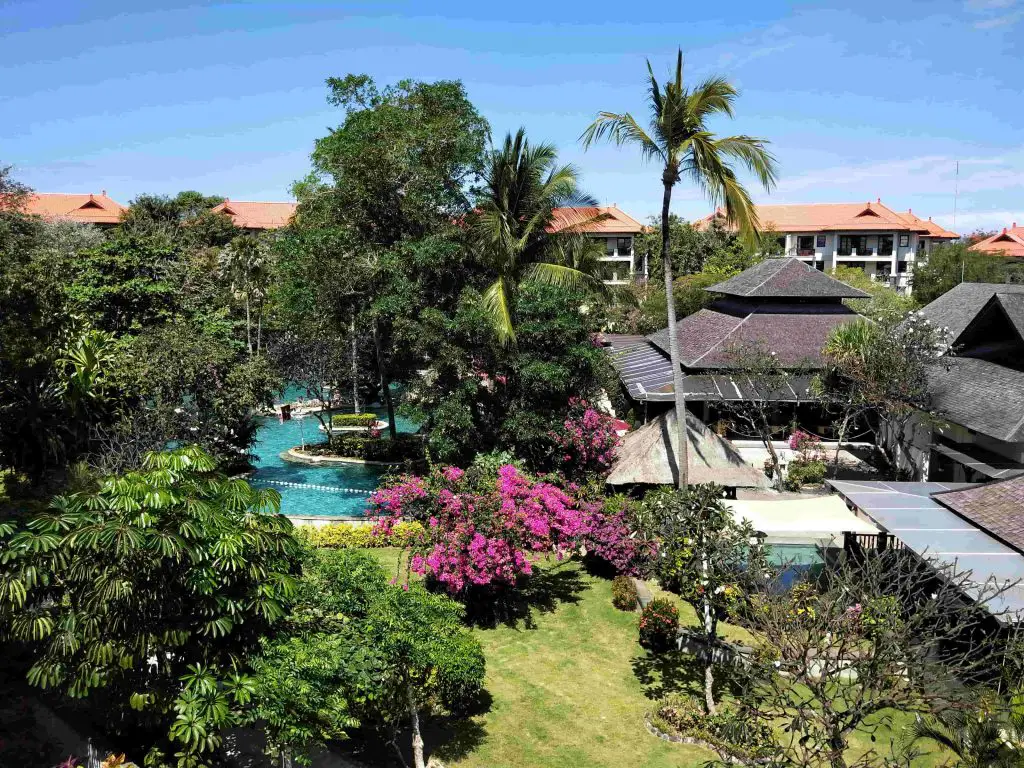 Courtyard by Marriott Bali Seminyak
Another family-friendly hotel to consider staying in is Courtyard by Marriott that is located in Seminyak. It is one of the best accommodations you will find with plenty of activities available for the family.
It is conveniently located close to many shops, restaurants, convenience stores which are all within walking distance from the hotel. The breakfast buffet served at the hotel was fantastic.
There was a great selection of food and drinks from freshly made juices to coffee to waffles to pancakes to eggs, the list can go on and on and did I forget to mention the ice cream, every kid's dream of eating ice cream for breakfast! This was sure a treat!
The hotel offers one or two bedrooms suites depending on what your family requires, both having a good amount of space so you don't feel cramped up.
The Courtyard Marriott offers a fun kids club, a very well organised kids club with daily activities programmed throughout the day. It is decorated and furnished nicely with various activities for the kids to enjoy including a ball pit, cozy reading spaces, video games, movie screenings and arts and craft section. For the younger children, cots and change tables are available.
Please note: Children under the age 4 must be accompanied by a parent or a caretaker.


Club Med Bali
Club Med Bali is a hotspot for families which is located in Nusa Dua close to Tanjung Benoa (one of my favourite places to stay in Bali). The price to stay in Club Med is on the higher end however it is definitely worth the stay!
There is plenty to do at Club Med with a list of activities available inside the resort. Most of the attractions and amenities and food in the resort is included in the price, therefore you will find yourself making use of everything on offer and won't feel the need to leave the resort as everything is there.
One of the things that stood out for me which you won't find in most hotels is a kids club that is divided into age groups. This is a great idea, especially for children who can interact with other kids that have a similar age group. The kids club offers daily activities throughout the day so do check with staff about the programs planned for the day.
This is a great hotel and ideal for families. The landscape of the hotel grounds, swimming pools and gardens will sure make you feel like you've stepped into a tropical paradise, overall a beautiful resort.
Sofitel Bali Nusa Dua
Sofitel a luxury beachfront hotel located in Nusa Dua. The moment you step into the hotel and its grounds, you immediately get a true feeling of paradise. The hotel offers a list of amenities, including the kids club.
Like I mentioned above for the previous hotel, the one thing that stood out for me about the kids club is the divided age groups (most hotels do not arrange that, only a few, therefore I found this very convenient).
Having groups according to age allow children to interact with other children. Activities are also available according to age groups. Overall the hotel's kids club is well organised with friendly staff.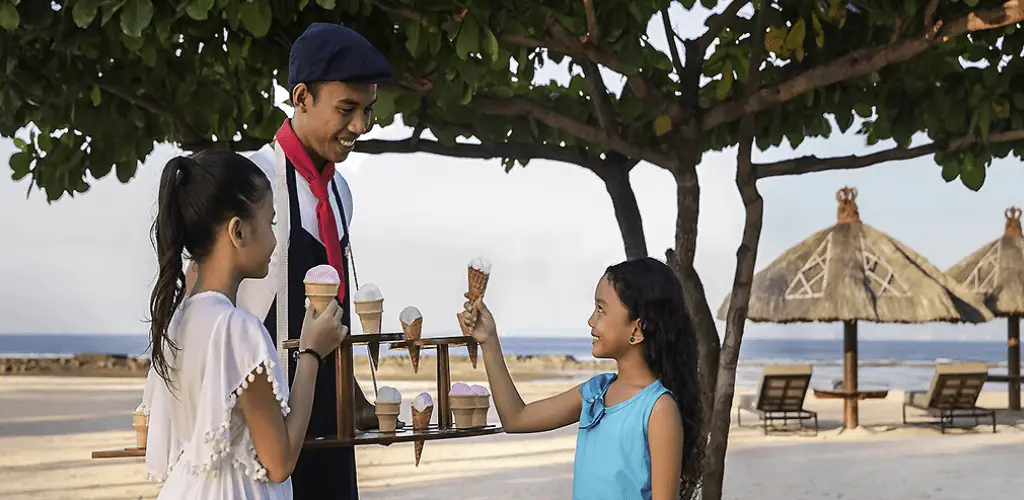 Padma Resort Legian
One of the places to stay in Bali for families is Padma Resort Legian. Padma Resort Legian is not quite located in Seminyak but is close enough. This beautiful family resort is a well-known resort and a popular one in the Legian area of Bali, especially for families. Once again a beachfront resort situated right along the beach.
The resort offers a list of amenities suitable for everyone. For families with young children, one of the most popular attractions in the resort is the famous water slides and the selection of swimming pools available on the resort. Each of them set in a beautiful setting.
This is definitely worth mentioning! Refreshments and treats can also be purchased at a reasonable cost at Barong Pool Bar which is located next to the kid's pool area. The setting of the lagoon-style pools and the gardens are beautiful throughout the resort.
Rooms are well furnished with stunning views of the hotel grounds. There are plenty of rooms on offer so choose one that is comfortable and suitable not just for yourself but for the whole family. The staff are friendly and always happy to help. One thing to mention is the kids club offered at the resort.
This is available for all hotel guests and for children aged from 4-12 years of age and is supervised by hotel staff. The Wolly kids club is not so big compared to other kids club in other resorts but still has a good selection of activities. The swimming pool and the water slides will surely be a favourite!

Ayodya Resort Bali
Ayodya, one of my favourite hotel in Bali. It is one of the most stunning resorts, the moment you enter the hotel gate, it's grand!. The architecture throughout the hotel and gardens gives you a sense of paradise.
The list of amenities the hotel offers is what makes Ayodya one of the most popular resorts to stay in Nusa Dua. The resort is situated right along the beach with many activities available for the family, especially for the children inside the Camp Ananda kids club. The kids club is open daily from 9 am to 5 pm.
Another reason why Ayodya is one of the best resorts to stay in Nusa Dua is due to its location in Nusa Dua. As mentioned above, the resort is situated right along the beach, with a stunning backdrop of the beach wherever you are in the resort, the view is spectacular. Not only the beach, but the resort is also walking distance to some of the best cafes and restaurants on the island making it such a convenient location.

Intercontinental Bali Resort
A beautiful luxury international resort located in Jimbaran. Even though I have mentioned earlier that Nusa Dua, Seminyak, Sanur are one of the best areas to stay in Bali, especially with the family, this resort is also one to look into.
The hotels/resorts have a list of amenities offered to all hotel guests. This is also an important factor when choosing the right accommodation as you want your stay to be just as comfortable and convenient for yourself and the family.
Intercontinental in Jimbaran is once again one of those stunning resorts where you feel a sense of paradise and luxury as you enter and walk around the hotel grounds.
The resort is situated right on the beach with a spectacular view of Jimbaran Bay. Note: there are six pools available! And all along the beach so you won't be competing for the best sun lounge.
Don't miss out on spending time in the Balinese style bath pools, a beautifully unique setting giving that extra special touch to the resort. There is a list of outdoor activities available on hotel grounds, one not to miss for the families is the famous kids club Planet Trekkers which is offered in the resort.
This kids club by far stood out for me compared to any other resorts/hotels we've stayed in. The program held here is phenomenal, and the staff at the Intercontinental do a fantastic job! Planet Trekkers offers more of a fun interactive educational program for children aged 4-12 years.
Children learn about Balinese culture and Balinese art classes, interacting with animals such as feeding the ducks and one of the most unique experiences ever and that was participating in their turtle conservation program, where newly hatched turtles are released on Jimbaran Bay.
This is such an experience for the kids, not only that but an educational one that will surely be enjoyed by the children.
There is an endless list of activities offered at Planet Trekkers from computer/video games, board games, swimming pools, outdoor sports areas, playground and more.
I hope this gives you an idea of where you should stay with the family in Bali. Wherever you choose, do check with the hotel about the amenities they offer which will be convenient, suitable and comfortable for you and your family.
NOTE: Please note most of these kids' clubs do have a minimum age requirement and that is mainly from 4 years and up. For things to do in Bali with toddlers, the kids club is also the place to be.
As mentioned above the hotels offer fun and enjoyable activities for children. Please do keep in mind for toddlers and children under the age of 4 must be supervised by a parent at all times.
Recommended articles:
Family Activities in Bali
When it comes to sightseeing and touring around Bali, especially with the family, here are some of the places worth checking out. Take a look at some of the attractions and activities that you and your family can enjoy the day.
The best way to see Bali for the family is to book a private driver for Full day or Half day and customise your tour for a day. you can check the price here.
Waterbom
One of the best places to visit in Bali with family is waterbom. The famous water park is conveniently located in Kuta across the road from the Discovery Shopping mall. Here you can spend the whole day with your family enjoying this water theme park featuring numerous waterslides.
Waterbom is set in a lush tropical setting with gardens and swimming pools throughout the park. The waterpark is suitable for children where a fun kid zone area is located inside. The staff here are friendly and helpful so do approach them for any instructions or guidance required to help you navigate around the park.

Bali Safari and Marine Park
Bali Safari and Marine Park are located in Gianyar Bali. The park features animals in their natural surroundings, theatre, waterpark, fun park, and restaurants. There are shows scheduled throughout the day so make sure to grab a handout with the listing of shows available.
There are bus tours available that will take you around the park through a safari adventure where you will see native animals from Indonesia, India, and Africa.
If you do have a day to spare then do take some time to visit Bali Safari and Marine Park.
River Rafting on Ubud Ayung River
For the adventure seekers, rafting on Ayung River is one of the most picturesque attractions for yourself and the family.
Ayung River is located in Bali and it is considered one of the best and longest white water rafting in Bali passing through Bali rainforest and rice fields.

Kemenuh Butterfly Park
This new attraction is located in Gianyar Bali, home to many different species of butterflies and flowers. The park feels like a sanctuary set in a tropical garden.
Make sure to have your camera as you will see colourful butterflies fluttering around. This is a great attraction for the kids.
Dream Museum Zone
DMZ was first launched in Korea and now this 3D trick art museum is open in Bali.
A fun interactive art museum for the whole family. This art museum features 120 pieces of life-sized 3D artwork. Be part of the artwork for the day and be sure to have your camera ready.
Bali Treetop Adventure Park
Another full day activity for the adventure seekers, Bali Treetop Adventure Park. This well-known attraction is located in Ubud set in the Bali Botanical Gardens in Bedugul.
The park features treetop circuits, walking trails and flying fox zipline. There are different circuits available from ages 4 and up. For further information about the circuits and the challenge levels of the circuit, visit their website.
How to travel around Bali with family?
The best way to travel around Bali is to book a private driver in a comfortable car. You can book a car for around USD $40 for a full day trip with a private driver. If you have kids, there is no better way to travel around Bali than to hire a private driver.
You can check out the price for a private driver in Bali here.
Conclusion
This experience of travelling is truly a wonderful journey and an experience for you and your family. The time you spend with your loved ones is truly one to cherish, creating a happy memory forever.
These days, everybody is so caught up in their daily routine which may feel like the days are just passing by. Everyone now has an understanding of the importance of travelling with family, especially the special bond you create with your loved ones bringing the family closer.
Travelling with the family, especially with younger kids can be slightly tricky compared to if you were travelling solo or with a partner. The main thing you need to think about when travelling is a comfort for you and your family.
So, it's best to plan well ahead so that it doesn't end up being more expensive than if you were travelling and booking closer to date. One tip I do recommend for families is to avoid the busy seasons especially knowing everything will be expensive, mainly flights, transport and accommodation which plays a huge factor in your expenses.
Travelling with family is very important especially for the children to create new experiences and an understanding of the local traditions and culture. It is a way for them to build confidence, stay humble and grounded, have an open mind about the lifestyle of others and respecting their ways of life.
We hope this article helped you to decide what to do in Bali with family. If you have any questions or comments, please let us know below and we will try our best to answer them.
The best way to travel in Bali with family is to book a private driver. You can check out the price here.
Happy travels and enjoy Bali!
Recommended Articles:
Tips to hire a private driver in Bali