Things To Do India
by Pranita D, Seek To Travel, February 10, 2019
We wanted to create a special list of Things to do in India and we believe we have created one for you. We have travelled to India several times and every time we visit India, we get to try more unique things and visit unique places.
We have created a list of Things to do which we have experienced and we also talked to Indian locals to find out what are some of the unique things a tourist should experience in India.
Before we go through our list of Best Things to do in India, let's talk about India for a bit.
India also known as the Republic of India located in South Asia is one of the largest country in the world ranking seventh largest consisting of 29 states.
It has the second largest population after China, with a population of over 1.2 billion. India shares its border with neighbouring countries like China, Nepal, Bhutan, Burma, Bangladesh and Pakistan.
A bustling growing country filled with many traditions, cultures and ethnicity. It will surely surprise you at every footstep. Get ready to be amazed and mostly to experience a once in a lifetime adventure
Ok, now let's look at our list of Top Things to do in India and some tips to help you travel in India in 2019.
10 Best Things To Do In India in 2019
1. Take photo of Taj Mahal in the background
2. Eat and Learn to cook authentic Indian food
3. Trek the Himalayas – Ladakh
4. Long Distance Trains
5. Jungle Safari in Bandhavgarh Reserve
6. Stay in a Royal Palace
7. Hangout at the beach in Goa
8. Camel ride and Glamping in a desert in Jaisalmer, Rajasthan
9. Sleeping on a boathouse in Kerala's Backwater
10. Celebrate Holi – A Hindu colour festival
1. Take photo of Taj Mahal in the background
Taj Mahal is located in Agra in the state of Uttar Pradesh which is around 4 hours from Delhi. Taj Mahal was built between 1631 and 1648 by the Mughal Emperor Shah Jahan for his favourite wife Mumtaz Mahal representing his deep love for her.
The Taj Mahal was built to house the tomb of his wife and contains the body of Mumtaz Mahal. The spectacular ivory monument sits on the banks of the Yamuna River reflecting majestically in the water. Taj Mahal was listed in UNESCO World Heritage Site in 1983.
The Taj Mahal is centred surrounded by beautiful gardens. The garden represents paradise and is based on geometric arrangements of nature. It is divided into four parts with two main walkways starting from the main gateway and ending up to the Taj mausoleum.
The moment you step through the gateway and see the first sight of Taj Mahal, it will take your breath away. It attracts millions of tourists every year mostly during the cooler months of October and November. The entrance fee to the Taj Mahal is around 1,100 Rupees for overseas tourists, do arrive early to avoid long lines.
Taj Mahal is open most days from sunrise to sunset and is closed on Fridays. Please see more information about ticket and opening hours here
Related Article: Facts about Australia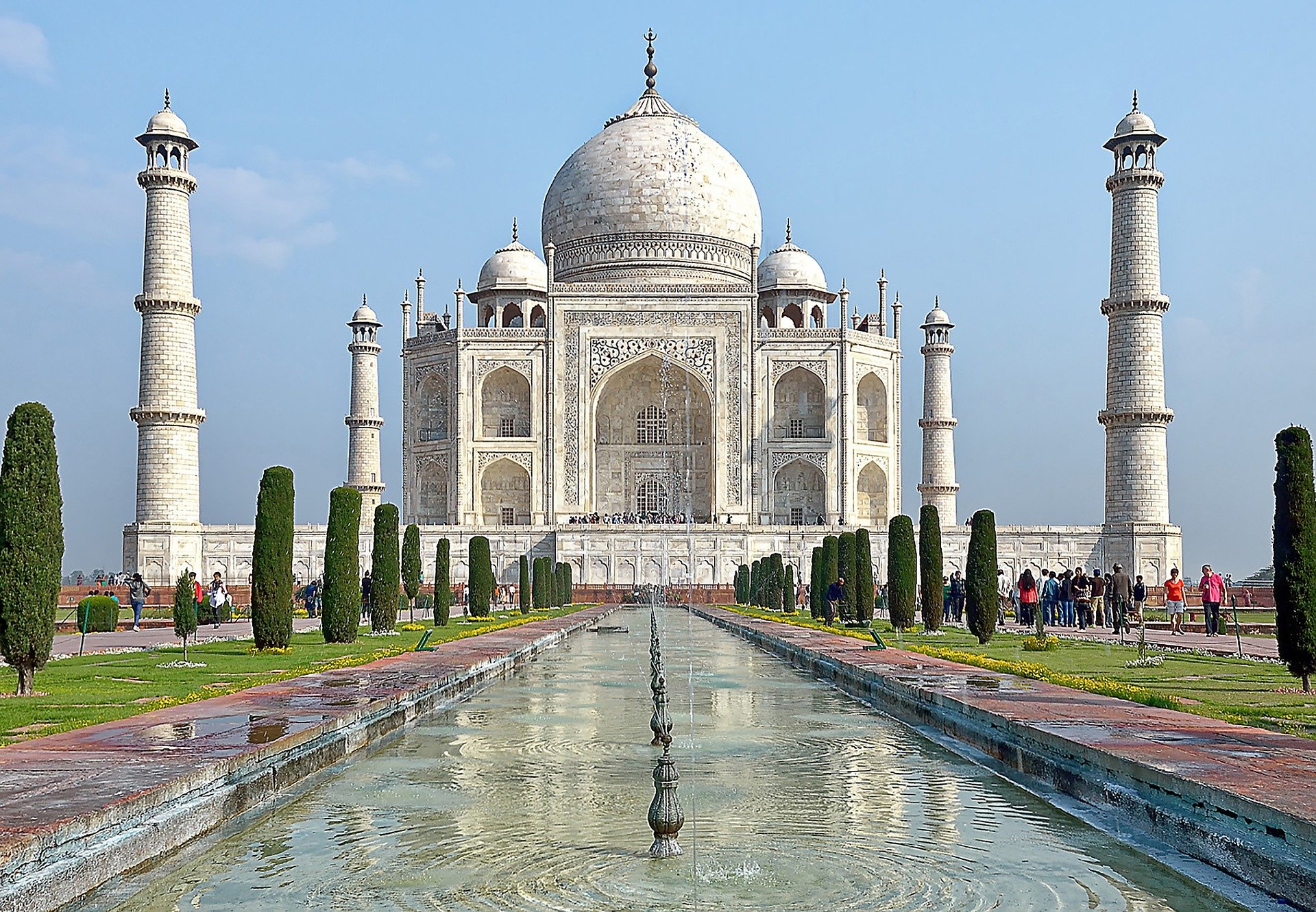 2. Eat and Learn to cook authentic Indian food
India is the land of spices famous for it's Indian cuisines with a vast variety of vegetarian and non-vegetarian food, from curries, snacks, sweets and side dishes depending on each region of India. From the Himalayan states down to the south part of India, be ready to go on a mouth watering food adventure.
If you enjoy Indian cuisine and would like to learn how to cook Indian dishes then cooking classes are available. Get the real experience of Indian cuisines and prepare to master your cooking skills leaving you on an ultimate culinary experience in India.
Related Article: Best Breakfast Places in Melbourne

3. Trek the Himalayas – Ladakh
India offers amazing experience for trekking with spectacular landscapes, traditional villages, Hindu sites and Buddhist temples. One of the popular trek in India is the Chadar Trek also known as the Zanskar Gorge in the Zanskar region of Ladakh. Ladakh is in the Indian state of Jammu and Kashmir. The best time to trek is from January to February.
It is rated as a difficult trek with an altitude of 3400 meters above sea level. The duration of the trek takes about 9 days starting at the mountain town of Leh. The only way of reaching to Leh is by flight. You will see snow capped himalayan mountains, rocky mountains, icy terrain, beautiful lake and crystal clear rivers.
It's quite a remote area where trekking gear and food are advised to be bought from stores in bigger cities before arriving into Leh. You won't find many stores during the winter to buy supplies. Tents are recommended, for an optional local experience you can camp in caves although it is advised to carry tents.
Related Article: Zoos in Sydney

4. Long Distance Trains
If you want to see the country while travelling interstate then a great way to travel is to take a long distance train ride. Travelling by train will surely leave you with a memorable experience than taking a flight across the country. India's rail network is considered one of the largest and busiest with 63,000 km of rail routes.
You can book different classes of seats depending on the destination and your budget. Reservation is required in advance before starting your journey and is completed via online. You can't just turn up and expect to hop on a train. Proper planning is advised before starting your journey.
There are different classes you can stay while travelling on the train such as the sleeper class and AC (air conditioned) class. Sleeper class carriages are very crowded and noisy attracting many locals and travellers who are on a budget.
The comfort is very minimum with no air conditioning, it can either be too hot or cold. The AC class is categorised in many departments with price increasing in each department. It is cleaner, less crowded and more comfortable compared to sleeper class.
Do stay alert especially when travelling alone, make sure to keep all your belongings locked and kept with you at all times as theft is quite common in India.
For train timetables and prices, please check here
You should also consider Maharajas Express when you are in India. Maharajas Express Train is a Luxury Train ride and price can be expensive however if you have the budget, then you should consider this once in a lifetime journey. Maharajas Train is a great way to indulge in Indian Heritage and you will love the experience of culture and luxury that this train ride will offer.
Related Article: Things to do in the UK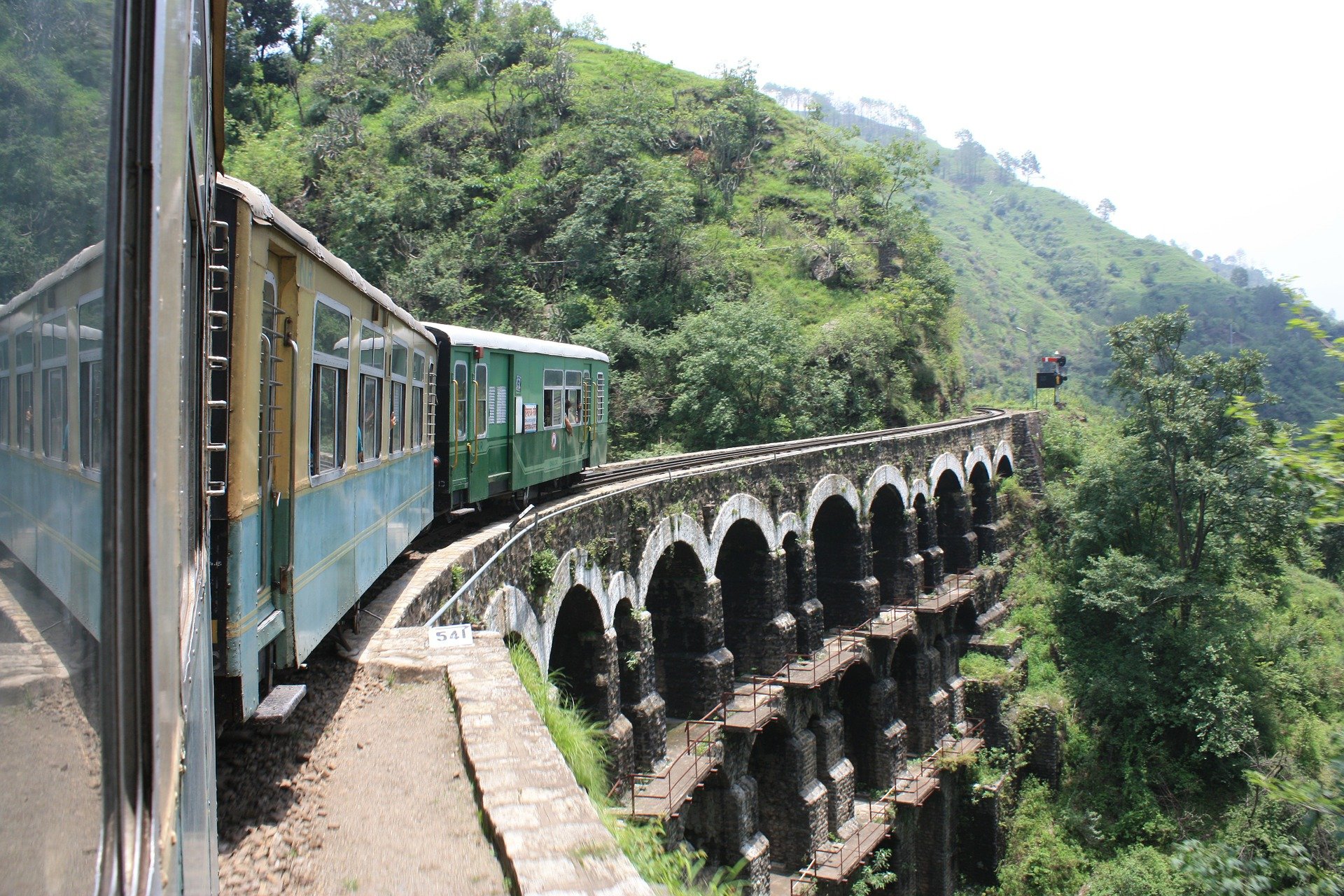 5. Jungle Safari in Bandhavgarh Reserve
Bandhavgarh is located in Madhya Pradesh popular for its Royal Bengal Tigers. Jungle Safari adventure is a great way to spot tigers in Bandhavgarh Reserve as well as other different species of animals. The reserve has around 22 tigers spread across 446 sq kms in a dense forest in Madhya Pradesh region and has the highest tiger population in India.
Besides Bengal Tigers there are around 20 other species of animals including leopards, deers, fox, bears and 250 species of birds in the reserve. The Jungle safari can either be a 4WD adventure or an elephant ride around the reserve. Best time to visit is from mid November to June and is closed during the monsoon season. For information on accommodation and any special offers, visit here
Related Article: Things to do in Phuket
6. Stay in a Royal Palace
Ever wished of becoming a prince or princess? Here you can live like a royal in one of India's most luxurious hotels once a residence to the Royal family. Most of these Royal Palaces are located in Rajasthan located in the north western part of India bordering Pakistan.
One of the most luxurious old palace turned into a luxury hotel is the Taj Lake Palace which has been transformed from a palace to a hotel in 1963. Located on the island of Jag Niwas in Lake Pichola, Udaipur.
The hotel provides transport by speed boats for hotel guests. Once you arrive at the hotel, you will be greeted with rose petals and expect to be treated like a true royal. This hotel is truly magical and one worth visiting.
For more information about this hotel, check out here
Related Article: Weird and Cool Things to do in Japan


7. Hangout at the beach in Goa
Goa is located on the West coast of India. Goa is famous for its beaches and relaxed lifestyle with many tourists visiting from all over the world. Explore Goa with its mixture of Indian and Portuguese culture and enjoy the fresh seafood, delicious food, shopping and the vibrant nightlife. The city has so much to offer and caters for everybody whether its a luxury trip or a budget holiday.
There are a lot of things to do in Goa however tourist activities are located around the beach with many options of water activities like parasailing and jet skiing. Goa is also known for its nightlife and ranked 6th place for Top 10 Nightlife cities in the world. The vibrant nightlife is what makes Goa one of the popular tourist destination in India.
Goa is a hot tropical state. The best time to visit is from October to April and is advised to avoid their monsoon season falling from May to September. Goa's peak season falls in December where it is very crowded and expensive, expect to pay more than normal.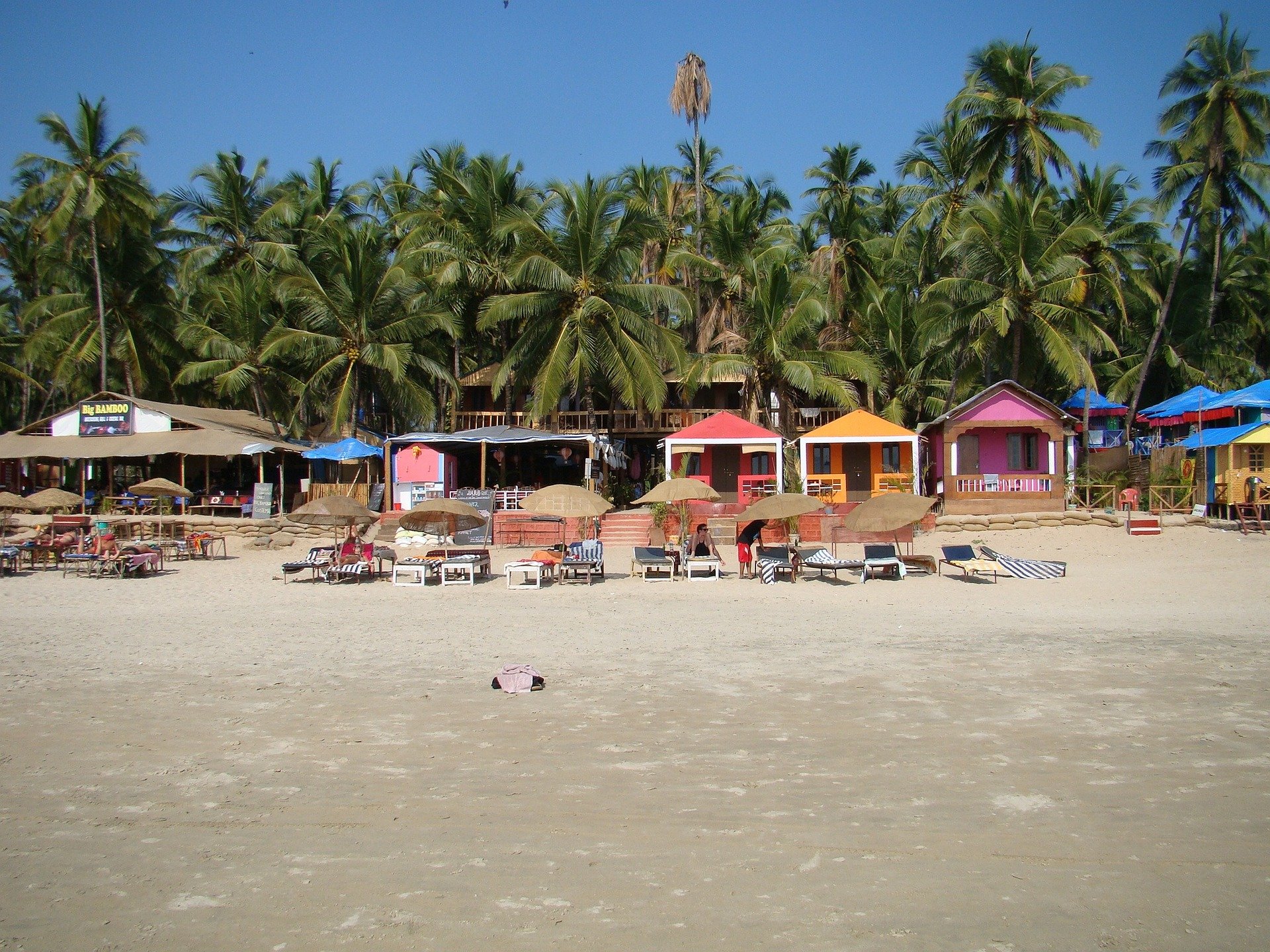 8. Camel ride and Glamping in a desert in Jaisalmer, Rajasthan
Jaisalmer also known as The Golden City located in the state of Rajasthan. It is a UNESCO world heritage site. The ancient city is home to its golden fortress, museum, temples, Haveli's (mansion) and its local heritage and culture.
Jaisalmer is famous for its Sam Sand Dunes, one of the most popular well known desert in whole of India. Many tourists visit the desert for its camel ride and to spend a night in the desert glamping.
During the evenings, enjoy the Rajasthani cultural performance and a delicious dinner under the stars. For a luxury glamping experience, stay at the Sujan The Serai. The Serai is set as an oasis with luxury tents, spa and a plunge pool, a perfect getaway! The best time to reach the sand dunes is either during sunrise or sunset and see the spectacular colours of the desert change. An experience not to be missed.
Best time to visit Jaisalmer is during the cooler months from September to March. The summer season falls from April to June and can get very hot. The weather is usually unbearable so best to avoid visiting during this time.
During the day it does get hot so carry plenty of water and stay hydrated. Apply sunscreens and insect repellent, hat and sunglasses and remember to always stay cool.
9. Sleeping on a boathouse in Kerala's Backwater
Kerala is a state located in south western part of India. Kerala is famous for its hill stations, flora, fauna, beaches and mainly for its backwaters.
Kerala's backwaters, a UNESCO world heritage site is a network of five large lakes, 35 rivers and lagoon stretching around 900 kms. The backwater is located parallel to the Malabar Coast. These water are home for many unique plants, birds and animals.
The best way to experience the scenic backwaters is to book a boathouse, the most popular tourist attraction in Kerala. Float through the pristine waters in a picturesque tropical setting with luscious green palm trees lined up either side of the canals, a true paradise.
Most of the boathouse journey begins around noon. The boathouse provides authentic Indian food and drinks. The view is spectacular during sunset or wake up at sunrise and take in the beauty Kerala has to offer.
Kerala backwaters is an all-season destination although the best time to visit Kerala is during December to May. Do avoid the rainy monsoon season from May to November.
10. Celebrate Holi – A Hindu colour festival
Holi a Hindu festival also known as the "festival of colours" is celebrated throughout North India and also in many parts of the world.
Holi is enjoyed by Hindus and mostly worshippers of the god Krishna. It symbolises the victory of good over evil. People of all ages greet each other by smearing bright coloured powders all over their face and clothes.
Hindus believe holi is derived from the name Holika. A mythological story, Holika is the sister of the evil King Hiranyakashyap. The King instructed his sister to kill his own son Prahalad's for disobeying his father's order.
He was a devotee of the hindu god Vishnu. However due to Prahald's devotion to Lord Vishnu he survived and Holika was burned in fire. Since then hindus started to celebrate Holi as hindus believe the festival helps destroy our internal evil.
Holi is celebrated in most parts of India however Mathura and Vrindavan is where Holi started, the land of Lord Krishna. It is one of the largest festival in the city and the most enjoyed festival. So be ready to be smeared with vibrant colours and celebrate this happy festival with the locals.
Travel Tip: Holi is a great festival to participate however just be cautious about your surroundings and who you interact with as crowd can get bit rough and rowdy.
Tips and Helpful Links:

Use a Travel Agent to plan your trip: If you are travelling then we can connect you with up to 3 Australian Travel Agents for Free so you can compare quotes and get the best deal Contact us

Accommodation: Check price here

Travel Insurance: Check price here

Flight Deals: Check the deals here

Car Rentals: We recommend CarRentals.com

Books: We recommend Books and Ebooks from Lonely Planet

Should I get a visa to visit India?
Visa is required if you are visiting India and valid up to 60 days from the date of arrival. Double entry is permitted in the calendar year. An application for e-Visa must be filled out four days prior to arrival date and lodged. Visa application can be completed online and e-visa is received via email. Make sure to print your visa and carry at the time of travel.
What is the currency of India?
Indian Rupee – INR is the currency of India. It is advised to carry small amount of Indian rupees with you just incase cash is required once you arrive. Exchange booths are available in most places as well as ATM machine to withdraw cash.
Exchange rate will vary from day to day according to each area, have a look around to compare exchange rate if you want the best rate. Hotel and airport exchange rates are usually less than exchange service centers you find outside.
Do keep in mind service and conversion fees may apply. Most places in India accept credit card, make sure to remember your pin number as most places don't accept signatures. Bank fee will apply for these services and the amount charged will depend on the bank you use.
How do I go around India? What are the Transportation options in India?
Public transport is mostly used by Indian citizens. Below is a list of transportation services available.
Taxi – ask for a meter run taxi. Depending on the city you can either call out for taxi on the streets or hire a taxi over the phone
Public transportation – Buses and Trains are available frequently and tickets are cheap however avoid travelling in business hours as it is the rush hour
Three wheeler Cycle-Rickshaws – A cheapest way around the city and a great way to travel especially for short distances.
Three wheeler Auto-Rickshaws – A motored rickshaw with meter fares are a popular way to travel in India. It is one of India's signature transportation and is available in most cities
Boats – Local boats either public or private are available
When is the best time to visit India?
India is so vast having different weather patterns of three main seasons; summer, winter and monsoon.
Most parts of India have a tropical climate. It is best to avoid their monsoon season as most tourists places are closed due to heavy rain falls. Monsoon or rainy season starts from July to September. South India receives more rainfall compared to north India so do plan your trip properly and hope the weather is on your side.
Is food and drinks safe in India?
Try to avoid eating street food if possible although it may be tempting. Don't even think about drinking tap water and be very cautious of filtered water in India. Always drink bottled water and bottled drinks without ice.
Avoid fresh fruits and fresh fruit juices and salads. If you do eat on the streets, make sure to eat from vendors/markets that cook fresh food and food that has not been sitting around for a long time. Look for places that are busy and crowded, this will indicate the food is good with a good turnaround time.
Conclusion
India is truly an ultimate destination to visit, a country filled with so many surprises in every part of the city. A vibrant growing country that has so much to offer. A destination you want to come back to and take on a new adventure.
I hope you enjoyed reading this article and have found it helpful on planning your next trip to India.
Which of these Things will you do in India? Please comment below, we would love to hear from you.