Things to do in Phuket 
by Pranita D, Seek To Travel, February 17, 2019
Are you looking for list of Things to do in Phuket? If you are than please keep reading this article as we go through our favourite Things to do in Phuket.
If you are looking for a good location spot where you can enjoy river cruises, beautiful beachside villas, mountain ranges that take your breath away, all of these can be done on a reasonable budget, Thailand is the place to go!
The vast land and cultural diversity and the conversion rate of the currency in Thailand makes it one of the most beautiful and least expensive trips to take in 2019.
The popularity of Thailand as a tourist location is growing, which is great for the local economy, however that also means that the already crowded country will feel like the streets of Venice – or sardines in a can…packed!
Thankfully there is always a place in Thailand to "get away" from the crowded streets of the main cities like Bangkok. This road will lead you to Phuket province.
Phuket province is an island off the mainland of Thailand which is actually closer to Malaysia than Thailand.
This little Pacific island is known for its mountains, rainforests, perfect beaches and crystal-clear waters. Really it is a slice of paradise if you are wanting a "Thailand vacation".
Phuket province is home of high end and top dollar seaside resorts, spas and restaurants, so it won't be as cheap as the rest of the country, but you are still getting a good deal for your budget.
Phuket is the capital of this tiny island (makes sense) and the province itself is the second smallest province in the country. It sits just under the size of the city of Singapore. Now that you know a little bit about this area let's talk about what there is to do around here!
Best Things to do in Phuket in 2019
1) Phang Nga Bay
2) Bangla Road in Patong Beach
3) Phuket Big Buddha
4) Shopping in Phuket
5) Phuket FantaSea Show
6) Visiting Temples in Phuket – Wat Chalong
7) Stroll Through Old Town Phuket
8) Chalong Bay Rum Distillery
9) Beaches!
1) Phang Nga Bay
You might recognize this bay from documentaries, Tomb Raider or James Bond movies or Instagram. Phang Nga Bay is constantly photographed and is one of the more well-known bays in Thailand. This is a fantastic way to spend a day – you can book a tour around the bay which will take you through the rising limestone cliffs that have emerged from the emerald green waters.
Some of these limestone cliffs are small islands that you can tour, the James Bond island and the Koh Panyee are the better-known islands in the bay. The James Bond island made it's mark in cinematic history in the "The Man with the Golden Gun". It has kept it's mark on social media through popular tours that bring Bond loving tourists from all over the world. Koh Panyee is known as being the Thailand version of Venice.
It is an entire village built on stilts and is surrounded by dramatic caves and cliffs on all sides. There are hundreds of shacks, restaurants, markets and craft stores. It is a great lunch stop for those who are doing the James Bond tour.
Similar Article: Best Hotels in Kathmandu, Nepal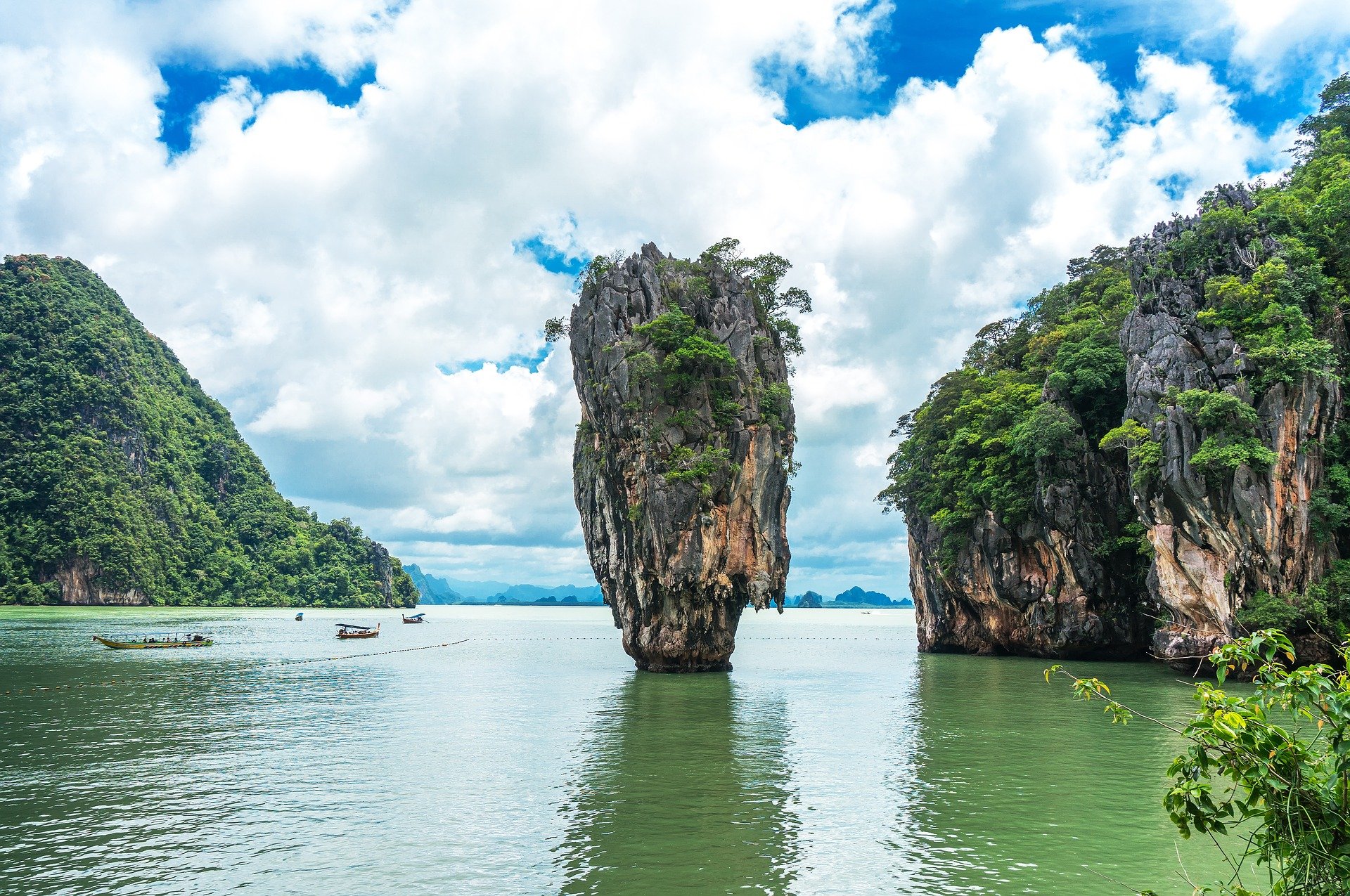 2) Bangla Road in Patong Beach
If you are looking for Things to do at night in Phuket and are interested in some good night life then this is the place for you! After the sun sets Bangla Road lights the night sky with neon lights. This is the Thailand version of Bourbon street in New Orleans. Bars, live music, neon lights, street fairs, ping pong shows and clubs make this street one to be remembered.
Most of the bars tend to have live music with open doors and front patios to sit and enjoy people walking by, because of this music pours into the streets, which makes walking down the road an experience in itself.
This is a fun and lively place to visit. There is always a street performer to fill the "empty" spots down the roadway that takes you through a portal of fun, drinks, food, laughter and the freedom to enjoy under the night stars.
Similar Article: Best Honeymoon Destinations
3) Phuket Big Buddha
I would say that this is an attraction that shouldn't be missed but it is more like an attraction that can't be missed. This GIANT Buddha is one of Phuket's more known attractions and not just due to the size of the statue.
This is a great place, the 45-meter-tall statue sits on a large piece of land. Built in 2004, this concrete statue has since been reinforced and layered with Burmese white jade that reflects the sun on a clear day.
Walking up to the statue you feel the sense of peace overwhelm you as Buddhists monks walk the grounds and as tiny bells ring from waving flags around the property. On a normal day more than 1,000 visitors will visit the site, writing prayers or notes and sticking them between the bricks and marble slabs sending prayers and wishes for luck, love, health, wealth and nearly everything in between.
This entire area is run by donations, feel free to leave something in the donation box so that future generations can also come and visit this magnanimous wonder.
Similar Article: Things to do in Thailand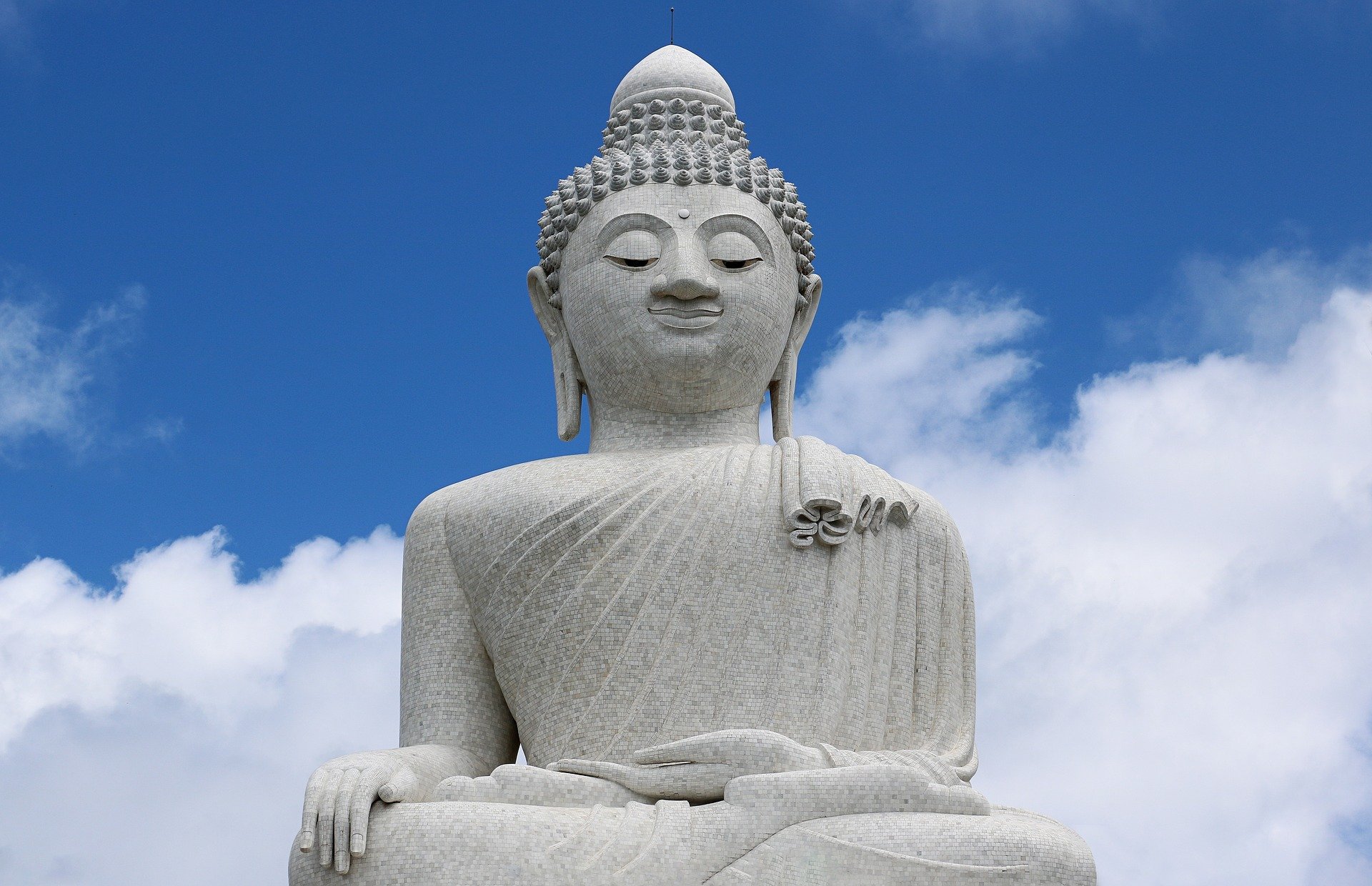 4) Shopping in Phuket
There are a lot of really amazing night markets in Thailand – some of the best I've visited have been in this area; Laos, Vietnam and Thailand are well known for their night markets. That way you can enjoy sleeping in but aren't missing out on the great handmade souvenirs to take home with you.
These markets, side note, are when your haggling skills need to be at work. Though many of these markets are already fairly priced, if the locals see that you are really wanting something, they will jack the prices up.
Don't be afraid to bargain for what you want and don't pay more for something than you feel is fair – sometimes a good tactic is to start walking away, anyone you are haggling with will change their tune. I've found that the items found at night market are better than the ones you will find in the shops around so save your spending till you visit a night market!
The streets come alive when you visit a night market, it is really a great time!
There are five good markets around Phuket, Chillva Market, Phuket Weekend market, Phuket Walking street, Phuket Indy market and Malin Plaza Patong. Each of these markets have different operating days, times and items they sell so if visiting markets is something you are into, they are worth looking up.
Similar Article: Facts About Australia
5) Phuket FantaSea Show
This is a show that you shouldn't miss! This is the largest show on the island, and it is fun for the whole family. Whether you are traveling with your significant other, best friend, by yourself or with the kids this show has something for everyone.
There are performing elephants, hundreds of trapeze acrobats and costumes that will stun your senses. Reflecting the colourful Phuket culture, everything about this show is bright and made to amaze. Worried about killing time before the show?
Have no fear, you can grab an early dinner at the Golden Kinnaree buffet hall that can seat up to 4,000 people! After dinner you can let the kids loose in the Similan Adventure center, which is a sea-themed arcade, one of the Top Things to do in Phuket with kids. Once you enter the theater for the show, cameras aren't allowed.
This is very strict so please don't try and be sneaky about it. The result of being caught could get you in trouble with the local authorities. It doesn't matter if you can take pictures or not throughout the show, you will be so overwhelmed with the lights, sounds, theatrical performances streaming across the huge stage, smoke screens, lasers – OH BOY!
The entire experience will give you a cultural insight with food, music, clothing, even the decorations on the elephants. There are tons of places to take photos and it is highly encouraged to take as many photos as your heart desires – outside of the show.
Similar Article: Zoos in Sydney
6) Visiting Temples in Phuket
As you will see all over Thailand there are hundreds of temples that you can visit, the main temple is Wat Chalong. The world "Wat" translates to a Buddhist temple. This is important to know since most of the Thai population are Buddhists.
Entering temple grounds is like entering a palace, there are lush gardens, beautiful looming trees and gilt-covered statues and the Grand pagoda which is the main area of the temple.
The Grand Pagoda dominates the main temple area and this temple is renowned throughout the Buddhist religion for its contents. This Pagoda houses a splinter of Lord Buddha's bone and is officially named "Phramahathatchedi-Jomthaibarameepragat".
As you walk through the Pagoda you will see beautifully painted walls, each telling a story of Buddha's life and some parables that can be found in the Tripitaka (or the sacred book of Buddhism).
There are some tips you need to know before visiting a temple. This ground is a sacred place for the locals. Be sure to take off your shoes and wear clothing that covers your shoulders, legs or midsection (especially for the ladies).
Best suggestion wear comfortable shoes that can slip on and off easily. There are 29 Buddhist temples you can visit around Phuket – so there are lots of chances to visit a beautiful temple all across the island.
Similar Article: Things to do in Seoul
7) Stroll Through Old Town Phuket
You might have gathered by this point that Phuket is full of astounding culture and personality, but this Thai city is not like others you'll find in other areas of Thailand. The deep history that you'll find in old town does not concise of just Thai culture.
There is a huge Chinese and Singapore culture influence that was brought in throughout the last century. There was a massive boom in the tin industry where this metal became extremely valuable in the early 1900s and became the heartland of the economical boom for this tiny province.
There are local stores where you can pick up a walking map that will show you through the history of Old town.
You can spend an entire day wandering through the streets of old town but best to start early because the afternoon temperatures you'll want to be cooling off in a restaurant or museum somewhere till it starts to cool down. 
Similar Article: Things to do in Seminyak
8) Chalong Bay Rum Distillery
This is a great gem to visit while in Phuket. A place to try a killer mojito and learn about this internationally acclaimed distillery. Not only can you tour this facility, but you can also learn from the bartender how to make a few drinks with their rum as the base.
This is a great way to learn and try your hand at bartending. Your price will include a two-hour class where you will learn to make three drinks – all with rum of course.
This distillery takes pride in its history, methods that reach back hundreds of years of French influence combined with Thai sugar canes makes this rum not only noteworthy but award-winning as well.
Since there isn't a lot of other touristy Things to do around Chalong this is a wonderful way to spend a day and what better way than sipping on some rum…
Similar Article: Things to do in Bangkok
9) Beaches!
Being an island, one would assume that there wouldn't be a lack of beaches, and you are correct! But with so many beaches to choose from which ones should you visit?
Well, that depends on what you are looking for from your beach experience. Are you traveling with your family and need a family friendly site? Traveling with your lover and need a secluded beach? Traveling with the girls and want to have some fun and maybe some flirting?
You have more than 30 beaches to choose from on this slice of paradise. So, I am going to list off a few of the top beaches that are definitely must visit locations:
Patong Beach (If you are looking for Things to do in Phuket, Patong then you should visit the Biggest beach in Phuket which is Patong Beach. You can spend an entire day hanging out at the beach and then add some clothing layers and spend the night away with the vivacious nightlife that crests at the beach front)
Karon Beach (This is the third largest beach in Phuket so with the size also comes population – this beach is good for all beach goers because it has a little bit of everything for everyone)
Kata Beach (Most popular beach for families of all sizes. Check the season you are visiting because there can be a lot of surfers depending on the surf. There are a ton of great places to eat along this beach too which makes it ideal for families to travel to.)
Kamala Beach (Good for families who need a lot of room for kids to play and offers activities for couples who want some space from the overcrowded beaches)
Mai Khao Beach (Best if you are wanting privacy and seclusion for your beach setting)
Take a Cooking Class
There are a few locations around Phuket that you can take a cooking class, but I highly suggest it.
Anywhere I travel I always try and take a local cooking class because you will see so much culture, you'll learn about local foods, ingredients and cooking practices that only the locals know. I always encourage everyone who travels to take a cooking class while they are traveling – you won't regret it.
Similar Article: Most Instagrammable Places in Australia
Tips and Helpful Links:

Use a Travel Agent to plan your trip: If you are travelling then we can connect you with up to 3 Australian Travel Agents for Free so you can compare quotes and get the best deal Contact us

Accommodation: Booking.com Check price here

Travel Insurance: World Nomads Check price here

Flight Deals: Skyscanner Check the deals here

Car Rentals: We recommend CarRentals.com

Books: We recommend Books and E-books from Lonely Planet
Conclusion
Throughout Phuket you will see an amazing culture of the Thai people. The Thais are generous and happy people, and they love to share their cultures and traditions with visitors. You will find tons of shops for a myriad of souvenirs, clothing, and specialty shops that you won't want to pass on.
Museums and temples that you can spend an entire afternoon and depending on the heat you might want to spend the better part of the afternoon in the A/C. You should definitely explore the beaches and who knows you may find few Secret Beaches in Phuket yourself.
I would highly recommend not missing out on the food! Thai food that you have tried anywhere else (outside of Thailand) won't compare to what you will be served in Phuket.
Every providence of Thailand makes and serves food differently, like in Italy when you try pizza you will have specialty pizzas for the city or province you are in, Thailand is very similar to this as well.
Though there are Thai staple food, things you can taste throughout the country, there are simple aspects of these staple dishes that have been changed because you are now in Phuket and not in Pattaya Beach.
On a final note, always be cautious of pick pockets, the children are the best at it and so you need to keep all money items in your front pockets.
Men – avoid wearing basketball shorts, they are the easiest to pick out of and in crowded areas ALWAYS make sure that your bag, backpack, camera bag or purse is in the front of your body. Tiny hands can get into pockets when you are getting bumped by hundreds of people.