Things to do in New Zealand
by Rohan S, Seek To Travel, February 8, 2019
New Zealand is really a country full of opportunities and amazing memories to be made. I couldn't recommend visiting New Zealand enough. It's a gorgeous country, with so many things to do. You can quite literally sunbathe and ski in the very same 24 hours.
As a small reminder to myself of how amazing New Zealand is, I've put together a list of all the exciting things to do in New Zealand. Here they are, let's dive right in (sometimes quite literally).
26 Best things to do in New Zealand
1. Take a trip to the Ninety Mile Beach
This is for everybody who loves to fuse together excitement, with relaxation. Yes, you can sunbathe on the 90-mile beach, but you can also get your adrenaline pumping.
Why not bodyboard down the sand dunes or surf along the waves. Either way, you'll be sure to have an absolutely amazing time.
You can even book a 90-mile beach tour, where you'll be absolutely thrilled. Usually making your way from Paihia all the way to the incredible beach. They really are quite the adventure. This is one of the best things to do in New Zealand in the summer when the weather is hot, and the days are long.
2. Climb a volcanic island
If you're looking for cool things to do in New Zealand, it doesn't get much cooler than this. Rangitoto is New Zealand's youngest volcano, erupting only 600 years ago – I know, a baby.
The island with this volcano is inhabited albeit the incredible wildlife that thrives here. What's even better? You can visit here for a day.
A ferry service will take you to the island, where you can explore various walking routes, including one which allows you to view Auckland in a way that you never knew possible.
If you're looking for something super unique, you can even kayak around the Rangitoto Island, you'll see the island like you never knew you ever could.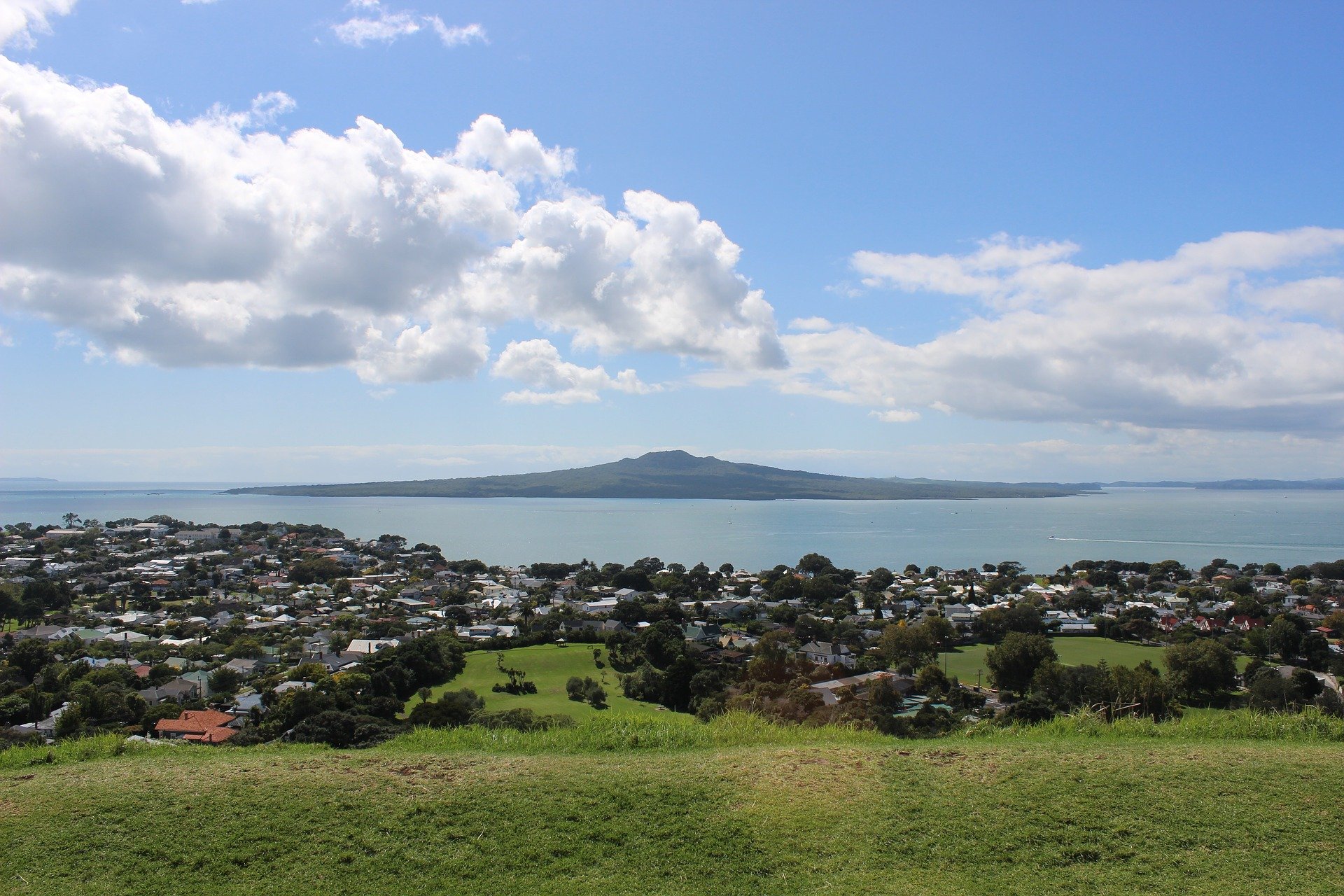 3. Or walk up Auckland's highest volcano cone
Yes, another volcano – it's only a short walk but it's incredibly steep, so make sure you catch your breath. It's really hard to put the experience into words, I find being there is completely different to the descriptions or pictures.
Basically, it's a 50m deep crater, but it's just so magical. Maybe that has something to do with it being considered a sacred place.
From here, you're in a great place to check out the Eden Gardens – here you can find peace in such a busy city.
4. Take a trip to the Hot Water Beach
The Hot Water Beach is like something I've never experienced before, you quite literally dig your very own spa. This is located right near Cathedral Cove, and has become something quite popular over the years, even for the locals.
Honestly, it's a beautiful place to visit, any time of the year, at any part of the day. However, if you visit a couple of hours before or after the high tide, you'll find herds of people flocking towards the beach with their digging tools.
It's easy to understand why, though. Soaking in the warm water, whilst you relax in the surroundings is something quite special.
This is absolutely one of those Top Things to do in New Zealand, that I couldn't miss off.
5. Take a hike up an active volcano
I know, I've mentioned a lot of volcanos. It's quite amazing to be able to come up close and personal to so many past, present and future volcanos.
You can let off a bit of steam, alongside White Island. You can make your way on a boat or helicopter tour, seeing one of the most impressive sights in the country, in an incredible way. It really is unforgettable.
You can experience the acid lake, mud pools and hot water streams, really closely. This really is one of the most amazing things to do in New Zealand, if not a little bit crazy.
If you go home, telling people you climbed on an active volcano, people will be so fascinated, albeit a little jealous.
6. Get to know the indigenous culture
Māori culture is super interesting, and there are so many ways that you can appreciate and learn about it. You can visit the ancient villages, visit Te Papa or spend the night in a marae.
I think it's always important to learn a little bit about a country's past, and culture. This experience left me with a new-found respect for New Zealand and proved to be an enlightening experience.
7. Take a trip to the real-life Hobbit village
If you're a big fan of the little movies, The Lord of the Rings and The Hobbit (maybe you've heard of them?), you'll probably know all about Hobbiton. For those that don't know, the movie set for this wonderful world was set in the North Island, New Zealand.
This has become one of the most popular things to do in New Zealand, and also adds to the list of things to do in New Zealand with kids.
Whether you're a fan or not, you'll be transported to a magical land, or you'll just appreciate the level of detail that went into creating this incredible movie set.
8. Take a trip to the Glowworm Caves
I don't know about you, but I had never seen a glow worm before, they're quite mystical creatures, really. Turns out, New Zealand has a cave, which makes them really easy to see. It looks like something out of a movie.
The Waitomo caves are swarming in Arachnocampa Luminosa, the native species of glow worm to New Zealand.
It's a completely natural spectacle, that definitely needs to be added to your New Zealand bucket list.
9. Spot some Kiwi Birds
Even though they're quite the famous New Zealand bird, they can be hard to spot. I was shocked to find that many native New Zealanders hadn't even seen a wild Kiwi.
I was desperate to see one, which is why I headed towards the North Island, South Westland and Stewart Island. You can even find Spotted Kiwis in the North of the South Island. It isn't impossible.
If you're not up for the goose chase (or should I say Kiwi chase?), then you could easily head over to a zoo or wildlife reserve park. They are really amazing creatures. This is one of the best things to do in New Zealand, whether you're a tourist or native.
10. Go beach hopping
I'd say this is one of the best things to do in New Zealand in February – one of the warmest months. The best place to go beach hopping, you ask? The Abel Tasman National Park. It's an oasis of tropical wildlife and sandy beaches.
The whole track will take you about 3-5 days to complete, maybe longer if you're really savouring the moment. You can also explore this magical coastline by boat or kayak.
11. Try your hand at white river rafting
There's one amazing river to try white river rafting – Waiau Uwha River. It's challenging but certainly, something that you'll never forget.
If you're looking for things to do in New Zealand with children, there are family-friendly options here too. Things like a boat ride, although not as scary as pounding down the river in a raft, it's super interesting and memorable.
12. Check out the weird stone marvels on Castle Hill
This is one of those "I have to see it for myself" moments. On top of Castle Hill, near Christchurch, you'll find the oddest formations.
The best thing? You can make your own hiking path towards them. You can even squeeze through the strange limestone structures for yourself.
As New Zealand's weather can be quite unpredictable, I recommend that you add this to your list of Things to do in New Zealand in November, just to be safe.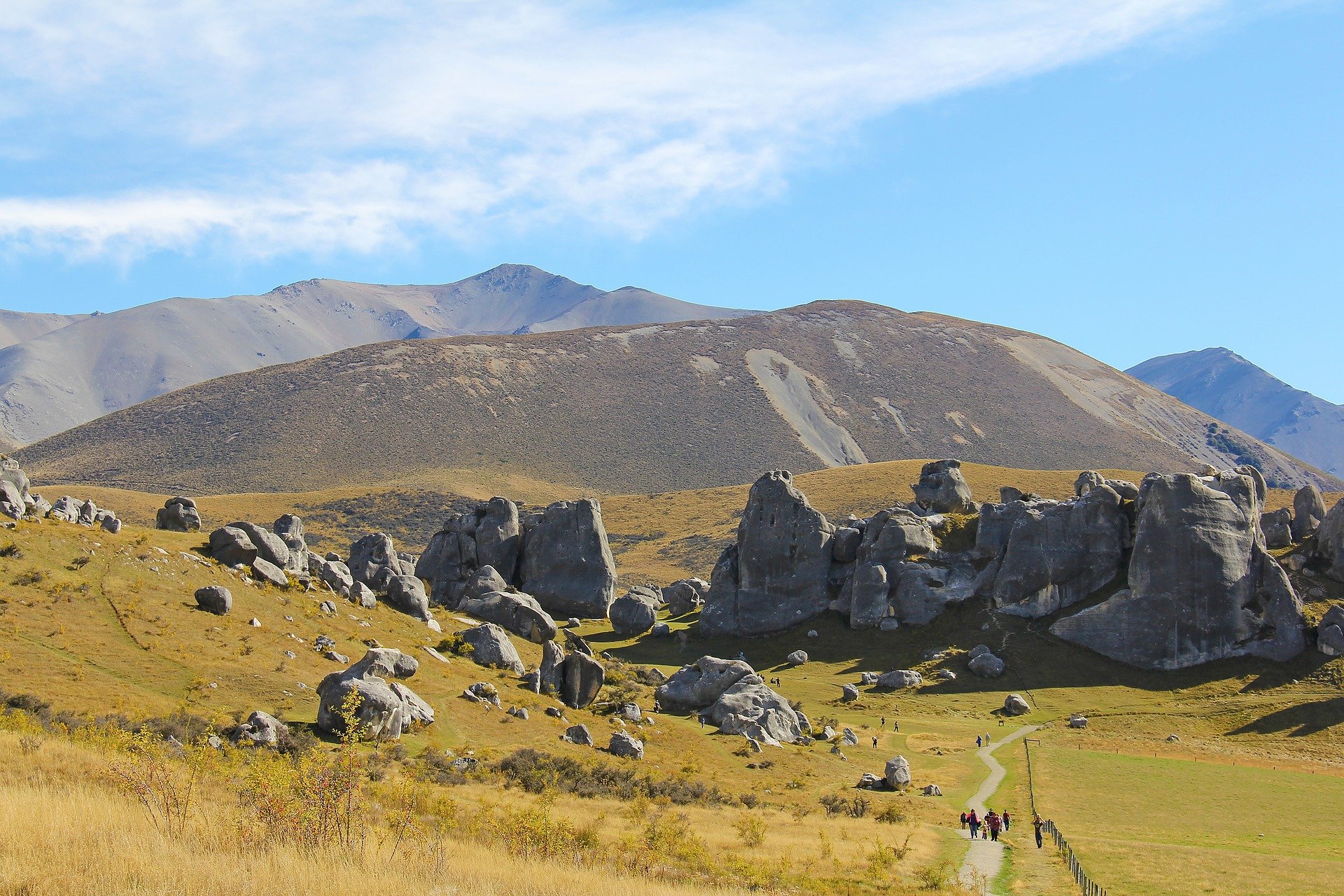 13. Swim with tiny dolphins
More specifically, Hectors Dolphins – they're an endangered species of dolphin, native to the South Island of New Zealand. What a pleasure it is to be able to swim with them.
They're living happily at a marine reserve in Akaroa Harbour, giving you the opportunity to swim with the incredible animals. This is definitely something that you cannot miss.
You can find these opportunities with tour guides. This is definitely one for the bucket-list.
14. Visit New Zealand's castle
You got me, there are two castles in New Zealand, and whichever one you visit, will be sure to be an experience.
The one I'm talking about is Dunedin's Larnach Castle, it's one of the oldest buildings in the country and is often used for weddings and balls. In fact, if you're looking for romantic things to do in New Zealand, this is a great choice.
It's open all year round, and wonderful to visit whatever the weather. There are some scary ghost stories and legends surrounding this castle, so just be aware.
15. Experience one of New Zealand's Greatest Walks
The Milford Track has quite the reputation, once called the "finest walk in the world" by Blanche Baughan, a famous poet. I think I'll have to agree with him.
The incredible landscapes, the awesome wildlife and the incredible experience make this really one to remember.
Just a little warning, it will take you around 4 days to complete the entire hike, so this isn't something that everybody will enjoy. That being said, I really do recommend it, to anybody who feels up for it.
16. Bungy jump from New Zealand's highest spot
This is definitely one for the thrill-seekers, the Nevis Bungy Jump is said to be the country's most terrifying one.
Maybe if you think less about the fact that you'll plummet 134m towards the Nevis River, and more about how you're experiencing a once in a lifetime opportunity, you'll pluck up the courage to do it. I wouldn't blame you if you don't, though.
If you want a story to tell for years, this is probably it.
17. Take some photos of the Wanaka Tree
Did you really go travelling if you didn't post it on Instagram? Yes, visiting a tree might not quite match up to white river rafting or bungy jumping, but it certainly makes a good photo.
It's actually such a great place to photograph, that the entire spot can become quite busy. The tree has become quite the Instagram superstar.
Once you've snapped your photo, make sure to take a trip around Wanaka town, it's quaint and tranquil. Again, another perfect spot for all those on a romantic holiday.

18. You can't miss out the Roys Peak Walk
Roys Peak Walk arguably New Zealand's most iconic track. It's not only super incredible, but it's definitely on the list of cheap things to do in New Zealand.
In fact, it's the pictures taken from here, that have become synonymous with New Zealand travel. It's absolutely gorgeous, with the most breath-taking views imaginable.
I would say, don't rush it. When you make it to the top, savour at the moment. It's not every day you see a view like that.
This could come out at number one for the top things to do in New Zealand.
19. Go glacier hiking
You might have heard, New Zealand is home to quite a few glaciers. The most popular of which is the Fox Glacier and the Franz Joseph Glacier.
Sadly, you can no longer make your way to the very top of these glaciers, due to their rapid deterioration, you can walk around and take a helicopter ride to the top, though.
It would be pretty cool to tell your friends that you walked on a glacier, right? We'd say this is one of those things to do in October in New Zealand.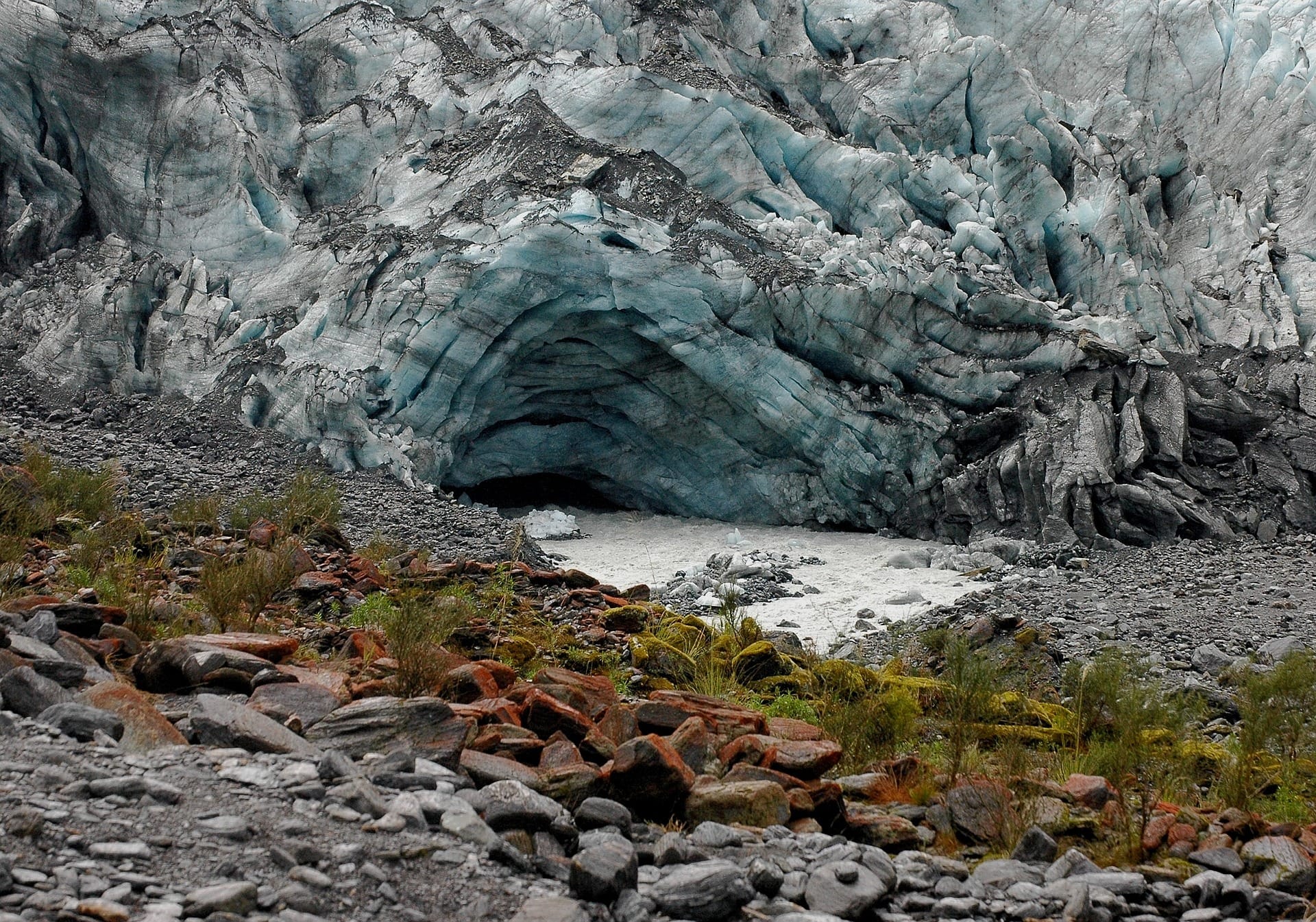 20. Go on a bike ride
Still looking for Free things to do in New Zealand? What could be better than a bike ride?
There's a cycle track for everybody in New Zealand. Whether you're looking for a quiet stroll, or an adrenaline-pumping ride. It's time to hop on a bike, and take in the incredible scenery.
21. Climb (or fly up) Mount Cook Aoraki
Yes, this is the mountain which Sir Edmund Hillary climbed, just before making his way up Mount Everest – maybe you'll do the same?
You can absolutely climb the mountain yourself, it will take time, endurance and a lot of willpower, but the offer is there.
If that doesn't appeal to you, you can consider a helicopter ride. You can just pretend you did it. I won't tell anybody.
22. Get a thrilling kick in Queenstown
There are so many things to do in New Zealand's Queenstown. The most exciting of which is what they're famous for – the thrilling activities.
You can take your pick from bungy jumping, jet boat rides, river rafting and skiing. Or just go for all of them.
No doubt, you'll find something new and exciting to do whilst there.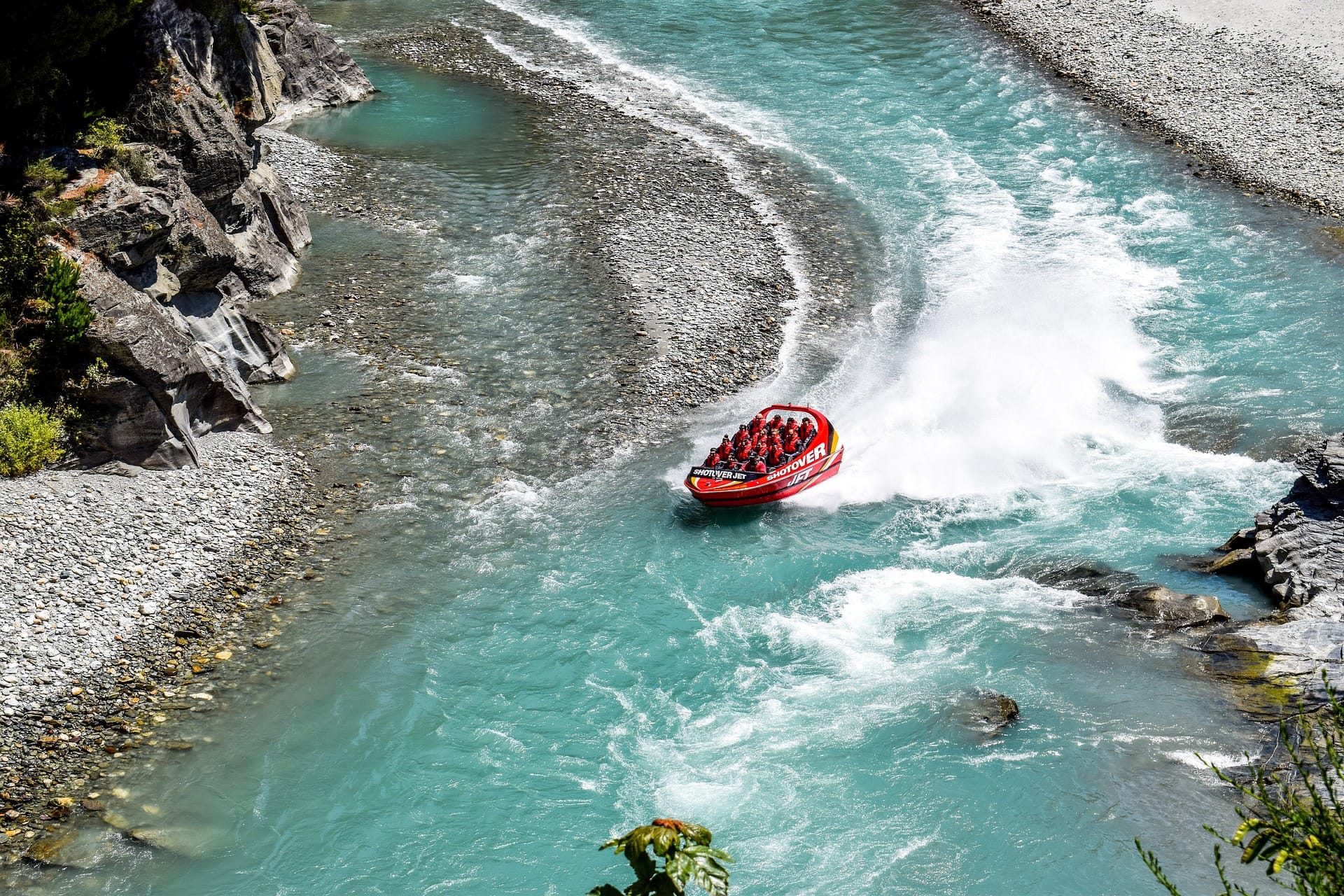 23. Take a trip to the Pancake rocks
These really are a superb place to visit. Where else can you take a walk around the 1000-year-old eroded limestone rocks?
I would give the very obvious advice – time it so that you see the see blowing through the rock's very own blowholes. It's a really fascinating sight.
24. Try out paragliding
Another one of the best things to do in Queenstown. It's only, in my opinion, the best paragliding experience that you'll ever have.
Soaring above Queenstown, looking down on the incredible views, you'll have this as a lasting memory.
25. Check out Split Apple Rock
I know, I seem to be mentioning a whole lot of rocks, volcanos and mountains. I have to say, New Zealand is a geological masterpiece, with formations appearing that look completely out of this world.
The Split Apple rock is 120 million years old. Legend states that the rock was split by two battling Gods.
Science states that water in the rock expanded during the ice age, splitting the rock in half. Which story do you prefer?
26. Try out Zorbing
This is a completely new adventure, especially for those looking for fun things to do in New Zealand. Zorbing, if you don't know, are those giant balls that people run in – you know, the see-through bubbles that allow you to roll everywhere?
Rotura offers this incredible experience, giving you the chance to roll down hills. It's definitely an experience.
After all those adventures, which not relax in the Volcanic Sulphur Waters.

Tips and Helpful Links:

Use a Travel Agent to plan your trip: If you are travelling then we can connect you with up to 3 Australian Travel Agents for Free so you can compare quotes and get the best deal Contact us

Accommodation: Booking.com Check price here

Travel Insurance: World Nomads Check price here

Flight Deals: Skyscanner Check the deals here

Car Rentals: We recommend CarRentals.com

Books: We recommend Books and Ebooks from Lonely Planet
Well, I hope this list of top things to do in New Zealand helps you a little bit. The country might be small, but it's certainly packing a punch.
From volcanic hikes, rocky mysteries and incredible adventures, New Zealand needs to be put on your very own bucket list. It's a country where you learn about new cultures, It's a truly unique, incredible and unforgettable experience.
I couldn't recommend it enough.
What are your Top Things to do in New Zealand? Please comment below, we would love to hear from you.