Most Instagrammable Places in Australia
by Seek To Travel | November 3, 2019
Looking for the most instagrammable places in Australia, then this is the article for you.
Australia is a country that has one of the most diverse landscapes in the world. No wonder why people several years ago had selected Australia as the most photogenic country.
Nowadays due to social media, such as Instagram, popularity, every traveler wants to visit locations where they can take the best photos and share with their followers.
If you are one of these types of travelers, we had made you a perfect list with the most Instagrammable places in Australia. Grab your travel planner and note down these amazing places!
20 Most Instagrammable Places in Australia
1. Uluru (Ayers Rock), Northern Territory
Uluru or Ayers Rock attracts thousands of tourists every year. No wonder why it had received more than 320,000 hashtags on Instagram. The massive 3.6 km long and 348 m height stone lies in the Southern Part of the Northern Territory in central Australia. It is also named as the most sacred mountain in the country.
Uluru is the most beautiful at dawn as the rising sun illuminates the rock in deep pink and red shades. The similar performance but in reverse can be seen during the sunset – the deep orange shade of the rock becomes red and pink.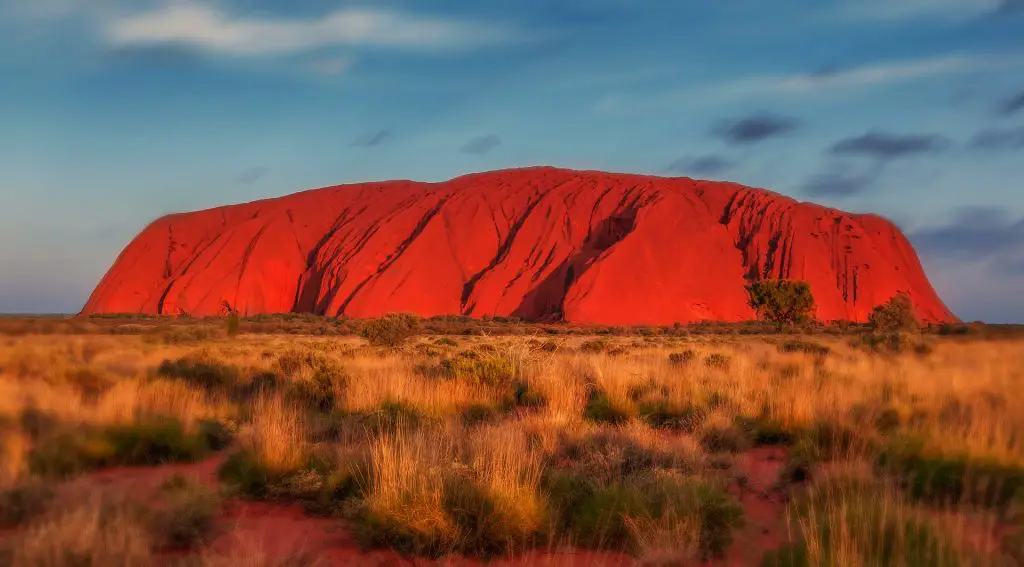 2. Pink Salt Lake, Esperance, Western Australia
Another fascinating place for instagrammable photos is Pink Salt Lake – received nearly 100,000 hashtags on Instagram. Pink Lake is located in the Goldfields-Esperance region (Western Australia). The water in the lake is pink due to the algae Dunaliella Salina that grows in the lake.
Due to the algae and various climate conditions, only about 10 years ago the lake became bright pink and started to attract crowds to this extraordinary natural wonder.
Comparing to other Australia's sites, the lake area is still pretty quiet and not very touristy. We highly advise visiting the lake in the daytime for the best photos. Don't forget to stop at the viewpoints to see the Pink Lake from above.
Related Article: Things to do in Perth
3. Twilight Bay (Beach), Esperance, Western Australia
Esperance area is known for having the best beaches in Australia. Recently Twilight Beach (Bay) in Esperance started to receive lots of attention from travelers.
The 'unknown beach' now has more than 5,000 hashtags on Instagram and is becoming more and more popular. The beach has pristine white sand and sky blue clear water that attracts tourists wanting to take perfect photos of a perfect Australian beach. Plus it's actually not too crowded to take photos.
4. Ellery Creek Big Hole, Northern Territory
Ellery Creek Big Hole is located in West MacDonell National Park (Northern Territory) and is a majestic waterhole that fascinates all its visitors.
It is one of the most famous locations in Australia for outback swimming, camping, hiking, and walking. High red cliffs and a sandy creek are the most picturesque during sunset. This place has received more than 5,000 hashtags on Instagram.
5. Bondi Icebergs Pool, Bondi Beach, Sydney
Bondi Icebergs Pool is located in Bondi Beach (about 7 km away from Sydney) and is the most photographed pool in the world. The pool is an open-air rock pool that has water from the ocean.
It has several big pools, kids pool, and saunas, so you might feel like you are actually in the open-air small leisure center. The pool is open all year round so even if you come here during winter, you will be able to swim in it.
Related Article: Best Things to do in Sydney at Night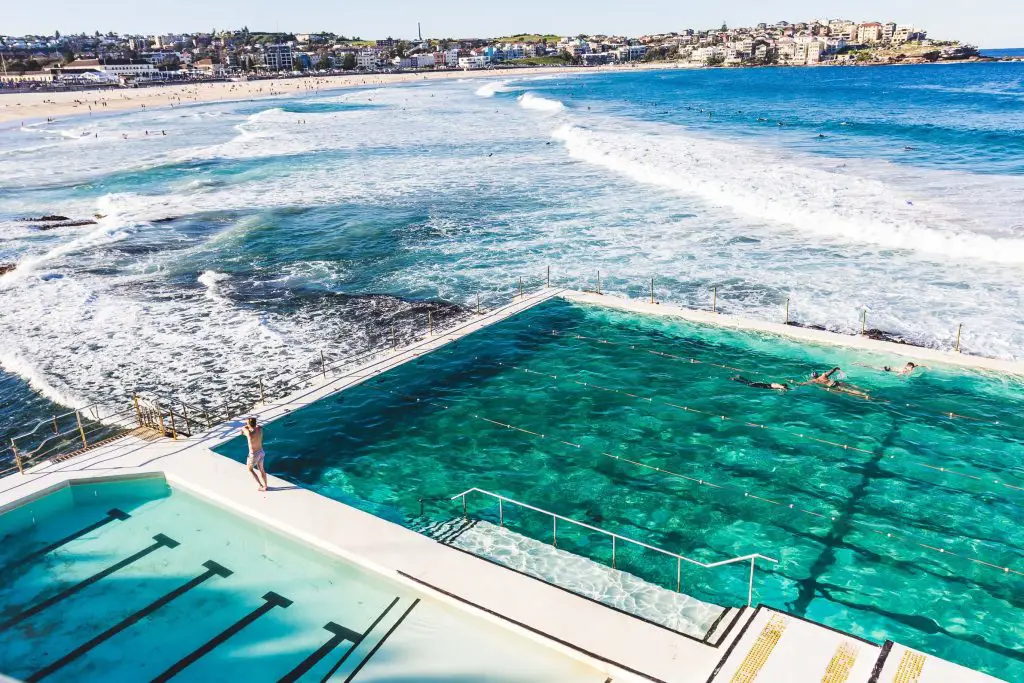 6. MacKenzie Falls, Grampians National Park, Victoria
The sixth most instagrammable place in our list is MacKenzie Falls (more than 13,000 hashtags on Instagram) located in Grampians National Park, Victoria. The falls impress visitors by its neat and strong flow, deep pool and its size (about 35 m).
It is usually named as the most beautiful falls in Victoria. Beyond, there are tons of firm rocks where you can take magnificent photos of yourself crossing the pool with a background of waterfalls. However, if it's not enough for you, you can take a 1 km path to the viewing platform and take stunning photos of the falls from above.
Related Article: Best Things to do in Melbourne at Night
7. Rottnest Island, Perth
Rottnest Island is very close to Perth City (Western Australia). For a long time, it has been a famous holiday destination for locals from Perth.
Nowadays it attracts more and more tourists because of the island's white sand beaches, blue water, coral reef and friendly quokkas (mainly found only at Rottnest Island). The island has everything you could imagine so you won't ever lack things to see or to do. For the best shots, we recommend spending at least one full day at the island.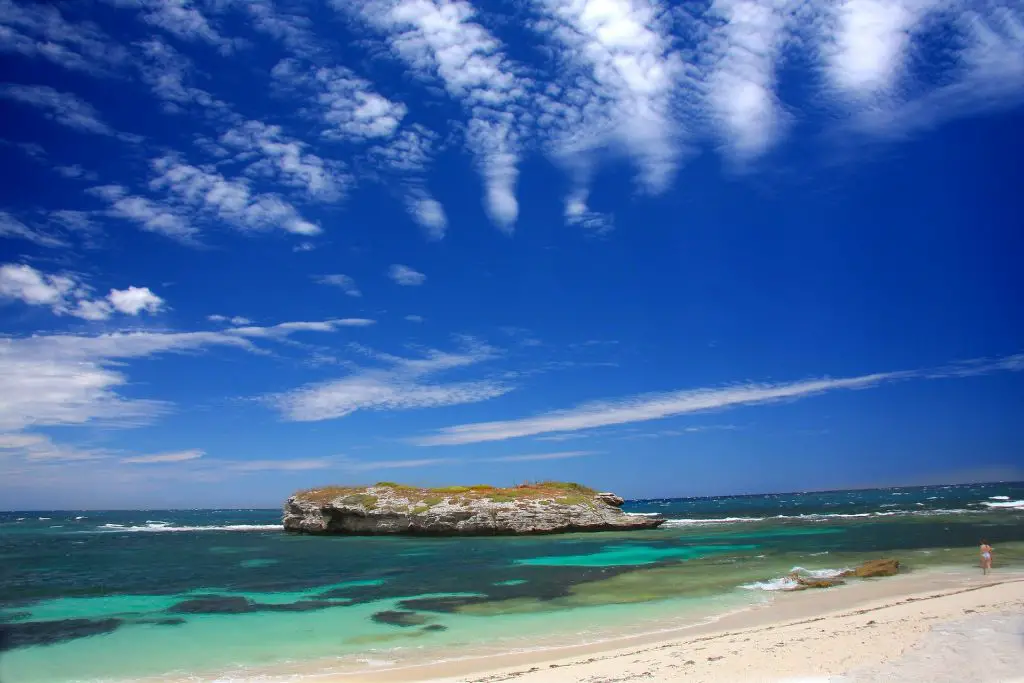 8. Sydney Opera House, Sydney
Sydney Opera House is a place that can't be missed in our list. It has more than 800,000 hashtags on Instagram and is probably one of the most iconic buildings in the world and Australia. The opera house is listed on the UNESCO World Heritage list and is an absolutely stunning and magnificent building.
The building is equally beautiful from outside and inside, so if you have a chance, take a guided tour of the opera house. In addition, there are several great viewing points of the opera house from outside. We recommend securing your place at a viewing point to catch a breathtaking photo of the Sydney Opera House during the sunset.
Related Article: Best Rooftop Bars in Sydney

9. Cape Byron Lighthouse, Byron Bay, New South Wales
Cape Byron Lighthouse has been featured in tons of photos and has become the number one place to visit while visiting the Byron Bay. This Lighthouse is about 3 km away from the Byron Bay, New South Wales. It is the most powerful Australian lighthouse which stands on the easternmost point of the country.
You can enjoy a great view of the lighthouse from the beach, or you can visit the lighthouse and view the ocean from above. There is no best time to visit Cape Byron Lighthouse as it's incredibly beautiful all the time, especially during sunny afternoons. Cape Byron with its lighthouse has more than 30,000 hashtags on Instagram.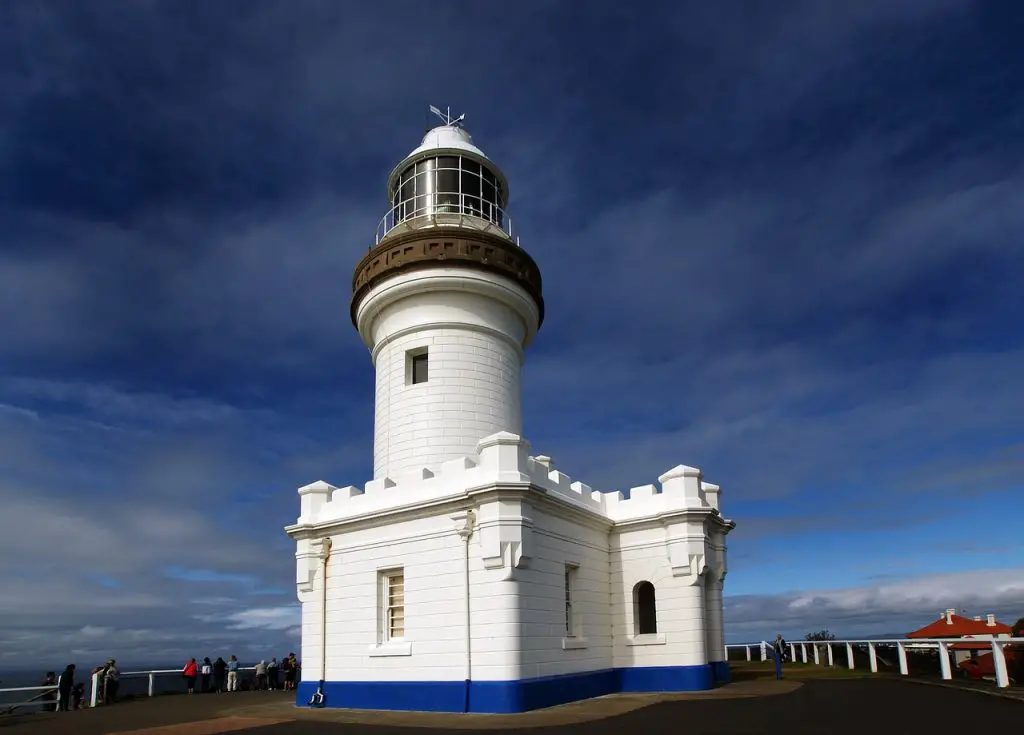 10. Fairy Pool, Noosa Heads National Park, Queensland
Fairy Pool is located in Noosa National Park that is a coastal park. The pool is a natural ocean pool that has a very fancy name. It is a popular spot for wild swimming as you can enjoy ocean water without being carried away and disturbed by the waves.
Beyond, you can take stunning photos as Fairy Pool is surrounded by rocks and deep blue water so it's extremely pretty. It is located deep inside the national park so most likely you will be able to have all pools for yourself. Also, the trail to the pool from the main Noosa Heads beach is very pretty so you will have a chance to take some stunning snaps on your way to the Fairy Pool.
Related Article: Best Things to do in Brisbane at Night
11. Gold Coast, Queensland
Gold Coast is another well-known location in Australia that takes its visitors' hearts. The Gold Coast is a metropolitan area in Queensland, close to Brisbane. It is famous for sandy beaches, great surfing spots, theme parks, rare birds, high buildings and pleasant walking trails.
Gold Coast is usually summarized as the place 'where high rise buildings meet the beach'. Also, it is said that the Gold Coast has 300 sunny days a year. Believe it or not – that's your choice, but we can promise, you will be able to find some stunning sights for the incredible Instagram photos.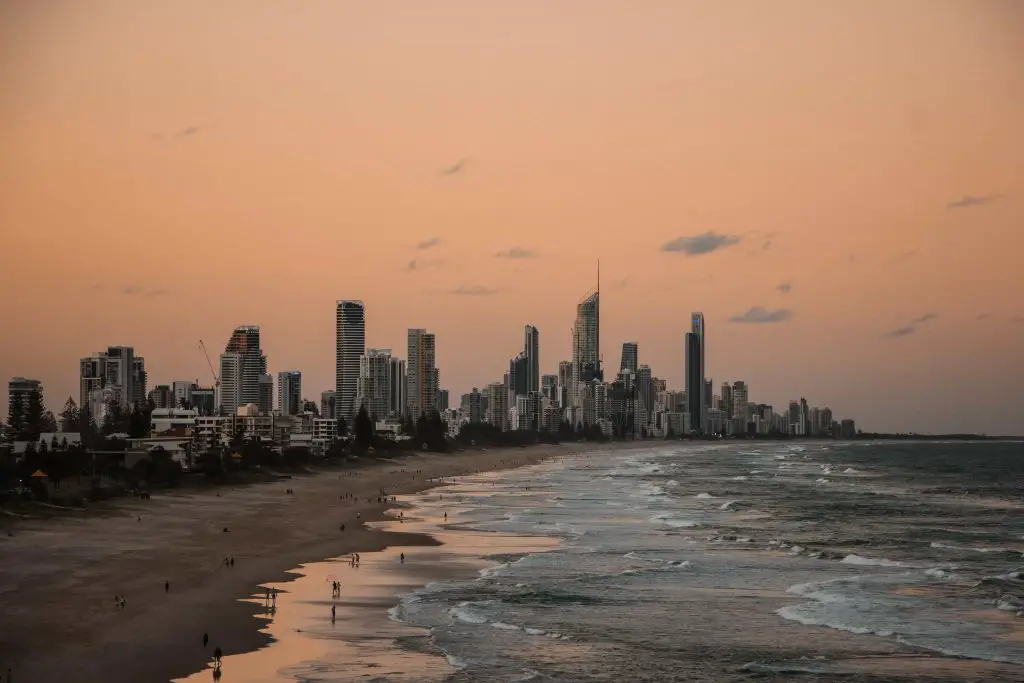 12. Princess Pier, Melbourne
Princess Pier is an iconic 580 m pier on Port Phillip, in Port Melbourne, Melbourne. It is also known as New Railway Pier. The pier was built in 1912, destroyed and restored in 2011.
Princess Pier attracts the tourists because of its hundreds of wooden pillars that are remains of the old pier before restoration. The pier attracts the most visitors during sunrise and sunset, so we advise you to come to the pier earlier to get the best spot for stunning photos.
Related Article: Things to do in Geelong
13. Pebbly Beach, Murramarang National Park, New South Wales
Pebbly Beach is located in the rural area of Murramarang National Park, New South Wales. The beach is widely known for its kangaroo population and apparently, lots of people had witnessed kangaroos surfing (photo of a kangaroo in a low surf was taken and raised the talks).
Beyond, the beach is known for a great walking path along the coast and through the national park, camping, and surfing. Pebbly Beach is a quiet and remote area, so if you love tranquility it's a perfect place for you. The beach has more than 11,000 hashtags on Instagram.
14. Babinda Boulders (Devil's Pool), Queensland
Devil's Pool or Babinda Boulders is another magnificent natural pool in Australia. It is located close to Queensland (near Babinda) and has become a popular stop for tourists who are on a road trip. Devil's Pool is quite deep so wild swimming is only allowed in the designed areas.
Locals even call it the most haunted place in Australia as lots of people drowned while swimming. However, you shouldn't think too much about it as Devil's Pool is incredibly beautiful all year round. We guarantee that you will be fascinated by the water clarity and deep blue color, smooth rocks, and green trees.
Related Article: Free Things to do in Brisbane
15. Kings Canyon, Northern Territory
Another great place for photos is Kings Canyon that has nearly 130,000 hashtags on Instagram. The canyon is located in the Northern Territory of Australia. It is usually called Australia's Red Center due to its massive sandstone walls.
The canyon is a part of Watarrka National Park that is easily accessible by car so you shouldn't have any problems finding it. We recommend coming to the Kings Canyon before the sunrise and hike up to the higher point to see the sunrise and snap some great photos of the scorching red canyon.
Also, if you want more stunning photos and love long walkings, you can try a Kings Canyon Rim Walk (about 6 km walk) and you will be able to catch great landscape photos. We recommend visiting Uluru together with Kings Canyon.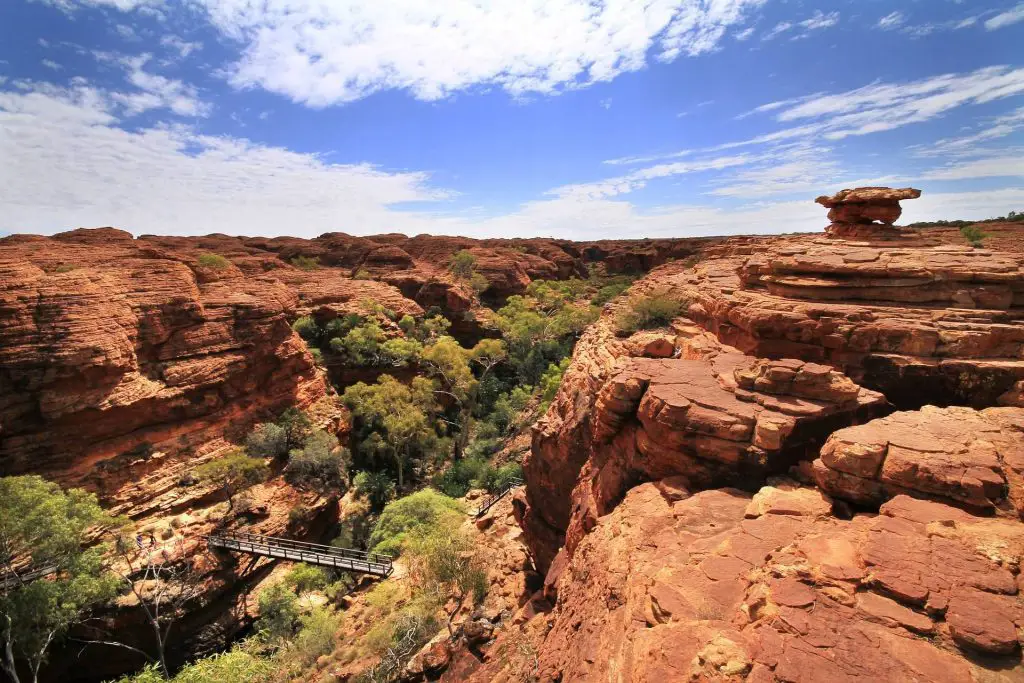 16. The Pinnacle, Grampians National Park, Victoria
Grampians National Park is full of natural wonders, so there is no need to be surprised why another the most instagrammable place can be found in this national park. This place is the Pinnacle that has more than 17,000 hashtags on Instagram.
The Pinnacle is a natural viewing point that was formed from the rocks and from afar looks like a very rocky balcony. Be prepared for a hard long walk up to the viewing point as it can be the hardest walk of your life. However, it is definitely worth your effort and sweat as The Pinnacle has the most magnificent views of Grampians National Park.
We recommend avoiding visiting the Pinnacle during hot summer days as it is completely exposed to the sun and can be unbearably hot. Also, try to visit it from early morning to early afternoon, or early evening as you can catch the best views at that time.
17. The Blue Mountains National Park, New South Wales
The Blue Mountains National Park can be named as one of the most beautiful mountain regions in Australia. The national park is famous for its high mountains, tall forests, sandstone cliffs, canyons, and waterfalls. Shortly saying, it has everything that attracts adventure and nature lovers.
To addition, the park is listed as a World Heritage Area due to its real unspoiled natural beauty. There are numerous amount of walking/hiking trails that you can follow and experience the natural beauty of the Blue Mountains.
Although the park is beautiful all year round, we highly recommend visiting during spring or autumn when various seasonal flowers start to bloom in the Blue Mountains. We assure you that it is a view that you just can't simply miss. Just don't forget to pack a good pair of shoes and comfortable clothes.

18. Kangaroo Island, South Australia
Kangaroo Island is about 13 km off the coast of South Australia and can be easily reachable by the plane from Adelaide. The island is known as a natural zoo because it is home for various types of native Australian animals such as sea lions, koalas, kangaroos (have the biggest population on the island), penguins and various types of rare birds.
The majority of the island's territory is protected by conservation areas so you won't find big cities or stunning 5-star hotels on the island.
However, there are quite a few small towns and huge farms where you can spend several days and enjoy a peaceful time. Beyond, the island's kangaroos love 'hanging around' the beach, so you can easily spot them and take great wildlife photos.
Related Article: Things to do in Adelaide for Free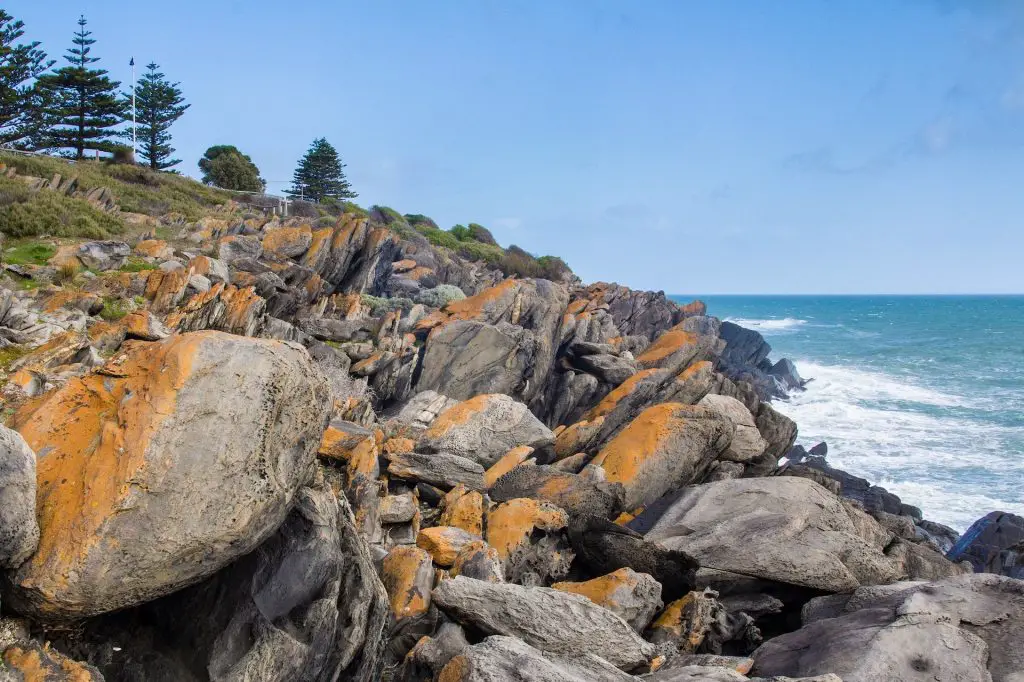 19. Fraser Island, Queensland
Fraser Island is located off Australia's eastern Queensland coast. The island is listed as the world heritage area and is the world's largest sand island – over 120 km long. It was named after the shipwreck survivor Eliza Fraser.
That shipwreck (SS Maheno) still lies on the coast of the island and attracts the island's visitors. Fraser Island is famous for white sand beaches and cliffs that offer a fantastic overview of the island's landscape.
There are several beaches great for wild swimming, but we highly advise trying wild swimming at freshwater natural pools in Lake McKenzie and Lake Wabby. We guarantee that you won't be disappointed with the view and experience.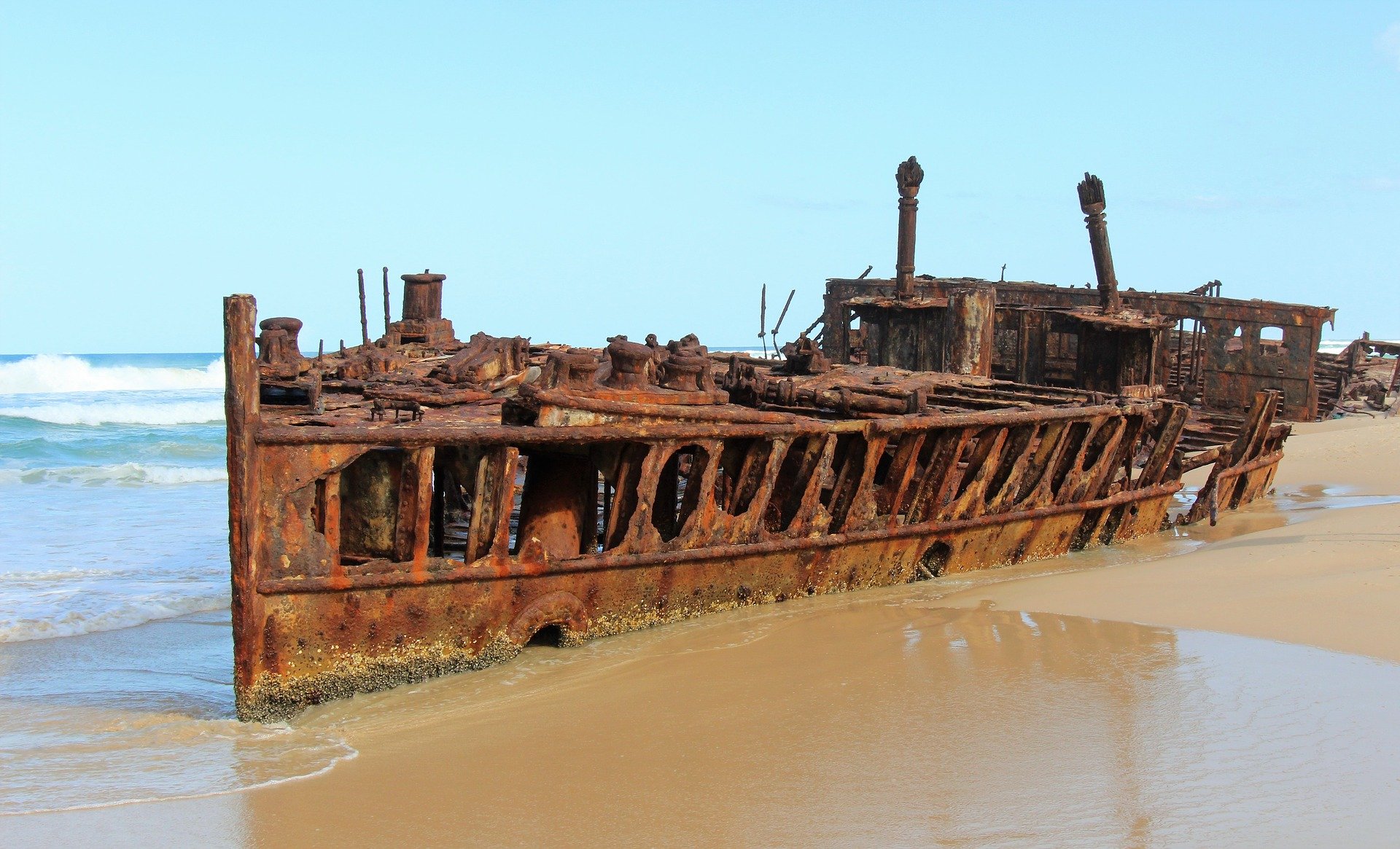 20. Great Barrier Reef, Queensland
Great Barrier Reef is probably a number one thing to see in Australia as it is a natural wonder that can be easily seen from the space. The reef is located just off the coast of Queensland (Northeastern Australia) and it stretching 2,300 km. It is the largest coral reef system in the world and is named as one of the seven natural wonders of the world.
The reef has about 1,500 species of fish, 215 species of birds, marine mammals and reptiles. There are tons of different ways to see a Great Barrier Reef such as taking a helicopter ride or visiting Great Barrier Reef Marine Park. No matter which option you will choose, you will definitely get great photos.
It is said that the Great Barrier Reef every year receives more than 2 million tourists, so be prepared to 'fight' for a good spot to take photos. The Great Barrier Reef has more than 650,000 hashtags on Instagram and the hashtags constantly increase.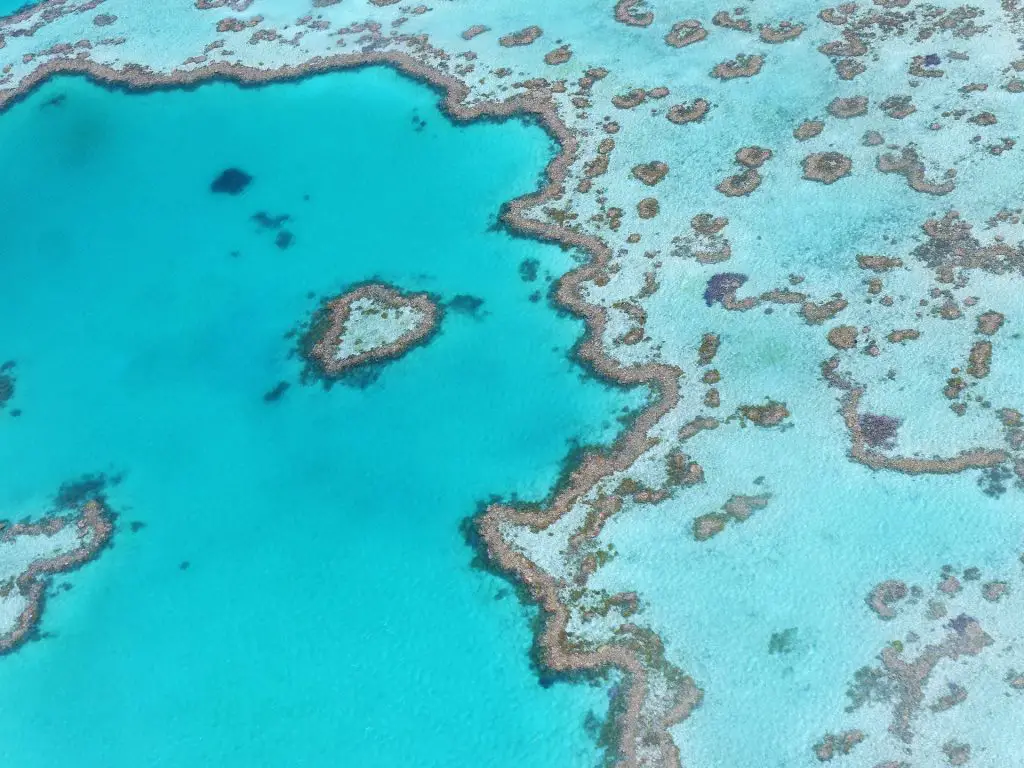 Tips and Helpful Links:

Heading to Bali? Contact verified private drivers with cars Contact us

Accommodation:
We recommend Booking Website for accommodation deals Check price here

Travel Insurance:

We recommend World Nomad for Travel Insurance. Its super quick to check the price Check price here

Flight Deals:
We recommend Skyscanner Check the deals here

Car Rentals: We recommend CarRentals.com

Books: We recommend Books and Ebooks from Lonely Planet




Conclusion
Australia is a wonderful place that is filled with natural wonders. It is impossible to select the most and least beautiful places as every place has its own beauty.
No matter what kind of places you are going to select to visit, we can assure you that you won't be disappointed. Forget about hashtags count and enjoy the real natural beauty of Australia.
What is your favorite place in Australia and why? Do you think that we had missed a place that deserves to be on this list? Please, let us know as we appreciate your feedback. Also, if you do have any questions, please, comment below.