Things to do in Brisbane at night
by Seek To Travel | March 29, 2019
Brisbane is an amazing city, and the magic doesn't just end when the sun sets. It's got tons of incredible things to do, whether you're looking to paint the town red, master a romantic date, or have a fun family night out. It's a city that has beautifully mastered having it all.
Here are our top things to do in Brisbane at Night.

Best Things to do in Brisbane at Night
1. Yatala Drive In
So, you're searching for a romantic night in Brisbane? A drive-in cinema is always a good idea, in our opinion.
Yatala Drive-In could be the best option for you.
Not only do they show a range of movies – including all the newest releases, but their entire ground is also just truly something amazing. They have a 5-star review and would be perfect for a date.
Of course, don't let us make you believe it is just for dates. People go alone, with friends, and with family. It's perfect for everybody.
Best Hotels and Flight Deals Online | Check Price Below
2. Fortitude Valley
Brisbane city at night is beautiful, and Fortitude Valley proves this. We can only describe this wonderful place as a walking Oxymoron, in the best way possible. A rustic array of sophistication, a grungy elegance, where old stands with new.
Fortitude Valley is known as Australia's first dedicated entertainment district. It's filled with live shows, bustling clubs, stylish bars, and delicious restaurants. We highly recommend taking a trip down Chinatown Mall.
To be honest, when people as us what to do in Brisbane at night, we automatically direct them to Fortitude Valley. No matter the night, the occasion or the weather, something interesting will be happening.
3. Open Air Cinema Brisbane
So, we already mentioned the Yatala Drive-In, but we thought that giving you just one to choose from wasn't fair. Brisbane has tonnes of Open Air Cinemas, and you will, without a doubt, be able to find one that becomes your favourite.
Again, it doesn't matter if you're planning a romantic date in Brisbane, or a fun, family night.
Our favourites are:
Moonlight Cinema
Twilight Flicks (South Brisbane, and Brassall)
An outdoor cinema is a great idea, especially in such a gorgeous country, with amazing weather. So bring along something comfortable to sit on either a low chair or a picnic rug and enjoy watching a movie at the open air cinema.
Helpful Article: Tips and Advice from the Experts
Make sure you have Travel Insurance when you are travelling. Get quote in a minute
4. Kangaroo Point Cliffs
You can't come to Brisbane, and not go to the Kangaroo Point Cliffs. For those that don't know, these are heritage listed cliffs, located just across Brisbane River.
Many decide to come to these cliffs in the early morning, but we recommend visiting at night. It's much quieter, and the night views are just incredible.
We've often visited here, just as the sun begins to set, and stayed there until it's nighttime. It's a perfect view and a wonderfully romantic area.
5. Go on a River Dinner Cruise
The Kookaburra Queen paddle wheeler is an iconic cruise ship, that gives you direct views of the city lights, from underneath the stars. Obviously, this can be a romantic getaway, but it can also be a great way to spend the night alone, with friends, or with family.
6. Try your hand at kayaking
Don't worry, we haven't got the time of day mixed up – you really can do this at night – the city holds tours, what don't they do?
These unique kayak tours are held by Riverlife, and they offer evening tours on the weekend, giving you the amazing chance to see Brisbane as the sunsets and the city lights sparkle.
This tour gives you the chance to pass through the South Bank, under the Story Bridge and the CBD. The tour also includes a great feast at Riverlife's Kangaroo Point. Honestly, all types of people opt to try out this kayaking tour, it's a peaceful little adventure.
You'll get the chance to see Brisbane in a completely different way.
You maybe interested in: Most Instagrammable places in Australia
7. Two words; Holey Moley!
No doubt about it, Brisbane often gets the "Holey Moley" reaction. However, this is the name of Brisbane's new golf club, located in Fortitude Valley.
Play a fun game of golf, amidst giant chess boards, cartoon worlds, and even in a pinball machine. The big kid in you will jump out at Holey Moley.
You can make a night out of it, too – this golf course is located in a nightclub (that used to be a church).
Why not grab a few drinks, and start an eventful night in a super fun way?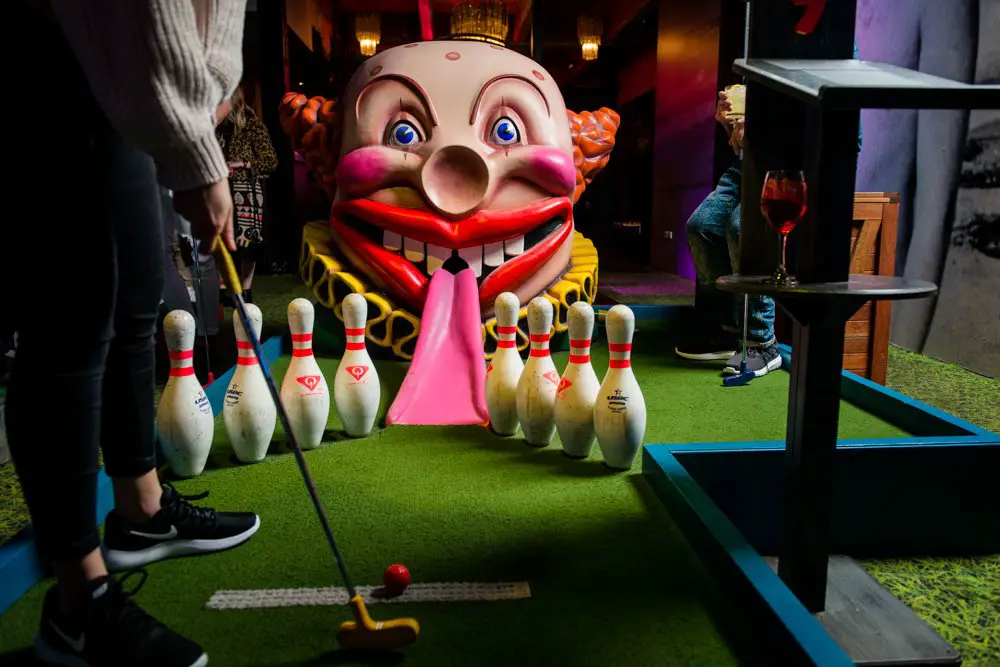 8. Go back in time to old-school games
We all sometimes feel a little bit nostalgic. Why can't we step back in time to a simpler place? Where our only worries were getting the high score on a vintage Mario-Kart game?
Brisbane allows you to escape for one night. Netherworld is a monster-themed arcade, that has games link pinball, vintage Mario-Kart, and Nintendo consoles.
Some of the games date right back to the 70s, making it perfect for avid gamers, and old-school lovers. There's a high score just waiting to have your name written on it. Go check them out.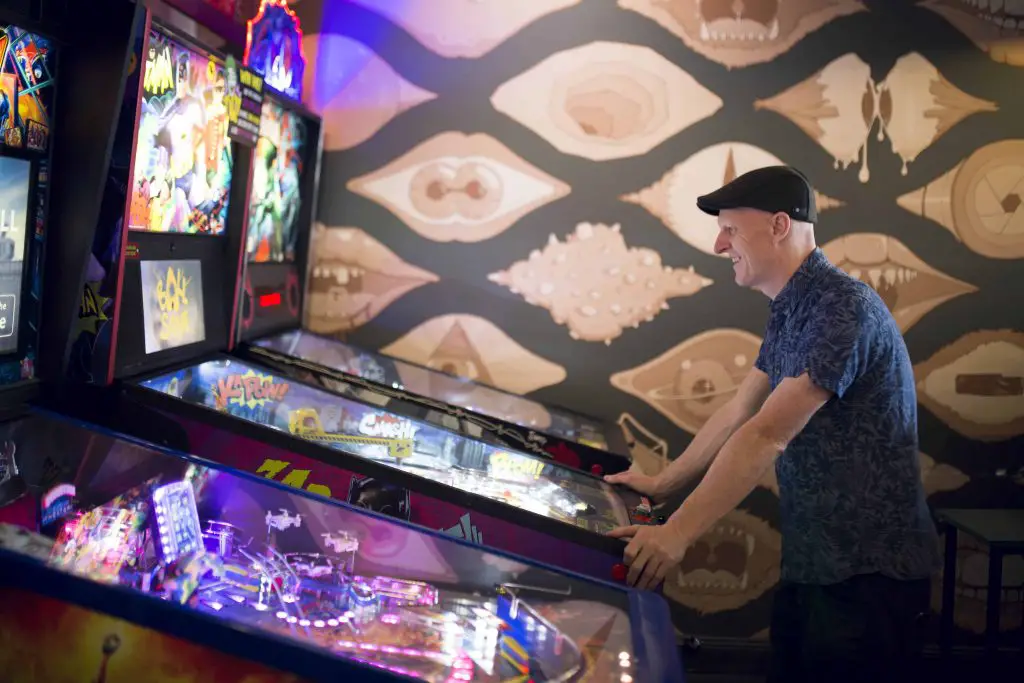 Search for Best flight deals online

9. Get a free laugh
Brisbane Powerhouse gives you free comedy…we're not even joking.
When it's been a long week, sometimes all you need is a good giggle, and this can be provided to you totally for free. Every Friday locals and visitors alike, make their way to the Turbine Platform. Their sole reason? To make you laugh.
It's a one hours free comedy session, and we recommend that you leave your kids at home for it. Consider it self-care.
You maybe interested in: Free Things to do in Brisbane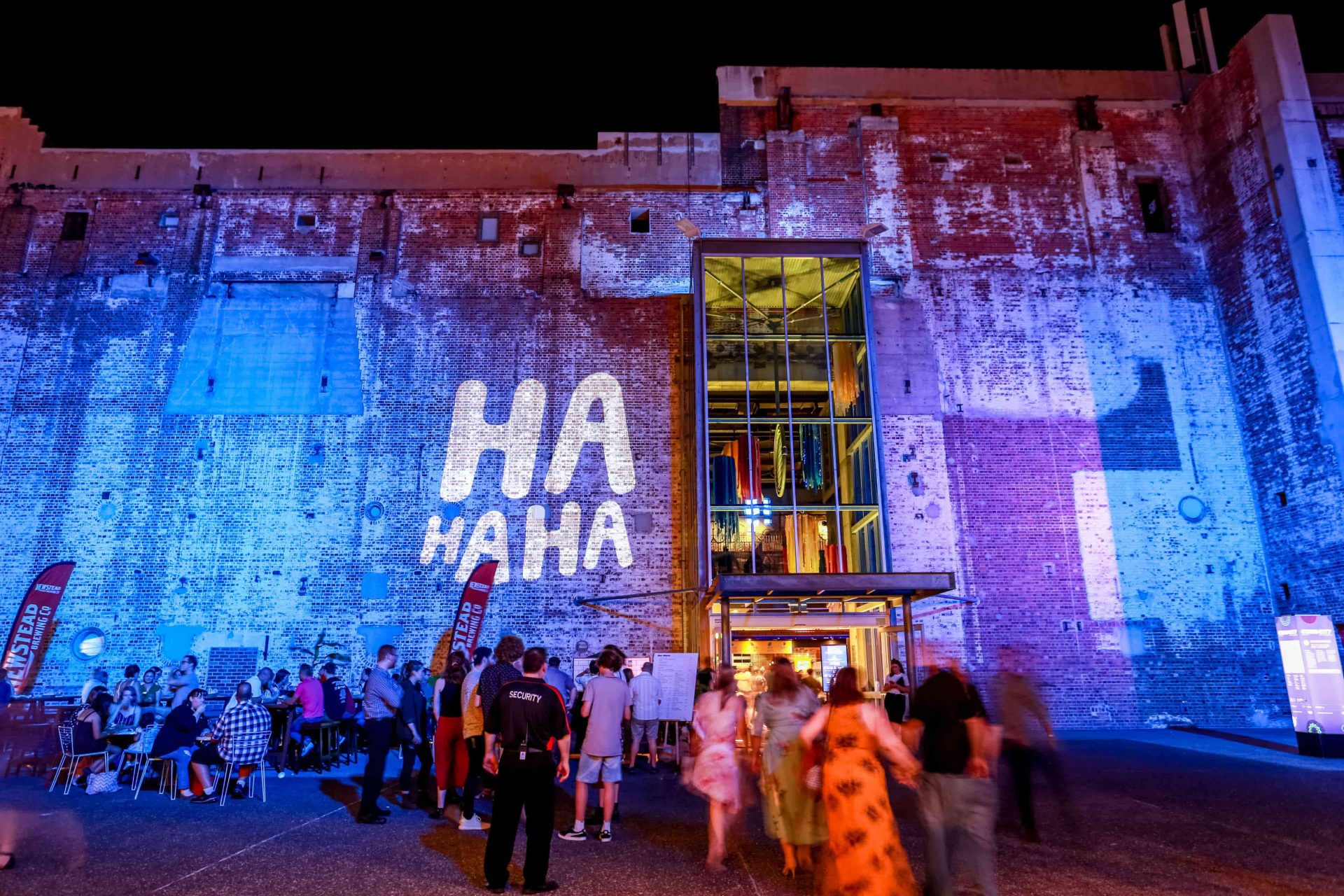 10. Stay up late at GOMA
You'll probably already be aware of the Queensland Gallery of Modern Art (GOMA), known as the cultural heart of Brisbane. You may have even visited the gallery in daylight. But did you know that they hold Up Late sessions?
Every Friday night, after 5:30 pm, they open their doors and give you the chance to see the gallery in a whole different way.
You can even expect live music, great food, and chuck down a few drinks.
For specific dates and times, always make sure to double check on the website.
11. Wander down the laneways
Brisbane wasn't always known for its quirky streets, but over the last few years, it has certainly made a name for itself.
Taking a trip down the various laneways in Brisbane will certainly give you an amazing experience.
Whether its Italian food, indie shops, live music, or just beautiful street art, there's no doubt that you will have a good time.
It's a simple suggestion, but a great idea of what to do in Brisbane for free, at night. Just explore the streets. Always make sure you're safe, though.
12. Do a bit of painting
Brisbane's West End is known for being artistic, and indie. This late night activity completely proves it. Okay, we know you can try your hand at a painting just about anywhere, including at home, but Cork and Chroma make it a little bit more interesting.
How? Wine.
Yes, hold a paintbrush in one hand and a glass of red in the other. We couldn't think of anything more fun, to be honest.
The painting class revolves around everybody involved painting a picture. Don't worry, you don't have to be good at painting.
All in all, the combination of the creative juices flowing, and the wine following, and create a night full of laughter.
You maybe interested in: Free Things to do in Melbourne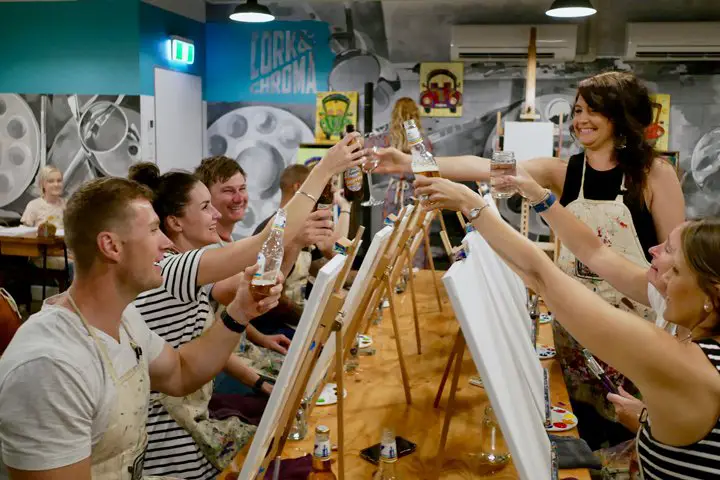 13. Go on a pub crawl
We know – you can pub crawl just about anywhere. Just hear us out. The Brisbane locals have turned the average pub crawl on its head.
No longer will you have to walk from pub to pub, the Brisbanites have decided that the ferry service is much better. The CityCat pub crawl offers that interesting twist on a pub crawl. Hop from one great pub to the next, making your way along Brisbane River.
This is not recommended for those with weak stomachs, for obvious reasons.
You maybe interested in: Things to do in the UK
14. Take a trip to a rooftop bar
When the weather is on the warmer side, which isn't rare in Brisbane, why not take a trip to rooftop bar?
Yes, we have to mention it again; the views. Imagine sipping a delicious cocktail, with an amazing company, looking down on such incredible views? If you're not a cocktail drinker, Brisbane obviously still has a rooftop bar for you.
Choose from the Eleven Rooftop Bar, the Stock Exchange Hotel Rooftop Bar, or Dandys Rooftop Bar.
We couldn't think of anything better, to be honest.
15. Explore Eat Street
Technically, Eat Street is another night market, but it deserves a whole point of its own. People all over the world have fallen in love with this special place, and it's easy to see why.
As a matter of fact, they became so popular that they had to move them to bigger premises, they're now located on the North Shore.
Now, every Friday, Saturday and Sunday, you can enjoy nights of the best food, incredible music, and just an all-around amazing time.
16. View the city from the Clock Tower
We know, you might be getting a tiny bit bored of all the "view watching" points, but Brisbane truly never gets old to us. You'll see exactly what we mean when you go to visit for yourself.
One night a week (Friday from 5pm-7pm), you can go up the clock tower, and view Brisbane at night. It is a spectacular sight, and something we highly recommend you do at least once, especially if you're staying in Brisbane for a long time.
You maybe interested in: Things to do in Perth
17. Have a BBQ on Wilson's Outlook
Yes, we know. This might seem quite stereotypically Australian, but BBQs are a big thing down under.
Wilson's Outlook is only a small park, but it has a lot to offer. Yes, it has a wonderful view (we really don't ever get bored of it), but it also has a river, a Kangaroo point, and a Story Bridge.
It doesn't matter what you're doing; romantic date, friends night out, or a family trip, it will be perfect for everybody.
So, grab the burgers, and have a night of deliciously barbecued food.
18. Have a fancy French meal
Perhaps you're looking for a tiny bit more glamour. BBQs aren't for everybody, we know that. Well, you should make your way to Les Bubbles.
It's a fancy French-inspired restaurant, that offers a glitzy night out, and the price isn't unreasonable either. You can have lots of wine to drink, scrumptious food, and even has a cocktail bar downstairs. Ooh, la la.
19. Take a trip to a Jazz Club
You might be thinking; "I'm not a Jazz person", and we would have to disagree. Brisbane Jazz Club would make everybody a Jazz lover, and promise a great night out for everybody involved.
It's a humble club, that hosts some of the most amazing Jazz artists in the area. We couldn't recommend this club enough for anybody and everybody interested in Jazz.
Find the best Accommodation deals
20. Go on a ghost tour
This certainly isn't for the weak hearted – a ghost tour. It's located at Boggo Road Gaol, which was a working goal for 109 years. It shut down in 2002, and now hosts incredible tours.
For something a little different, to get your adrenaline pumping, we recommend the ghost tour. Boo!
21. Go clubbing
We're surprised it's taken us this long to mention the clubbing scene. Brisbane is absolutely wonderful for it.
Of course, many start their night at a fancy cocktail bar, or Jazz Club, but then make their way to incredible nightclubs until the early hours of the morning.
There's something for everyone in Brisbane, whether it's high-energy, pop, rock, or a mixture of everything. We love The Press Club, The Beat Megaclub ( Gay Club ), and Laruche. Don't take our word for it, though, check them out yourselves.
You maybe interested in: Weird and Cool Things to do in Japan
22. Satisfy your sweet tooth
When was the last time that you tucked into some incredible dessert? Like a warm brownie, or a sweet scoop of Ice Cream?
Gelato Messina is a restaurant dedicated only to dessert, and it's the best way to treat yourself.
23. Go bowling at Strike Bowling
No, this isn't one of those cool things that have to remain in your childhood. It's here to make a night out in Brisbane, one of the best memories, ever.
We absolutely love bowling and find it a great way to get the night started. You can even have a game of laser tag while you're there. Why not, right?
24. Go and see a performance
Queensland Performing Arts Centre will treat you with spectacular shows, that you can just pick and choose from.
It doesn't matter if you're going with friends, family, or that special someone – there will be someone or something there for you.
It's also known as QPAC if you hear people talking about it. Don't get confused.
25. Watch the sunset at Mt Coot-tha
If you're searching for free things to do at night in Brisbane, we've found the perfect thing to do.
Mt Coot-tha is an incredible place to admire views, watch the sunset and have an all-around romantic night. It just goes to show – not everything has to put a big dent in your pocket.
You maybe interested in: Things to do in New Zealand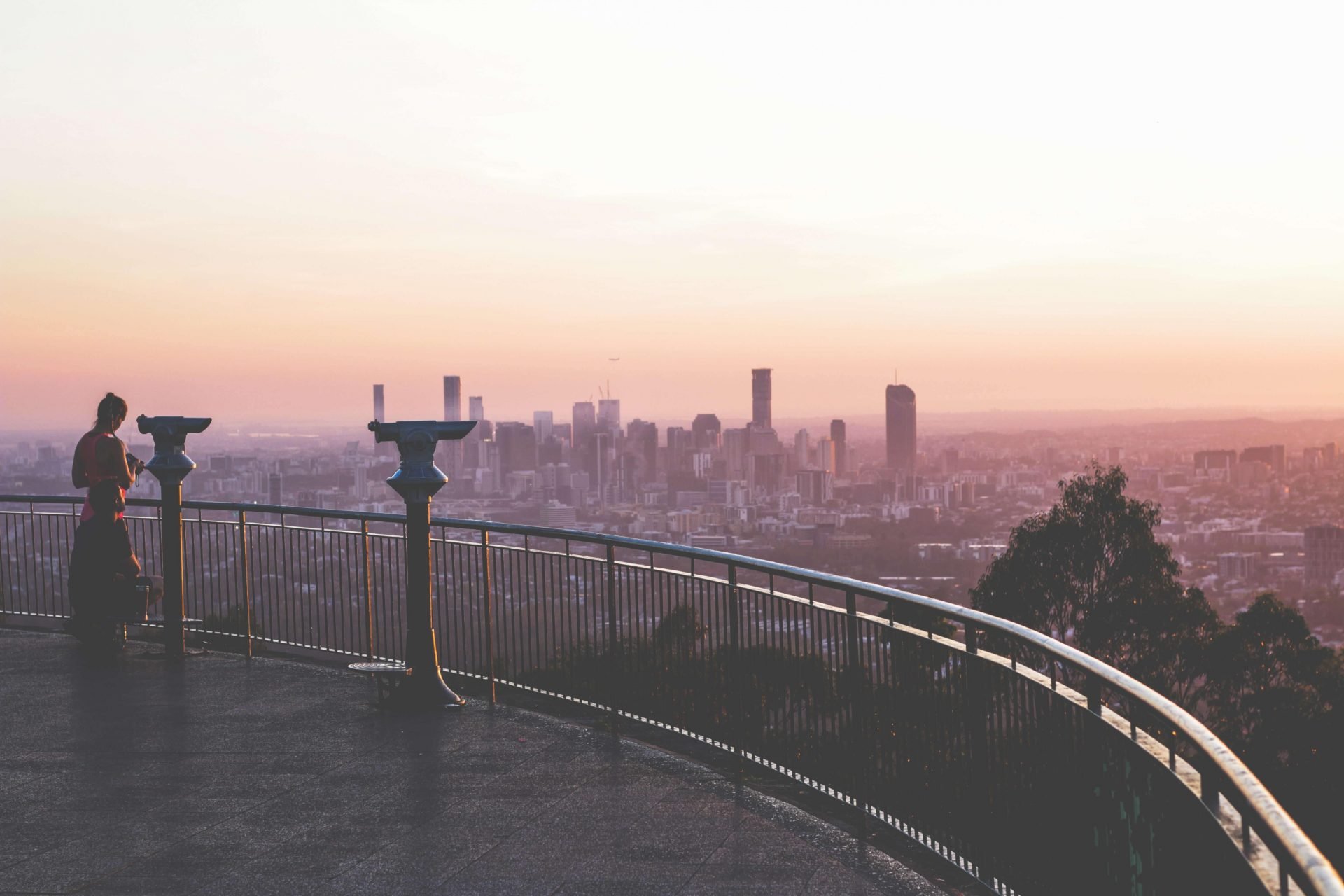 26. Enjoy Latin dancing at Cloudland
If you're looking for a date-night that surpasses Netflix and Chill, Cloudland has you covered.
It'll be like a movie scene – where a couple breaks out into amazing Latin dancing. It might turn into a comedy, but that's all the fun.
If you don't have the confidence, they do serve drinks. We say, just exit out of your comfort zone, and go for it. We hope this gave you tonnes of ideas of what you can do in Brisbane at night.
We're experts here, and we know there's something for everybody. Whether it's a friendly catch up, an eventful night out, a romantic date, or a chill family night. That's the beauty of Brisbane, nobody is unthought of.

Tips and Helpful Links:

Accommodation:
For the best Accommodation deals – Booking.com

Travel Insurance:
We recommend World Nomad for Travel Insurance. Its super quick to check the price. Check price here

Flight Deals:
We recommend Skyscanner. Check the deals here
Conclusion
All of our suggestions open in the evening or night, and we wanted to include this so that you know how to spend your full days in Brisbane.
Whether you're a local or a tourist, it can be difficult to think of fun, interesting, and unique things to do at night.
Do you have any suggestions for what to do in Brisbane at night? We'd love to hear them. Comment them down below, and we'll make sure to check them out.