Things to do in Singapore
Seek To Travel editor | January 19, 2019
A small-city state in Southeast Asia, Singapore, attracts people with its classic combination of beauty and modern technology. Founded in 1819 as a British colony, Singapore is now known as an international financial center and one of Asia's trade tigers.
It is a flourishing metropolis providing a first-class infrastructure, fully-linked transportation system, positive business environment, brilliant living amenities, and a rich culture mainly influenced by the four prime communities; Chinese, Malay, Indian, and Eurasian.
This region possesses a great wealth of historical treasures from the past in the form of ancient buildings, customs and values, even after undergoing extreme social and geographical changes.
With an extensive array of incredible sights, high-end shopping centers, and delectable culinary choices, Singapore never fails to dazzle the tourists by its charm and beauty. Every new year, Singapore brings unmissable events, festivals and new points of interest.
There are so many things that can make your trip memorable in Singapore. Here are the 10 things to do in Singapore that you certainly wouldn't want to miss.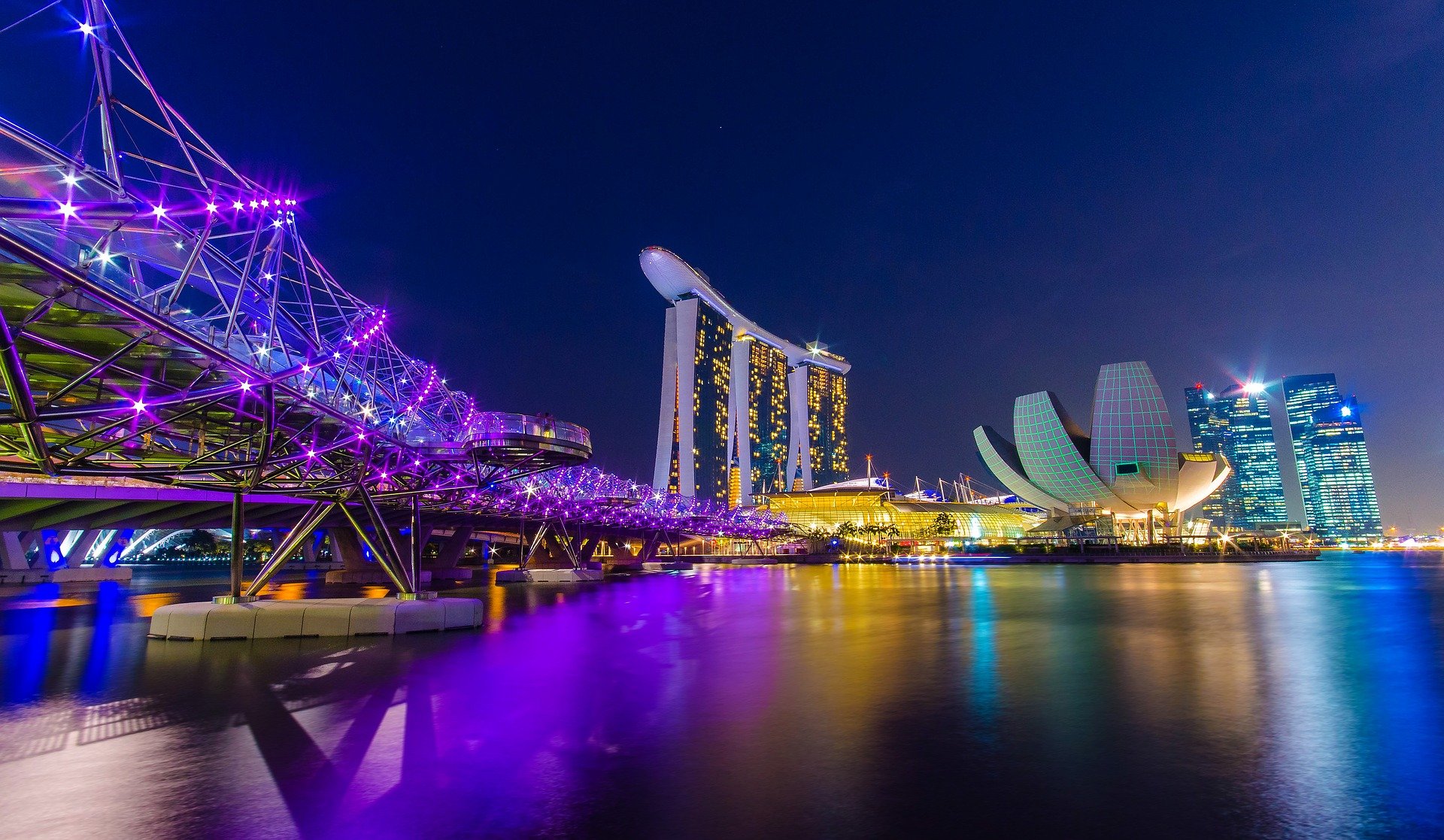 Best Things to do in Singapore

Contents
Chinese New Year
HSBC Women's World Champions (HWC) Event
Singapore International Festival of Arts
Singapore River Festival
Raffles Hotel
Sentosa Island
Chinatown
The Singapore Flyer!
Singapore Botanic Gardens
The World Gourmet Summit
For Best Flight and Hotels Deals, Check Below
1: Get Lucky by Celebrating Chinese New Year

Overview: Also called the Lunar New Year or the Spring Festival, Chinese New Year is the most famous Chinese event.
Main Attraction: Every year, between January and February, the whole Chinatown comes together to see the streets illuminated with the bright and beautiful lanterns. It continues for almost a month, making people soak in the festive mood with lively dragon dances, colorful processions and parades, night markets, and decorated houses.
Exchanging mandarin oranges for good luck, giving money-filled envelopes to kids, and feasting with family and friends on unique dishes is truly an experience not to be missed. This is also a fantastic option if you're considering what things to do in Singapore with kids.
Related Article: Things to do in Thailand
2: Catch the Top Sporting Action at HSBC Women's World Champions (HWC) Event
Overview: With the top women golfers invited and numerous local and international music performances, HSBC Women's World Champions guarantees sports fans a great time. Various Olympic gold-medalists and champions have made a stunning comeback on this event.
Main Attraction: This four-day tournament will be held from 28 Feb, bringing the best 20 players from the Rolex Women's World Ranking to the greens at Sentosa Golf Club. Edge-of-your-seat golf action aside, this event is also known for an exciting line-up of music and food offerings in the club.
At this electrifying tournament, you can watch the world's best professionals in action while tucking into delectable foods from world-class restaurants and enjoying the amazing performances by local and international DJs.
Related Article: Most Instagrammable places in Australia
3: Attend the Prestigious Singapore International Festival of Arts (SIFA)
Overview: Organized by Arts House Limited, it is one of the significant festivals in the regional arts category.
Main Attraction: This festival is usually held in the middle of the year and stretches for a month from May to June. It includes theatre, music, dance along with other categories. SIFA wishes to encourage diverse audiences through great artistic experiences by bringing local and global performers together.
From great international film screenings to lively street performances, Singapore celebrates the art with a smorgasbord of dance, music, paintings, and theatre shows. This festival is a "must-do" for art buffs travelling to Singapore.
Related Article: Things to do in Bali
Travelling soon? Don't forget to get a Travel Insurance. Checkout the price, takes just a minute
4: Celebrate Great Heritage with Singapore River Festival
Overview: Every year, this festival stays for a week from October to November and features performances and parades along the Singapore River. The Singapore River Festival combines the three quays: Clarke Quay, Boat Quay, and Robertson Quay to offer wonderful carnival activities to make your time extra memorable.
Main Attraction: To celebrate the heritage and people, the Festival brings the largest markets across Clarke Quay, movie screenings, circus and theatre performances, kites, light shows, game shows, magic shows, themed parties, and food stalls.
Noting this festival's slogan Your River, Your Vibe different activities are offered to appeal to an even wider audience than previous years.
Related Article: Things to do in Tokyo
5: Visit the Resplendent Raffles Hotel
Overview: Like many buildings, the Raffles Hotel gets its name from the founder of modern Singapore, Sir Stamford Raffles. This hotel was founded in 1887 and has become a classic landmark throughout the Far East, attracting celebrity guests including Queen Elizabeth II and Charlie Chaplin, amongst others.
Main Attraction: Visiting a place like Raffles Hotel is truly an excellent experience as it is a historical, luxurious hotel that has kept its traditions and aesthetics since the day it was opened. You certainly would have an incomplete experience at Raffles Hotel if you don't try their iconic cocktail the Singapore Slinger.
Related Article: Things to do in Osaka

6: Spend a Day at Sentosa Island
Overview: A must-see place in Singapore, Sentosa Island, also called Asia's favorite playground, is fifteen minutes away from Singapore downtown. This gorgeous piece of land draws the attention of around 20 million visitors annually.
Main Attraction: Sentosa Island is an incredible playground that has something for everyone. From water activities including the compilation of water parks, beach clubs, Dolphin Lagoon, and Underwater World Singapore, and mountainous adventure such as cable car, etc. to historical forts and shopping centers and restaurants, Sentosa has great chunks of fun and entertainment to make your trip exciting and thrilling.
Other great attractions like Madame Tussauds wax museum and Universal Studios amusement park are located on Sentosa Island to provide endless fun to the visitors. With numerous fun-filled activities for everyone, Sentosa may have you wishing you could extend a few days in Singapore to a 365 day sajourn.
Related Article: Things to do in Singapore on a Budget
Search for Best flight deals online


7: Immerse Yourself in Chinese Culture in Chinatown
Overview: From ancient temples and old shophouses to modern boutiques and chic restaurants – this place gives visitors a glimpse of the old and new culture. For a real Chinese experience, explore the alleyways of Chinatown.
Main Attraction: This gold mine of Chinese heritage has Singapore's oldest temple Thian Hock Keng (which was constructed without the use of nails!).
Then, there is a Chinatown Heritage Center that will definitely take you back in time, a four-story Buddha Tooth Relic Temple that showcases over 300 Buddhist artifacts from different Asian regions, and a street market where you can gorge on scrumptious food. A visit to Chinatown can also be a good choice if you're looking for Things to do in Singapore on a budget.
Related Article: Things to do in India

8: Ride the Singapore Flyer
Overview: Since 2008, the Singapore Flyer has been lifting people 540 ft high into the air. It is, of course, one of the world's largest observation wheels, providing 360⁰ panoramic views of the city. With 28 air-conditioned glass capsules, Singapore Flyer has become the biggest billing attraction in the entire city-state.
Main Attraction: If you ride on a cloudless day, you may be fortunate enough to see as far as Indonesia and Malaysia. While visiting the Singapore Flyer, you can enjoy fun-filled and relaxing activities like riding e-bicycles, e-scooters, hoverboards, pampering yourself at the spa, watching movies in the XD theatre, or having cocktails, Champaign or a "high in the sky" dining experience.
This has also got to rank as one of the best things to do in Singapore at night.
Related Article: Weird Things to do in Japan
9: Stroll Through the Singapore Botanic Gardens
Overview: Inaugurated in 1859, the Singapore Botanic Gardens is the country's first UNESCO Heritage Site.
Main Attraction: It is one of Singapore's largest green spaces, home to the National Orchid Garden, that boasts the globe's biggest orchid display with more than 60,000 plants and orchids. SBG houses three beautiful lakes, from which the Swan Lake is the most gorgeous.
This place has private tour guides to offer insights into the importance of the plants displayed. While being a famous and favorite place for walking or jogging, it is also a prime center for horticultural research.
Moreover, multimedia botanical exhibits are displayed at the SBG Heritage Museum to provide details of the Garden's rich heritage.
This beautiful 60-acres land lets you marvel at the futuristic beauty of Singapore and spend your whole day amidst the wonders of nature.
Related Article: Things to do in Phuket
10: Indulge in the Finest World Cuisines at World Gourmet Summit
Overview: It is a spectacular event, held every year in April, that provides an epicurean platform to meet the globe's leading chefs and wine specialists showing their remarkable skills. The World Gourmet Summit features only Michelin starred cooking masters and exhibits an amazing spread of gastronomic experiences for the fine dining fanatics.
Main Attraction: For wine enthusiasts, there are special wine tasting sessions where you get to sample the wines from Tuscany and Burgundy. Besides eating, foodies can speak to the world-renowned chefs or participate in live cooking workshops. So, if you want to celebrate food with your closed ones, attend the delicious World Gourmet Summit.
Tips and Helpful Links:

Plan your holiday:
Accommodation:
We recommend Bookings.com for Accommodation Deals – Check here 

Travel Insurance:
We recommend World Nomad for Travel Insurance. Its super quick to check the price. Check price here

Flight Deals:
We recommend Skyscanner. Check the deals here

Car Rentals:
We recommend CarRentals.com

Books:
We recommend Books and Ebooks from Lonely Planet

Conclusion
For over a century, Singapore has been considered one of the most modern and attractive locations in the world. Its unusual cultural tapestry offers people great sightseeing, shopping, and culinary opportunities.
A calendar fully-loaded with traditional festivals and celebrated all around the year adds to its ethnic charm. From beautiful islands and remarkable skyscrapers to thrilling events and exciting nightlife, there are so many things that invite the people to discover every facet and corner of this elegant city-state.
Those planning to visit Singapore should prepare themselves for a trip of the lifetime.
Which of these things will you do or have done in Singapore ?
Please comment below, we would love to hear from you.