20 Things to do in Thailand in 2019
by Rohan S, Seek To Travel Travel Blogger, LinkedIn, January 20, 2019
Located in the center of the Southeast Asia mainland, Thailand is a fantastic location that leads in commerce, tourism, and transportation. With its glorious history, rich heritage, and cultural harmony, this Land of Smiles is a perfect source of pleasure and attraction for the people.
Best known for its good infrastructure, glistening temples, jaw-dropping sights, never-ending parties, top-level hospitality, and moreish cuisines, this tourism magnet brims with bucket list worthy experiences.
Lets, looks at some of the Best Things to do in Thailand.
Contents
Top 20 Things to do in Thailand
Located at the heart of Bangkok, the Grand Palace is a striking, gold-tipped complex of buildings that has been the official residence of the King of Siam since 1782. The Grand Palace is a compilation of several buildings, halls and pavilions. It also houses the most sacred Buddhist temple in Thailand, Temple of the Emerald Buddha.
And, in the surroundings, you can find many historical, traditional, and gastronomic spots that can make your visit even more memorable. A trip to Thailand would certainly be incomplete without a visit to this iconic Grand Palace.
On 26 and 27 January, Chiang Mai Jazz Festival is all set to bring performances from the top local and international artists. Also, you can find endless food stalls from some of the top Chiang Mai's restaurants to provide the audience with delicious Thai and international food choices.
Join this unique fest with your friends to treat yourself to various amazing jazz styles by Thai and global artists.
Best things to do in Thailand 2019 #3: Take a Tuk-Tuk Ride
One of the national emblems of Thailand, tuk-tuk, is the most popular mode of transportation among the locals and visitors since World War II.
Originally known as samlor (three-wheeled vehicle), it is Thailand's version of motorized rickshaw that offers an entertaining experience to the riders by zipping all over the country's regions and lets them get close to the hurly-burly of this modern country with an ancient history.
Started back in 1985, a Full Moon Party takes place on the Sunrise Beach of Haad Rin in Koh Phangan on every full moon night. This event is known as one of the biggest all-night parties and, is celebrated every time with up to 40,000 party goers.
Every month, the island throbs with electrifying music, non-stop drinking, neon paints, fire slides and more than a little booty shaking. For every partyholic visiting Thailand in 2019, this thrilling rave is must to attend.
Best things to do in Thailand 2019 #5: Go Island Hopping
Over 300 gorgeous islands in Thailand are just waiting to be explored by visitors. Get a long-tail boat and discover as many islands and beaches as you can. Start off your trip from Thailand's most famous region, Andaman Sea to see the beautiful white-sand beaches.
For keen scuba divers, the Similan Islands offers some of the world's best diving experiences. And, for more spectacular views, visit the limestone rocks or the Gulf of Thailand. So, plan on island hopping from one location and explore the most stunning parts of the country.

With over 7 million Chinese people residing in Thailand, Chinese New Year is celebrated in the entire country to pay tribute to the Chinese Gods. The Chinese New Year celebrations usually starts from the early February, stretching over to two weeks. The festive décor adorns every street and corner and, the entire family gathers for the reunion dinner on this auspicious occasion.
Lion dances and dragon parades are performed on the streets and firecrackers are used to drive away the evil spirits. With all these celebrations going on, you can have a fun-filled experience in Thailand in 2019.

Who wouldn't want a relaxing massage after a super hectic day or to ease some tension going in one's life? Absolutely everyone wants! And, to get heavenly massages, there is no place in the world like Thailand.
Introduced by Buddhist monks 2500 years ago, the Thai massage uses a combination of various techniques including acupressure, compression, and yoga-like movements. To calm your senses and bid your stress goodbye, there are thousands of massage centers, spas, and parlors available in Thailand.
Back to Top 
Founded in 1350, this site serves as a powerful reminder of Siam's remarkable history. Once regarded as one of the world's most cosmopolitan areas, Ayutthaya was destroyed by the Burmese army in 1767.
This site was never rebuilt and, now it displays the ruins allowing visitors to experience the extensive range of Thai art and history. The secured attractions on this location include Wat Phra Ram, Wat Phra Sri Sanphet, and Wat Mahathat that you must visit.

Also called the Water Festival, Songkran festival is perhaps one of the country's biggest festivals which is celebrated as a Thai new year. Officially, it is a Buddhist celebration that includes water fights as a ritual of washing away the negativity from one's life.
Thousands of people participate in this 3-day festival across the country by carrying water buckets, water guns, and hosepipes in their hands and soaking each other in the water. If you are looking for things to see and do in Thailand with kids, then get wet from top to toe at Songkran festival.

Wat Rong Khun, popularly called White Temple, is a unique temple that lures the visitors with its stunning architectural beauty. This completely white structure is so superbly designed that it appears like a frozen temple.
Along with the buildings, it houses a cycle of rebirth bridge and endless statues and sculptures that are extraordinarily weird, each having meaning of its own. To truly comprehend the depth of Wat Rong Khun, a trip here is a must.

Called the "Mother of all malls", the iconic Siam shopping mall is an architectural wonder that carries over 500 brand shops and up to 100 restaurants from all over the world.
Situated on the bank of the Chao Phraya River, the mall features an indoor floating market, top-class heritage museum, state-of-the-art auditorium, and incredible residential condominiums. Moreover, on the outside is a River Park that features the Southeast Asia's longest fountain show.

Koh Samui is said to be the greatest place in all of Thailand to feel the love. This island has no lack of winning beaches with lush greenery and smooth, rolling hills inland. Partners can conquer the gushing Namuang waterfalls or visit the Big Buddha Temple to be granted with the blessings.
To couples, this is a perfect place to spend honeymoon as they can explore stupendous spots, eat candle-lit dinners, or sip on cocktails beneath the waves. Koh Samui is a must-visit place if you are looking for things to do in Thailand with loved ones!
Definitely not recommended for the faint-hearted people; this is the most bizarre festival in Thailand. Celebrated in the late September, it is the annual Taoist celebration performed for conferring good luck in the future.
Running for nine days, the devotees practice self-mutilation by slashing their tongues and cheeks with swords, walking on burning coals, observing a strict vegetarian diet, and other fun activities that demonstrates one's devotion towards the Gods. This festival attracts millions of visitors globally with its unique spectacle every year.
Related Article: Things to do in Phuket
Warning: Please don't watch this video with Kids or if you are faint-hearted 
Those who get bored from visiting typical tourists' spots can explore an incredible marketplace, Chatuchak Weekend Market. Stretched over an area of 27 acres, Chatuchak Market houses over 8000 stalls offering anything from apparel and antiques to furniture and utensils under the sun.
And if shopping isn't your thing, you can find countless food stalls throughout the entire market. So, grab your bags and go to this market for a hit of retail therapy.
The best way to taste Thai food is to take a street food tour. In Thailand, the streets are fully packed with hundreds of food stalls where you can stop to enjoy a great Thai meal.
From Som Tam to Pad Thai, Thailand's food streets have a plethora of scrumptious food items that can truly satiate your gastronomic urges.

Falling in the month of November, Yi Peng Lantern Festival is truly an ethereal event, celebrated to let go of all the bad luck that has happened previously. Thousands of people gather around the bank of Ping River, release bright-colored lanterns in the sky, and watch them drift away in the gentle wind.
Moreover, you can witness some religious ceremonies, parades, dance shows, and firework displays. Temples and houses are beautifully decorated and, lanterns and candles are burned and placed at the gates as a way of entering a brighter future.
Bangkok, commonly dubbed as Venice of the East, has extensive canal systems through which the local vendors float and selling a range of eatables. Sellers are out on the rickety wooden boats, carrying piles of fresh fruits and vegetables, spices, and drinks to offer visitors an enjoyable travel experience.
Also, people can get the chance to eat the local Thai food from floating kitchens sitting right on the boats. To experience a local life full of colors, get your shopping bags ready and jump right into the boat.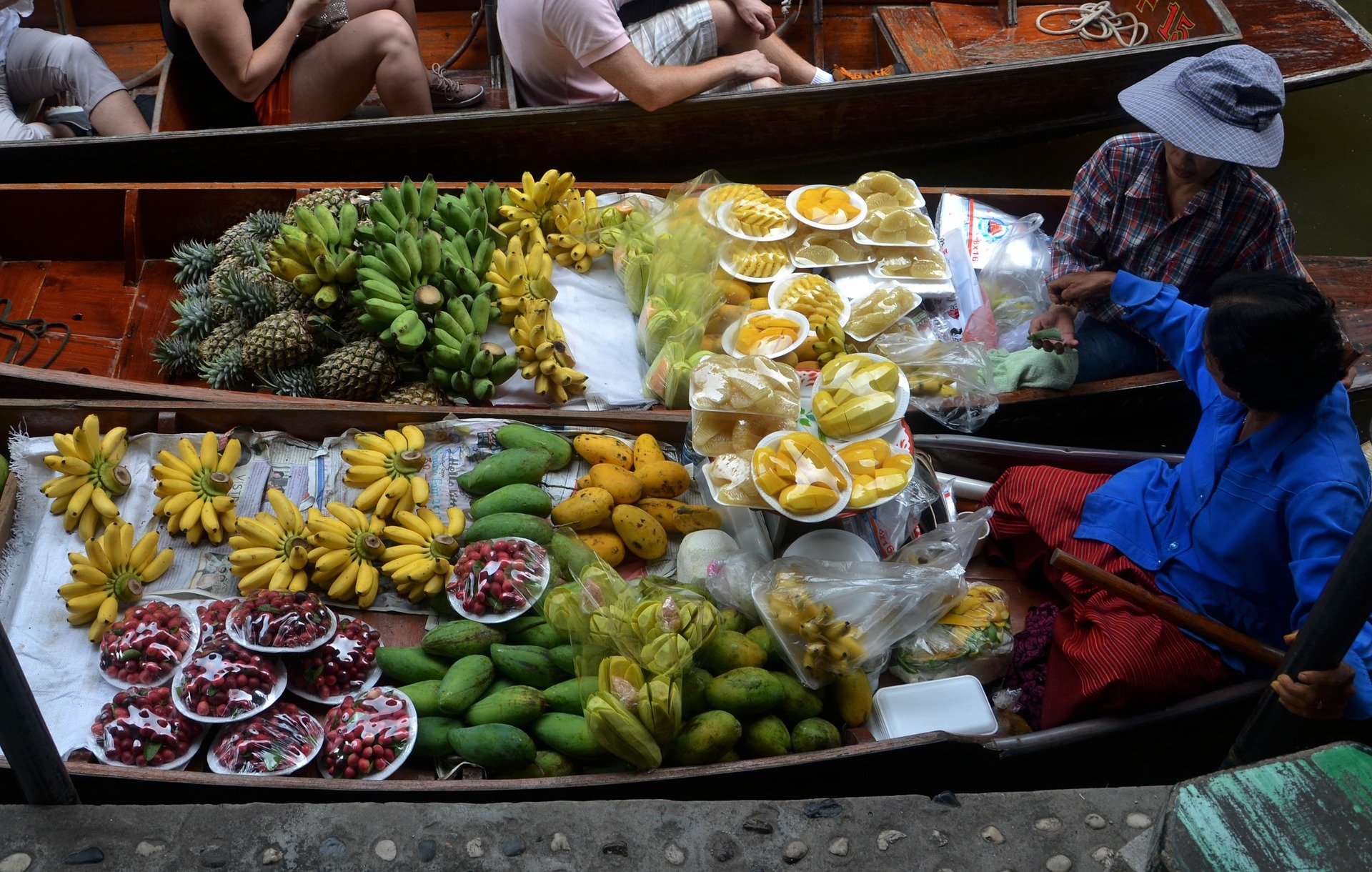 During your stay in Thailand, you can cool off with really refreshing cocktails or swimming in the sleek infinity-edge pool of the Bangkok skyline. This incredible bar is graced with fabulous views and the city's most tasteful snacks and cocktails made by their in-house mixologists.
Moreover, a resident DJ plays relaxing background music to keep the vibe cool. In 2019, try one of their epic cocktails, drift away in the pool, and take advantage of the skyscraper-level views.
Art, music, and wellness meet each other at the Wonderfruit Festival in Thailand to create a wonderful and memorable experience. It is a perfect venue to experience artworks by world-famous artists and enjoy remarkable music and dance performances.
While serving delicious food items cooked by award-winning chefs, the event arranges workshops to cover the eco-friendly and wellness topics. So, if you are searching for things to do in Thailand with family, attend this ideal festival in the year-end to nourish your soul.
One of the popular global landmarks, Mahanakhon SkyWalk, is the new vantage point with striking views located at the rooftop of the King Power Mahanakhon. The prime attraction is on the 74th, 75th, and 78th floors that features the world's largest glass tray floors, Thailand's highest observation deck, fastest elevators, and highest rooftop bar with a slew of signature champagnes and cocktails. With terrific outdoor and indoor views, add this location as a must-see attraction to your Thailand bucket list.
Conclusion
Every year, about 15 million tourists flock to the Land of Smiles to see the white sandy beaches surrounded by greenish-blue waters, gleaming temples, mysterious ruins, colorful festivals, buzzing street markets, and thrilling nightlife.
Offering a plethora of choices to explore the marvel, sights, and culture of Southeast Asia, Thailand is a prime location for people who are planning to have the ultimate travel experience in 2019!
What is your favorite Thing to do in Thailand ? Which of the above Things will you do in Thailand ? Please comment below.