Things to do in Japan in Winter
by Seek To Travel | January 25, 2019
Are you looking for Things to do in Japan in Winter, then this is the article for you.
Japan has four distinct seasons and winter is a very popular season to visit. Tourists visit from all over the world and Japan has been a very popular country to visit.
Those seeking for a winter adventure visit during the winter period. Japan is known to have some of the best snow conditions in the world due to the large amount of snow that falls each year making it best for skiing and winter activities.
Winter starts from December through to February. Winter in Japan is relatively dry with sunny days, however in some parts as you move towards the north the temperature drops to below 0°C and the days are much longer. Central and Northern regions of Japan do experience snowfall.
The winter in Japan can get very cold but don't let that stop you from visiting. Take in all of Japan's charm and beauty and create a memorable trip.
Ok, here is our list for Things to do in Japan in Winter.
Search for Best Hotel and Flight Deals Online

Best Things to do in Japan in Winter
1) Skiing and Snowboarding
Japan is world-renowned for its fresh powdered snow and skiing resorts. Depending on the ski destination, you should expect top-notch snowfalls from December until May. Most of the ski resorts have slopes that will suit everyone whether you are a beginner or an advanced rider seeking a challenge.
Niseko is officially Japan's number one ski resort. It is popular for International skiers and snowboarders but also families. The surrounding area has many hot spring resorts known as onsen.
There are 4 main resorts and 61 runs available in Niseko. You can expect 15m of snowfall each year during March and April.
Niseko offers night skiing until 9 pm, the stunning backdrop of twilight skiing is spectacular. There are other activities available in Niseko village if you are not interested in hitting the slopes.
The nightlife in Niseko is vibrant and stunning offering amazing restaurants and shops. Try the local freshest seafood and take in the view of volcano Mt Youtei. Do visit the winter festival Sapporo Snow Festival in Hokkaido, a must see and not be missed.
Another skiing resort is Kiroro. A large ski resort located close to Niseko and Sapporo. Kiroro features 22 courses ranging from beginners, immediate and advances with an annual average snowfall of 21m. This resort is perfect for families.
The resort has so many activities to offer. The resort is great for those wanting to avoid crowds. Most visitors will be at Niseko so take in the beauty and enjoy the snow. So if you are looking for an authentic Japanese experience then Kiroro should be on your list.
Related Article: Things to do in Singapore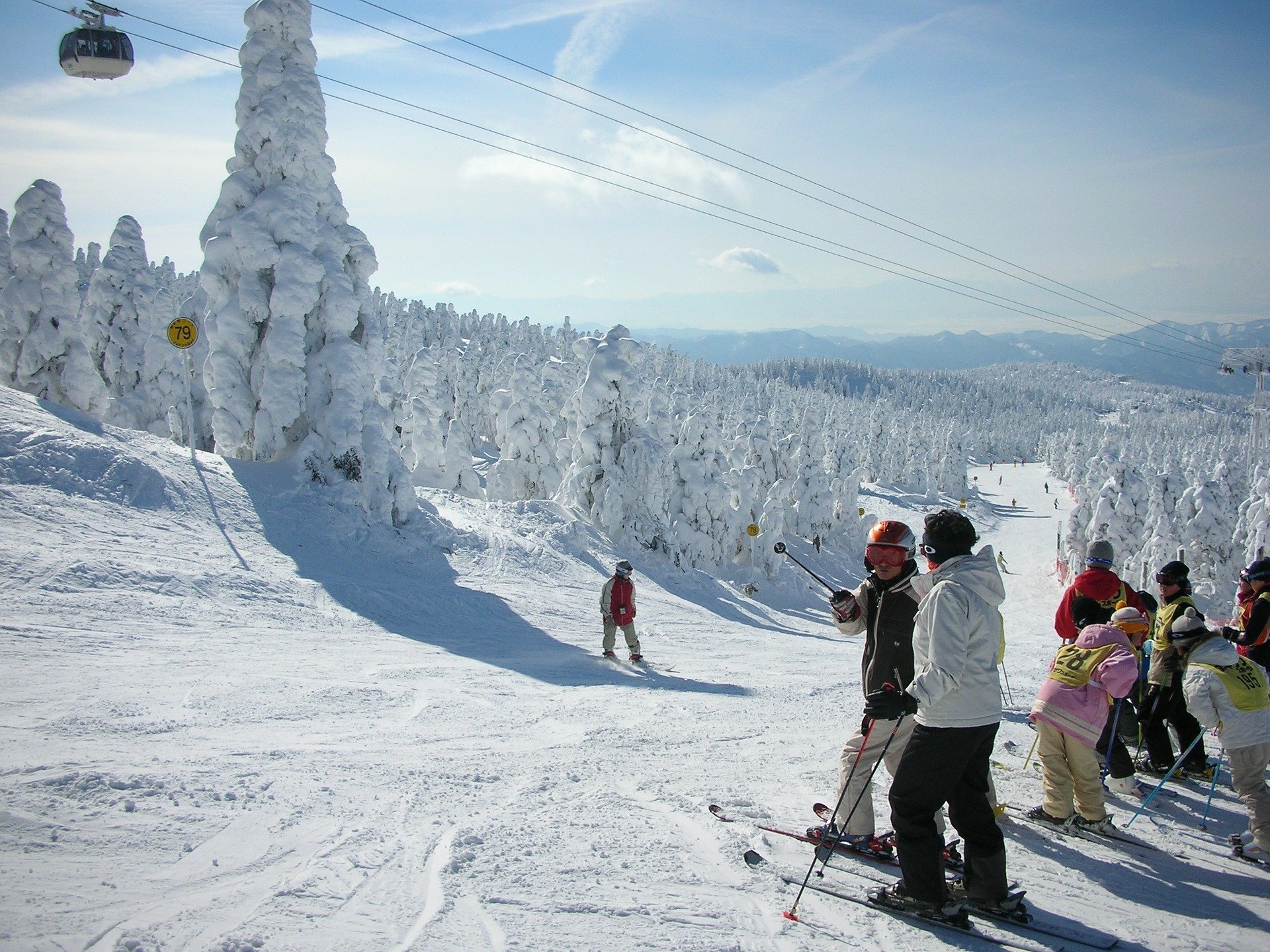 2) Watch Sumo Tournament
Sumo is a type of wrestling originated in Japan and is the national sport of Japan. Only men practice the sport. Sumo is a full contact sport and the aim of the sport is to push his opponent out of the ring.
The opponent's body must not touch the ground if so then he loses. The sport only lasts for seconds and rarely will go on for minutes. The ring is outlined and made from clay and is covered with sand.
Sumo tournaments are popular in Japan, Osaka, Nagoya and Fukuoka. The tournament is known as Basho. There are 6 tournaments held every year so if you are in Japan, book your tickets and enjoy the experience of traditional Japanese culture. For matches and ticketing information, please check here
Related Article: Things to do in Thailand

3) Japanese New Year – The Emperor's Greeting
Japanese New Year is an auspicious day and is celebrated on January 1st. It is one of the biggest and most popular public holidays of the year in Japan. Most businesses shut down during this period and families spend time together.
Homes are cleaned and decorated with ornaments made from pine, bamboo and plum trees. Most people visit shrines and temples during this time for prayers and good luck.
Large numbers of visitors visit the Imperial Palace during the new year's holiday. The Emperor and family members make an appearance to greet the public and offer their good wishes. The special event is held in the inner section of the Imperial Palace. On January 2nd of New Year and December 23rd (Emperor's Birthday) are the only times the palace is opened to the public. 
Related Article: Things to do in Japan

4) Sapporo Snow Festival
The Sapporo Snow Festival is a winter wonderland held annually for a week in February in the capital of Hokkaido and is one of the popular winter events in Japan. The festival features hundreds of giant spectacular snow and ice sculptures and attracts millions of visitors from Japan and from all over the world.
Each year the theme of the sculptures changes. The snow sculptures are located in three different sites: Susukino, Odori park, and Tsu dome.
The ice sculptures light up at night and are open daily until 10 pm. The festival has many activities and attractions for families with children and also have plenty of food stalls. This festival is a fun event for everyone.
Related Article: Weird and Cool Things to do in Japan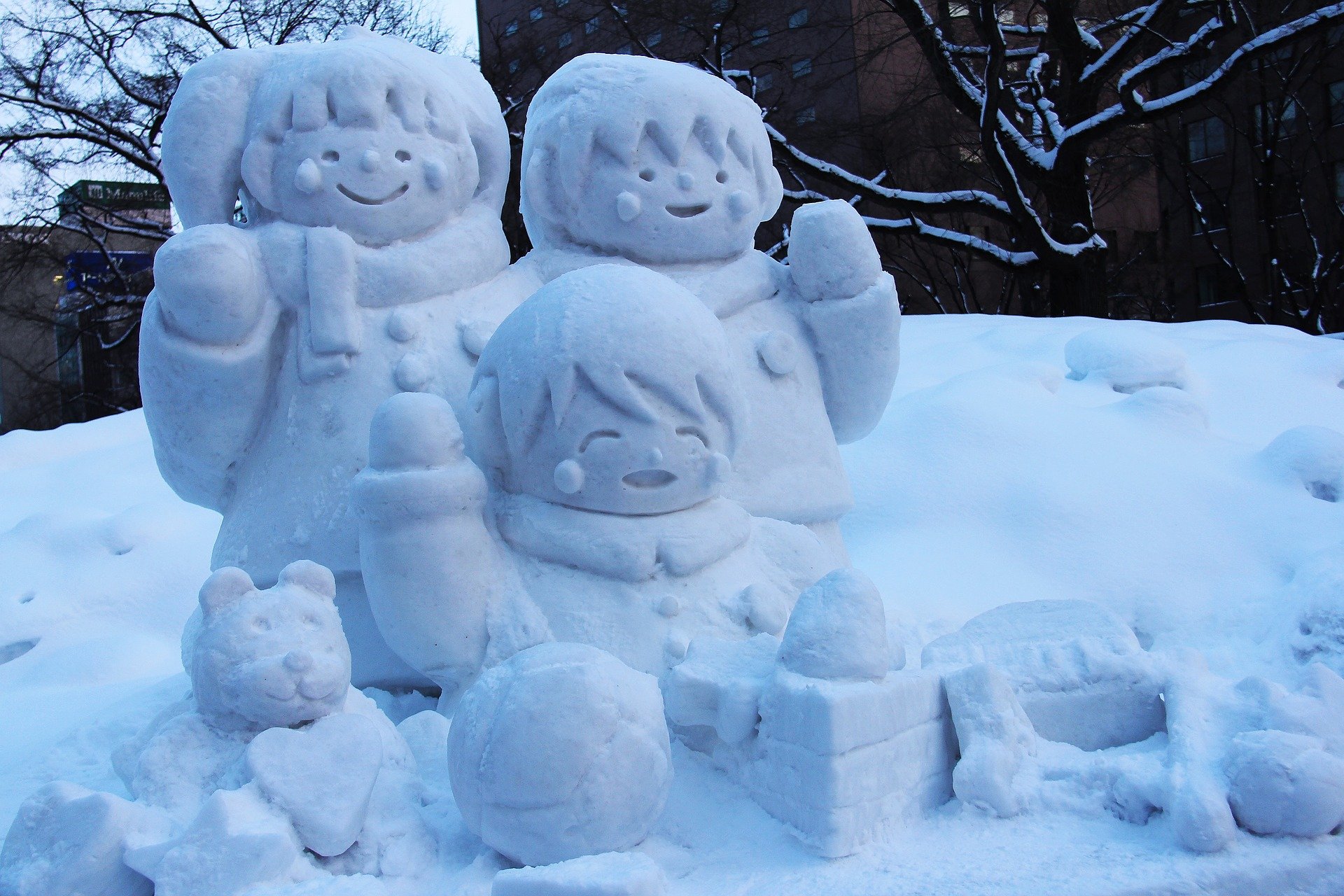 5) Check out The Naked Man Festival in Okayama
The Naked Man festival also known as Hadaka Matsuri is definitely one of a kind and you will not see it in any other part of the world. This festival started 500 years ago when a priest threw paper talismans where men fought for good luck. Since then this practice evolved into a festival and now more than 9000 men participate in this festival hoping to gain good luck for the year.  
The Naked Man Festival is held at Saidaiji Temple in Okayama town every year on the third Saturday of February. Around 40,000 people from all over the world and Japan come to see the festival in the small town of Okayama. Men in minimum clothing wait to grab the lucky charm/scared sticks thrown into the crowd by the priest.
If you are brave enough then you can join in the fun or watch. If you are planning to take part in the festival then be warned it can be a dangerous event among thousands of men.
Related Article: Things to do in Osaka
6) Try some Hokkaido Crab
Seafood is popular throughout Japan. Hokkaido is the name of a place in Japan and famous for its crabs named Hokkaido crab. People from Japan and overseas visit this place to enjoy the best seafood. Most popular is the crabs and are available between September through to early March.
Crab (or Kani in Japanese) is a staple dish for Japanese, especially in winter when it is the season. Crabs can be very expensive, worth to try. There are few kinds of crabs, however King crabs (Tarabagani in Japanese) and Snow crab (Zuwaigani in Japanese) are the most popular ones.
Related Article: Best Things to do in Tokyo

7) Take part in the Tokyo Marathon
Tokyo marathon is an annual event that is held in February. It's a 42 kms marathon and is one of the major global marathons.
You can run the full marathon or participate in the 10kms race. Tokyo Marathon is considered one of the difficult marathon but a fantastic venue for the runner. Around 320,000 runners take part in this marathon.  
The marathon begins in Tokyo city and finishes at Tokyo bay. You will no doubt enjoy the vibe running this marathon with thousands of spectators.
Related Article: The Geisha of Japan
8) Winter Illumination in Tokyo
There are a few places to visit in Japan in winter however in winter, Illumination is one of the best events to enjoy with your family, friends or that special someone. You will see lights projected on buildings and colorful lights on trees and plants.
Illumination is all around Tokyo however Midtown Christmas is probably the most popular illumination in Tokyo. Some other places you can spot the illuminations is from Christmas until February.
Some of these places are Caretta Shiodome, Roppongi Hills, Tokyo Dome City ,Ebisu Garden Place, Tokyo Skytree Dream Christmas, Yomiuri Land Jewellumination, Shibuya Blue Cave and Omotesando Hills Christmas.
Depending on the place you visit, you will be able to see lights from November to February. It's such a great event to take photos so make sure to take your camera.
For more Things to do in Tokyo, please visit here.
Related Article: Things to do in Phuket

9) Watch Fireworks and a Mountain burn In Nara
Mount Wakakusa is located in Nara and is home to an annual festival called Wakakusa Yamayaki. This is an annual event held usually on the fourth Saturday of January. Changes may apply due to the weather.
Legend has it that letting the mountain drove away wild animals and to scare ghosts away. The festival begins at noon. You will spend time in Nara town and around the mountain until 5 pm where the process begins and at 6 pm the bonfire is lit. A ceremony is held during the lighting of the bonfire where men wear traditional clothes and light torches.
If you are at the festival by noon you will enjoy a rice cracker throwing competition which is an attraction for kids and adults. At night you will enjoy the fireworks display in the sky and also view the burning mountain. It is a spectacular scene watching along with thousands of people.
Related Article: Things to do in India

10) Visit Plum Blossom
Japan is famous for its cherry blossoms however people may not be familiar with Plum blossom season which is another beautiful tree that grows in Japan. The tree is related to plum and apricot trees and the plum blossom has a very fragrant smell.
Plum blossom is associated with the start of spring and the season starts from mid-February through to early March and is just as popular as the cherry blossom. The blossom symbolizes perseverance and hope as well as beauty and purity.
People may find cherry and plum trees look similar and there is some overlap when they bloom. Plum trees have many varieties like cherry trees. Plum trees have dark pink or white flowers and they have five petals. One way to tell the difference between plum and cherry petals is that cherry blossoms have split ended petals and cherry blossoms don't.
Some of the places you will see plum blossom are in Tokyo (Hanegi Park, Koishikawa Korakuen, Kyu Shiba Rikyu), Kitano Tenmangu, Kyoto, Kairaku-en, Ibaraki Prefecture and Odawara Ume Matsuri. The festival is held every year. A range of food stalls and markets lineup all along the footpaths selling delicious foods so be sure to try the delicious food on offer.
When you go to one of these places during plum season you can stroll in the gardens. You will feel a real sense of calmness and you will smell the sweet fragrance of the flowers. Go to one of these places to see the plum blossom and you won't regret it. Be sure to have your camera ready and enjoy the beauty of the flowers blooming.
Related Article: Things to do in Bali


Tips and Helpful Links:

Accommodation:
We recommend Bookings.com for Accommodation Deals – Check here 

Travel Insurance:
We recommend World Nomad for Travel Insurance. Its super quick to check the price. Check price here

Flight Deals:
We recommend Skyscanner. Check the deals here

Car Rentals:
We recommend CarRentals.com

Books:
We recommend Books and Ebooks from Lonely Planet

Conclusion
Japan has a lot of fun things to do for people visiting Japan in Winter. Whether your idea of a holiday is skiing resorts or eating tasty food. Japan will not disappoint you even in its cold Winter season.
What are some of your Best Things to do in Japan in Winter? What would be your Top Things to do in Japan in Winter?
Please comment below, we would love to hear from you.