Best Things to do in Tokyo
by Pranita D | Seek To Travel | February 8, 2019
Tokyo is Japan's capital city where the old meets new. The city is filled with modern coffee shops, museums, huge parks and traditional buildings such as the Imperial Palace and temples.
Tokyo can be overwhelming due to its size, always noisy and crowded streets and various places to go.
Sometimes it can feel that the city is never-ending. You might even catch yourself wondering from where to start exploring Tokyo. The majority of people even feel lost and stressed while traveling around Tokyo.
We don't want you to feel that way so we had made a very detailed list of Top Things to do in Tokyo Japan. Below you will find various things to do that will help you to plan your unforgetful trip to Tokyo.
15 Best Things to do in Tokyo in 2019
1. Visit Ghibli Museum
2. Creepy Meguro Parasitological Museum
3. Meet Hello Kitty at Sanrio Puroland
4. Senso-ji – oldest temple in Tokyo
5. Gotoku-ji – the 'lucky cat' temple
6. Meet water goblin at Sougen-ji Kappa-dera
7. Legendary cat street
8. Watch a show at Kabukiza Theatre
9. Dining at 'Alice in a labyrinth'
10. Shinjuku Gyoen National Garden
11. Odaiba – Tokyo's amusement spot
12. Tokyo Tower
13. Vampire Café – the spookiest restaurant in Tokyo
14. Harajuku – colourful shopping
15. Akihabara – manga and anime paradise
1. Visit Ghibli Museum
Ghibli Museum is an animation museum dedicated to Studio Ghibli – Japan's Disney. This studio is the most famous Japan's animation company that created lots of popular animations such as My Neighbor Totoro and Spirited Away.
The museum is located in Mitaka, just outside central Tokyo but very easily reachable by various transport means. It was designed in a very unusual but very distinct style that finds a way into every visitor's heart.
The Ghibli Museum has various exhibitions such a history and techniques of animation, and special temporary exhibitions of Ghibli animated films. Also, there is a theatre where you can watch short animations that were exclusively made for the museum.
The museum has a café, children's play area, fabulous rooftop garden, and a great gift shop. It's definitely a perfect place to visit if you are looking for things to do with kids in Tokyo.
Related Article: The Geisha of Japan
2. Creepy Meguro Parasitological Museum
Meguro Parasitological Museum isn't a very well-known museum in Tokyo, however, it's worth visiting. It is a very small medical museum that houses all types of parasites in the world. You must take into account that the museum can be a little bit gross and creepy due to its specimens in jars.
The museum has a great gift shop where you can buy T-shirts, guidebooks, postcards and phone straps with real parasites (obviously dead). The shop is a good place to buy unusual souvenirs from Japan.
Visit the museum if you want to surprise your children and have an unusual experience in Tokyo.
Related Article: Weird and Cool Things to do in Japan
3. Meet Hello Kitty at Sanrio Puroland
Sanrio Puroland – Japan's Disneyland – is a theme park located just outside Tokyo. The theme park was built in 1990 and became incredibly famous because of Hello Kitty character.
Sanrio Puroland offers 'meet and greet' with the most famous Sanrio characters such as Hello Kitty, Frog Keroppi and others. One of the most famous attractions in Sanrio Puroland is Hello Kitty's house where everything is shaped like her head.
The theme park offers various rides. The most famous ride is 'Sanrio Character Boat Ride' that is just basically a 10-minute boat ride with all Sanrio characters. Speaking frankly, there is nothing very special about the theme park.
However, it's a great place to spend time and enjoy pink cuteness everywhere.
Related Article: Things to do in Japan
4. Senso-ji – oldest temple in Tokyo
Senso-ji temple was built in 628 making it the oldest temple in Tokyo. It is located in the historic Asakusa district and is the most famous temple between Tokyo tourists. Senso-ji temple is a perfect place to enjoy a peaceful day by yourself.
The most recognizable part of the temple is Kaminarimon (Thunder Gate) that is the symbol of Asakusa district. Another unique feature is a temple's shopping street Nakamise that lasts for 200 meters leading to the temple's second gate – Hozomon.
Don't rush through the shopping street and take a better look as there you will be able to get the most delicious traditional snacks in whole Tokyo.
Take a part in omikuji drawing (a fortune that is written on a paper). You will need to take a stick with a number and put it back in the box. Then select the omikuji from the box with the same number as your stick.
There are seven fortunes that you can receive. No matter which one you get, don't be too disappointed as Japanese believe that everything has its meaning.
Related Article: Things to do in Japan in Winter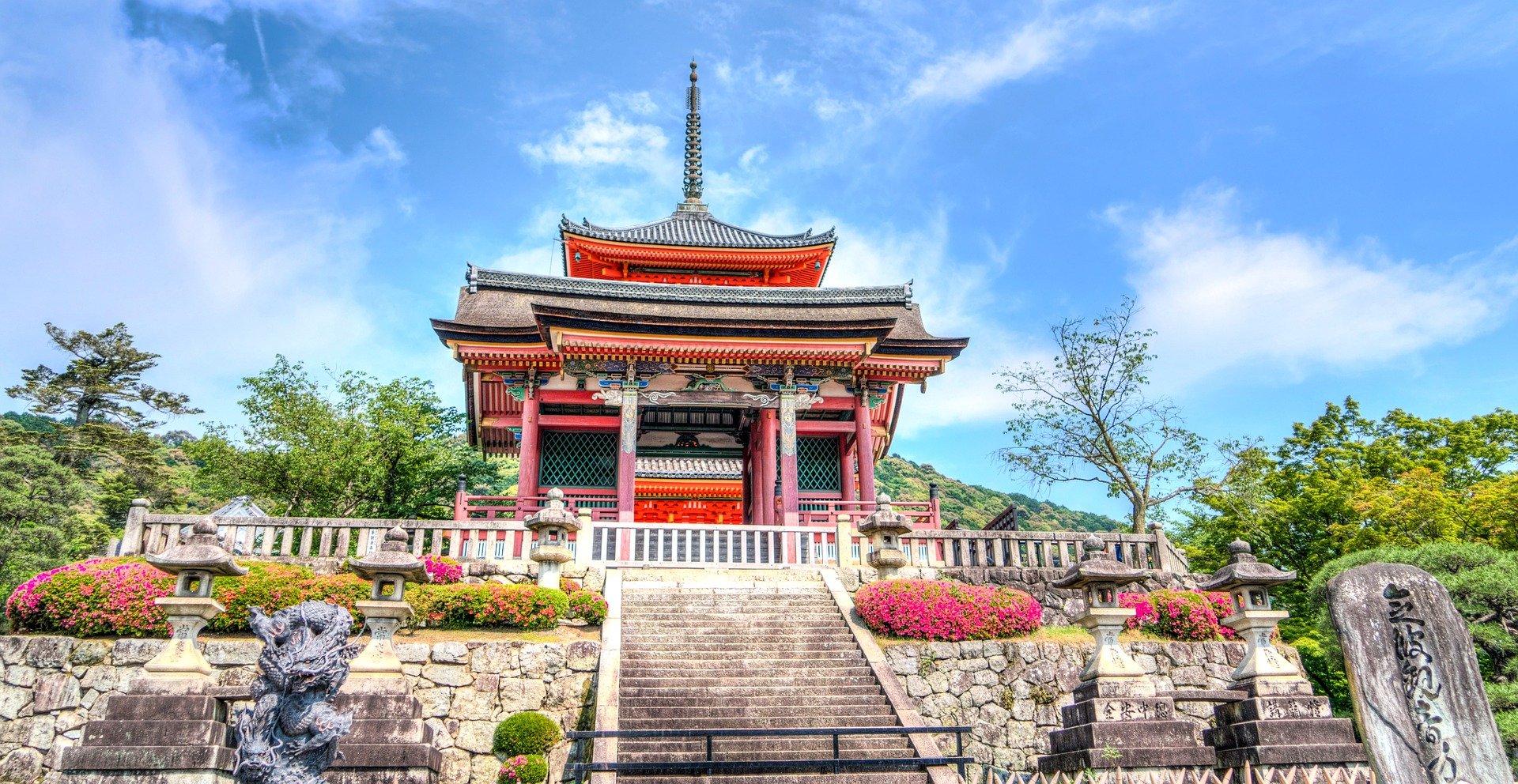 5. Gotoku-ji – the 'lucky cat' temple
Another unique place to get to know in Tokyo by yourself is Gotoku-ji temple. One of a kind Temple that can be found only in Japan. This temple is located in Setagaya district and is famous for its hundreds of 'lucky cats'.
Apart from 'lucky cats' the temple doesn't have other unique features. The majority of people visit Gotoku-ji temple just for cats. However, there are more things to enjoy than just 'lucky cat' statues.
The temple is located in a small residential neighborhood so it's very quiet, there aren't many tourists so you can easily take a stroll around the temple without being disturbed. While strolling around you will find a small cemetery that is open for everyone.
This is unique to Gotoku-ji temple as most of the cemeteries in Japan are locked and can't be visited. Also, there is a small souvenir shop where you can buy simple amulets with the 'lucky cat' or draw omikuji if just in case you haven't done in at Senso-ji temple.
Related Article: Things to do in Seoul
6. Meet water goblin at Sougen-ji Kappa-dera
This is a unique shrine dedicated to Japanese water goblins (kappa). Sougen-ji or Kappa-dera temple is surrounded by various legends regarding water goblins. It is widely believed that Kappabashi (Kappa's bridge) district was plagued by water goblins.
Due to this reason, people had decided to build a small temple – Sougen-ji Kappa-dera – to appease them.
Till these days the temple's altar is filled with cucumbers as it was water goblins' favorite food. There are numerous amount of water goblin statues around the temple. Some of them are relatively cute, but others are very creepy and unpleasant.
Also, it is said that the temple's treasure chamber has the real preserved arm of water goblin. However, it's up to you to believe it or not.
Related Article: Things to do in Seminyak
7. Legendary cat street
Cat Street is a small street that connects Harajuku to Shibuya. Actually, the street isn't filled with cats or cat merchandise, so if you are hoping for that you will be disappointed. It is a street for Japanese hipsters and youth fashion.
There are numerous boutiques, bars, restaurants and coffee shops. Even if you don't like shopping, it's a good place to stroll around. There are several subway stations nearby so it's very easily accessible.
Related Article: Things to do in Brisbane at Night
8. Watch a show at Kabukiza Theatre
Kabukiza Theatre is the main theatre for classical kabuki – Japanese dance and drama play. The theatre is located in Ginza district and has been an iconic symbol of the district.
The theatre from outside looks like a traditional Japanese building that is the most beautiful during night time. As you found your way to the theatre, don't miss a chance to go inside and watch a kabuki play.
Kabuki is a Japanese art form that basically means 'singing and dancing' and originates from 1603. It is a very unique play as all the roles are played by men even the female ones. Kabuki is also famous for its colorful costumes that change in the blink of an eye.
We highly recommend renting a subtitle guide in order to understand what is happening on a stage. When the show is finished, visit the Kabukiza Gallery that showcases all costumes and props. Also, you will find some more information about kabuki.
It is a perfect place if you fancy going on a date while traveling but still want to experience Japanese culture.
Related Article: Things to do in Osaka
9. Dining at 'Alice in labyrinth'
'Alice in Wonderland' themed restaurant 'Alice in labyrinth' is a popular place to dine in Ginza district. After watching kabuki at Kabukiza Theatre, we recommend pop inside this spectacular restaurant.
You will find tables that are made to look like giant playing cards, dining booths inside a big tea mug, hedges and other quirky interior details, and, of course, waitresses wearing Alice themed uniforms.
Even the food is themed that comes in different shapes such as Cheshire cat or caterpillar. It is recommended to try at least one of their cocktails that in a very imaginative serving.
Our advice is to book a table before you go as the restaurant might be quite busy.
Related Article: Things to do in Indonesia
10. Shinjuku Gyoen National Garden
This park is located in Shinjuku and considered the most beautiful park in Tokyo. It is divided into sections (gardens) such as English Landscape, Japanese Traditional, French Formal, Taiwan Pavillion and others.
The park can be visited all year round but the most beautiful time to visit it is during spring (March and April during cherry blossom period) and autumn (October and November when leaf colors are the most beautiful).
This park becoming more and more popular among international tourists so be quick while it's still relatively quiet.
Related Article: Things to do in Singapore on a Budget
11. Odaiba – Tokyo's amusement spot
Odaiba district is an artificial island in Tokyo Bay. The district is very modern and full of entertainment for everyone. It is a Tokyo's number one stop for dates.
It was originally built (in 1853) to protect Tokyo from various invasions. Nowadays it has become the spot for young people to hang out. There are lots of shopping places, a famous Ferris wheel with gorgeous views of Tokyo Bay and Mt. Fuji, onsen (hot springs), museums, cruise boats, high-class restaurants, and beach. To be said shortly, you can find everywhere in one place.
You can spend a full day in Odaiba and still find lots of things to do. Our recommendation is to take a boat cruise and enjoy great views. Also, don't forget to visit the beach and take a look at Japanese statue of liberty standing in an Odaiba beach park.
Related Article: Things to do in Singapore
12. Tokyo Tower
Tokyo Tower is probably the most iconic building in a whole Japan. Its height is 333 meters and is the world's tallest self-supported steel tower. The Tokyo Tower was modeled after Eifel Tower.
The main observation deck is at 150 meters high and can be reached by lift or 600 steps. From the main deck, you can take a lift to top deck (250 meters high) and enjoy bird's eye view of Tokyo.
If the weather is good, you usually can see Tokyo's highest building Skytree and Mt. Fuji. It's the third highest observation deck in Tokyo.
It's recommended to go to Tokyo Tower during the clear evening as it offers the best night view in Tokyo.
You can have a romantic dinner at the manga-themed or international food restaurant while looking at the beautiful Tokyo night.
Also, there is some galleries, small aquarium, little shrine and shows going on at the tower. You can easily spend the whole evening there.
Related Article: Things to do in Fiji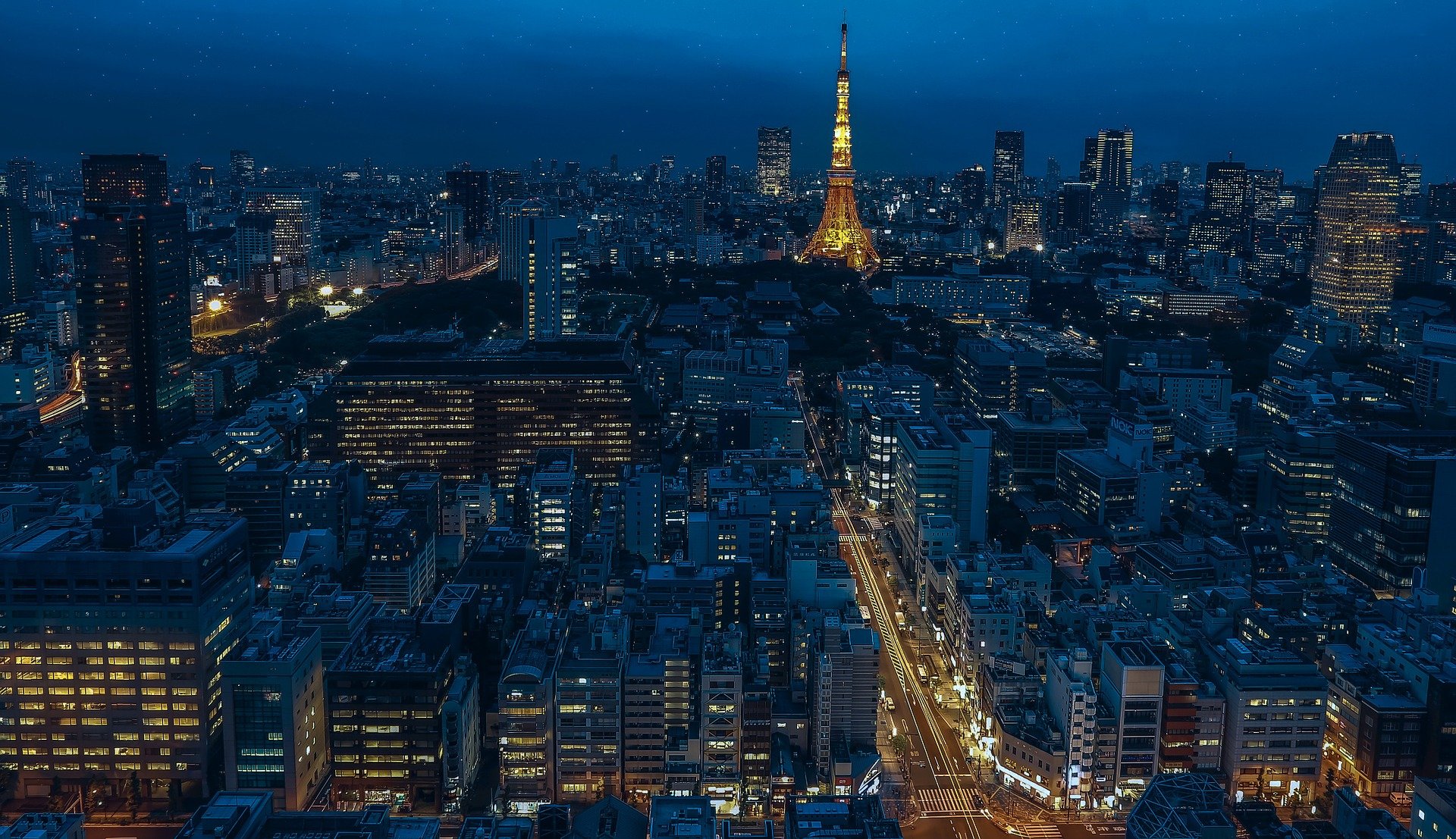 13. Vampire Café – the spookiest restaurant in Tokyo
Vampire Café is one of Tokyo's themed cafes located in Ginza shopping district. It is located in an ordinary 7th-floor building. Without knowing you won't guess that Vampire Café is located there.
The interior of the cafe is all blood red, full with coffins, skeletons and other spooky decorations. The food is also themed so you never expect what you are going to get as even the names of food are unusual.
You have to book in advance in order to skip about 40 minutes wait for the table. You can visit café anytime, but during the evenings they do special promotions, more decorations and you can get very delicious cocktails.
Related Article: Things to do in Sydney at Night
14. Harajuku – colorful shopping
Harajuku is an area around Harajuku station near Shinjuku and Shibuya. It is well-known for its flashing lights and cosplay parades. The area is the most popular among teenagers as there are numerous cosplay stores, boutiques, vintage clothing shops, and other trendy shops.
The busiest time in Harajuku is an evening as most restaurants and shops open in the late afternoon. Everything in Harajuku is relatively cheap compared to Tokyo prices so you can enjoy a great shopping without splurging too much.
Harajuku has the biggest Daiso store in Tokyo where you can get various cute pastel colored things. Also, Takeshita Dori street is filled with cheap gifts. Most of the things are targeted at teenagers but we guarantee that you will find something for yourself too.
The area has several great places to eat such as Harajuku crepes and takoyaki places. If you don't want to sit in, there are lots of street food stalls and take away restaurants.
Related Article: Most Instagrammable Places in Australia
15. Akihabara – manga and anime paradise
Akihabara is a district in central Tokyo. More than a decade ago Akihabara was known as a place where you can buy cheap illegal electronic devices. These days the district is packed with legitimate electronic shops.
However, electronic shops aren't the main attraction even though you can enjoy duty-free shopping and grab a good bargain.
Akihabara is considered to be an otaku – a diehard fan of manga/anime – playground. There are various stores dedicated to manga, games, and anime.
The district houses the biggest amount of maid cafes – waitresses dress up and act like anime characters/maids – and manga cafes which is an internet café where people can read the manga and watch DVDs.
The district is well-known for its neon lights during the evening so you will see lots of people taking photos or filming.
Related Article: Free Things to do in Melbourne
Tips and Helpful Links:
Save Time and get professional advice. Get Travel Quotes from up to 3 Australian Travel Agents for Free – Contact Us

Accommodation:
For the best Accommodation deals – Check here

Travel Insurance:
We recommend World Nomad for Travel Insurance. Its super quick to check the price. Check price here

Flight Deals:
We recommend Skyscanner. Check the deals here
Conclusion
Tokyo is an enormous and overwhelming place that has everything starting from beautiful parks and finishing with crazy themed cafes. The city has its own culture that is different from anywhere else in Japan.
You can experience this Tokyo culture only by visiting various places and meeting locals. It doesn't matter if you are traveling alone or with somebody else, we can guarantee that you will never run out of things to do in Tokyo. No matter what you choose to do, it's going to be worth your time.
Our advice is not to forget that you should respect the local culture no matter how weird you think it is. If you do that, you will be welcomed and will have the best time of your life. So enjoy your best time in Tokyo – a playground for everyone.
Have you been to Tokyo? Which places are your favorite and why? Do you have places you would like to visit? Or have some places from our list caught your eye? Please, let us know in the comment section.