Things to do in Japan in 2019
 by Pranita D, Seek To Travel Travel Blogger, LinkedIn, February 1, 2019
Japan is an island country that has four main islands: Hokkaido, Honshu (referred to as the Japanese mainland), Shikoku, and Kyushu. All islands are equally beautiful, have its own charms and worth visiting.
The country is known to have the most beautiful scenery in the world and is very much loved by tourists. Japan is usually referred to as one of the most exotic and mysterious lands on the earth. The Land of the Rising Sun offers endless things to do and unique places to visit through all year round.
Take a look below at the short list of top things to do in Japan if you are planning to or visiting Japan this year.
10 Best Things to do in Japan in 2019
Contents
Mt. Fuji, Lakes and Hakone

The Island of Gods – Miyajima

Hokkaido: onsen and Biei blue pond

Spiritual Kamakura

Fushimi Inari Shrine

Kumano Kodo – a different side of Japan

Motonosumi Inari – red torii gates and ocean

Cable car ride in Kobe

Explore Kochi

Visit Japan's Machu Picchu – Takeda Castle

1.  Mt. Fuji, Lakes and Hakone
Mt. Fuji (3 776 m) is the highest and the most sacred mountain in Japan. The mountain belongs to Fuji-Hakone-Izu National Park and can be hiked during July – September. Also, there are lots of incredible places where you can see Mt. Fuji from afar in its full beauty.
Mt. Fuji is very easily accessible by train or bus as it has several stations that are connected to the hiking trails. The most popular hiking trail is the Yoshida trail. A fit person can hike the mountain within a day, however, it is highly recommended to break the hiking into two days and spend the night in a mountain hut. Speaking frankly, Mt. Fuji looks better from afar.
If you had decided to adore Mt. Fuji from afar, northern shore of Kawaguchiko lake is one of the best options. The lake is famous for 'double diamond Fuji' – Mt. Fuji with its reflection in the lake. Kawaguchiko lake is perfect if you are traveling in spring (Mt. Fuji and cherry blossoms) and autumn (mountain and autumn colors).
Another place to view the most beautiful side of Mt. Fuji is Hakone. Lake Ashinoko offers fantastic views of the mountain and you even can take a rowing boat to enjoy the lake. Another place in Hakone for Mt. Fuji sightseeing is Owakudani – active volcanic valley on the slopes of Mt. Hakone. If you can't hike Mt. Fuji, you can walk up Owakudani and see the breathtaking views of Mt. Fuji.
Hakone isn't only famous for Mt. Fuji views, it is also full of hot springs (onsen) that attract equally Japanese and international tourists. So if you are visiting Mt. Fuji region, spare your time to explore Hakone too.
Related Article: Things to do in Tokyo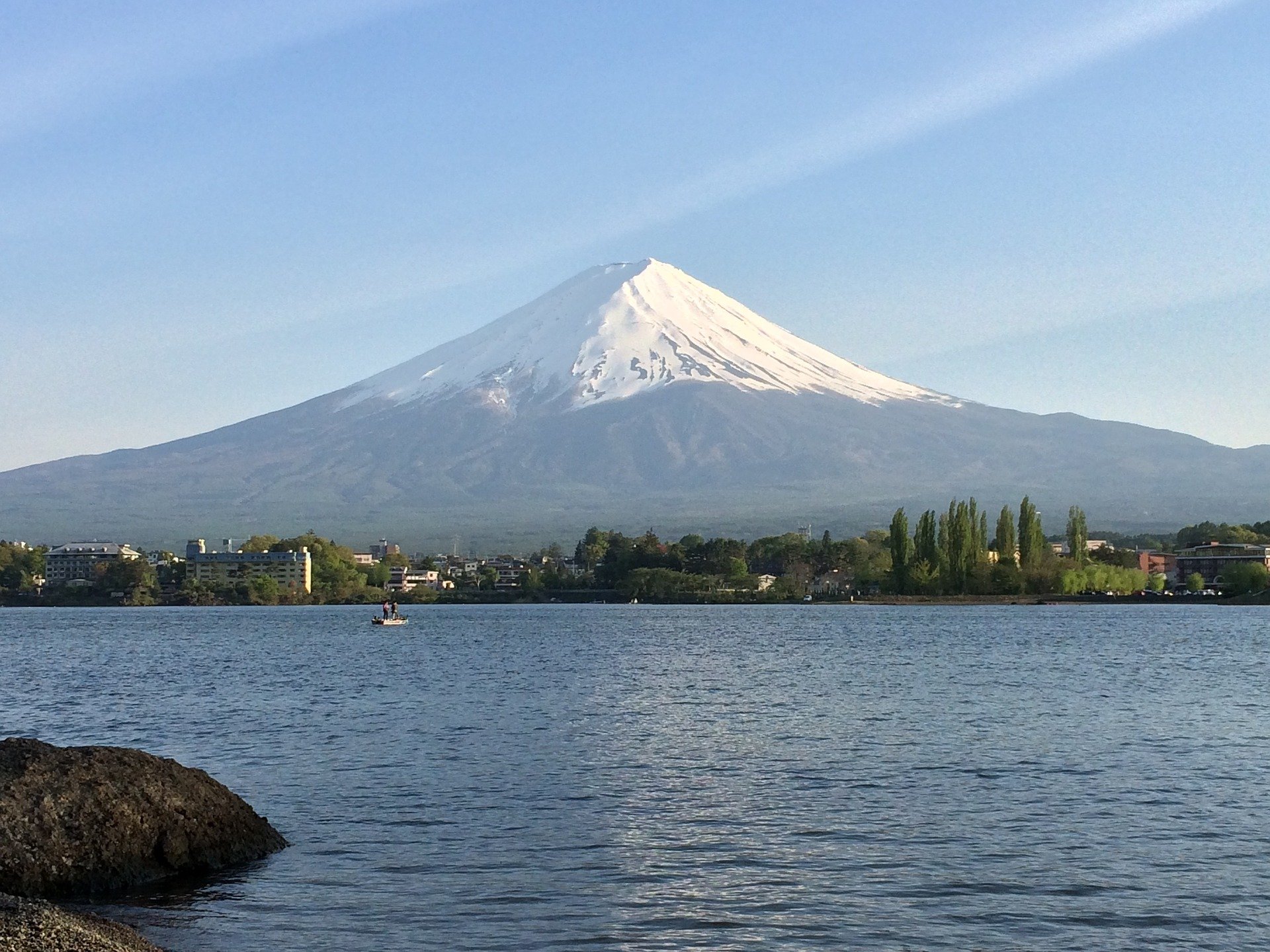 2. The Island of Gods – Miyajima
Miyajima or Itsukushima island is usually referred to as one of the most scenic spots in Japan where Gods and people live together. The island located close to Hiroshima city and was designed as UNESCO world heritage list.
Most tourists know Miyajima for its giant red 'floating' torii gate as it's standing in the ocean. This torii gate was rated as one of three the best views of Japan. Also, there is a legend that this torii gate symbolizes a line between two worlds: living and dead world.
Torii gate belongs to Itsukushima shrine that is as well built over the water making it a very unique shrine to visit. Also, a very famous site between tourists and locals. You can take a boat cruise in order to get the best view of the shrine.
If you have a choice, take a boat ride around evening time as it's the best time to see shrine and its lights. Also, it's highly recommended to stay for a night at one of Miyajima Ryokan (a traditional Japanese house) and rent a yukata (traditional Japanese dress, summer kimono) from the shop in the downtown.
Apparently, if you visit Miyajima island and stay overnight, you just have to walk around the shrine in yukata in order to take some gorgeous photos.
If you are want to explore more, there are many other temples and shrines that are worth visiting. If you aren't too interested in visiting shrines, there are numerous walking trails around the island.
The most famous trail is the virgin forest of Mt. Misen where you can see many rare plants and enjoy panoramic views of the island.


3. Hokkaido: Onsen and Biei blue pond
Hokkaido is the second largest and the northernmost island of Japan. The island is referred to as the coldest part of Japan. It's so cold that even Japan's wild snow monkeys can't live there. Hokkaido region is the least developed and full of untouched wild nature that attracts tourists. 
The most famous city is Sapporo that has annual snow festivals, skiing resorts and beautiful mountains which surround the city. Sapporo attracts the majority of Hokkaido tourists.
To be honest, there aren't much to see in Hokkaido apart from small towns, mountains, ponds, and onsen (natural hot springs). Hokkaido name is highly associated with onsen as there are lots of them.
Most famous are Makkari, Kotan, and Kumo No Ue onsen that is located in mountainous areas. Those onsens are completely wild and don't belong to any of onsen spa resorts.
However, if you would like something more 'civilized', there are lots of resorts that offer traditional ryokan stays and natural onsen.
Another place to visit in 2019 while traveling in Hokkaido is Biei blue pond (Aoiike). It is a man-made pond that has deep blue water filled with natural minerals. The water is bright blue because of the natural process of erosion.
To find the pond you would need to walk through the forest for about 10 minutes. There is not much to see around the blue pond, but you can enjoy great scenery and take amazing photos of the natural blue water.
If you would like to explore Japan during winter, then please do check out Things to do in Winter in 2019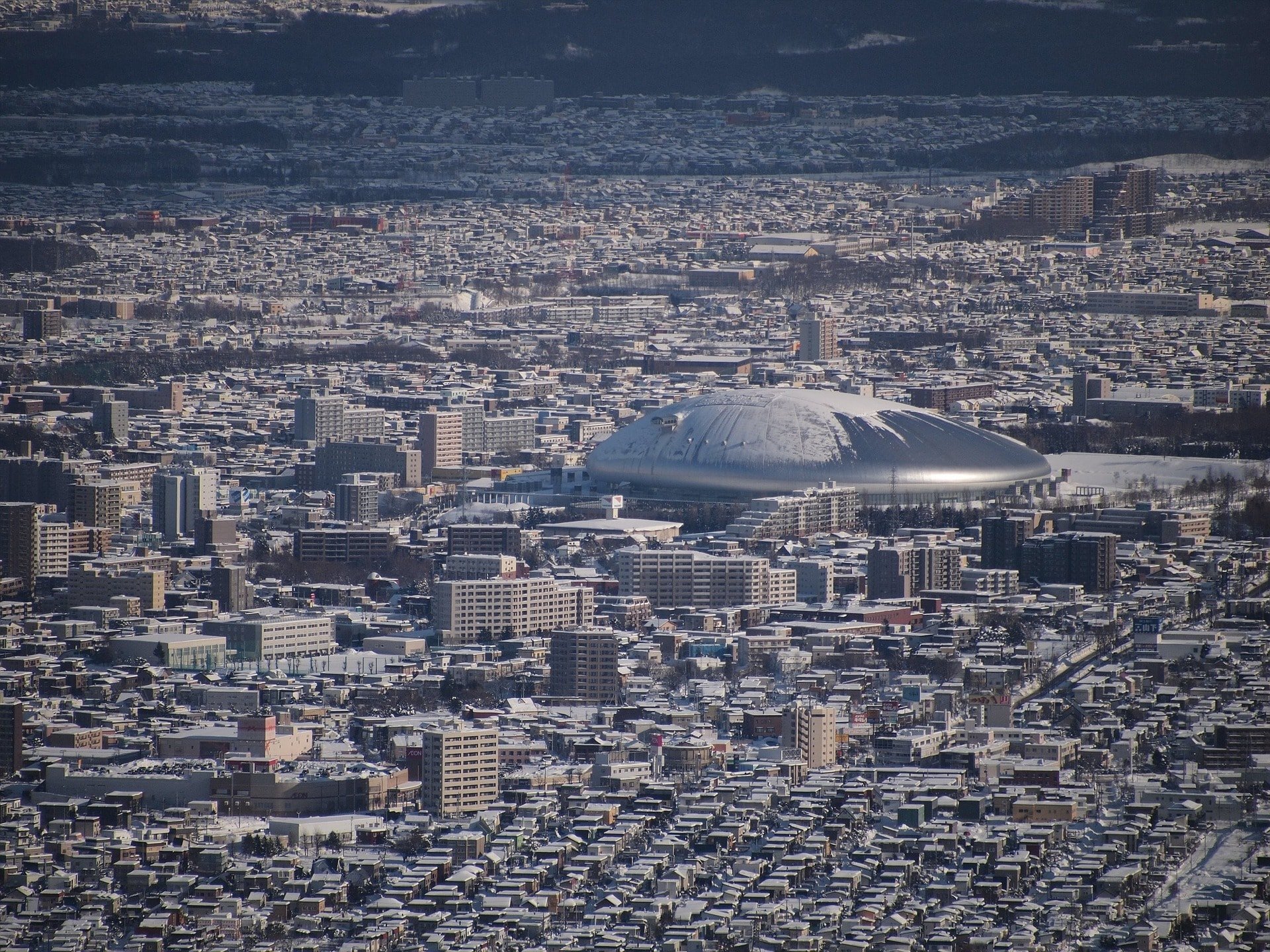 4. Spiritual Kamakura
Kamakura is a small coastal town that is much loved by tourists. This little town is the most famous for its Great Buddha (Amida Buddha) that is made from bronze and height of 11.4 meters. The Buddha statue is located in Kotoku-in temple that is very close to Hase station (about 5-10 minutes walk).
Another place to visit is the Hasedera Temple or Hase Temple. The temple is famous for its eleven headed statue of Kannon (in Buddhism it's a Goddess of mercy) as it is 9.18 meters in height standing in a main temple's hall.
There is a very small Kannon museum that has lots of various treasures from the temple. The Hasedera Temple offers great views of Kamakura, has blooming rare flowers and a huge garden with a pond. There is also a small restaurant where you can try traditional Japanese dishes and various sweets.
The best time to visit the temple is during the rainy season in June and July when hydrangea flowers bloom.
Kamakura is a very relaxing place filled with various little gardens and temples. If you have some time left, visit the bamboo garden and a teahouse located in Hokokuji Temple or Takedera Temple. Its bamboo garden has more than 2000 bamboo stalks.
There is a little narrow path through the bamboo leading to the traditional teahouse. You can enjoy the refreshing taste of the fresh green tea and listen to bamboo sounds. A very blissful and delightful place to relax after a long day.


5. Fushimi Inari Shrine
Fushimi Inari shrine is located in Kyoto city that once was the capital of Japan. The shrine is the most popular shrine in Japan. It is always crowded, but it's impossible to exclude this temple from things to do in Japan list.
Fushimi Inari is easily accessible from the train station, you just need to follow the crowd till you see first red torii gate. Fushimi Inari shrine was built to worship foxes so you will be able to see lots of fox statues around the shrine.
The most famous thing of the shrine is one thousand torii gates that are about 27 meters in height. Those gates lead the way up to the inner shrine. You can do a full hike through the gates or can only walk a certain part of the trail and turn back. There are some small shrine buildings through the hike so hiking up is more entertaining.
There are some great restaurants near the shrine, make sure to have a quick lunch there. Try a special Inari tofu (abura-age) – tofu that is cut very thinly and is originated from Kyoto.
Inari tofu dishes are Inari tofu sushi or miso soup with tofu. It is said that you can't leave Fushimi Inari shrine without trying Inari tofu as it will bring you bad luck.

6. Kumano Kodo – a different side of Japan
Kumano Kodo is a pilgrimage path that goes through the Kii Peninsula mountains and goes down to Kansai Region. This path leads you through beautiful forest, mountains, small villages, and is usually called a completely different side of Japan.
Kumano area is a sacred site that has three main shrines: Hayatama, Hongu, and Nachi. Also, there are some Buddhist temples around the area. Beautiful streams and little villages make the path more spectacular. The 'Kumano Old Road' was usually walked by the imperial family and samurai, but these days it is open for everyone to wander around.
To complete Kumano Kodo you would need 4-6 days. The walking can be booked through the agencies or you can arrange everything by yourself. Take into account that Kumano area is about 6 hours train journey from Tokyo.

7. Motonosumi Inari – red torii gates and ocean
Motonosumi Inari is a well-known coastal shrine in Nagato city, Yamaguchi prefecture. The shrine is most known for its 123 red torii gates standing in a row and leading to the coast. Motonosumi Inari shrine offers spectacular views of the ocean.
Motonosumi Inari is very similar to Fushimi Inari as both shrines have a 'tunnel' of huge red torii gates. However, Motonosumi Inari shrine doesn't receive such popularity as Fushimi Inari shrine, and due to that reason is much quieter.
Motonosumi Inari shrine is mainly visited by Japanese than international tourists. The majority of people visit the shrine in order to make wishes and try their luck into throwing a coin inside the offertory box. The unique feature of the offertory box is that it is placed on the top of the torii gate instead of by the entrance of the shrine.
Motonosumi Inari is a definitely underrated Japanese wonder by foreign tourists and you won't regret your trip to the shrine.

8. Cable car ride in Kobe
Kobe is a coastal city on the Osaka Bay. It is popular for scenic mountainous views, panoramic views of the port, natural onsen, and antique cable cars that connect Kobe city to mountains. There is no need to wonder why Kobe is considered to be one of the most gorgeous cities in Japan.
While visiting Kobe city, cable car rides are highly recommended. The most famous cable car is Rokko cable car that connects Kobe to Mt. Rokko. This cable car dates from 1932 and has a two-car system that is very rare.
Within 10 minutes you will arrive at the top of Mt. Rokko where you will find various attractions such as observation desk, restaurants, botanical garden, music box museum, and outdoor leisure facilities.
You can take the cable car at any time of the day, but it is recommended to take during the evening as you will be able to see famous Kobe night lights. Also, it's a must ride if you are traveling during autumn as autumn leaf colors are gorgeous there.
If you have some spare time, visit Arima Onsen. Luckily, hot springs are connected to Mt. Rokko via Rokko-Arima ropeway. It is only a 12-minute ride. Arima Onsen is a hidden gem of Kobe surrounded by beautiful nature and Mt. Rokko. This place isn't very popular with international tourists, so you will be able to enjoy the tranquility.
Related Article: Things to do in Osaka

9. Explore Kochi
Kochi city is a capital city in Kochi prefecture, Shikoku island. The city is located on the coast and is quite small but very cultural and beautiful city.
Kochi city is overlooked city as its neighbors receive more attention from tourists. However, there are so many things to do and to see in the city. Kochi is famous for its cultural traditions, feudal castle, traditional handmade paper (tosa washi), sake breweries and various traditional markets.
The first place to visit, while traveling in Kochi, is Kochi Castle. The castle is one of twelve Japanese castles that had survived various wars and fires. It was first built between 1601 and 1611 and reconstructed after a fire in 1748.
The unique point of this castle is that the main tower was used for military purposes and living. In other castles, the lords had a separate building for living.
Another place to explore is downtown of Kochi city. The most famous thing in downtown is Harimayabashi – a red bridge. It is well-known as a 'love bridge' and has various romantic legends. Also, while exploring downtown, you will find traditional markets and shopping arcades that are a good place for souvenirs.
If you have some time, hop on a bus and take a 30-minute ride to Katsurahama Beach. Although swimming isn't allowed, there are other things to do at the beach.
You can enjoy beautiful nature, visit a small shrine and museum, and try a traditional Kochi dish katsuo no tataki (lightly broiled skipjack tuna with soya sauce and spring onions).
Related Article: Weird and Cool Things to do in Japan

10. Visit Japan's Machu Picchu – Takeda Castle
Takeda is a small town that is famous for its castle ruins on the top of the mountain. Takeda Castle is usually regarded as Japan's Machu Picchu or 'castle in the sky' by its visitors. The castle was constructed in 1441-1443 and was abandoned in around 1600. It took a while for the ruins to be restored. In 1970-1980, this castle was restored and was open for public visits.
To see the real beauty of the castle you will need to wake up early as the best views are in the morning between 6.00 and 6.30. Ritsuunkyo is the best spot for viewing the castle. There are multiple observation desks. The best view is from observation desks 1 and 2 that are 30-40 minute walk up the path.
Takeda Castle can be viewed any time of the year however it is the most beautiful in autumn mornings when there is a fog and clouds are low.  
If you want to explore the castle, you can take a 45-minute hike up to the top. You will need to pay a small entrance fee and then you can take a relaxing stroll around the ruins, and adore great panoramic views.
Down at Takeda town, you can visit the temple, take a look at old sake brewery house or rent a bike to explore the small town and its surroundings.
Conclusion
Japan is a very interesting place to travel offering a variety of scenic and unusual places.
While travelling in Japan you should learn how to respect culture, follow traditions and enjoy what the country offers to you.Don't forget to show respect while visiting sacred places such as temples and shrines.
Lastly, don't be afraid explore various places and make the best memories in Japan.
As you can see there are lots of things to do in Japan. Had you already chosen some of them? Or maybe you have your own picks of top things to do in Japan?
Please, comment below and let us know your thoughts.