Things to do in Fiji in 2020
by Seek To Travel Author, January 23, 2019
Looking for Things to do in Fiji? Then this is the article for you!
Fiji is a place where the people are in no rush to get things done and simply referred to as "Fiji time", where things will eventually get done and to not worry about time.
Everyone is warm, welcoming, cheerful and relaxed and you will be greeted by the locals with a cheerful "Bula" which means hello. So when in Fiji, go with an open mind and don't rush, relax and enjoy what Fiji has to offer.
Fiji is located in the South Pacific Ocean and is made up of many islands. The archipelago consists of more than 330 islands of which 100 are inhabited. Fiji has a population of around 870,000 almost 80% of the country's population lives in Viti Levu and Vanua Levu.
We travelled to Fiji in August for a relaxing break and we definitely got what we were looking for. The moment you step off the plane, you are greeted with a big warm smile and you immediately feel like you're in a tropical paradise.
A wonderful holiday destination whether you are visiting with family or as a couple, you take in and capture Fiji's stunning natural beauty. The weather during August was perfect with an average temperature of 26 degrees.
Do avoid their wet season from November to April. You will find yourselves relaxing by the pool and taking in time as the locals call "Fiji time".
Fiji has so many things to offer besides relaxing by the pool and the beach. It is a destination for adventure seekers whether it's surfing, snorkelling, diving, trekking or zip-lining in the rain forest.
Few Tips For Your Fiji Trip
Is a visa required to visit Fiji?
Most nationalities do not require a visa to enter Fiji, up to four months however there is a permit required on arrival. List of visa exempt countries are listed in the immigration site, please see here Passport need to be valid for at least six months before the expiration date. Return ticket or onward ticket must be valid.
What is the currency of Fiji?
Fijian currency is FJD – Fiji dollar. Cash can be exchanged. Exchange booths are available in various tourist areas, airport and hotel. Exchange rate will vary from day to day according to each area, have a look around to compare the exchange rate if you want the best rate. ATM's are also available to cash out and most places accept credit card (conversion fees and credit card fees will apply).
How to get around in Fiji?
Taxi
There are no trains in Fiji
Public Transportation – Ten-seater minivans and Buses
Hire a car
Bicycle for short distance – some Fiji resorts offer bicycle rental service
Hire Motor scooters – mostly available in Nadi
When is the best time to visit Fiji ?
Fiji is a place you can visit all year round as weather is tropical and pleasant however do keep in mind Fiji's wettest months and cyclone season fall from November to April, the average temperature of 22c – 30c. Fiji's coolest months are from May to October, the average temperature of 26c.
Do try to avoid busy period especially if you are looking for a budget holiday. Busiest months are from July to August and around Christmas and New year period. Not only are those dates busy with many families visiting during the school holidays but can also be expensive during that time.
February and March are considered off peak season and are the wettest months in Fiji hence prices will be relatively cheap compared to peak season.
November to April – Wet Season, Heavy brief showers, possible cyclones
January – Warmest month
June, July, August – Coolest months, July is the driest month
May to October – Winter Months
Is food and drinks safe in Fiji ?
Food and drink is generally safe to eat and drink however you should avoid drinking tap water and eating street food if not cooked fresh and have noticed food sitting around and not kept in an appropriate temperature. It is best to drink bottled water and bottled drinks without ice. Fresh coconut juice can be purchased, fresh picked from coconut tree by locals.
Alright, let's look at Best Things to do in Fiji now!

Best Things To Do In Fiji
1) Zip Rail, Flora and Fauna in Kula Eco Park
Kula Eco Park is around one and half hours drive from Nadi. This park offers around 28 acres of flora and fauna coastal forest where you will be able to stroll on extensive elevated wooden walkways and rope bridges that wanders through the forest.
You will see, hear and smell species only found in remote Fiji islands. You can expect to see and hear birds like fruits bats, falcons, parrots, fruit doves and more. Ocean turtles, soft corals and several species of fishes can also be found in the aquarium.
This park also has a breeding facility program for endangered species. It has an animal interaction area where you can feed turtles, touch snakes and iguanas.
If you are looking for a more of an adrenaline rush and adventure then you should try Fiji's only roller coaster zip rail where you will turn and turn and land on the floor of the jungle. For a more of a cooler experience try the water slide with a drop of more than 10 pm.
For children, there is a play area where the kids can play on the slides and other water activities. A day program is organised, the children get to experience the daily duties of the park rangers.
For adults, a behind the scene tour can be booked for those who are interested in how the place is operated and be more familiar about the Eco Park.
Rest area and cafes are available for food breaks after all activities.
Entry fees to Kula Eco Park is FJ$26 for adults and FJ$13.50 for children. The fees will help fund the Eco Park.
Related Article: Things to do in Fiji with Kids
2) Shopping and food experience in Nadi town
Nadi town is by no means a city like Sydney or Melbourne. It is a small town with broken sidewalks and narrow roads. A charming town filled with rich tradition and culture.
Nadi town offers souvenir and merchandise stores and markets. You will find local authentic cuisines with many variety of restaurants to choose from. Food prices are a lot cheaper than eating at a hotel or restaurant. Nadi town is a short bus ride away from Denarau Island.
The local buses are very cheap and are a cost effective form of transport especially for those on a budget. Bus fares roughly cost $1 Fijian dollar each way. You will only need a couple of hours to visit the town. We mostly went there for lunch and to purchase souvenirs.
Related Article: Things to do in Nadi and Coral Coast
3) Visit Sri Siva Subramaniya Temple
When you are in Nadi, it is worth visiting Sri Siva Subramaniya temple considered the largest Hindu temple in the Southern hemisphere. It is situated on the main street. The temple is free to enter and is open every day from 6am – 8pm.
Please visit the temple with respect. Do cover your legs and shoulders. Sarongs are provided at the entrance with no charge.
The architecture of the temple is stunning with colourful paintings and carvings of Hindu gods sculptured all along the temple. Photographs are strictly prohibited inside the temple.
Related Article: Things to do in Seminyak
4) Tifajek Mud Pool and Hot Spring
Tifajek Mud Pool is around 30 mins from Nadi Town. The road to the mud pool is a bit bumpy and the road could not be visible at the last 15 mins of the ride. However, it made the journey feel adventurous and overall enjoyed the ride to the mud pools passing through luscious green trees and sugarcane farms.
When you pack your swimwear do make sure you take a swimwear you won't care about getting dirty. Mud will be smeared all over your body. Once you get to the mud pool, bottled water and refreshments are served along with welcome Kava ceremony.
First, you enter the mud pool (bottom of the mud pool may feel grassy) and smear mud all over your body. Allow it to dry, once dry enter the thermal pool and wash off the mud. You will then move on to a larger cleaner thermal pool and wash off the remaining mud until clean and then spend time in the hot spring.
The temperature of the hot spring is around 30-40 degree. It will leave you feeling relaxed and your skin feeling wonderful. Massage afterwards is optional for an additional cost of $20 Fijian dollars for 15- 20 minutes.
At the end of the tour, fresh fruit and refreshments are served before heading back to your hotel or designated drop off place.
Related Article: Things to do in Sunshine Coast, Australia
5) Zip-line and Garden in the Sleeping Giant
Garden of the Sleeping Giant is 30 minutes drive from Nadi town, you can also visit the garden after the mud pool, a 10 minute drive from the mud pool. When you arrive an optional package tour may be booked which includes a tour of the garden, Jungle Safari and unlimited Zip-lining.
Zip-lining is a fun activity for both, adults and kids. You will soar through heights of over 100ft flying over waterfalls, rivers and be surrounded by the lush green tropical rain forest giving you the Tarzan like experience. The zip-line has five zips ranging from 8pm to 16pm flying at a speed of 40km/h.
You can take a tour of the garden. The garden contains varieties of flowers however the highlight would have to be the collection of orchids in around 20 hectares of garden. You can easily spend half the day in the garden admiring the greenery of the tropical native plants and spotting different types of bird species. You can walk around the rain forest and go for a swim in the waterfalls.
Related Article: Best Rooftop Bars in Sydney
6) Enjoying Fiji resorts in Denarau
Denarau Island is home to many luxurious resorts all along the island. It is located 25 minutes away from Nadi international airport and about 15 minutes from Nadi Town. The island is the perfect location for families, honeymooners and those seeking a luxurious holiday.
The resorts are a short walk away from each other and you can enjoy a breathtaking sunset walk in the late afternoon. All resorts offer indoor and outdoor dining experience whether it is a casual meal or fine dining. Depending on which resort you are staying in, you may have access to other resorts pool and amenities.
The water in Denarau isn't the best to swim like other small island in Fiji however it is nice to walk on the beach, let your feet touch the sand and enjoy the stunning view of Denarau Island.
If you enjoy golf, Denarau Golf & Racquet Club is for you. All equipment can be hired and private golf lessons are also provided.
You can enjoy a meal at Denarau Golf and Racquet Club. Meal prices are slightly cheaper than the resorts. Most resorts are a short walk away from the golf club, you can also take the "Bula Bus" for a small charge.
Related Article: The Geisha of Japan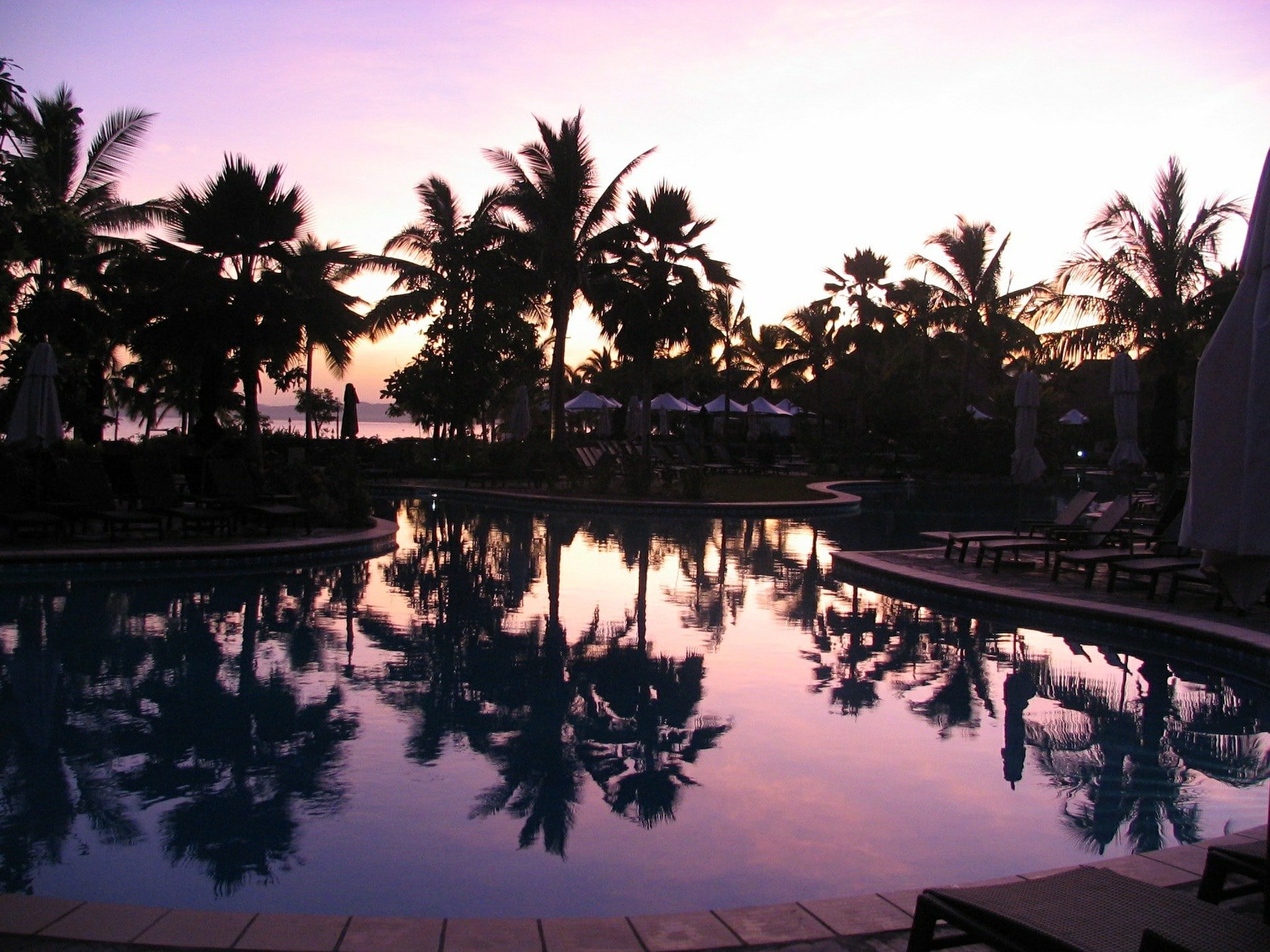 7) Participate in Kava Ceremony
Kava is a traditional Fijian drink made from the root of the yaqona plant and is strained with water into a bowl. The plant is harvested in the South Pacific Islands. It is freshly made right before the ceremony. The drink is a muddy watercolour which tastes bitter and pepper and leaves you feeling numb around the mouth and tongue. The drink is served in a semi coconut shell.
Kava ceremony is a formal cultural ceremony which includes a blessing by the chief or senior person of the group. Tourists can be a part of the ceremony whether it is a demonstration at your resort or a visit to the village.
If you are visiting a village then do keep in mind Kava ceremony is an ancient blessing ceremony. Before entering the village you must ask for permission and to enter the village with a gift of kava root which can be purchased at any Fijian market. Do dress appropriately and with respect. Both men and women should wear modest clothing. Women must wear sarong and hats are not to be worn.
How does Kava make you feel?
Kava drinkers have reported that the drink makes them feel relaxed and calm. Higher doses can make you feel dizzy and create numb feeling. Many people have said that Kava does have a similar effect like alcohol however Kava is not an alcoholic drink.
How to drink Kava?
Kava is served in a large wooden bowl (traditional name bilo). The drinking bowl is made of half coconut shell. Everyone should sit down and remain seated during the ceremony. The chief of the village will take the first sip of the drink and then will be passed down to the next senior person.
The men will drink first and then the women. When you are offered the drink, clap hands with cupped hands and yell Bula. Accept the drink with both hands and drink in a single gulp, clap three times and say Mathe and hand back the bowl.
Related Article: Things to do in Fremantle, Australia
8) Full day Cruise – South Sea Island
We went on an organised day cruise to the South Sea Island which started from Port Denarau. South Sea Island is a small island located 30 minutes away from Denarau Marina by ferry. We were dropped off at the island where we could explore and relax on our own time.
Snorkelling around the island is organised by the staff and snorkelling gear were provided by the cruise staff. We were able to spot beautiful colourful corals and fishes in the crystal clear waters.
Barbecue buffet lunch and a chilled Fiji beer or complimentary drinks were provided as part of the package which was delicious. Fijian 'Meke' performance was performed during lunch.
After lunch we went on board a cruise taking us around different Islands like Treasure, Beachcomber, Mana, Castaway, Malolo and Likuliku. This was part of the package seeing the islands on a catamaran but unfortunately we were unable to get off.
However after seeing these islands, we will be coming back to spend time and to explore. The ferry ride back to Denarau Marina roughly took 2 hours. Overall a delightful day out on the water.
Related Article: Things to do in Hornsby, Sydney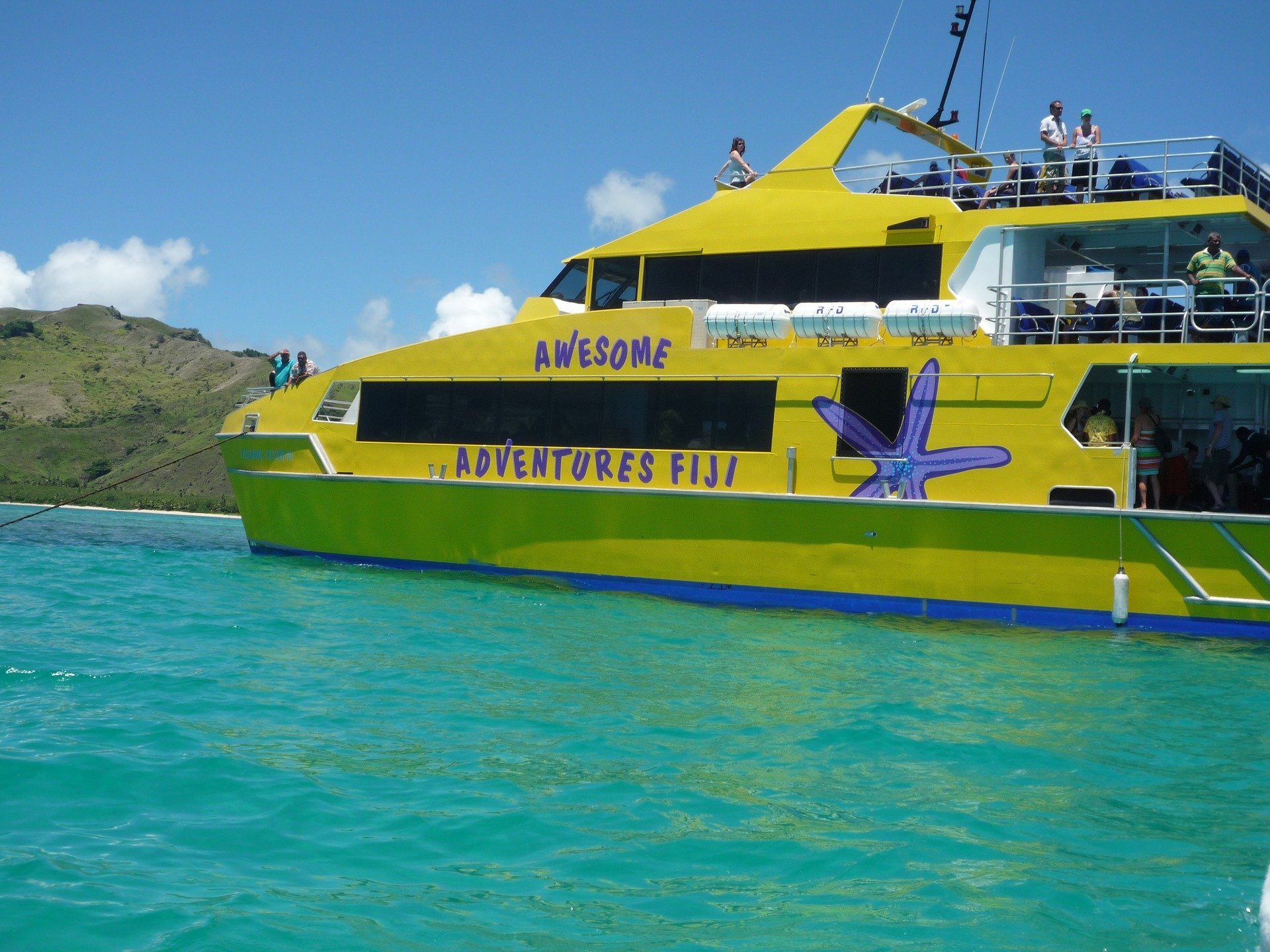 9) Walk on Sigatoka Sand Dunes National Park
Sigatoka National Park is located on Queens road and takes an hour by car, south of Nadi and around 4 km west of the town of Sigatoka. You can get to the park by taxi, book a tour, private car or take the bus from Nadi. Buses from Nadi may not be available or as frequent on Sundays.
If you would like to explore the sand dunes national park by foot, there are many trails in the national park. Guided tours by local rangers are available. The walk will roughly take 1-2 hours where you will see sand dunes, plant species, more than 20 species of birds, lizards, snakes and a stunning view of the ocean from Sigatoka Sand Dunes National Park.
This park is opened daily from 8:00am to 5:00pm and you should start the walks early to avoid heat. Local rangers manage the park and are able to provide information about the park and navigating around the park. Park entrance fees are $10 for adults and $3 for children over 6 years old
The dunes are more than 2600 years old and cover around 650 hectares area which ranges from 20-60 m tall.
The walk to the dunes may have you finding ancient pieces of pottery and tools dating back to ancient civilizations and also human remains. This is one of the largest burial site in the pacific islands.
Make sure to apply sunscreen, bring plenty of water and stay hydrated. Make sure to take your hats should and comfortable shoes as you will be doing plenty of walking. Keep your camera ready to capture spectacular photos.
Related Article: Best Breakfast Places in Melbourne
10) Climb Mount Tomanivi
Mount Tomanivi is an extinct volcano formerly known as Mount Victoria and is on the main island of Viti Levu. Mount Tomanivi is around 1300 metres making it the highest mountain in Fiji.
To climb Mount Tomanivi, you will need to drive to Navai (the closest village) where your climb will begin and end. The easiest way to get to the mountain is by car. It will take around 90 mins from Nadi to Tavua (the closest town).
From Tavua to Navai, do hire a 4WD as the roads are rough. When you do reach Navai it is customary to visit the chief of the village and to offer a small gift or a donation before you start the climb. Guides are also available for a cost of FJ $20.
The trek to the peak and back is around 4.5 kilometres and will take around 3- 6 hours. The walk is moderate however due to steep, slippery, rocky and muddy paths it may be challenging for some hikers.
You will find yourself surrounded in the luscious green landscape of the mountain and be able to spot different species of birds. Be sure to wear comfortable hiking shoes, insect repellent, apply sunscreen, take plenty of water and stay hydrated. Have your camera ready to capture beautiful scenic views.
Once you climb the peak you will be able to look down onto the village of Navai and the beautiful islands of Yasawa. When you trek down do spend some time exploring surrounding regions, you can take rest in Navai and get to know the locals and learn about their way of life.
Related Article: Things to do in Brisbane at Night

Tips and Helpful Links:

Accommodation:
For the best Accommodation deals – Check here

Travel Insurance:
We recommend World Nomad for Travel Insurance. Its super quick to check the price. Check price here

Flight Deals:
We recommend Skyscanner. Check the deals here

Car Rentals:
We recommend CarRentals.com

Books:
We recommend Books and Ebooks from Lonely Planet
Conclusion
There are many fun things to do in Fiji than just lazing on the beach. If you visit Fiji, make sure to try some of these activities and create moments that will last forever.
Please comment below with your feedback and suggestions, we would love to hear from you.