Things to do in Bangkok
by Seek To Travel, January 19, 2019
If you are thinking about what to do in Bangkok, then this article is for you. However, before we look at things to do in Bangkok, let's talk about what you should expect in Bangkok.
Bangkok is the capital of Thailand. This vibrant fascinating city is one of the most popular destinations in Southeast Asia for tourists visiting from all over the world. It is a major hub for a stopover or a holiday whether a luxury holiday, family holiday, honeymoon or backpacking.
The best time to visit Bangkok is during the cool season from November to February, an average temperature of 28 degrees. This is also the peak season.
You will find accommodations more expensive and most places crowded. The wet season falls from July to October with rainiest months falling in September and October.
Suvarnabhumi International Airport is about 30-40 minutes away from Bangkok CBD. The best way to get into the city is by meter taxi depending on traffic.
Expect to pay a freeway toll costing around 70 baht. A metered taxi is relatively cheaper and less of a hassle. Do arrange fare before starting your journey and make sure the taxi is running on the meter. Regular taxis should cost no more than 600 baht including tolls and taxes.
Bus services are also available 24 hours outside arrivals transport to transport center costing 35 baht. There are 11 bus routes available depending on your destination. Another option is the rail link city line, service from the airport run every 15 minutes.
It is cheaper and faster and takes around 25 minutes to the city. There are 6 stops in between and costs around 45 baht per person. From there you can take a taxi to your final destination.
Ok, now let's look at Things to do in Bangkok.
Find the Best Hotels, Flight and Car Rental Deals Online
Best Things to do in Bangkok
Visit The Grand Palace and Wat Phra Kaew
Visit Wat Arun (The Temple of Dawn)
Visit to the Floating Market
Evenings in Chinatown
Visit Wat Pho – The Temple of the Reclining Buddha
Chatuchak Weekend Market
Food In Bangkok
Nightlife in Bangkok
Day Trip to Ayutthaya
Most popular areas of Bangkok
1. Visit The Grand Palace and Wat Phra Kaew
The Grand Palace is one of the most popular iconic tourist attractions in Bangkok. The Grand Palace is located in the heart of Bangkok across the Chao Phraya River. The palace has been the Kings and the Royal court official residence since it was built in 1782.
The palace with its beautiful buildings features the Wat Phra Kaew, The temple of the Emerald Buddha. The Emerald Buddha is a green statue of the Buddha carved from a single jade stone and is regarded as the most important Buddhist temple in Thailand.
The Grand Palace is opened daily from 8:30am to 3:30pm and the entry fee costs 500 baht. Strict dress code applies. Visitors must dress appropriately. No short shorts, no sleeveless tops, no see through clothing and bare shoulders must not be exposed.
Sarongs are provided for rent at entrance and deposit will be refunded. Make sure to carry plenty of water as the heat can be unbearable if visiting during midday to afternoon therefore the best time to visit is in the morning.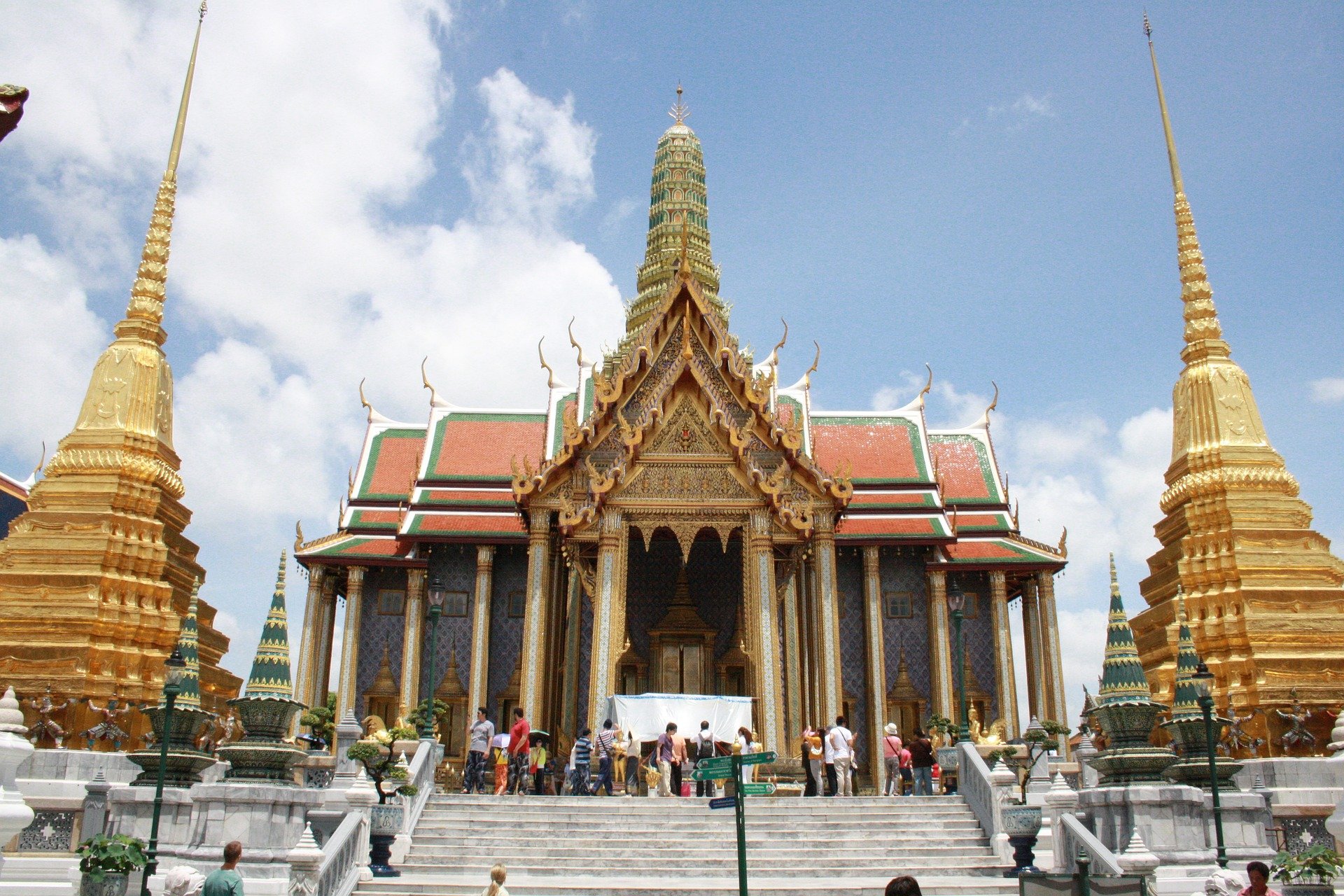 2. Visit Wat Arun (The Temple of Dawn)
The Wat Arun is located riverside on the west bank of the Chao Phraya River in Bangkok and is known as The Temple of Dawn. The architect of the building is so beautiful and unique, therefore one of the most stunning historic landmarks of Thailand. Although the name refers to the Temple of Dawn, the temple is stunning during sunset and evenings reflecting on the riverside of the river.
The temple is opened daily from 8:00am to 5:30pm, an entry fee of 50 baht applies. Do give yourself at least an hour to cover the temple and the best way to get there is by riverboat.
You will need to take the sky train to Saphan Taksin station and the Chao Phraya Express boat to Tien Pier 8. This will take you across to the temple.
3. Visit the Floating Market
The floating market is one of Bangkok's famous attractions. There are three main floating markets and each one of them has its own charm. It is advised to visit these markets early in the morning to avoid traffic and crowd.
The Damnoen Saduak floating market is the largest and well known market opened daily from 6:30am-11am. The market has been keeping its old tradition allowing tourists to get an insight into how products are bought and sold. The best way to travel is by a longtail boat that can be hired during the whole time of your visit.
This will take you through the narrow canals passing through homes of those who live on the river. The boats are filled with fresh fruits and vegetables, snacks, drinks and freshly cooked authentic Thai food. Be ready to do plenty of shopping and try amazing Thai food.
Amphawa floating market is the second largest floating market after Damnoen Saduak. This market is known to be more of an authentic market. As for most markets, the best way to travel the canals is by a longtail boat. It is recommended to visit early and to leave after lunch.
While you are there, it is worth visiting the Wat Bang Kung Temple. An old temple built in the middle of nowhere entangled in the roots of a tree. The market is only open on weekends.
Khlong Lat Meyon floating market is popular among the local Thai people and is considered the most authentic floating market. It is located close to Bangkok and you can either get there by taxi or BTS train. This market is mostly situated on the riverside.
The canals are narrow and only a few boats can access the water. All Thai food is priced cheap. The market is opened on Saturday, Sunday and public holidays from 9:30 – 4:30 pm. The main market is not on the water, there you will find many food vendors and enjoy a sit down meal.
All the markets rely on canals for transportation therefore the Thai's have continued for many years with their tradition.
Related Article: Things to do in Phuket

4. Evenings in Chinatown Bangkok
Chinatown is located in the Yaowarat rd area of Bangkok in Samphanthawong district. You can travel by taxi or take the MRT and go to Hua Lamphong Station, a ten minutes walk to Chinatown. The city comes to life at night.
You can experience amazing food from different food vendors all aligned and packed in the narrow allies and small streets. It is also a place for buying gold, most people from Bangkok visit Chinatown to buy gold jewellery.
Best Price For Activities in Bangkok
5. Visit Wat Pho – The Temple of the Reclining Buddha
The reclining Buddha is one of the largest statues of Buddha in Thailand. The statue of Buddha measures 46 meters long and is covered in gold leaf. The reclining Buddha is located close to the Grand Palace, a short walk away and is located behind the temple of the Emerald Buddha. It is a remarkable temple and one you must visit.
The Buddha's feet are decorated in the mother of Pearl with auspicious symbols of Buddha. There are 108 bronze bowls lined along the wall. For good luck, you may purchase a bowl of coins and the coins can be placed in each bowl.
While you are there, you can try a traditional Thai massage. The Wat Pho is known to teach and practice Thai massage and is home to the school of Thai medicine.

Search for The Best Flight Deals Online
6. Chatuchak Weekend Market
Chatuchak weekend market is the largest market attracting locals and tourists. The market consists of more than 8,000 market stalls with 27 sections divided into 6-11 categories. Do give yourself plenty of time when visiting the market.
You will be spending at least half the day. The main market is opened from 6am – 6pm on weekends. You will spend most of the day walking so wear comfortable shoes. Early morning is the best time to visit as it gets very hot and crowded, bring plenty of bottled water and keep hydrated.
To get to Chatuchak market, you can take the skytrain BTS to Mo Chit station or the subway MRT to Chatuchak Park station.
Plant and flower market are opened on Wednesdays and Thursdays from 6am-6pm.
Wholesale day on Fridays from 6am – 6pm.
7. Food in Bangkok
Food in Bangkok is heaven for food lovers. No matter where you are or where you go, you will be tempted to try all different kinds of delicious foods. The moment you step out into the fresh air you will immediately smell the aroma.
Local authentic Thai food is available everywhere with packed street food vendors and food stalls, local markets and shopping mall food courts. Overall a food experience to come back to.
You will find the best street foods, delicious and cheap and will experience the best flavours in Bangkok. Food vendors prepare all variety of foods whether it is a sit down meal or a snack you take with you on your stroll around the city.
One of my favourite food experience was a trip to the Terminal 21 shopping mall food court. Here you will find cheap authentic Thai food. It is a street food galore in an air conditioned location.
The vast selection of food had my mouth watering the moment I stepped off the escalator. The temptation of wanting to try everything from freshly made papaya salad, tom yum soup, pad thai and pad krapow and ending the meal with Thailand's most popular desserts, mango sticky rice and coconut ice cream.
The city is rich in history and culture with so much to see and do.
8. Nightlife in Bangkok
Nightlife in Bangkok is filled with many trendy rooftop bars, lively nightclubs and cocktail bars located throughout the city. Khao San Road is a popular party scene filled with backpackers. Young travellers stay here for cheap accommodation, cheap food and drinks and most of all for its busy nightlife. Bangkok's party scene comes to life after sunset when the temperature is cooler and bearable.
When the sun sets, the streets are transformed with loud music and coloured neon lights and the city comes to life. Enjoy the hustle and bustle of the food market and stalls.
Where to stay in Bangkok depends on what holiday you are looking for. Bangkok has many accommodations to choose from and it can be overwhelming deciding on where to stay. It is packed with luxurious hotels, serviced apartments and low budget accommodation all located in different areas of the city.
Check Out Price For Activities in Bangkok
9. Day Trip to Ayutthaya
Ayutthaya is located north of Bangkok making it one of the most popular places to visit for a day trip out of the capital. It was once a city of the kingdom of Siam and was recognized as the major international trading port until the Burmese destroyed and burned the city forcing everyone to leave.
What remains now is a historic heritage with the ruined archaeological site of palaces, statues, Buddhist temples and monasteries. Most visitors will visit the main site of Ayutthaya historical park. Here you will find four temples; Wat Phra Ram, Wat Phra Si Sanphet, Wat Mahathat, Wat Ratchaburan.
The best way to explore the ruined city of Ayutthaya is by boat or hire a Tuk Tuk and visit many sites which interest you. When visiting some of the temples, there is an entry fee of 50 baht. Please note: proper attire is required when visiting the historical park.
While you are in Ayutthaya, it is worth visiting Bang Pa In Royal Palace also known as the Summer Palace. It is a stunning palace located along the Chao Phraya River in Bang Pa In District in the Province of Ayutthaya. The King built this palace as the summer residence.
The palace features European inspired buildings and picturesque landscaped gardens. The garden is filled with luscious green mango trees throughout along with stunning plant sculptured animals and a floating pavilion set in the middle of the pond.
The palace is definitely worth visiting and one not to be missed during your day trip to Ayutthaya. The palace is open from 8:30 am to 4:30 pm with an entrance fee of 100 baht. Please note: proper attire is required when visiting the palace.
There are many ways of getting to Ayutthaya. The best way is to hire a private car from Bangkok city that will take around 1 hour. Trains and buses are also available, although it is a lot cheaper, do keep in mind it does take longer to reach.
Whichever transport you choose, you will go through stunning towns along the way!

10. Most popular areas of Bangkok
Below are the most popular areas we recommend for you to visit in Bangkok.
Ratchada
A simple modern town located north of downtown metropolitan area. Ratchada is not as busy as Sukhumvit however the nightlife here is more affordable and is popular to locals.
Sukhumvit
Sukhimvit is the longest road in Thailand consisting of many shopping mall, massage parlour, eating and nightlife. The area is filled with many luxurious hotels, trendy clubs and modern shopping malls all lined either side of the street.
It is very easy to get to via skytrain BTS. Popular malls in the area are EmQuartier, Terminal 21 and The Emporium Bangkok.
Silom
Silom Is the financial sector of the city with many corporate buildings and home to many of Bangkok's top luxury hotels.
Siam
Siam is the trendy city of Bangkok, home to many popular shopping centers and known to have the best in the city. The best way to reach Siam is by the BTS skytrain.
Shopping malls located here are Siam Centre, Siam Discovery, Siam Paragon and MBK Centre, all a short walk away.
Pratunam
Pratunam is a popular location for those who are interested in wholesale shopping markets and malls. This area is very busy and has many budget accommodations.
Big wholesale shopping is very cheap if buying in bulk. Pratunam is close to Sukhumvit and Siam. Take the BTS skytrain to Ratchathewi and a 10 minutes walk from there.
Suvarnabhumi Airport Area
The International airport is located here. It takes about 40 minutes by taxi to reach central Bangkok city. This area is best for transit and there are many accommodations, food and restaurants close to the airport all about 10 minutes away.
You can arrange for pick up and drop off with the hotel staff. A perfect location for those who have a long transit.
Riverside
Riverside is one of the most stunning areas of Bangkok with a historic monument and palaces. The scenery here changes, appearing different from day and night due to the lighting. Temple and Palaces are mostly located here.
Luxury hotels are located here all close to the city and are popular with families and honeymooners. The best way to travel is by longboat and water taxi. The station to get off is Saphan Taksin BTS station.
Chidlom Ploenchit
Vibrant sophisticated shopping area with fine dining restaurants. Glitzy nightlife scene, popular 4-5 star hotels and shopping malls in the area.
Central World, Central Chidlom, Central Embassy, Gaysorn and Amarin Plaza are all the main malls in the area.
Sathorn
Modern area in Bangkok city with fine restaurants and trendy hotels such as Sukhothai, Banyan Tree and W Bangkok. This area contains many skyscrapers with hotels popular for their rooftop bars, the highest level above other buildings with stunning views of Bangkok city.
Upmarket serviced apartments are also available for those who are not interested in staying in hotels. Sathorn also has an old Buddhist temple worth visiting dating back to Ayutthaya period, Wat Yan Nawa Temple.

Tips and Helpful Links:

Plan your holiday:

Accommodation:
We recommend Bookings.com for Accommodation Deals – Check Booking.com 

Travel Insurance:
We recommend World Nomad for Travel Insurance. Its super quick to check the price. Check price from WorldNomads

Flight Deals:
We recommend Skyscanner. Check Skyscanner deals here

Car Rentals:

We recommend CarRentals.com

Books:

We recommend Books and Ebooks from Lonely Planet
Conclusion
Travelling in Bangkok is very easy and most places are accessible. Skytrain BTS is efficient and convenient and cheap. Taxis are cheap to travel but do keep in mind traffic will and can affect your journey. Express boats are available if travelling along Chao Phraya River.
You will find motorcycle taxis. These are very popular for solo travellers and you will notice them wearing orange vest, located in street corners, busy roads, shopping malls and skytrain stations. Fares start from 10 baht.
Wear helmets as fines as much as 1000 baht can be issued by traffic officers. Helmets are provided by motorcycle taxis. Tuk Tuks are very popular and are the signature transportation of Bangkok. Fares do vary with short trips starting from 30 baht. Do negotiate with drivers and negotiate 5-10 baht less than their offer.
Be careful of scams, tuk tuk drivers are known to take passengers to other shopping areas diverting passengers from their destination. Buses are a cheap way to travel, most buses run from 5am-11pm and prices range from 7-22 baht depending on the distance. Fare is collected by bus conductors, carry a small change of 100 baht.
There are varieties of  Things to do in Bangkok for kids, family, solo travellers and couples. What will be your Top Thing to do in Bangkok ? What has been your Best thing to do in Bangkok ?
Please leave a comment below, we'd love to hear from you.