How to use Skyscanner to book flights in 2020
Seek To Travel editor | November19, 2019
Before we talk about how to book flights with Skyscanner to save money on Flights, let's talk about if you should use Skyscanner.
There are many websites available that will help you search and book cheap flight tickets online. The website we use to book our flights or to compare flight prices is Skyscanner.
The website was first developed in 2001 and the company was founded in 2004. Skyscanner is now owned by Ctrip, which is the largest travel company in China.
Skyscanner now has over 60 million users per month and its available in 30 languages.
What is Skyscanner?
Skyscanner is a search engine ( it also has a mobile app ) which helps you find the best deals for Flights, Hotels and Car Hire.
Skyscanner searches the internet for flight deals and it presents all options in one place for you to select the best deal.
Try Skyscanner Below
Is Skyscanner legit?
Yes, Skyscanner is one of the most trusted online travel search websites. It is safe, legit and completely free to search for the cheapest flight tickets online.
We recommend you use Skyscanner to find the best deals online for flights however to book the flight, just make sure the company you will use is reputable.
How does Skyscanner make money?
Skyscanner makes money by promoting deals from Airlines, Online Travel Agents, Hotels and Car Rental Companies. When Skyscanner refers deals to their customers and when someone buys it, Skyscanner gets their commission.
You will also notice that Skyscanner displays advertisements on its website. They get paid for advertisement banners as well.
Skyscanner also provides a White Label service to websites so they can provide a search function on their website. Businesses can use Skyscanner's API on their website and when a customer buys using Skyscanner's API both website and Skyscanner makes a commission.
How to book the cheapest flight using Skyscanner
Let's go through some of the features of Skyscanner so you can search for the best flight deals.
When you open the Skyscanner website, you will notice that you can search for Flights, Hotels and Car Hire. To search for flights, make sure that you have selected Flights. It should be the default option.
The first thing you should do is log in to your account if you have created one. That way all the settings that you have selected in your profile will show up. If you don't have an account, you will be able to search and book flights without one.
Before you start searching for deals, you should check the Country and Currency is correct on the top right side ( as highlighted below ). If it's not correct than just click on the currency symbol and change it to what you prefer.


Now you are ready to search the cheapest flight deals. You should now select if you are looking for a Return, One way or Multi-city option.
You can now enter where you would like to travel From. If you know where you would like to travel To, you can provide a specific destination. If you are not sure where you would like to travel to, you can type Everywhere which will show you a snippet of all the different countries you can get flight deals.
You are now ready to enter Depart and Return dates. If you are not looking for a specific date to travel, you can select Whole Month and choose the month you would like to travel.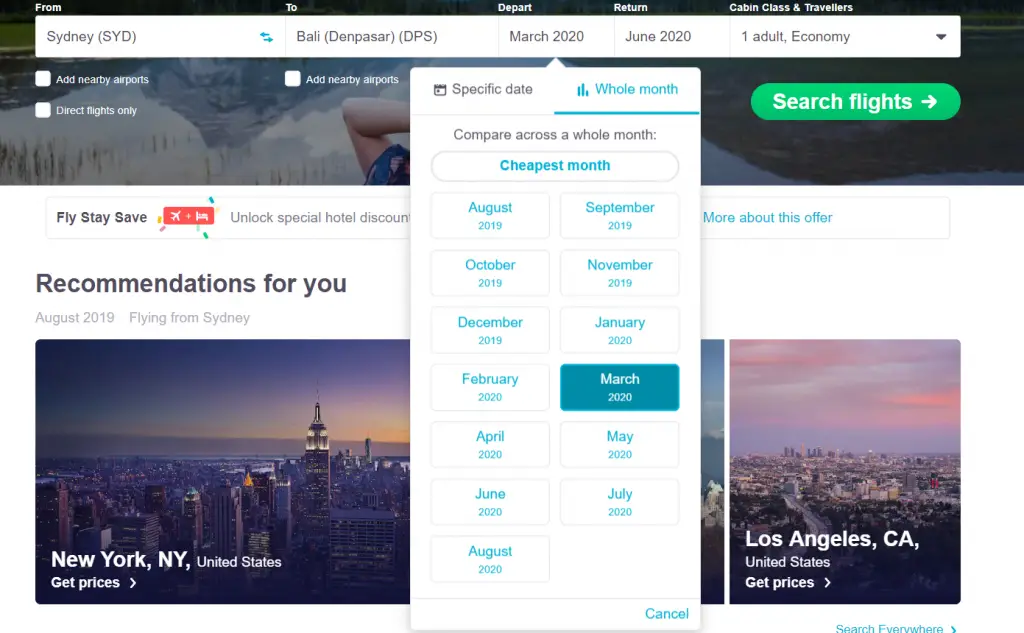 Another option to get the best deal is to select Cheapest Month. This option will show you the cheapest month which could be this year or the next. This is the best option to select if you don't mind waiting for the best deal.
You will also need to select options like Number of Travellers and if you are looking for Direct Flights Only.


Once you have selected your requirements, you can click on Search Flights which will take you to the next screen where you will be able to see Calendar or Chart view.
We like to use the Calendar view as it shows prices that are colour coordinated. Green is the cheapest, Orange not bad and Red the most expensive option.
Assuming you have selected Return Flights, if you change Depart date the price and colour in the Return section will change.
Once you have selected the dates that you want, you can click on Show Flights.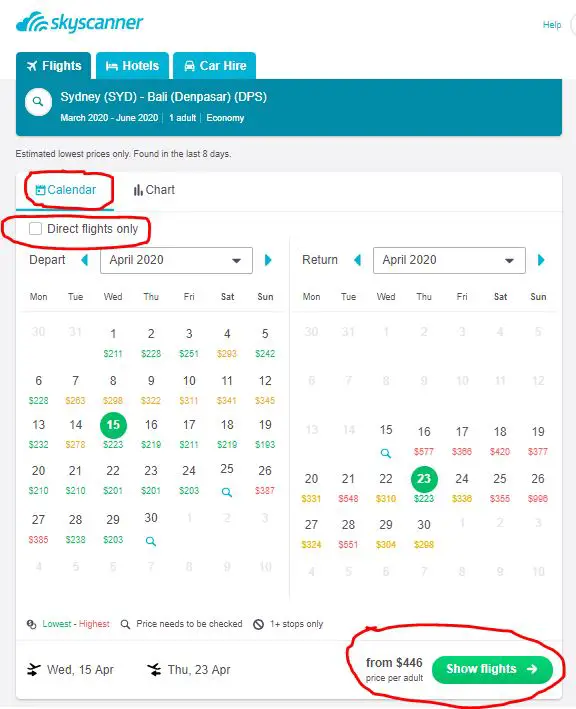 You will now be able to see a few options. You can select Best, Cheapest, Fastest options. We usually find that deals under Best option are really the Best as it shows the fastest route and also the cheapest flight deals.
If you are after the cheapest flights and you don't mind spending time in long transits then Cheapest option would work for you to save some money.
The fastest option will show you the fastest route to your destination, but this option in most cases will be more expensive than the other two options.
On the left side of the screen, you will see a few different options. One of the options is Stops. You can select Direct or 1, 2 Stops. Generally direct is more expensive than the 1 Stop option.
You can also select your preferred Departure, Arrival times and also Airlines you prefer. However, you can start without making any changes to these options.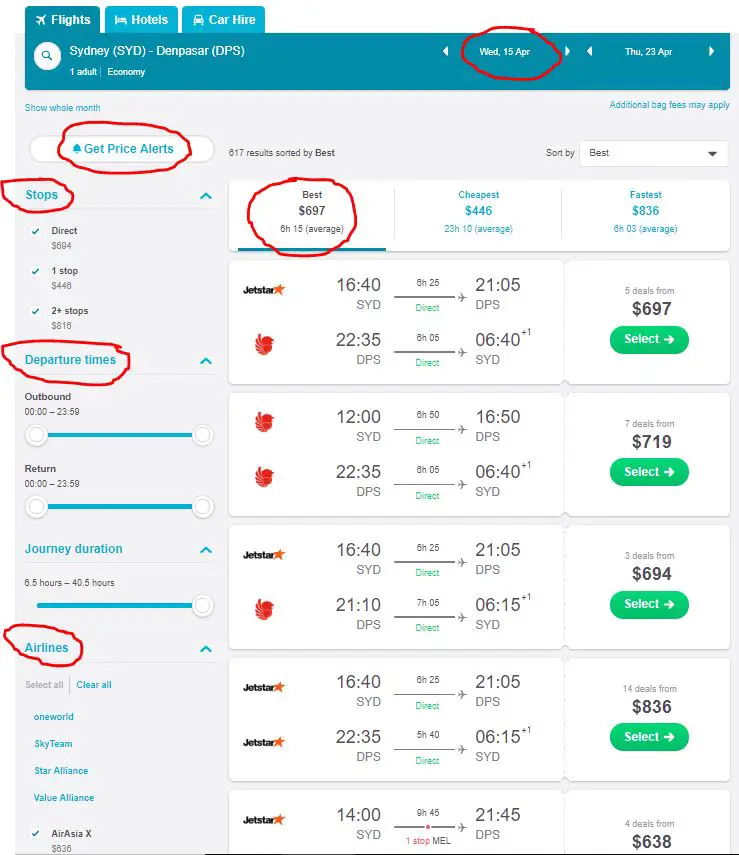 You will notice that Skyscanner will show you websites which are Online Travel Websites however it will also give you the option for Airline websites as well.
You can choose the website you would like to book your tickets. If you don't recognize a website, you can look at the Star Rating for each website which will give you an indication of how good that company is, as these ratings have been provided by passengers who have used them in the past.
Once you are happy with the price and the company, you can go ahead and book your ticket. To book your ticket, you can simply click on Select. Skyscanner doesn't book the tickets or take payments. Skyscanner will redirect you to the company's page where you can book your ticket.
Tip: If you are not ready to book the ticket then you can click on Get Price Alerts and you will be notified if there are any price changes.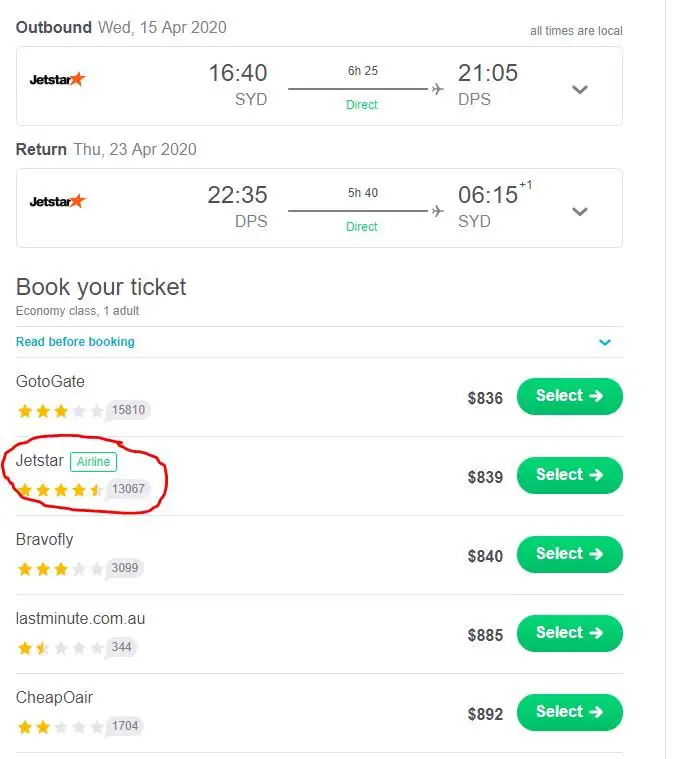 Skyscanner Map View
Skyscanner also has a map view. In the map view you can enter the Origin and Month you would like to travel and it will show you prices of all the destinations on the map.
It is a handy tool if you are not sure where you would like to travel and how much you should expect to pay to travel in a particular month.
Tips and Helpful Links:

Accommodation:

For the best Accommodation deals – Check Booking.com

Travel Insurance:

We recommend World Nomad for Travel Insurance. Its super quick to check the price. Check price here

Flight Deals:

We recommend Skyscanner. Check the deals here

Travel VPN:

Connect to Internet securely. Try NordVPN
Conclusion
Skyscanner is a great tool to search and find the best flight deals online. Once you find the best deal, make sure to book your tickets with a reputable company and not just choosing the cheapest option.
If you need help to use Skyscanner, please comment below and we will try to answer your questions.
Recommended Articles:
Where should you travel in 2019, suggested by the experts