Hire A Private Driver In Bali | 2023 Ultimate Guide
Are you planning to hire a private driver in Bali? If so, this article will help you find the best driver in Bali.
Bali is a beautiful island worth exploring. It is many people's favourite holiday destination, one that everyone keeps coming back to.
There are so many things to do in Bali, whether you are looking for adventure or looking to relax. There are things for everyone, whether you are travelling alone, in a group or as a family.
In this article, we will talk about why you should hire a driver with a car also known as a chauffeur service in Bali.
We do believe that there's no better way to travel in Bali than by hiring your own private driver with a car. Hiring a driver in Bali with a car gives you the flexibility of seeing and enjoying the things you want to do.
There's a selection of cars you can choose from according to your requirements. Please take a look here.
So, let's get started and take a look below at why hiring a driver is the best way to travel around Bali.
Want to book a driver for your trip to Bali? Contact us
Simply email us at [email protected] or complete the form below for a personalised service
---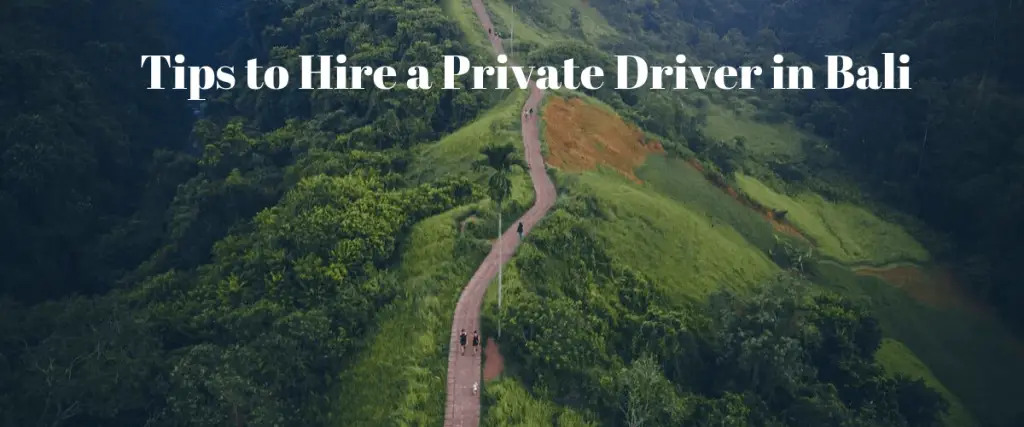 1) Should you hire a private driver in Bali?
We recommend that you hire a private driver in Bali. If you hire a driver, you can create your own itinerary and explore Bali at your own pace.
There is no better way to travel in Bali than to hire a driver. You should plan your trip in advance and consider hiring a private driver. You can hire a driver for full-day or half-day trips for sightseeing.
In most cases, booking a driver is cheaper for long-distance trips compared to public transportation, taxis or ride-sharing.
The amount you of money would have to pay would most likely be the same if not more than hiring a driver for a day. For example, 4 short trips in a taxi may cost you the same or more as hiring a driver for half a day.
There are so many places to see and things to do in Bali. Hiring a good private driver in Bali who knows the area well will make a lot of difference.
You can find the right type of vehicle here according to the number of passengers travelling.
2) Where can you go with a private driver?
There are so many options to choose from when you hire a private driver. It gives you the flexibility to plan your day whether it's for half a day or a full day. Most drivers will work with you and will recommend some of the must-see places to visit. 
You can go to South Bali, East Bali, Jungle Swings, Ubud Tour, Nusa Dua, explore culture in Bali, and more. The island of Bali has a lot of offers.
You can book an all-day trip or a half-day tour for your next trip to Bali. A driver will take you anywhere you like, you just need to tell your driver why are you visiting Bali, and what kind of destinations in Bali would you like to explore. 
Below are some of the things you can do in Bali and places to visit. You can also, visit our article on Things to do in Bali for more details.
The beauty of booking a private driver is that you can mix things up and go anywhere in Bali with your personal driver. You can plan your day according to what you would like to see and do.
Below are a few ideas on where you can go when you hire a Bali private driver. 
Temples:
One of the most beautiful attractions in Bali cannot be missed. Some of these temples are in one of the most peaceful locations you will find on the island. One of the most photographed places in Bali is the Lempuyang Temple.
Waterfall:
If you feel like a bit of an adventure, then you should take a trip to see waterfalls in Bali. The waterfalls are located in some of the most beautiful locations in Bali
You may have seen waterfalls through people posing for photos on Instagram. If you want to capture your own Instagram-worthy pictures, you should consider visiting some of the waterfalls.
You will pass through great viewing points surrounded by lush mountains when you trek down to the waterfall. You can also take a dip in the water close to these waterfalls while enjoying stunning views too.
This article has comprehensive information about waterfalls in Bali that you should check out.
Shopping:
Bali is famous for its markets. If you would like to do some shopping, then you should go to the local markets. There are a few good markets in Ubud and Seminyak to get some of the best bargains.
Be prepared to show off your bargaining skills! These markets are great for taking back souvenirs of authentic Balinese items.
Beaches:
There are good beaches along the coastline of Bali. Depending on which area you want to see and how far you want to travel, you may want to make it a day trip with a private driver.
Your driver can take you for a tour and stop at different beaches. You can relax for the day while soaking in the sun.
Go Drinking:
Bali has some of the best nightlife with trendy bars, beach clubs, and cafes/restaurants. You can arrange with your driver to take you around for a day/night of bar hopping.
This is the perfect way of getting around and not having to worry about how to reach home safely. Relax and let your hair down for a great fun day out at some of the hippest places in Bali.
3) How to find a driver in Bali?
Getting a driver in Bali is not challenging but finding the best driver in Bali who understands your requirements may be tricky.
So how to hire a driver in Bali? The best way for you to hire the best driver in Bali is through word of mouth.
If your family or friends recommend a driver and you trust their recommendation then that would be the best option.
Your friends and family can share their experience with you and you can consider hiring a car and driver in Bali they recommend.
You can also look at recommendations for drivers in online forums however there are plenty of fake reviews online these days.
You can also search in Facebook groups, but you will find there are a lot of self-promoters who may or may not suit your requirements.
If you prefer a verified driver with a valid driver's license, you should consider contacting drivers on Seek to Travel. You can discuss your plans with drivers anonymously and there are no booking fees.
You will also be able to negotiate in advance and pay online so you won't have to pay cash to the drivers after your trip.
We also provide a VIP service. You can let us know your requirements and we will connect you to the best driver available.
4) Should you connect with random drivers using WhatsApp?
How to get a private driver in Bali? Should you use WhatsApp, Facebook, TripAdvisor? Let us go through some of these ways in a bit more detail.
Giving out your phone number to a stranger can be risky. Once you give out your number to someone, they can save your phone number on their phone. They will then be able to see your pictures, profile details, and other information through WhatsApp/social media and other technologies.
To avoid this situation, it is best to stay anonymous when you contact drivers. You should get information from drivers and only give your contact details to just one driver which you have selected to work with.  This will minimize you having to give your personal details to several people.
Seek to Travel messaging technology allows you to message drivers anonymously. You can choose the driver you would like to work with, pay securely and get connected to the driver by email.
5) Should you connect with random drivers on Facebook or Facebook Groups?
It depends on who is recommending drivers to you on Facebook. Is it someone you trust or is it your friend on Facebook?
You will find that once you ask for a recommendation on a Facebook Group, you will be overwhelmed with responses from drivers you do not know.
You may get some recommendations from group members as well. If you know them and trust their advice, then you can look into the details.
If you don't want to share your Facebook profiles with strangers, then you should not post on public pages. You will find that taking advice from strangers on Facebook who you do not know and trust, is not the best idea.
6) How about Forums like TripAdvisor to connect with drivers in Bali?
You may have asked yourself, how about drivers in Bali recommended in Forums?
Well, if you search in Google about fake reviews on TripAdvisor, you will come across a ton of articles like this from Travel Addicts and this The Guardian, which talk about TripAdvisor's fake reviews.
It is confusing and can be a major problem. Who do you trust, and which businesses are getting true reviews?
You don't want to book a business based on just reviews. You should contact the driver, and send them anonymous private messages with all your questions.
Only give your contact details if you truly think the driver understands your requirements and you would like to work with them.
This way it will minimize the risk of giving your contact details to several people.
7) Should you book drivers from your hotel?
Booking through a hotel can be an option but it will work out to be quite expensive, costing you extra.
You may find that if a private driver costs you $40 on Seek To Travel, some hotels may quote you around $60 for the same service. So, it is always recommended to plan your trip in advance.
Like anything in life, if you book or buy something last minute you may end up paying a bit more. We recommend that you plan your trip in advance.
You can check out Seek To Travel and plan your trip in advance.
8) Where else can you book a private driver for Bali?
Besides Seek To Travel, you can find drivers on the streets outside hotels. They are usually sitting in groups right outside the hotels and shopping complexes.
You can also book random drivers on the streets as well. But chances are they will not know English very well or they are not familiar with areas you would like to explore. It is also difficult to know if the driver is good and has a valid driver's license.
A Tip: When you do come across these drivers, some of them will only take you to places you didn't want to go.
For example, places to shop (usually jewellery and craft shops) and eat. The drivers do get a commission for taking visitors there, that's why it is advised that you know exactly where you want to go and want to see.
You will also find some drivers will only drive you around and may not communicate as much as you'd like to. They may not have an understanding and knowledge about the places you will be seeing in Bali.
Drivers registered with Seek To Travel will make sure they will walk around with you to show you places. They will give you an insight into the place and take you to the right places like a local guide.
You will feel safe and secure with a local person and will get a real experience of Bali like a local.
9) What do we look for in a driver in Bali?
We look for the below criteria in a driver when we register them on our website. We recommend you look below:
English speaking driver:
You should choose a driver who speaks English and who can communicate with you. It is important that they can be able to understand your requirements and that you understand how they work.
An overall understanding, communication, and knowledge about the itinerary planned out for the day in the private car.
Humble:
They should be humble and should always not be aggressive in any situation and patient. They should be flexible about pickup and drop-off times and work with you to plan the trip that meets all your requirements.
Local Experience:
Ideally, your driver should be a Bali local reliable driver and should have knowledge about the places you are visiting.
Seek To Travel works with only local drivers. Drivers will not only take you to your destination, but they will also show you around. They will act like a local guide giving you a full insight into the places where you are visiting. This will be a wonderful experience, the best way of seeing a city is by local experience.
All-inclusive package:
You should hire a driver service that includes everything in their tour package. They should include any tolls, petrol, parking fees, etc.
Some places will have entrance fees which will not be included, you will need to pay for a ticket, however, entrance fees do not apply for most drivers.
10) Do you have to pay for waiting time?
Most of the drivers do not charge for waiting time. For the private tour, you should arrange a pick-up time and a meeting point with your driver in advance to avoid any confusion.
If there are any changes to your plan, you should inform the driver and reschedule the pickup time.
For airport transfer, most of the drivers we work with understand that there may be some situation that is not under your control.
They are considerate/flexible that things can change, and it is beyond your control if flight time changes. Hence, they will not charge you extra. If possible, do inform the driver if there have been any changes or delays.
NOTE: Do inform your driver beforehand how many passengers and the number of luggage you will carry. That way the driver will be able to bring the vehicle that will fit everyone and the luggage.
11) How much does it cost to hire a driver in Bali?
Private driver cost in Bali depends on two things, the time you would like to hire a car and the type of car. A luxury car price will vary from a standard car. A 7-seater car will be more expensive than a 5-seater car.
Also, in Bali full day will be more expensive than half-day trips however it will not be double the price. You will probably pay an extra 30% for the full day hence it's worth paying for a full day rather than a half day.
Below will give you some idea of the cost if you rent a car with a driver in Bali.
So, how much is a private driver in Bali?
Full Day: A full day which is 8-10 hours of service will cost around USD $40 for a standard 5-seater car.
Half Day:  Half-day tours are around 4-6 hours, it will cost around USD$30-$35 for a standard 5-seater car
Airport Transfer: Depending on where you need to go, Airport Transfers will typically start from USD $15. For a $15 transfer, drivers should be able to take you to places like Seminyak, Kuta, and Legian. Make sure you communicate where you need to be dropped off and the price beforehand.
Tours in Bali: The price for fixed tours in Bali will depend on the length of the tour and the distance the driver needs to cover. You can expect to pay around $50 a day plus any extra fees for entrance to certain attractions.
Please take a look here for pricing from private drivers in Bali. The prices and details are attached for each of the listings. If you would like more of a luxurious experience of driving around Bali, why not hire day one of the ultimate luxurious cars here?
Recommended Articles:
12) What happens if you go overtime for booking?
In case there is a situation where your trip may go over time, talk to the driver. You can make arrangements with the driver and check with the driver if there will be an extra fee for the overtime.
Most of the time the driver will charge per hour and cash payments can be made to the driver at the end of the trip.
13) When is the best time and day to book?
It is advised to book in advance so that you can plan your trip properly and have enough time to communicate with the driver. The drivers will be able to provide enough information in regard to your requirements and to make all the arrangements happen.
We suggest not to leave it too late for example on the day or the night before your trip and to allow a day before booking so that we can make proper arrangements for you with the driver.
It is important that you provide as many details and have clear communication with your driver.
14) Do you have to pay an extra fee for Airport Transfers or Trips?
No, fees are not applicable to most places. There may be situations where you will have to pay extra depending on the distance you are travelling.
It is advised to have clear communication with the driver and provide as much information on where you need to go.
Make arrangements with the driver on prices and pick up/drop off time and location beforehand so that everything is clear.
15) Is there an extra fee for an early morning pick-up?
No, there is no extra fee for early pickups.
If your plan changes, you should provide enough notice and time for the driver to make arrangements.
16) Should you tip your driver in Bali?
Do you tip in Bali? How much do you tip a driver in Bali? These may be some of the questions you have thought about.
You do not need to tip in Bali, which includes drivers and other places you may visit like restaurants, bars, and hotels.
If you are booking a driver with Seek To Travel, you do not need to pay any extra fees. Although, it is not necessary to tip you can if you wish to.
Even $5 goes a long way for drivers in Bali, they will appreciate your kindness.
17) Should you consider driving in Bali?
In every country you travel to, you will find that there is a slightly different way of driving. Bali is no different.
You may be used to driving in your country and you may be good a great driver. However, you shouldn't risk driving in Bali.
If you search online, you will find plenty of articles that talk about accidents in Bali. Hence, it is best not to drive in Bali.
You can hire a driver in Bali for as little as $40 a day. If you share that with four of your friends, it's only $10 a day per person. Do you think it is really worth taking a risk for $10 a day?
Source: The Sydney Morning Herald

18) How to hire a private driver using Seek To Travel?
There are two ways to book the best private driver.
You can search for tours, trips and airport transfers using our search page here. Once you find the service you are looking for, you can contact the driver anonymously to make sure the driver will meet all your requirements.
Once you are happy with their response, you can click on the buy button to book their service. Once you have paid, we will send an email to you and the driver notifying you about the payment.
You can then exchange your phone numbers if you wish to. This way, you can maintain your privacy until you find the driver you are looking for.
Another way is to simply provide your requirements to us here and we will do all the work for you. We will look for a driver and book the driver on your behalf.
We do not release the payment to drivers until the trip is completed. Hence, you can be assured that the driver will maintain the highest quality throughout your journey.
Conclusion
Bali is truly a beautiful place that is filled with so much natural beauty, the perfect place for families, romantic spots for couples and plenty of activities for adventure seekers.
The people here are generous and happy and love to share their culture and traditions with visitors, you will see amazing cultural sites of the Balinese people. 
To see and explore Bali on your visit, as discussed in this article, we do highly recommend hiring a private driver with a car. Not only to just drive you around but to also have a local guide to take you to some of Bali's famous locations and attractions that cannot be missed!
If you have any questions or would like to share your feedback, please leave a comment below.
Have a safe trip and happy travels!