Things to Do in Seoul
by Seek To Travel, April 27, 2019
Are you looking for Things to do in Seoul? Then this is the article for you.
Seoul is the capital city of South Korea that is also the largest and the most populated city in the country. It is a city of buzzing culture, fashion, technology, mountains, temples, skyscrapers and green parks.
Seoul is a place where modern meets tradition. It is a city with a booming economy and crowded with tourists.
In this article, we are going to talk about the most amazing Things to do in Seoul. Also, we will give you some tips on how to make your trip to Seoul more enjoyable and relaxing.
So, scroll down and see what we have prepared for you.
For the Best Flights and Hotels Deals, Search Below
15 Best Things to Do in Seoul
1. Stroll Around Bukchon Hanok Village
Bukchon Hanok Village is an area between Gyeongbokgung Palace and Changdeokgung Palace that is filled with traditional Korean houses – hanok. It has more than 600 years of history.
The name Bukchon means Northern Village and it used to be occupied by aristocrats. Today, Bukchon is still a residential area that has about 900 hanok. The most famous alley in the area is Gahoe-dong – the highest point in the village overlooking roofs of Bukchon hanok and modern Seoul skyline.
The majority of hanok operate as cultural centers, restaurants, shops, art galleries, tea houses or guesthouses. You can stroll around the village for a half day and immerse yourself in various activities at the cultural centers. After the relaxing stroll, you can make your way to explore Samcheong-dong (a very trendy area with lots of boutiques, coffee shops, and traditional restaurants).
Our tip: be respectful to the residents of Bukchon – people do live in hanok and don't try to open gates leading to the garden – gates will be opened for the places where you can enter. It might sound obvious, but lots of residents complained about tourists being very noisy and entering their property.
Related Article: The Geisha of Japan: The Past and the Present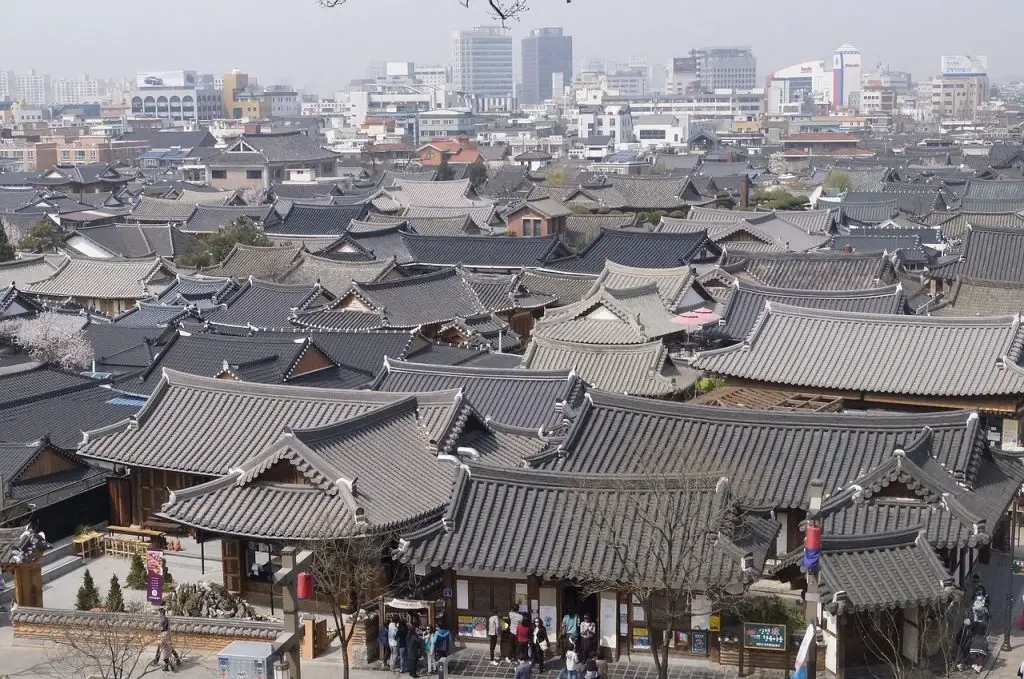 2. Hike Mt. Bukhansan in Bukhansan National Park
Mt. Bukhansan is the highest mountain in Seoul. It is located in the Bukhansan National Park that stretches through the northern suburbs of Seoul.
The national park is just a short subway ride from Seoul downtown. The main trail leading the Mt. Bukhansan highest point (Baegundae 836.5 meters) is conveniently located by the subway station. You can easily reach Baegundae peak within 1 hr and 30 min.
However, it is a very steep trail and requires some courage by the end of the trail – you will have to pull yourself using ropes in order to climb a big rock to reach the peak. If you don't like this idea, you can always try any other trail of 100 trails in the national park.
Some of the trails lead to beautiful valleys and temples, so you can just enjoy nature. The entrance to the park is free and there are tons of cheap places where you can have your lunch.
Related Article: Things to do in Singapore on a Budget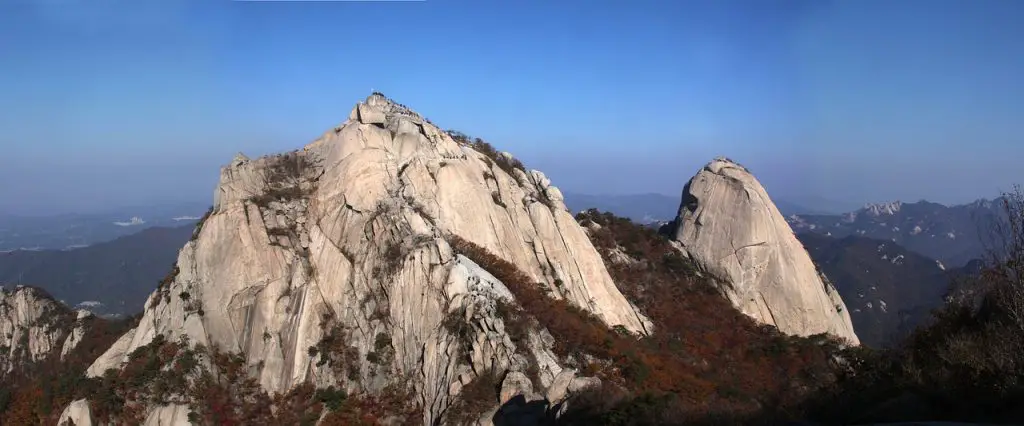 3. Enjoy Views from Above at Seoul City Wall
Seoul City Wall is also known as Hanyangdoseong that is a series of walls made from stone and wood and was used to protect the city from invaders. The wall was first built in 1396 and continued to be built over several centuries.
The majority of the wall was destroyed during the Korean War, so only certain parts were rebuilt. The wall goes through 4 central Seoul mountains (Inwangsan, Bugaksan (Baegaksan), Naksan and Namsan) and has several majestic gates such as Hyehwamun near Naksan mountain. You can either do a whole wall walking (about 18.6 km) or do a section.
Find more information and maps here. The most scenic route is Inwangsan (rocky mountain) – Bugaksan (heavy militarized mountain area) – Naksan (beautiful murals) mountains where you will have a chance to see great views of Seoul including Presidental Blue House and Gyeongbokgung Palace.
Related Article: Things to do in Phuket
Check out the best accommodation deals in South Korea
4. Relax at Han River Park
Han River is the main river that divides Seoul into North Seoul (old Seoul/downtown) and South Seoul (new part of Seoul) and is highly related to economic growth.
Today, Han River is mostly known for its beautiful parks that enable locals and tourists to enjoy the river and blossoms. Han River has 12 parks.
The most popular Han River Parks are Yeouido (most famous Han River park), Seonyudo (located on the island of Han River), Ttukseom (have a great outdoor water park during summer), Gwangnaru (famous for high grass and bird watching), Banpo (you can watch Banpo Bridge rainbow fountains in the evening during late spring-early autumn), and Jamsil (a very relaxing park with a campsite).
It is popular to have fried chicken and beer for the picnic while enjoying a relaxing atmosphere. However, if you don't want to waste money on food and drinks, you will find nice paths along the river, viewing points, and outdoor exercise equipment. For your information, all popular parks are close to subway stops, so you can easily reach them.

Related Article: Things to do in Thailand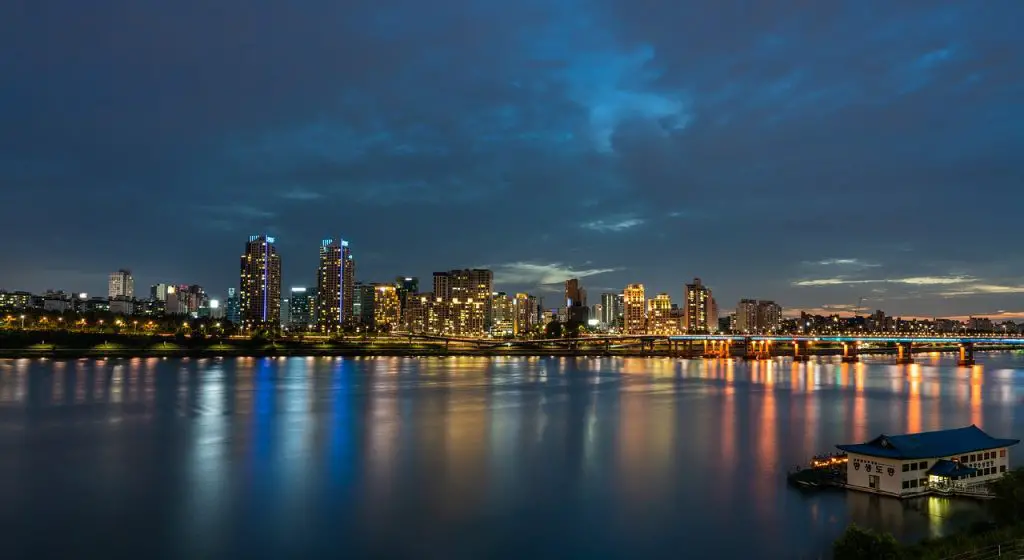 5. Watch Street Performances at Hongdae
Hongdae is a neighborhood of Seoul in Mapo district. The name Hongdae is a short form of Hongik University (Hongik Daehakkyo) and basically describes an area around Hongik University that is extremely popular among young people, including tourists and locals.
It has tons of trendy coffee shops, clothing stores, amazing street food, great pubs, and crazy nightlife. However, Hongdae is the most popular for its street performances. Every evening till early morning Hongdae alleys are filled with talented students who dance, sing and play with musical instruments.
Usually, all performers are as good as celebrities, so you won't be disappointed. Our tip: after arriving at Hongdae, go to Hongdae playground (easy to find on the map or ask locals) where all the bands gather. Also, this playground was featured in many Korean films and music videos.
Related Article: Weird and Cool things to do in Japan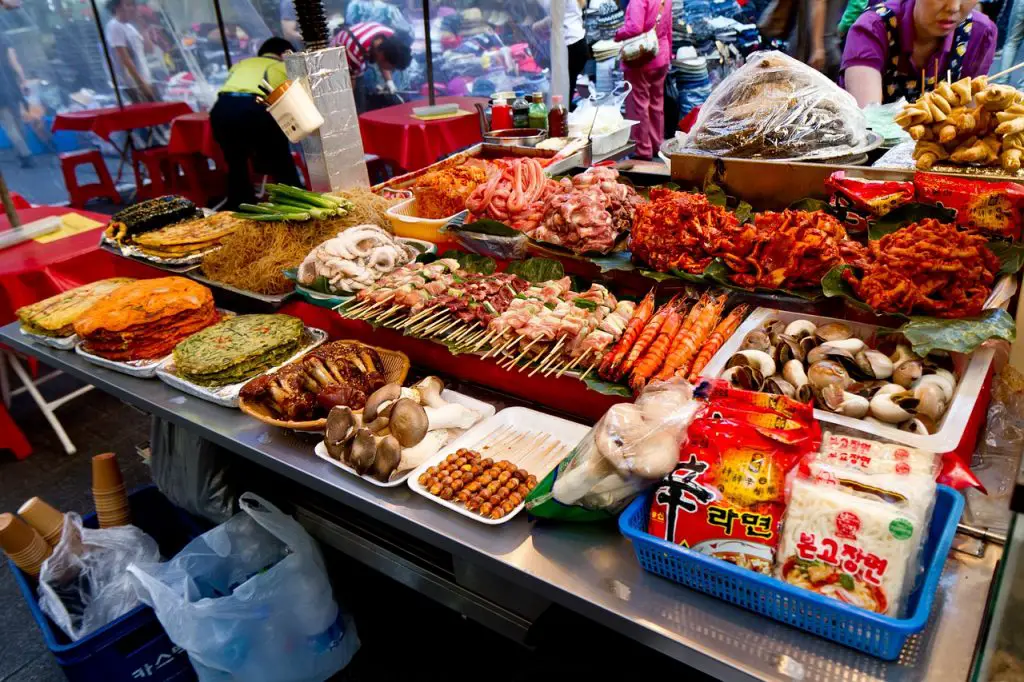 6. Get to Know Korean History at The National Museum of Korea
The National Museum of Korea is the most well-known Korean museum and is one of the biggest art and history museums in the world. It has a fascinating collection of Korean arts from ancient times to the modern era.
Also, the museum houses important cultural assets related to Korean history. The museum can be explored on your own or you can get a tour that will take you through the museum and explain everything. If you decide to explore the museum on your own, there are lots of information in every gallery and everything is labeled.
A museum is a perfect place if you seek to know more about Korean history and arts. Our tip: when you finish with the museum, go to the Yongsan Family Park located close by. It is a beautiful park filled with monuments and ponds.

7. Visit Palaces
Seoul has five palaces (Gyeongbokgung, Changdeokgung, Changgyeonggung, Deoksugung, and Gyeonghuigung) that once used to be one big palace.
The main palace is Gyeongbokgung (entrance fee is around $3) which is also the biggest of all 5 palaces. Another popular palace is Changdeokgung (entrance fee around $3) which is included in the UNESCO world heritage list and has an amazing secret garden (entrance fee $5) that can be explored only with a tour.
A short walk from Changdeokgung, another palace is standing – Changgyeonggung (entrance fee $1) that is filled with old original buildings instead of rebuilt ones.
The smallest palaces of all 5 are modern Deoksugung palace (entrance fee $1), that has a big park, and Gyeonghuigung (free) that is the youngest palace and connected with the Seoul Museum of History. Remember! All palaces are free during national holidays.  
Related Article: Best Things to do in Tokyo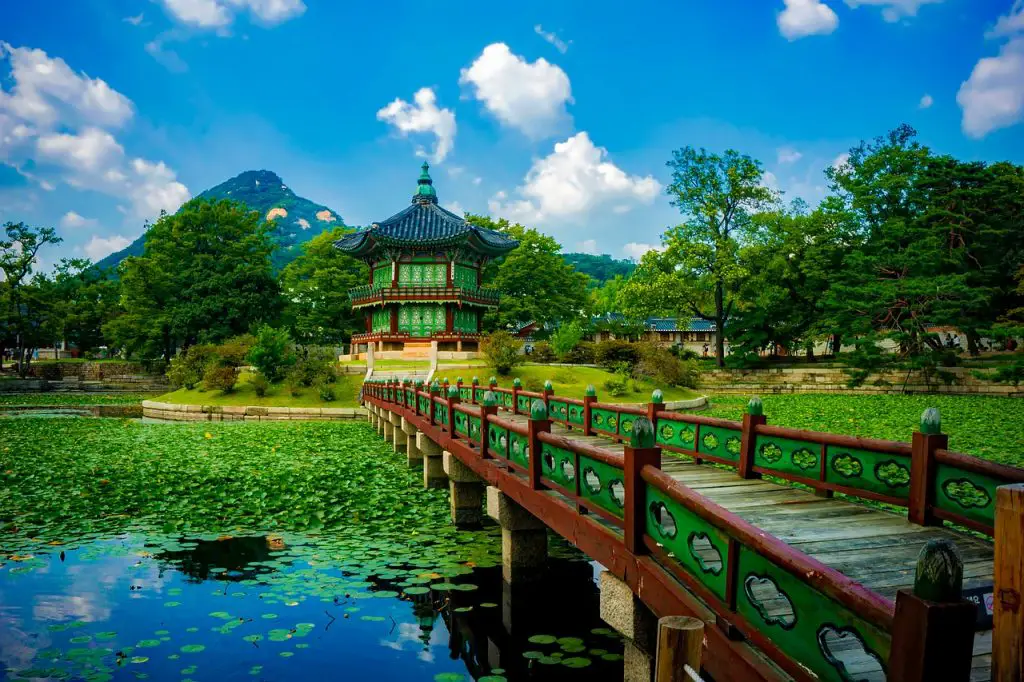 8. Relax at Jogyesa Temple
Jogyesa Temple is located in downtown Seoul, quite close to the palaces and main shopping streets such as Insa-dong. The temple was built in the 14th century and is a head temple of the Jogye order.
It plays an important role in Korean Buddhism as it holds annual Buddhist lectures, festivals, rituals, and various ceremonies. Jogyesa Temple is famous for its lantern festival (Buddha Birthday) and tons of blooming lotus flowers.
The entry is free all year round. Remember! Wear appropriate clothing such as long skirts, trousers and cover your shoulders and no deep V-neck blouses. Shorts are only allowed if they reach your knees.
Related Article: Things to do in Bangkok

Travelling soon? Don't forget to get a Travel Insurance. Checkout the price, takes just a minute


9. Explore Gwanghwamun Square and Museums
Gwanghwamun Square is the main square in Seoul marking the city center. The square was opened in 2009 where people can relax and enjoy great views of Gyeongbokgung and mountains.
It is famous for its King Sejong and General Yi Sun Shin statues, as well as, its two museums dedicated to the great king and admiral. If you are interested in visiting museums, you will need to go underground below the statues.
One of the underground free museums is The Story of King Sejong museum that tells you the story about a beloved king who created the Korean alphabet and was a great scientist.
Another museum is Admiral Yi Sun Shin museum that tells you all about a brave and smart admiral who is famous for defending Korea from Japanese pirates. Those museums are free and very modern.
Related Article: Things to do in Osaka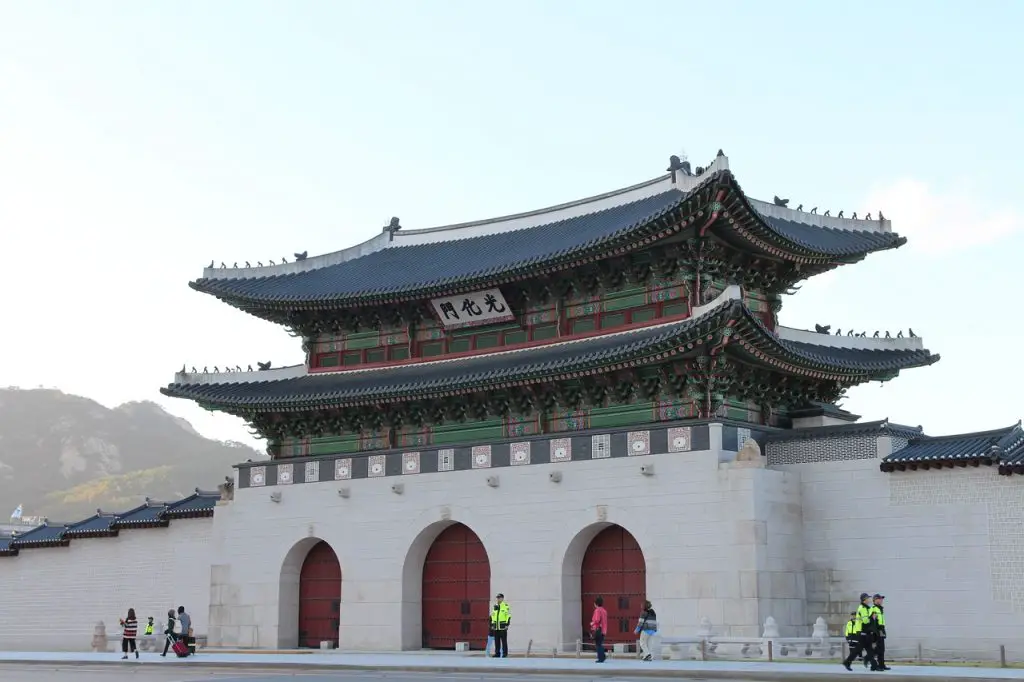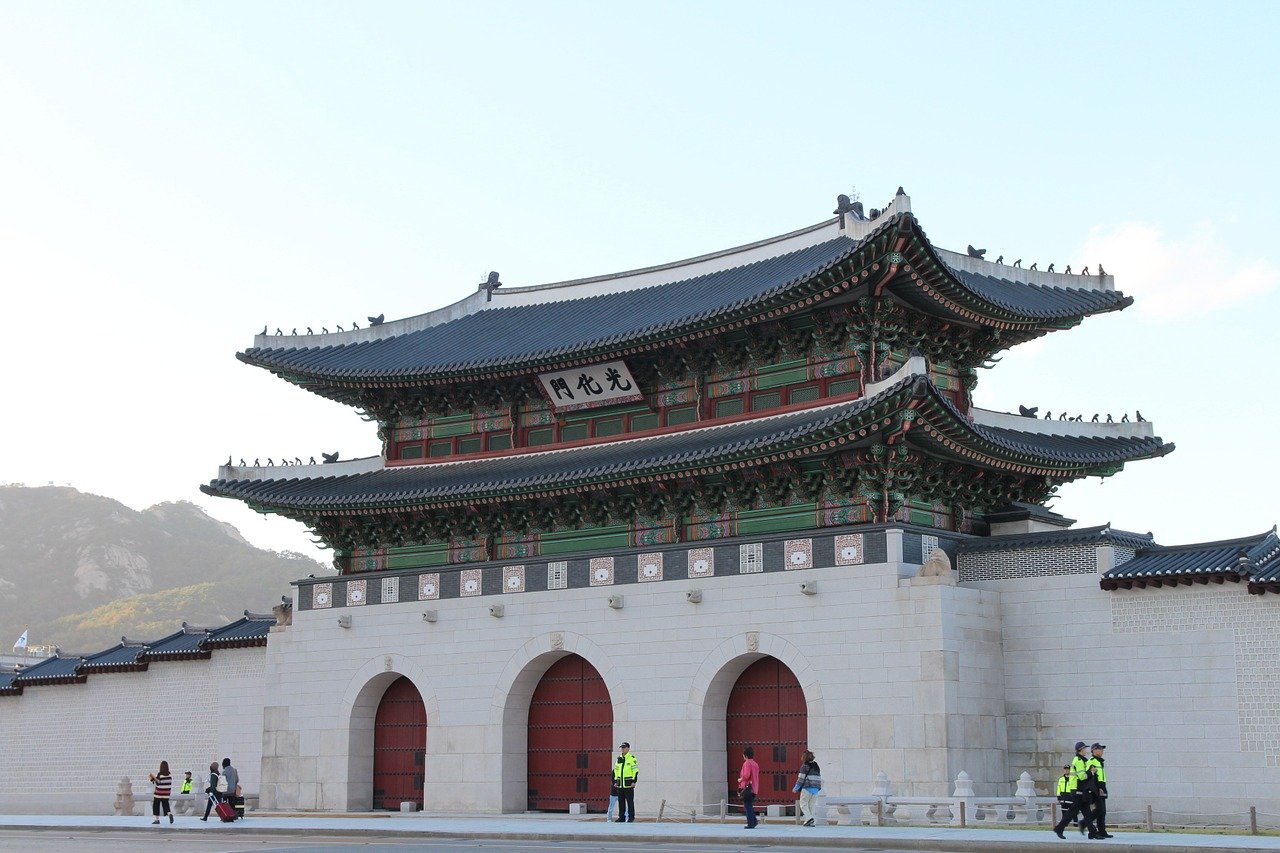 10. Visit Another Side of Seoul – Songdo Central Park
Songdo Central Park is a modern seaside park in Songdo International City in Incheon, Seoul. Technically, the park is located in a city within the city, but it still belongs to the Seoul metropolitan area.
In order to visit the park you will need to take a subway for about an hour, but believe us, it's worth it. It is a very green park surrounded by glassed weirdly shaped skyscrapers and canals.
You can walk along the canal, rent a bicycle or try boating. The park isn't huge but it's very relaxing and filled with interesting statues. Also, there are several coffee shops and restaurants where you can get delicious traditional Korean meals.
Related Article: Things to do in Japan in Winter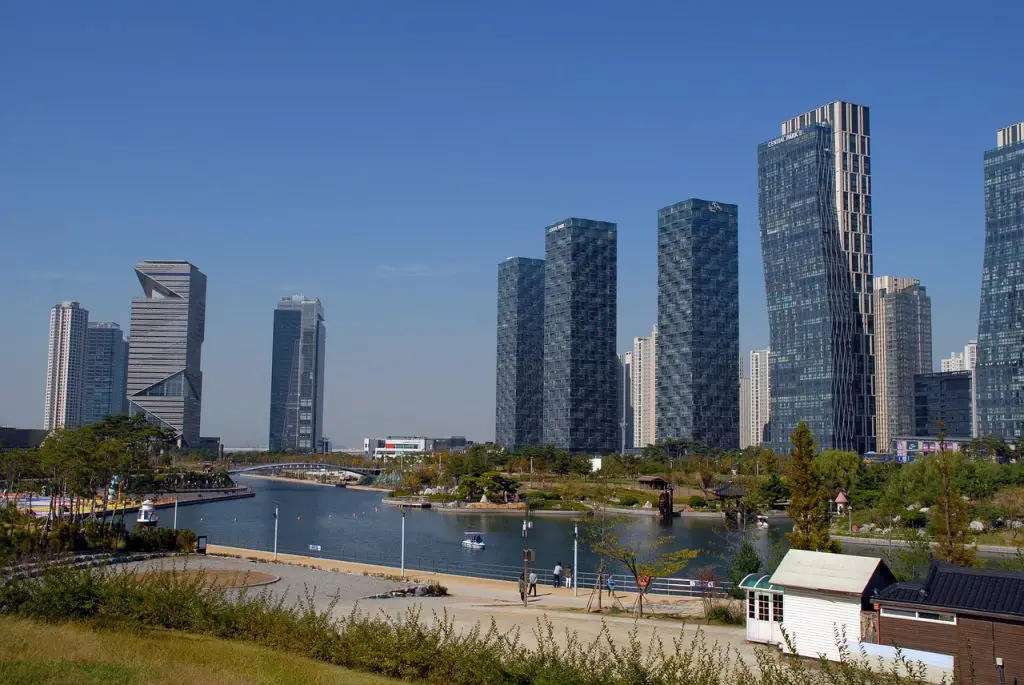 11. 'Reach' The Sky in Haneul Park
Haneul Park (Sky Park) is one of five parks situated in World Cup Park that was built to commemorate the 17th FIFA World Cup. Haneul Park is located on the highest part of World Cup Park and offers magnificent views of Seoul.
In order to reach the park, you will need to climb 291 wooden steps or take a ride on the electric tram. Haneul Park is well-known for its festivals and blossoms.
The most famous festival is Silver Grass Festival that is held in October when silver grass blooms. Also, people visit Haneul park for sunflower blossoms (around September). The entrance to the park is free all year round and during festivals.
Related Article: Things to do in Bali
12. Night Stroll Along Cheonggyecheon Stream
Cheonggyecheon Stream starts from Cheonggye Plaza (close to Gwanghwamun Square) and is a 11 km long stream that runs through downtown Seoul.
The stream has 22 small bridges that are all unique in their own way. Cheonggyechon is a popular place for people to relax after a tiring day as it is completely isolated from the buzzing city noise.
Also, it is a popular spot for evening strolls as all stream has bright lights and completely safe even during the deep night. Along the stream, you will see various fountains and wall art. Also, you are welcome to put your feet into the water as the stream isn't deep.
Related Article: Things to do in Singapore
Find out flight deals to Seoul, check out below


13. Learn About Korean Folks Life at Namsangol Hanok Village
Namsangol Hanok Village is another traditional village located in downtown Seoul close to Myeongdong shopping street and Namsan Tower. This hanok village isn't residential and was restored to the public.
It has several Korean traditional houses, gardens, pavilion and performance art stage where you can watch various performances related to the Korean traditions such as taekwondo or mask dance.
You will be able to enter traditional houses, learn about Korean social classes and try yourself certain things such as tea ceremony, wearing traditional dress (hanbok), herbal medicine experience, traditional etiquette school and more. Most of the activities, as well as the entrance, are free of charge.
Related Article: Things to do in Japan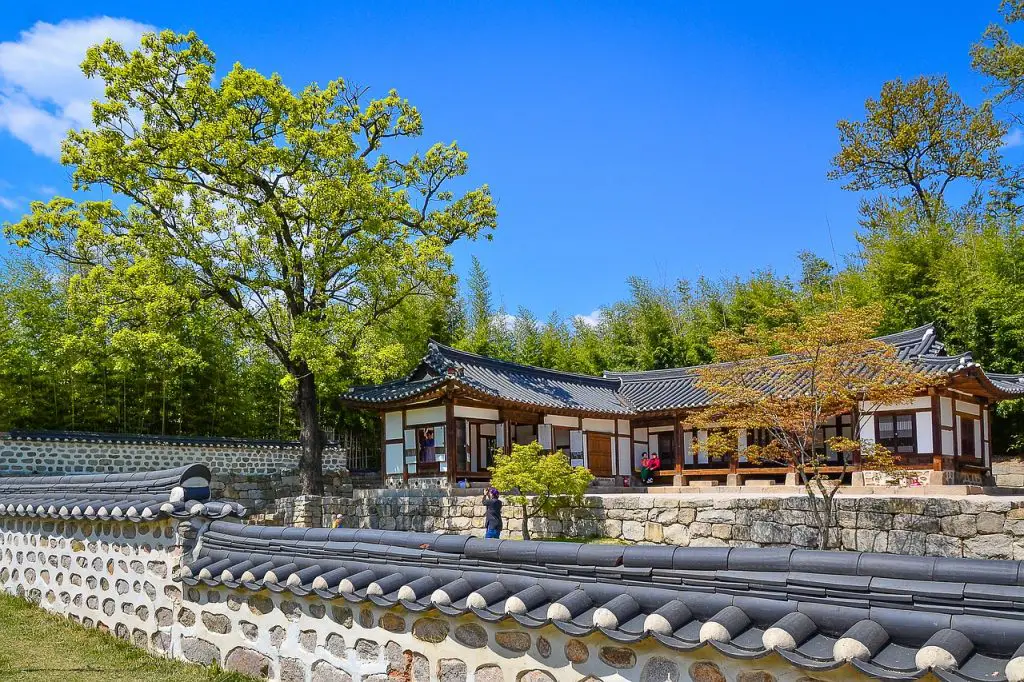 14. Visit Youthful Hyehwa-dong
Hyehwa-dong is one of the oldest Seoul neighborhoods located near Naksan Park, Ihwa-dong and Hyehwamun Gates. This neighborhood is similar to Hongdae as it is popular among university students.
However, Hyehwa-dong is crowded with locals instead of tourists. It has very trendy cheap restaurants and coffee shops, great places to do some fashion shopping, various art galleries, old school movie theatres and some very nice and not so crowded streets filled with murals.
You can walk through narrow alleys that will make you feel like you traveled back in time. Hyehwa-dong is vintage and artistic neighborhood. Our tip: visit Naksan Park after exploring Hyehwa-dong.


15. Experience Charms of Classy Buam-dong
Buam-dong is a Seoul neighborhood where most famous artists and writers had lived or still living. It is known for its trendy coffee shops, peaceful atmosphere, classic restaurants and a big amount of famous art galleries.
It is a modern yet traditional neighborhood. Buam-dong is situated between Inwangsan and Bugaksan mountains and is a hidden gem in Seoul. All neighborhood alleys go uphill so you will have a chance to see spectacular views of downtown Seoul and magnificent mountains.
You can wander around alleys all day and you will find more and more things to see. Don't forget to visit some free galleries while roaming around the neighborhood. Also, spare some money and visit a traditional Korean tea house – we assure you that you won't be able to find better tea houses anywhere else apart from Buam-dong.
Related Article: Things to do in Indonesia
Tips and Helpful Links:

Accommodation: Booking.com

Travel Insurance: WorldNomads

Flight Deals: Skyscanner

Car Rentals:
We recommend CarRentals.com

Books:
We recommend Books and Ebooks from Lonely Planet

Conclusion
Seoul is a magnificent city that offers lots of various things to do depending on personal preference. The city is filled with charming neighborhoods where you can spend your days just by wandering around.
Also, Seoul offers a wide selection of museums and traditional buildings that will help you to learn more about Korean history and traditions. There is no need to spend lots of money to explore Seoul, you just need to know where to go and what to do.
It is possible to make your trip less stressful and more budget-friendly, just follow this guide. Have a great trip to Seoul – a city of modernism and traditions.
Have you visited Seoul before and done several things from our list? What was the most overwhelming while visiting Seoul? Are you planning to go to Seoul and would like to get advice from us? Please, comment below and share your experience, feedback and questions.