16 Things to do in Adelaide with Kids
by Pranita D, Seek To Travel Travel Blogger, LinkedIn, March 3, 2019
The "Land Down Under" is a wonderful place to visit! There is always something to do no matter the season, especially with travelers who are voyaging with their families!
We believe that particularly for traveling to the Southern portion of Australia. Adelaide is a wonderful place to bring your family and is full of family-friendly activates.
Whether you want to have fun in the water sliding down the waterslides or enjoy a holiday splashing in parks along the coastal areas. Take the kids to an "up close and personal" visit with the local wildlife or enjoy more of an urban setting shopping around downtown.
For all the wonderful things to do, how will you choose what to do? That's where we come in!
16 Best Things to do in Adelaide with Kids
1. TreeClimb
TreeClimb an amazing outdoor park in Adelaide and it is the only one that is nature based, aerial park! This park offers seven tree top climbing courses which are connected by ziplines built in the Kurrangga Park. Built into the entire park are signs of the history of Adelaide, now not only are you having fun zipping through the forest with your family, but you are learning about the rich history of the city you are visiting.
You could spend an entire afternoon at TreeClimb, not only is there tons of stuff to do here but there is also a café here, so you don't have to worry about bringing food with you or leaving to find something to feed the kiddos – they have everything right here!
Related Article: Free Things to do in Brisbane 
2. Cleland Wildlife Park
The Cleland wildlife park is an amazing area when you can feed kangaroos! There are over 130 species of Australian wildlife that you can walk around and many of them you can feed or visit with. This is one of the absolute must-see, award-winning wildlife parks in South Australia.
The ability to interact with the animals is the main highlights for bringing kids and families of all ages! This park is just a short 20-minute drive from Downtown Adelaide.
Related Article: Things to do in Tasmania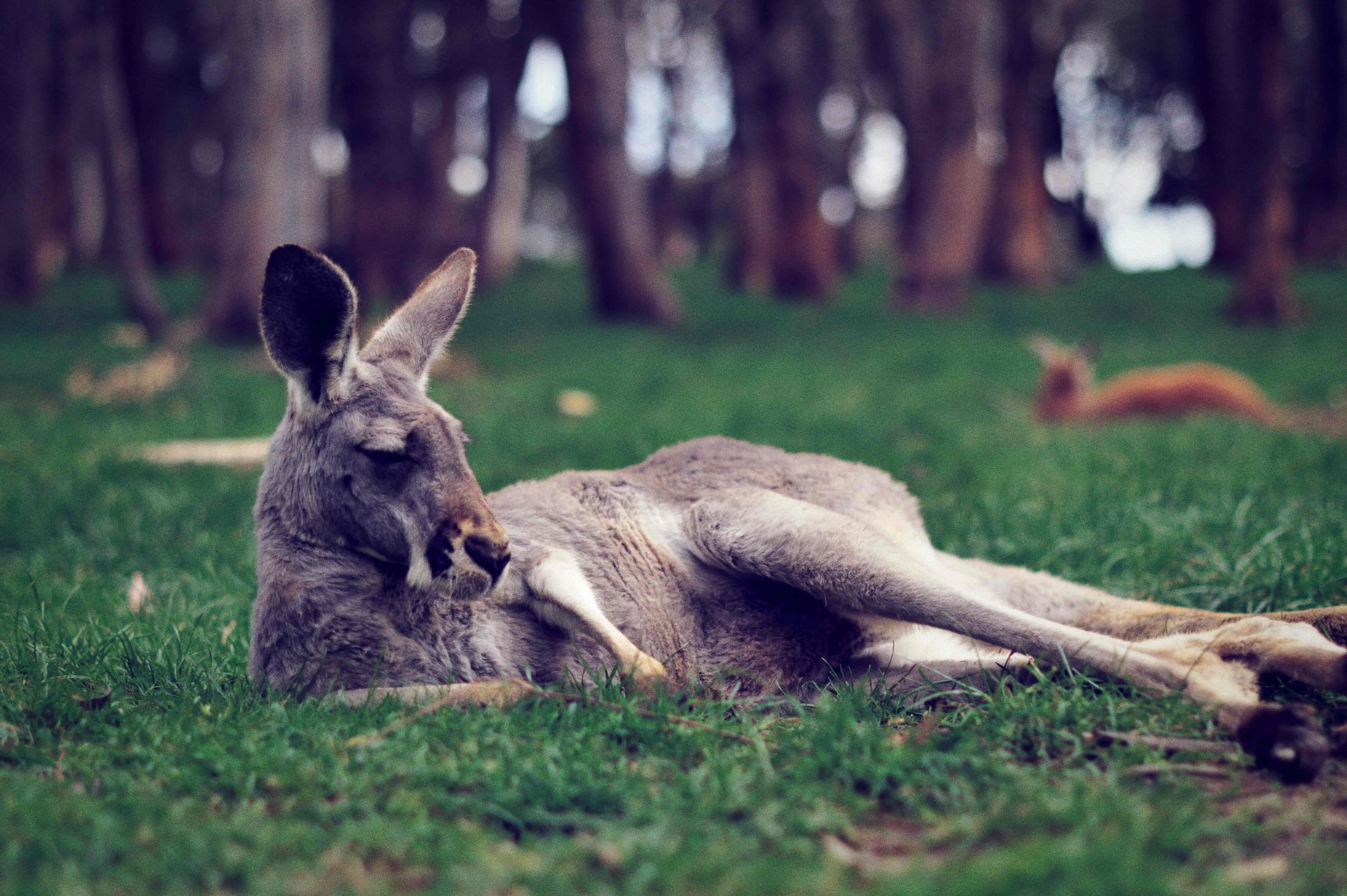 3. Tailem Bend Rhino Park and Dickson Reserve
The "Rhino Park", you can't miss it! This park is along the Tailem Bend which will take you along the Princess highway just before you'd get on the ferry to Jevois.
This is a free park that you can visit with and be within touching distance of a beautiful rhino species that you won't find anywhere else. Pack a picnic and spend the day around these magnificent creatures.
4. Adelaide Zoo
The zoo is just a 15-minute walk from downtown. This zoo is home to more than 1,800 animals and more than 300 of them are exotic species!
The Adelaide Zoo is home to Wang Wang and Funi, who are the only Pandas in the Southern Hemisphere. The greatest time of day is during feeding time, here you can watch the zookeepers feed all the animals as they talk to you about the species, their habits, where that species origins are and what that animal's story is that brought them to the Adelaide Zoo.
5. Mega Adventure Adelaide
Are you ready for MEGA Adventures! Mega adventures equals MEGA thrills! This aerial SkyMatte structure is going to take you and your family to a whole new level of fun! Picture for me if you will, a tennis court floating in the sky, and then picture yourself rowing a boat in mid-air to cross said tennis court all while doing 360-degree flips on a motorcycle at the circus?
This structure is your safety connection while you live your daredevil life you've always dreamed of doing but in reality, isn't the life most of us can lead. Now, if you aren't a crazy adrenaline seeker like your teenagers are but still want to have some fun…there is a place that isn't so dare devilish.
You can secure your harness and enjoy the Skywalk, which is only an 83 steps a top of the viewing platform where you can take in the view across the Adelaide hills and Western shoreline.
Related Article: Things to do in Melbourne at Night
6. Pichi Richi Railway
Coast down the train tracks with one stylin' ride. The Flinder Ranges, which some are up to a 115 years old, locomotives will transport you both in time and down the historical railway tracks and is a great way to spend a half or full day trip with your family.
If you want to really take your trip to the next level and it is within your budget, book the entire locomotive to yourself for a private tour! The tracks operate between Quorn and Port Augusta, this is the last operating section of the "Old Ghan" railway line. Old steamers or historic diesels, you have a choice of your train and your destination on your journey throughout history!
7. The Beachouse
Did the rain hit your vacation? Don't get stuck in the hotel all day, you on your phone and your kids on theirs, get out and enjoy the Beachouse! Packed with world-class water work attractions this is a fantastic way to enjoy the water without being rained on! Ready to have your mind blown…there is NO entry fee!
Take your toddlers down the Dual Slide, send your kids off to the Speed Slide, take the whole family down the Raft Slide. Whatever side you venture down expect it to be a fun filled afternoon for your family. Don't feel like getting wet outside the park or inside, that's fine too!
There are Play castles, a kiddy train, a 120-year-old carousel, bumper cars, mini golf and arcade games that will ensure to entertain your family no matter what they want to do. And when you are done playing, take a break for lunch at the Beachouse as well! They made the perfect design to have fun for all ages no matter what the weather outside is in Adelaide.
Related Article: Things to do in Adelaide for Free
8. Haighs Chocolate Factory Adelaide
Established in 1915 by Alfred Haigh, this is the oldest family owned and operated chocolate factory in Australia. The company is owned by the fourth generation of Haighs and employs more than 600 people! Join us to taste amazing chocolate and take a tour of the factory where they take you through the process of making their chocolates from the coco bean to the chocolate bar.
You will be shown the Sirocco kettle roaster where the beans are roasted at a high temperature which enhances the color and flavor of the coco bean. You will hear about how they only source the highest quality ingredients to make their chocolate with to ensure that you are always getting the best product.
Related Article: Things to do in Perth
9. Adelaide Water Park – The Big Wedgie
The Big Wedgie is exactly how it sounds…only better! This is the tallest and most extreme inflatable waterslides – IN THE WORLD! They even have a page in the Guinness book of Records to prove it! Now this one might be good to watch from a far and send your thrill-seeking kids on, it has a 55 degree drop from the top!
Now this isn't the only slide at the park but it certainly is the one that brings the most traffic. There is also the "Little Wedgie" and the "Just Right Wedgie", it is like the Three Little Bears of water slides.
This park has interesting hours and is very weather dependant so make sure you check out their website or their Facebook page to stay up-to-date on what the schedule is before you arrive. You might just save yourself a trip in the long run, but if they are open…be prepared for an amazing afternoon with your family!
10. St Kilda Adventure Playground Adelaide
Not centrally located to Adelaide, this outdoor adventure land is worth the 45-minute drive it takes to arrive from downtown Adelaide. This playground isn't just for the kids – castles, slides, pirate ships and even flying foxes! This playground isn't all located in one spot, it is spread out over a large area – send the family out for a good run from one structure to another.
The Pirate ship is located right on the water, there is a volcano at the top of a hill, a castle with a moat around it – every aspect about this playground was designed to capture imagination and create an authentic feel to each structure's theme.
Every few years they have been adding more structures as the park expands, so if you've been before and are traveling back to the Adelaide area – go back! There are new adventures to be had and insane slides to ride.
11. Bridgewater Fairy Garden
Take a little imagination and travel to the land of fairies! The Bridgewater Fairy Garden is a great place to take your toddlers or kids under the age of 12. Travel in the morning when the magical mystic mist of the morning gives a certain ambiance to the fairy land.
Located at Deanery Reserve near Arbury park and trust me you can spend your entire morning here soaking up the magic. Follow the Heyson trail head once you park your car and the trail will lead you right to tiny doors, one of which could belong to Tinker Bell herself!
Even if your kids aren't into fairies, being outdoors in the park is a great way to send the morning. However, parents – come prepared. Bring snacks and water since there aren't any facilities to purchase these at for your family it is good to have them on hand. This little garden is worth visiting and just letting your inner child and your kid's imagination run wild. Life in the moment and visit with the fairies!
12. The Shadow Institution at the South Australian Museum
A child's mind is always searching for new things to learn, to soak up a new adventure and the mind is constantly developing every single day. Use this to learn about a historical secret society in Australia, The Secret Order of Quill and Compass.
This society has been around for hundreds of years and has members who were known for being intellectual rebels and free thinkers throughout Australian history. This is a digital game that will engage both you and your family for an entire afternoon.
Start with walking through the museum and end at The Shadow institute.  This game is a series of hidden objects and challenges throughout the museum's wing. There are more than 40 challenges to choose from – you are given one hour to work through as many challenges as you are able while learning about the ins and outs of this secret society – and through history.
13. Old Tailem Town Pioneer Village
This is one of Australia's largest pioneer villages that still remains mostly in tact from its glory years. There are 114 buildings that you can wander through and venture down 14 streets, there are 27 boutique shops throughout the village you can pick up souvenirs while you are visit.
Experience Australia's past with reenacted experience that were designed to be as realistic as possible and historically accurate as well. The buildings include the stable corner store, a hospital, dentist, newspaper, pub, post office and police station.
Believe it or not this tiny village was and is still split into two suburbs (right? A little small for suburbs I'd think) But back in the day the village was split for the German population and the English population. Since this is a village that was still around during both World Wars it is interesting to see how those historical city lines were drawn in the sand.
This isn't just a museum town to walk through, most of the "displays" are hands on learning experiences, the belief behind this is now you aren't able to just walk through history but live in it.
14. Heritage Blinman Mine Tour
Click your hard hat on and switch your light on before you take a tour through the Blinman Mine tunnels. These tunnels used to be worked by the Cornish Miners in 1862. Personalized and guided tours will introduce a theatrical element to a real time presentation of the history that walked in and out of these tunnels.
15. Bounce INC
Burn off all that energy if you get hit with more rain on your vacation – hit Bounce INC! Bounce's mission is to encourage movement, to express your personality through movement and of course endorse energy! The believe that throughout generations that we are becoming more disconnected through human interactions and everything is digitally, and social media based.
Here they created a 3,000 square meter play house with trampolines, padding, airbags and foam pits. Connect with your inner movements as well as with your family at the Bounce INC!
16. Pumpt Indoor Scooter, BMX, Skate Park
This indoor park is unlike any other in all of Australia. They have built their facility similar to a ski slope, there is a track for everyone. From the very beginners to the more advanced riders, start gate, skate ramps, resi and an airbag.
This is a great place to spend the day with your family, introduce the little ones to something new and let your older kids maybe do what they love already!
All the helmets, bikes, scooters and skateboards are supplied with your session, so now you get to save space in your luggage too. Make sure everyone is wearing closed toe shoes, this certainly isn't a place to visit and participate with thongs on. Another great perk about this indoor park is, the longer you stay the more of a discount you get on your timed sessions!
Related Article: Things to do in Geelong
Conclusion
If none of these ideas spark your interest, a great way to spend time as a family is take a road trip! It doesn't matter where you go only that you are going together. This is a theory heavily adopted by my family when we travel. We try to get away from all the planned tourist locations and wander around to see what we can find when we just "get lost".
You find amazing things when you get off the tourist track and explore the local areas, especially in Adelaide and Southern Australia.
Final tip – always eat local! There are a lot of international food chains in Southern Australia but trust me you will want to eat local. Once you have tried the food here, after you return home you will be dreaming about the food.
I know sometimes kids can be picky eaters and not want to try something new, especially if they see kangaroo steak on the menu, but if you can convince them to break out of their comfort zone and try something new – they won't regret it.
Australian's love having families come to visit them, being such a family-oriented culture themselves it is easy to adopt travelers who share this similarly with the locals. They believe in family first and always and if you are traveling with your family as well you must believe this too!
What did you think of this article? Have we missed anything? Please comment below with your suggestions.